Best paraphrasing tool in 2023
Top picks to help you elevate your assignments
Last Updated on April 11, 2023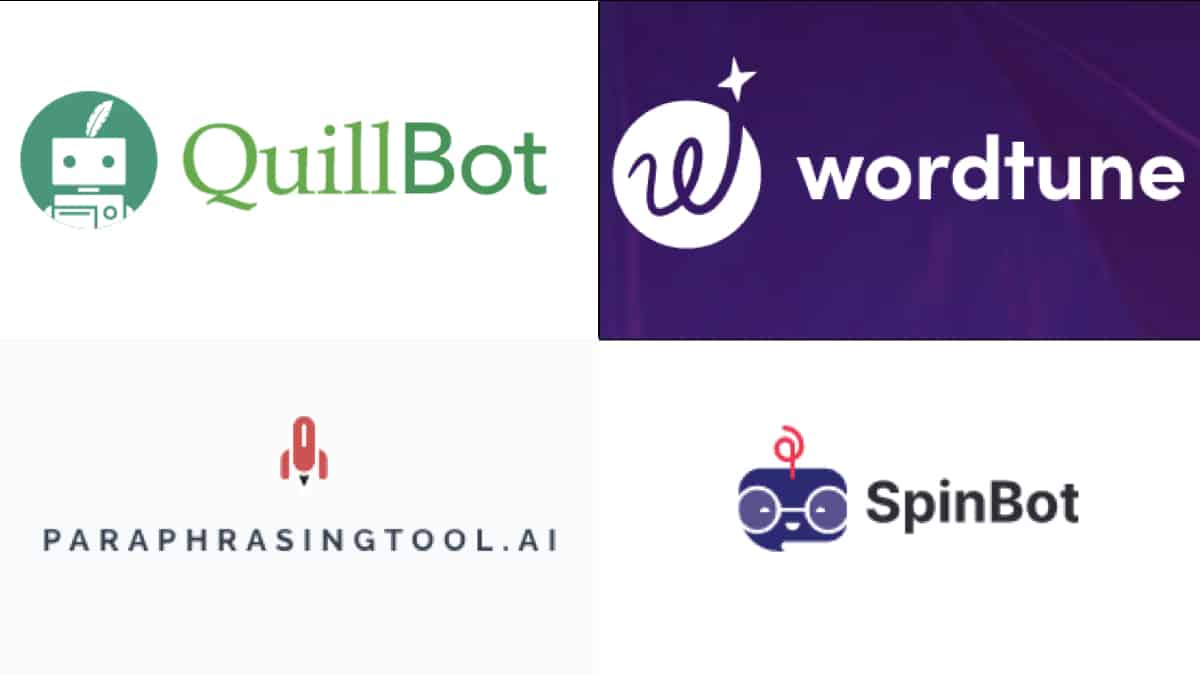 If you are looking for the best paraphrasing tool, it can be difficult to know where to start. When it comes to online paraphrasers you really need to know whether you can trust them to write correct, good-quality English.
This is where we come in! In this article, we will review some of the best paraphrasing tools available on the market and compare their features, benefits and drawbacks.
Paraphrasing tools are online applications that can help you reword your sentences, paragraphs or even entire articles in a matter of seconds. They can save you time and effort, as well as improve your writing skills and avoid plagiarism. Paraphrasers are also great at helping you rewrite your assignments without losing their meaning or quality.
Quite a fair few exist online already. Arguably, some are better than others. To find out which paraphraser is right for you, keep on reading below.
Products at a Glance
How we picked the best paraphrasing tool
Our experts considered many features when it came to devising this list of paraphrasing tools. The first thing we looked into was reliability. There is nothing worse than using an inaccurate, unreliable tool to elevate your essays.
Next, we considered their accessibility. How much do they cost to use? Are they easy to use? By doing so, we have ensured that we have selected tools that would suit any budget.
And finally, we looked into what else the platform could offer. Chances are you are also looking for a grammar checker and perhaps even a plagiarism detector. Well, if that's the case we have also got you covered.
Our Recommended
Best paraphrasing tool in 2023
1
PROS
Free version
Synonym finder
7 different modes
CONS
Premium version is costly
Weak at improving disjointed text
QuillBot is a well-known online paraphrasing tool that is trusted by many. It is one of the most powerful paraphrasers on the market helping thousands of students and professionals improve their written text.
What's great about this tool is that it features many speech styles, allowing you to adapt your work to convey different sentiments. Its 'Shorten' mode is one of the best parts of the application. It trumps most of its competitors when it comes to recognising and trimming down useless, non-essential details.
Alongside its paraphrasing ability, QuillBot features the following tools: Grammar Checker, Plagiarism Checker, Co-writer, Summarizer and Citation Generator.
QuillBot's user interface is sleek and simple. And you'll be happy to hear that the paraphraser is quick to make and highlight changes. You can access QuillBot for free, with a limited number of paraphrases a day or pay for a premium subscription that starts at $19 a month.
2
PROS
Provides 10 rewrites for each text
Whole-paragraph paraphrasing
Works well on disjointed text
CONS
More expensive than competitors
Shorten feature is weak
Wordtune is the best paraphraser for students. What makes it stand out is its ability to suggest ten different rewrites for each piece of text you input. They are all not perfect but do provide you with greater options especially if you're trying to improve an essay or assignment.
Wordtune is also great for students looking to paraphrase large chunks of their work. Unlike Quillbot, you can insert whole paragraphs into the platform. It will also correct any disjointed text or grammar mistakes making your work the best it could be.
The only downfall to this paraphraser is that it lacks the ability to shorten text well. There is a free version of Wordtune and also a premium variant which will set you back $24.99 a month.
3
PROS
Free
Easy-to-use interface
Integrate with browsers
CONS
Low-cost to remove ads
Lacks a grammar checker
Paraphrase Tool AI is one of the best free paraphrasing tools out right now. Similar to other platforms in this guide, Paraphrase Tool AI offers more than just a paraphraser. It can help you remove plagiarism and rephrase text to be more clear and concise.
The user interface is again nice and sleek, making it simple to use. The free version includes three paraphrasing modes: Free Rewrite, Text Improver and Near Human. For $5 a month, you will unlock greater features including the Plagiarism Remover, and Sentence Rephrasers among others.
4
CONS
Doesn't correct grammar
Lacks advanced features
Spinbot is one of the more basic options in this selection. When using this platform, simple paraphrasing tasks will be completed fairly quickly. Although, this application doesn't offer that many advanced features compared to the other tools in this list. But, of course, Spinbot is free.
Spinbot does lack in other areas, though. If you are looking for a tool to correct your grammar mistakes and highlight changes that have been made, then this software isn't for you. The user interface is aesthetically pleasing, however. And it is relatively simple to use, which is something it has going for it.
Features and Considerations
There are a few things you should consider when choosing a paraphrasing tool. Firstly, you should look into the tool's complexity. Is the software actually paraphrasing your words (altering your sentence structure) or is it just swapping words out for synonyms? This is normally a good indication of whether the tool is advanced enough for you.
Next, it is always helpful to consider the volume of text the tool can take in. If you are hoping to paraphrase large paragraphs, you may struggle to find many applications that can handle this. Although, some do exist. Just bear this in mind when deciding which tool to use.
And lastly, it is important to keep an eye out for the cost of the service. Most tools offer a free version in some shape or form. Although, if you want to experience these apps to the fullest, a subscription is normally required.
Is QuillBot cheating?
Using QuillBot is completely fine if you are trying to improve your own words or work. If you are using QuillBot to pass off someone else's work as your own, then this could be considered cheating.
Our Verdict
Our top pick is QuillBot. QuillBot is a safe and reliable platform for those looking for a strong paraphraser. With the cheapest premium subscription plan and countless useful features, it is definitely a great option for anyone looking to elevate their assignments.