Last Updated on
If you are in search of a high-end, powerful gaming machine loaded with ultimate features for an exceptional gaming experience, we've found a phenomenal RTX 4090 gaming laptop deal for you. This powerful piece of kit's specs are more than enough to give you exceptional performance in the latest AAA titles like Starfield and make it a top gaming laptop choice for Mortal Kombat 1.
Right now, the MSI Stealth 17 Studio Gaming Laptop is on sale for just $3,699.99, a 7% markdown from its original price of $3,699.99. That's a significant savings of $300, ensuring you get great value for your money.
Why you should consider this MSI Stealth 17 Studio laptop deal
Let's dive deeper into its features and discover why this RTX 4090 gaming laptop is one of the best laptops for gaming as well as video editing.
13th Gen. Intel Core i9-13900H processor: Intel's newest powerhouse with 14 cores, 20 threads, and a 5.4 GHz boost. Perfect for demanding tasks like gaming and video editing.
GeForce RTX 4090 graphics card: NVIDIA's top-end card boasts 24 GB of GDDR6X memory and 10,496 CUDA cores. It supports ray tracing, DLSS, and VR, and promises impeccable graphics across applications.
64GB DDR5 RAM: Maximum RAM for laptops utilizing the faster, more power-efficient DDR5 standard It ensures seamless multitasking and boosts laptop performance.
2TB NVMe SSD: A spacious, swift storage solution utilizing the NVMe protocol, ensuring quicker data transfers and faster boot times.
17.3-inch QHD display: A breathtaking 2560 x 1440 resolution display with a 240Hz refresh rate and 100% DCI-P3 colour gamut, ensuring crisp and vibrant visuals.
Per-Key RGB keyboard: Fully customizable keyboard with 16.8 million color choices per key, offering game-enhancing synchronization.
Cooler Boost Trinity +: Advanced cooling with three fans and seven heat pipes, ensuring the laptop remains cool under pressure, preventing performance drops.
Windows 11 Pro is Microsoft's latest OS, featuring a fresh design, innovative features, and heightened security for an enhanced user experience.
What we think of this gaming laptop deal
The MSI Stealth 17 Studio is a top-tier gaming laptop offering unmatched performance. Powered by the 13th-generation Intel Core i9 and the NVIDIA GeForce RTX 4090 GPU, it's quite the beast in terms of performance. With 32 GB of DDR5 RAM and a 1 TB NVMe SSD, you can expect swift boot times, effortless multitasking, and ample storage to store your stuff. The QHD display with a 240Hz refresh rate is a notable feature, ideal for those who prioritize visual clarity.
Aesthetically, the sleek design combined with per-key RGB lighting adds a touch of personal flair. Priced at $3,699.99 on Amazon, it seems to reflect its premium offerings accurately. If top-end specs and efficient performance are what you're after, this laptop could be a suitable pick.
Our best Amazon gaming laptop deals
Editor's pick
Save 12% NOW!
Corsair Voyager a1600 Gaming Laptop
(AMD Ryzen R9 6900HS, AMD Radeon RX 6800M, 32GB DDR5, 16″ 2560×1600 240Hz IPS Screen, Cherry MX Ultra-Low Profile Keyswitches, Windows 11 Home Advanced) Black
Editor's pick
Save 24% NOW!
GeForce RTX 4060, AMD 8-Core Ryzen 7 7840HS(> i7-12700H), 16.0″ WUXGA, 32GB DDR5 RAM, 1TB PCIe SSD, Webcam, Backlit Keyboard, Wi-Fi 6, Windows 11 Home,
Grey
Editor's pick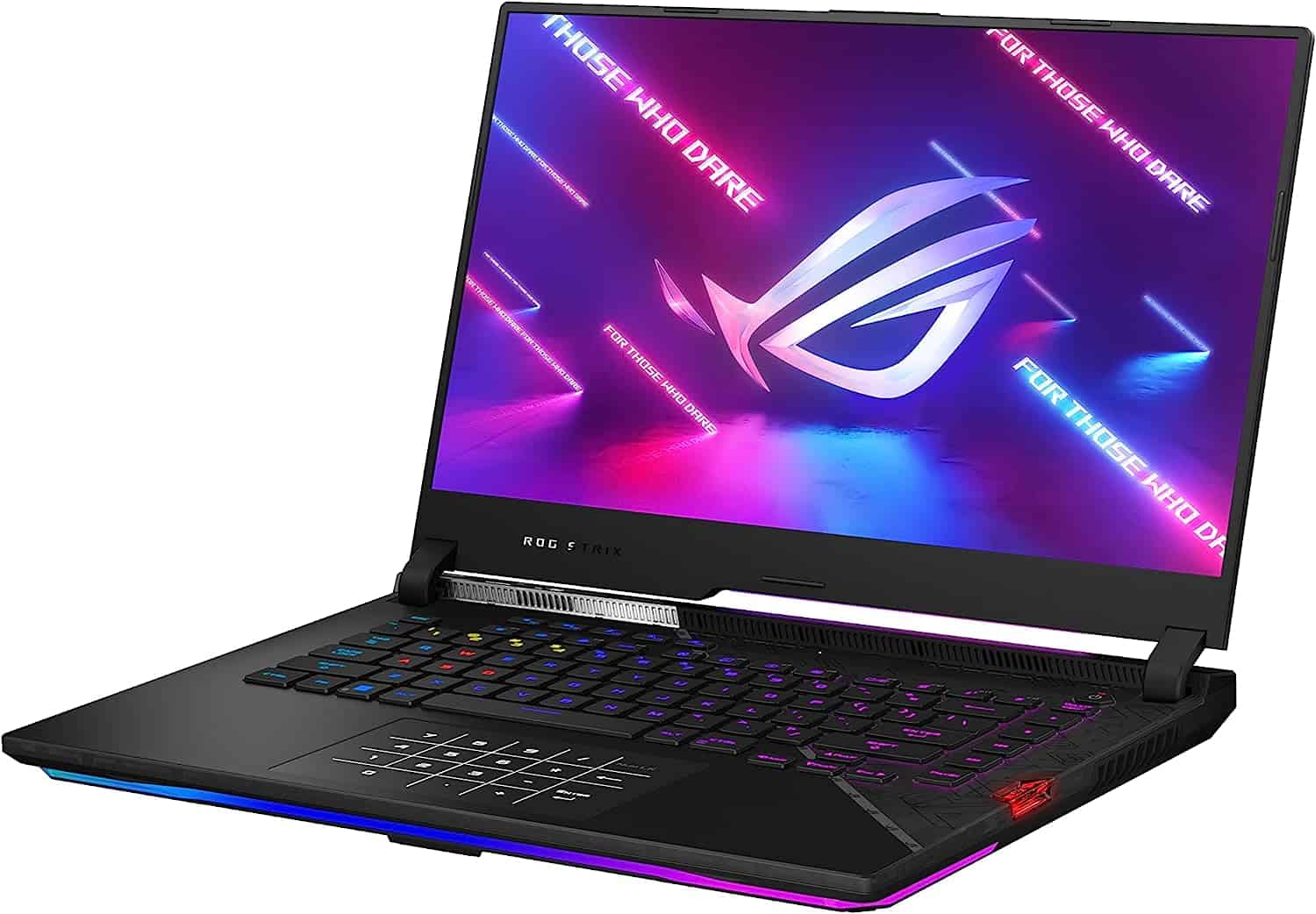 Save 30% NOW!
ASUS ROG Strix Scar 15 (2021) Gaming Laptop
15.6 inch 300Hz IPS Type FHD, NVIDIA GeForce RTX 3080, AMD Ryzen 9 5900HX, 16GB DDR4, 1TB SSD, Opti-Mechanical Per-Key RGB Keyboard, Windows10, G533QS-DS96
Editor's pick
Save 12% NOW!
ASUS ROG Strix G17 Gaming Laptop
17.3″ 144Hz 3ms FHD IPS Level, NVIDIA GeForce RTX 2070, Intel Core i7-10750H Processor, 16GB DDR4, 512GB PCIe SSD, Wi-Fi 6, G712LW-ES74