Last Updated on
Looking to upgrade and take your gaming experience to the next level? We've found a great RTX 4080 deal that will do just that, get extreme power and great savings. You can snag this powerful GPU in time for the release of Modern Warfare 3 and experience all the game has to offer in stunning detail, as it sits well above the system requirements.
save $145 Now!
MSI Gaming GeForce RTX 4080 Gaming X Trio
16GB GDRR6X 384-Bit HDMI/DP Nvlink Tri-Frozr 3 Ada Lovelace Architecture Graphics Card
*Prices are subject to change. PC Guide is reader-supported. When you buy through links on our site, we may earn an affiliate commission.
Learn more
The MSI Gaming GeForce RTX 4080 is currently up for grabs on Amazon at a price of $1,179.95. That's an 11%  markdown from its original price of $1,324.99. This translates to an impressive saving of $145, which, in our opinion, offers fantastic value for your money.
Now, let's delve into the specifics and see what makes this graphics card stand out.
NVIDIA Ada Lovelace Architecture: NVIDIA's latest GPU architecture, Ada Lovelace, offers a significant boost in performance and efficiency with new streaming multiprocessors, tensor cores, and Ray Tracing cores for enhanced visuals, physics, and AI acceleration in gaming and apps.
TRI FROZR 3 Thermal Design: MSI's cooling solution employs three TORX FAN 5.0 fans for concentrated airflow and reduced noise. With Zero Frozr mode, the fans halt during low GPU temperatures, ensuring silent operation.
Mystic Light RGB: Customise your graphics card lighting using MSI software. Choose from millions of colors and synchronize with other compatible devices for a cohesive aesthetic.
16 GB of GDDR6X Memory: The card boasts 16GB of GDDR6X memory, a new high-speed generation offering greater bandwidth and efficiency than its predecessor, GDDR6, suitable for high-res textures and complex models.
HDMI 2.1 and DisplayPort 1.4a: The card includes HDMI 2.1 and DisplayPort 1.4a, supporting 8K at 60 Hz or 4K at 120 Hz. Both ports provide HDR and adaptive sync features.
Nvlink Support: Enables the connection of two compatible GPUs using a dedicated bridge for enhanced performance and memory. Nvlink is an improvement over the older SLI technology, opening doors for advanced multi-GPU setups.
What we think
This is one of the newest and most powerful graphics cards on the market right now. You will be amazed by its efficient performance thanks to the Ada Lovelace architecture. If you want to upgrade your PC with one of the best GPUs for 4K gaming, this graphics card is a great option. Especially now thanks to the 11% discount, reducing its price to $1,179.95, which gives you plenty of bang for your buck.
With its Nvidia Ada Lovelace architecture, improved Ray Tracing, DLSS 3.0, and 16GB of GDDR6X memory, it will deliver stunning visuals, realistic physics, and intelligent AI enhancements. It will run games at ultra-high settings in 4K and even 8K resolutions. Additionally, its sleek design and Mystic Light RGB features will make it seamlessly fit into your setup.
Our best Amazon GPU deals
Editor's pick
Save 41% NOW!
Gigabyte GeForce GT 1030 Low Profile
Editor's pick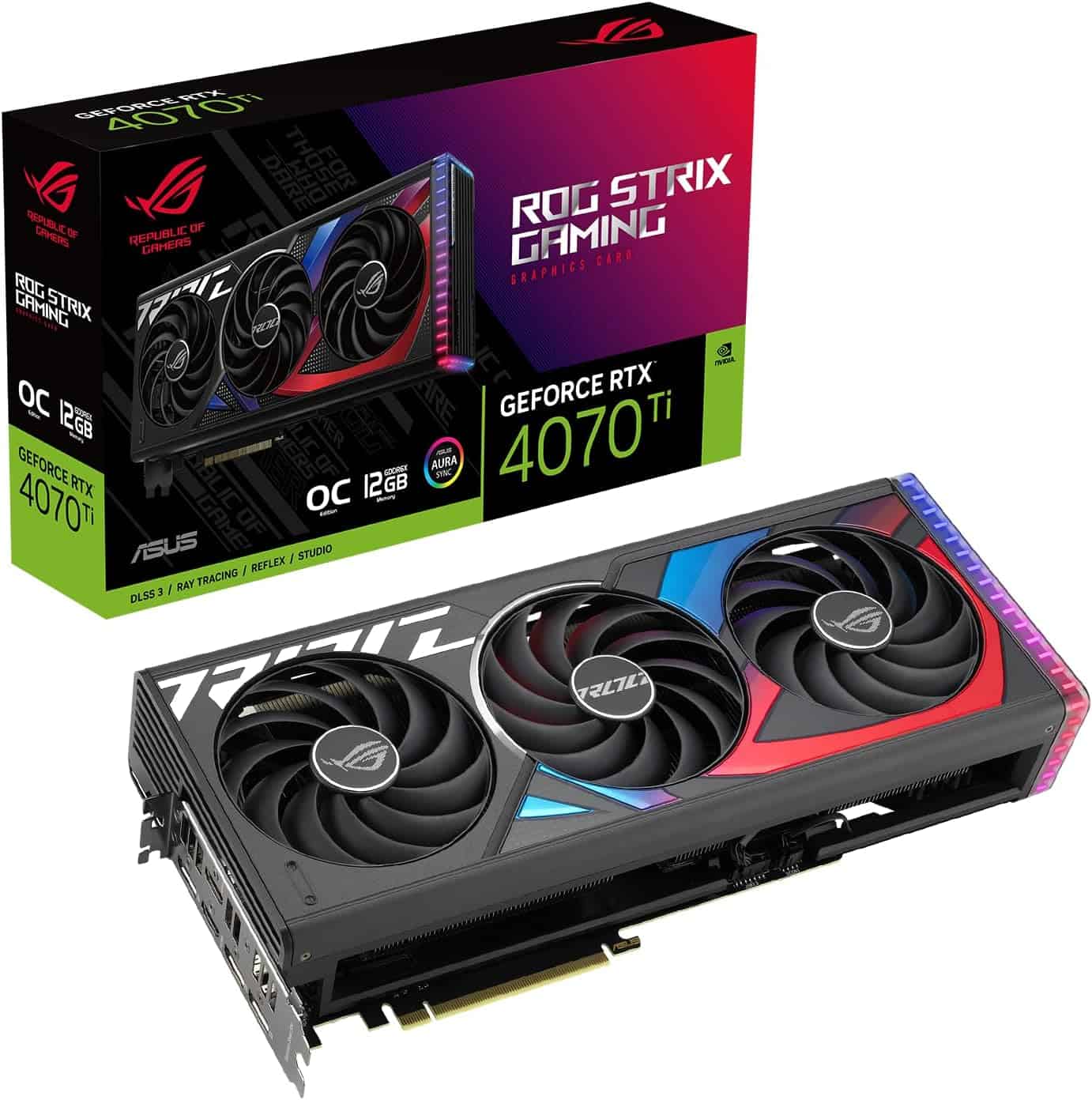 Save 12% NOW!
ASUS ROG Strix NVIDIA GeForce RTX™ 4070 Ti OC Edition Gaming Graphics Card
(PCIe 4.0, 12GB GDDR6X, HDMI 2.1a, DisplayPort 1.4a)
Editor's pick
Save 37% NOW!
MSI Gaming GeForce RTX 3060 Graphics Card
12GB 15 Gbps GDRR6 192-Bit HDMI/DP PCIe 4 Torx Twin Fan Ampere OC
Editor's pick
Save 25% NOW!
XFX Speedster SWFT 210 Radeon RX 6600 CORE Gaming Graphics Card
with 8GB GDDR6 HDMI 3xDP, AMD RDNA 2 RX-66XL8LFDQ
*Prices are subject to change. PC Guide is reader-supported. When you buy through links on our site, we may earn an affiliate commission.
Learn more