Last Updated on
For gaming enthusiasts aiming for the best laptop experience, there's a fantastic offer on the Razer Blade 17 Gaming Laptop that you shouldn't overlook. Sporting a powerful RTC 3070 Ti and an Intel i7 14-core CPU, you will get top-tier performance for gaming as well as being a top-choice laptop for video editing.
Typically listed at $3,199.99, it's now up for grabs on Amazon at a slashed price of $2,299.99, a solid 28% off. This means you can save $900 on this incredible laptop, making it stand out from the crowd.
Why you should consider this Razer Blade 17 gaming laptop deal
Now let's explore the features of one of the best gaming laptops to see what you are getting at this reduced price.
Nvidia GeForce RTX 3070 Ti GPU: Powers the laptop's display and gaming with advanced capabilities, including high-resolution gaming, ray tracing, and DLSS support.
12th Gen Intel Core i7-12800H processor: This is the processor that handles the laptop's computing tasks and multitasking. It is a very fast and efficient CPU that can handle heavy workloads and applications, as well as boost the gaming performance of the laptop.
17.3-inch QHD 240 Hz display: This is one of the best displays we've seen on a 17-inch laptop. It provides a large, detailed, and smooth gaming experience. The high refresh rate minimizes motion blur and enhances responsiveness.
16 GB of DDR5 RAM: Enhances multitasking capabilities with faster and more efficient memory, elevating overall laptop performance.
1 TB PCIe SSD: Offers fast and ample storage for files, applications, and games, ensuring reduced load and boot times.
Windows 11 is the latest operating system, featuring a revamped user interface, new features, and extended compatibility, including Android apps and Xbox Game Pass.
Chroma RGB: A customizable lighting system managed by Razer Synapse software, syncing with other Razer devices and games for a tailored gaming ambiance.
What we think of this Razer gaming laptop deal
The Razer Blade 17, in our opinion, is a standout option for gamers and creators who want top-tier performance without overspending. This laptop offers a fantastic blend of features for both gaming and creative tasks. Specifically, the model with the 12th Gen Intel 14-Core i7 CPU, NVIDIA GeForce RTX 3070 Ti GPU, and 1TB PCIe SSD is quite impressive. You're getting superb performance, captivating graphics, and speedy storage in one package.
Moreover, the laptop's sizable, crystal-clear display adds another layer of enjoyment to your gaming experience. Plus, its sleek and sturdy design adds a touch of sophistication.
So, if you're in the market for a gaming laptop that offers power and affordability, the Razer Blade 17 is definitely worth considering.
Our best Amazon gaming laptop deals
Editor's pick
Save 12% NOW!
Corsair Voyager a1600 Gaming Laptop
(AMD Ryzen R9 6900HS, AMD Radeon RX 6800M, 32GB DDR5, 16″ 2560×1600 240Hz IPS Screen, Cherry MX Ultra-Low Profile Keyswitches, Windows 11 Home Advanced) Black
Editor's pick
Save 24% NOW!
GeForce RTX 4060, AMD 8-Core Ryzen 7 7840HS(> i7-12700H), 16.0″ WUXGA, 32GB DDR5 RAM, 1TB PCIe SSD, Webcam, Backlit Keyboard, Wi-Fi 6, Windows 11 Home,
Grey
Editor's pick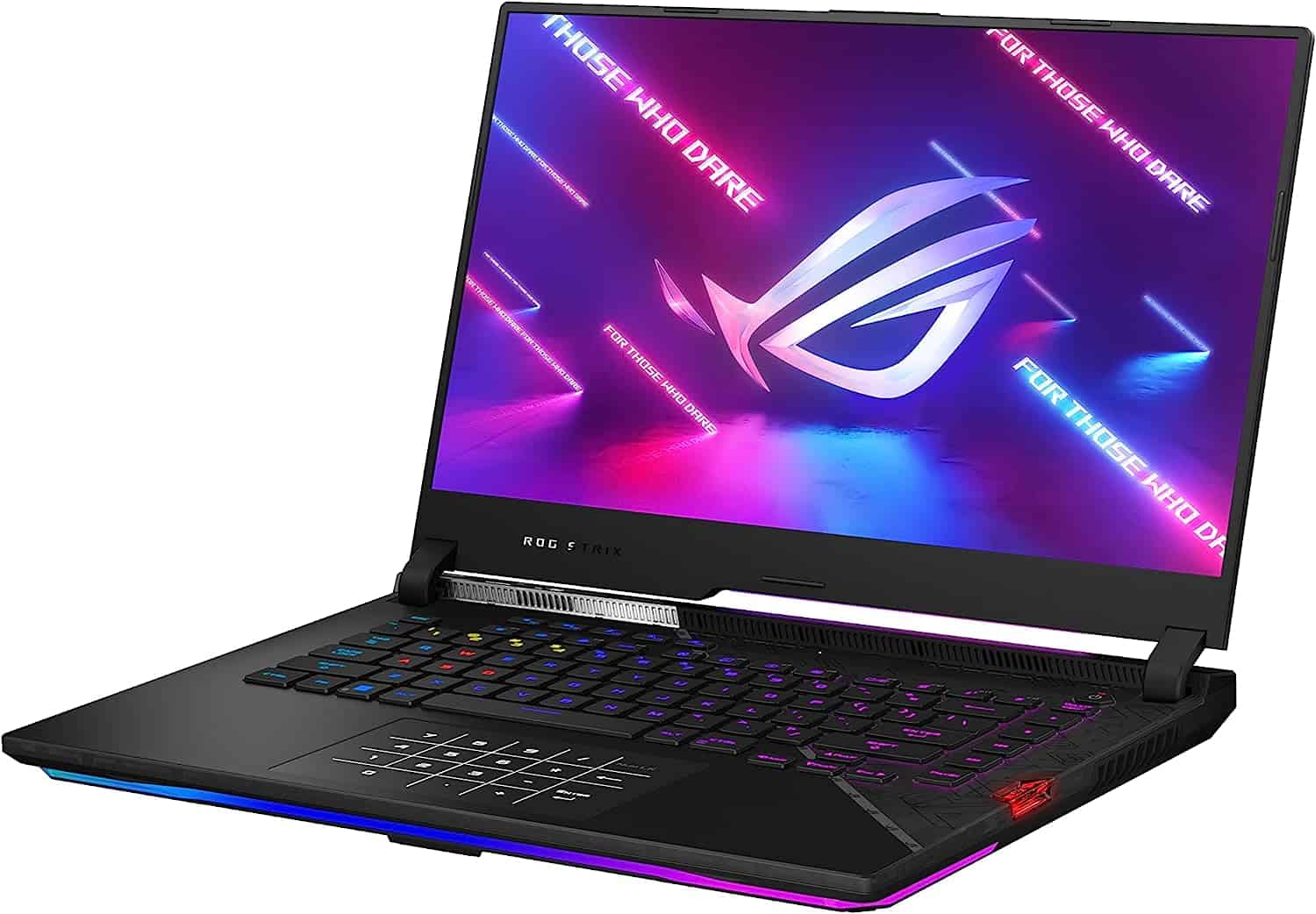 Save 30% NOW!
ASUS ROG Strix Scar 15 (2021) Gaming Laptop
15.6 inch 300Hz IPS Type FHD, NVIDIA GeForce RTX 3080, AMD Ryzen 9 5900HX, 16GB DDR4, 1TB SSD, Opti-Mechanical Per-Key RGB Keyboard, Windows10, G533QS-DS96
Editor's pick
Save 12% NOW!
ASUS ROG Strix G17 Gaming Laptop
17.3″ 144Hz 3ms FHD IPS Level, NVIDIA GeForce RTX 2070, Intel Core i7-10750H Processor, 16GB DDR4, 512GB PCIe SSD, Wi-Fi 6, G712LW-ES74