Last Updated on
If a premium, high-performance gaming laptop with a sleek design is what you're after, this MSI gaming laptop deal could be exactly what you're looking for. Sporting impressive specs and an incredible 360Hz display this is truly one of the best gaming laptops available today.
Currently, the MSI Stealth GS66 Gaming Laptop can be acquired on Amazon for $1,699.00. At this rate, you're getting an outstanding 32% discount off the original price of $2,499.00, resulting in a substantial savings of $800.00.
Why you should consider this MSI Stealth GS66 Gaming Laptop deal
Below are some features that contribute to its reputation as a formidable gaming device:
Intel Core i9-12900H Processor: A 12th-generation chip with 14 cores and 20 threads. It operates between 2.6 GHz (base) and 5.0 GHz (turbo), making it ideal for demanding tasks and gaming.
NVIDIA GeForce RTX 3070 Ti Graphics Card: This high-end card boasts 8 GB of GDDR6X memory and a 1.77 GHz boost clock. Its ray tracing and DLSS technologies optimize game realism and performance.
15.6″ FHD Display with 360 Hz Refresh Rate: A standout feature, this display offers 1920 x 1080 resolution with a rapid 360 Hz refresh rate. It ensures fluid gaming, reduces motion blur, and boasts a sleek, anti-glare design.
32GB DDR5 Memory: High-speed (4800 MHz) and large capacity (32 GB) RAM enhance multitasking and support high-end game and application performance.
1TB NVMe SSD: Offering a vast storage capacity, it ensures rapid data transfers, surpassing SATA speeds, and ample storage for games and files.
Cooler Boost Trinity +: Ensures the laptop remains cool during intense sessions with three fans and seven heat pipes. Its silent mode minimizes fan noise.
Windows 11 Home, Microsoft's newest OS, enhances user experience, productivity, and entertainment, fully integrating with the laptop's hardware and software.
What we think of this gaming laptop deal
If you're searching for a high-performance gaming laptop, the combination of the Intel Core i9-12900H processor and the NVIDIA GeForce RTX 3070 Ti GPU in this machine is hard to ignore. These specifications not only ensure stellar gaming experiences, but features like improved Ray Tracing and DLSS are also there to elevate the overall experience. These impressive specs make this a great laptop for video editing as well.
Now, a 15.6-inch FHD display with a 360 Hz refresh rate is a nice touch and can significantly enhance the visual quality of games. Additionally, the Cooler Boost Trinity + cooling mechanism ensures the laptop stays cool even during intense usage, a notable advantage. Its sleek design, paired with a customizable per-key RGB keyboard, adds flair to your gaming ambiance.
Considering the price tag of $1,699.00, we'd say it's reasonably balanced for what it's offering. Given the features and the overall package, it seems like a well-rounded choice.
Our best Amazon gaming laptop deals
Editor's pick
Save 12% NOW!
Corsair Voyager a1600 Gaming Laptop
(AMD Ryzen R9 6900HS, AMD Radeon RX 6800M, 32GB DDR5, 16″ 2560×1600 240Hz IPS Screen, Cherry MX Ultra-Low Profile Keyswitches, Windows 11 Home Advanced) Black
Editor's pick
Save 24% NOW!
GeForce RTX 4060, AMD 8-Core Ryzen 7 7840HS(> i7-12700H), 16.0″ WUXGA, 32GB DDR5 RAM, 1TB PCIe SSD, Webcam, Backlit Keyboard, Wi-Fi 6, Windows 11 Home,
Grey
Editor's pick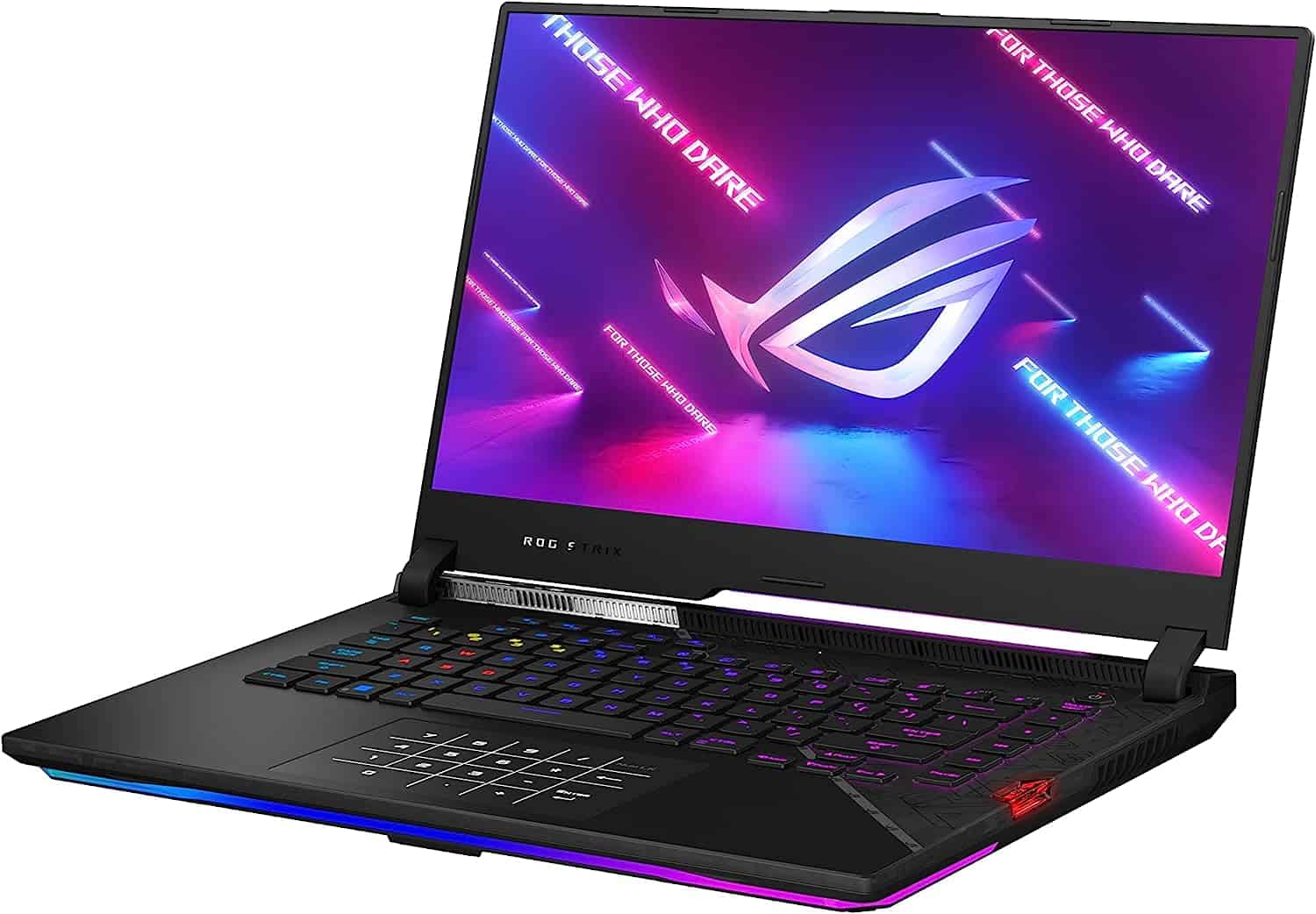 Save 30% NOW!
ASUS ROG Strix Scar 15 (2021) Gaming Laptop
15.6 inch 300Hz IPS Type FHD, NVIDIA GeForce RTX 3080, AMD Ryzen 9 5900HX, 16GB DDR4, 1TB SSD, Opti-Mechanical Per-Key RGB Keyboard, Windows10, G533QS-DS96
Editor's pick
Save 12% NOW!
ASUS ROG Strix G17 Gaming Laptop
17.3″ 144Hz 3ms FHD IPS Level, NVIDIA GeForce RTX 2070, Intel Core i7-10750H Processor, 16GB DDR4, 512GB PCIe SSD, Wi-Fi 6, G712LW-ES74