Last Updated on
Gamers, this is for you! Brace yourselves for an offer you can't resist. Head straight to Amazon and dive into the action with a 14% price slash on the ZOTAC Gaming GeForce RTX 4080 Graphics Card, the acclaimed champion of gaming graphics.
Zotac RTX 4080 GPU deal
Get ready to be astonished by its outstanding performance! This cutting-edge graphics card stands tall as one of the finest options available, providing breathtaking visuals, flawless gameplay, and an unparalleled immersive experience. And guess what? You can now relish all these exceptional features at an incredible price of just $1,199.00, reduced from its original $1,399.99, granting you an impressive savings of $200.99 and that gives it the lowest price yet according to price tracking websites.
Save $300 NOW!
ZOTAC Gaming GeForce RTX 4080 16GB
ZOTAC Gaming GeForce RTX 4080 16GB AMP Extreme AIRO GDDR6X 256-bit 22.4 Gbps PCIE 4.0 Graphics Card, IceStorm 2.0 Advanced Cooling, Spectra 2.0 RGB Lighting,
ZT-D40810B-10P
*Prices are subject to change. PC Guide is reader-supported. When you buy through links on our site, we may earn an affiliate commission.
Learn more
What this RTX 4080 has to offer
Let's explore some of the extraordinary features that make this graphics card the ultimate pick for gaming enthusiasts:
NVIDIA Ada Lovelace Streaming Multiprocessors are NVIDIA's newest and most powerful GPU architecture, delivering double the performance and efficiency compared to previous generations. It features ray tracing cores, tensor cores, and streaming multiprocessors for lifelike lighting, shadows, reflections, and AI-powered gaming.
IceStorm 2.0 Advanced Cooling: An innovative cooling system with a large aluminum fin-stack array heatsink, five copper heat pipes, and three 100-mm fans ensures the graphics card stays cool and silent even under heavy loads.
RGB Spectra 2.0 Lighting: A customizable lighting system offering 16.8 million colors and various effects to personalize the graphics card It can be synced with other compatible devices using the FireStorm program.
8K Ready and VR Ready: Supports up to 4 displays with a maximum resolution of 7680 x 4320 and complies with HDCP 2.3, DirectX 12 Ultimate, Vulkan RT API, and OpenGL 4.6 standards. Perfect for immersive gaming and virtual reality experiences.
PCIE 4.0 Interface: This is the fast connection for linking the graphics card to the motherboard, providing double the bandwidth of PCIE 3.0. It ensures quicker data transfer and lower latency, resulting in improved gaming performance.
Boost Clock and Memory Speed: Featuring a boost clock of 2565 MHz and a memory speed of 22.4 Gbps, this processor provides top-tier performance for demanding games and applications. The 16 GB of GDDR6X memory allows for the storage of high-resolution textures, complex geometry, and large datasets.
Why this RTX 4080 GPU deal might be for you
This graphics card stands as one of the most dominant and cutting-edge options available on the market, just behind the 4090. With its NVIDIA Ada Lovelace architecture, 16 GB of GDDR6X memory, and IceStorm 2.0 cooling, it delivers an extraordinary level of performance and quality. Geared with top-of-the-line features, it truly emerges as the ultimate choice for gamers. Unleash the potential to play the latest AAA titles with high settings and seamless FPS. you will witness minimal blur, lag, and noise, providing an immersive and unrivaled gaming experience.
Beyond gaming, expect a smooth computing journey through daily tasks, entertainment, streaming, and complex operations. This powerhouse won't slow down, regardless of how many tabs you open. And the cherry on top: you can grab this remarkable graphics card for just $1,199, saving $200.99 on one of the best graphics cards. Such a deal is an incredible option, offering unparalleled value for your money.
Today's best GPU deals
Editor's pick
Save 41% NOW!
Gigabyte GeForce GT 1030 Low Profile
Editor's pick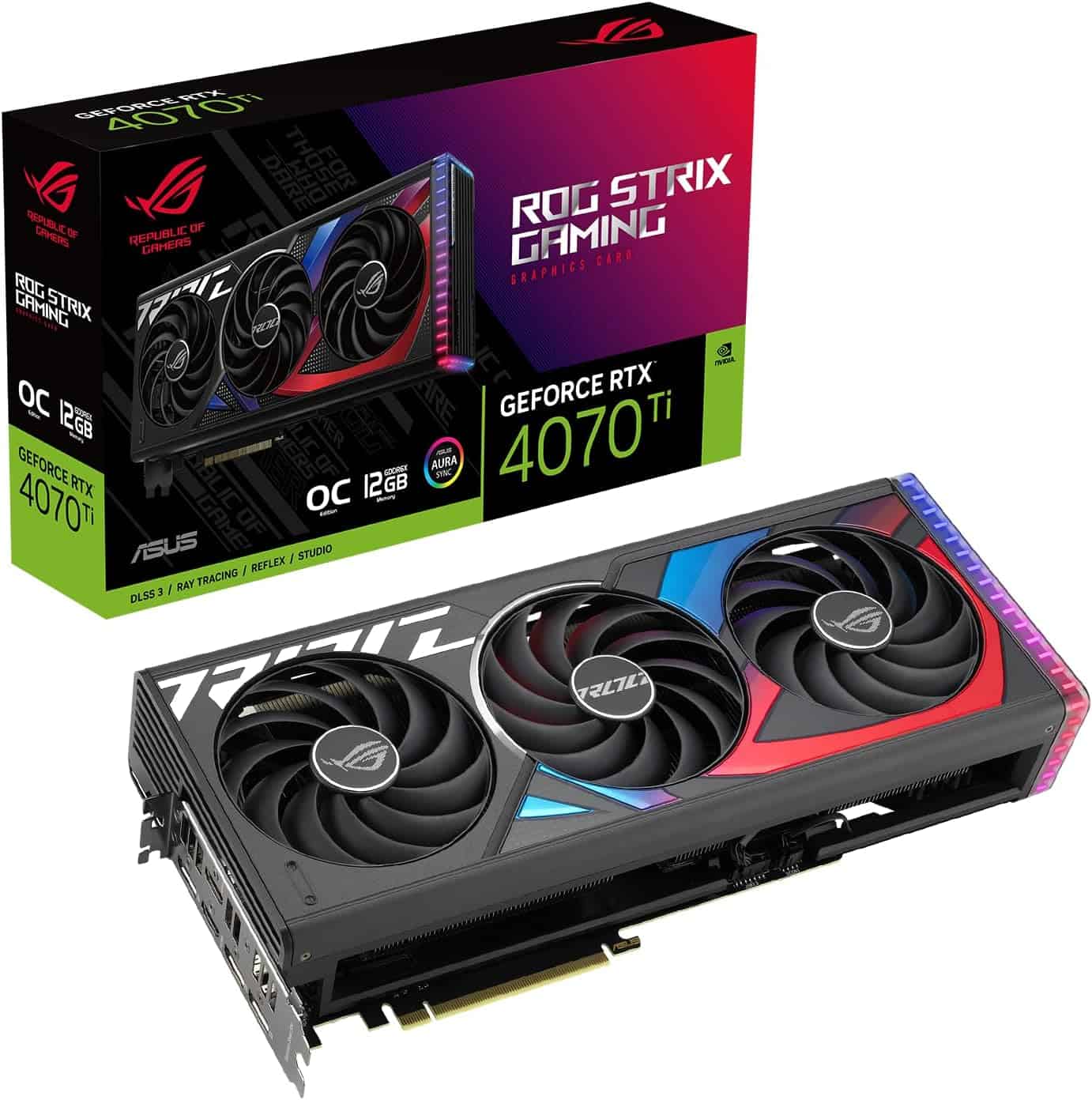 Save 12% NOW!
ASUS ROG Strix NVIDIA GeForce RTX™ 4070 Ti OC Edition Gaming Graphics Card
(PCIe 4.0, 12GB GDDR6X, HDMI 2.1a, DisplayPort 1.4a)
Editor's pick
Save 37% NOW!
MSI Gaming GeForce RTX 3060 Graphics Card
12GB 15 Gbps GDRR6 192-Bit HDMI/DP PCIe 4 Torx Twin Fan Ampere OC
Editor's pick
Save 25% NOW!
XFX Speedster SWFT 210 Radeon RX 6600 CORE Gaming Graphics Card
with 8GB GDDR6 HDMI 3xDP, AMD RDNA 2 RX-66XL8LFDQ
Editor's pick
Save 12% NOW!
PNY GeForce RTX™ 3070 Ti 8GB Uprising Triple Fan Graphics Card
*Prices are subject to change. PC Guide is reader-supported. When you buy through links on our site, we may earn an affiliate commission.
Learn more