Last Updated on
Until the 27th of December, Samsung is running deals on the Z Flip3 and Z Fold3, with different deals hitting the storefront throughout the week. If you have another device to trade in, the Z Flip3 could be yours for a ridiculous $350 – unlocked! The trade-in deals have been boosted to up to $900 for the Fold, while the Flip is at a boosted $600.

The Fold3 is the flagship of the two, with a total of three potential screens on offer, with a 120hz on the front and a massive tablet-esque one in the middle that also runs at the same frequency. This screen can be split into two different areas, allowing you to watch YouTube and browse Twitter at the same time, or get a better gaming experience on a larger screen.

The Flip3 is the smaller of the two, but comes with a 120hz screen too and a small OLED screen on the outside for messages. It also has the split-screen option, but less screen real estate. But still, having YouTube open while you do something else is always a boon.
From experience, the Flip3 is such a good phone that it's hard to recommend going all out on the Fold3 outside of a sale like this. But with the Fold3 now at a base price of $1649.99 (completely unlocked, 256GB) or at a complete maximum of $749.99 if you get the full trade-in, you're getting one of the more interesting and powerful phones on the market.
The Fold3 does come with two free gifts, the $150 Galaxy Buds2 (think Samsung AirPods) and a leather case in your choice of colour of camel brown, green or black.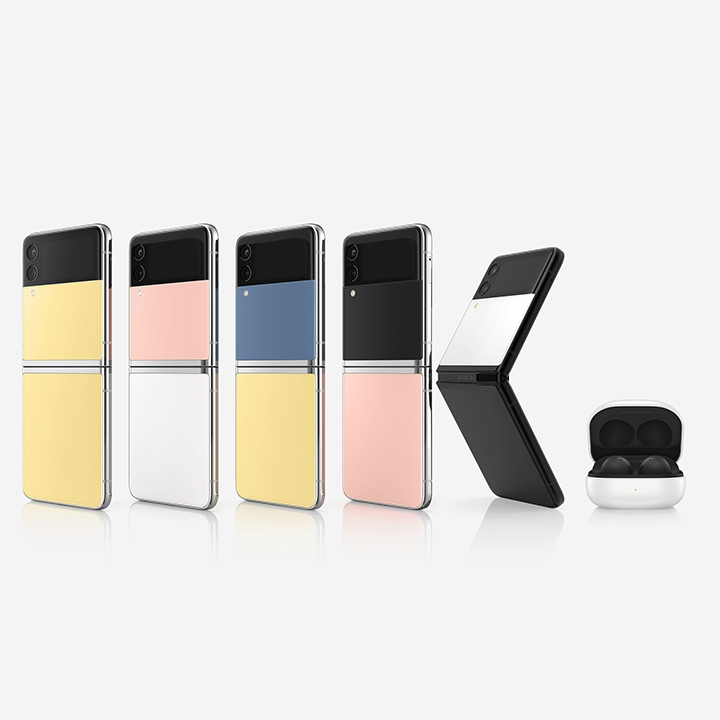 The Flip3 is currently 949.99 (256GB) without a trade-in, comes with a free case and the aforementioned Galaxy Buds2. If you're feeling fancy, the Bespoke edition is currently 1024.99, which allows you to customise the colour how you see fit. This only comes in 256GB, but does look snazzy.
You don't have to pay it all off in one go either, as Samsung have a generous pay-monthly scheme that you'll find useful if you're like me – skint, broke, no cash, zero dollars.
All phones also have the option of choosing a carrier, which will nab you a data and call plan.
To get in on the deal now, head to Samsung's website for more information: