Best DXRacer chair in 2023 – for price, comfort, adjustability
Get yourself the top DXRacer chair on the market.
Last Updated on August 8, 2023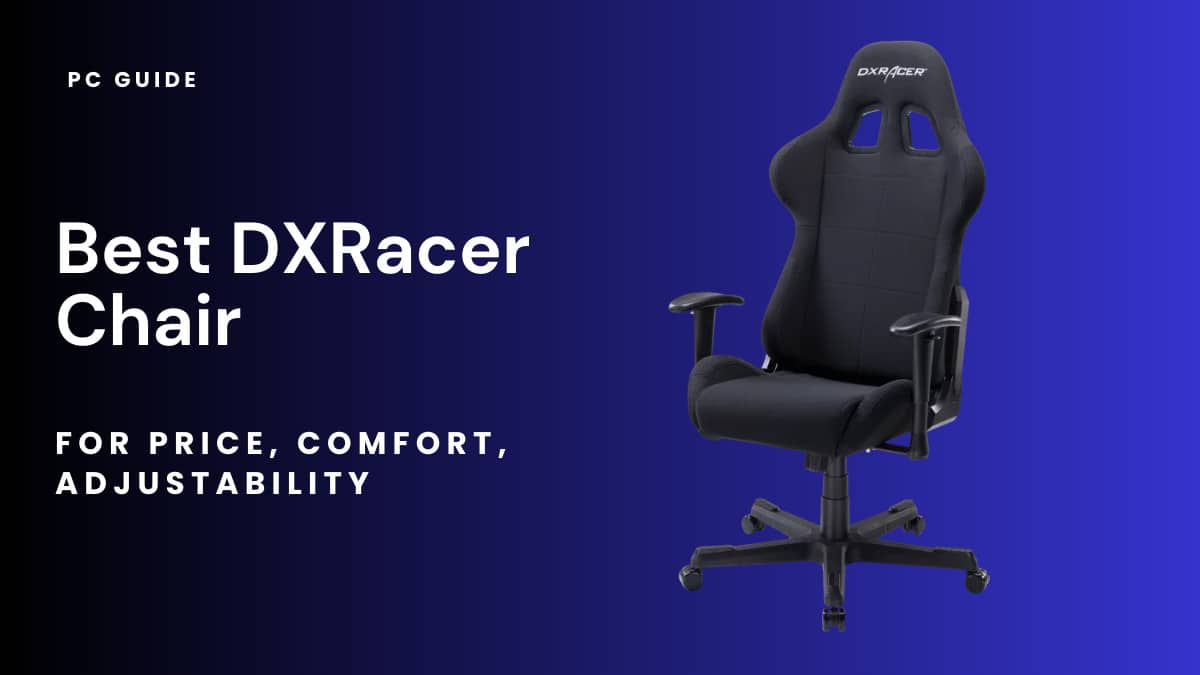 Choosing the right gaming chair can sometimes be a difficult task – after all, there are so many things to consider. If you want to make the decision a little easier for yourself though, look no further than one of the elite gaming chair brands: DXRacer.
DXRacer has been making exceptional quality gaming chairs for over a decade now, so you can be sure that you will get a product that you can trust each and every time. Not to mention that a DXRacer gaming chair will come with a wide range of extra features that are perfect for gamers in specific.
With that being said, DXRacer has made a lot of fantastic gaming chairs through the years, so you may find it a little challenging to find an option that will best suit you. Thankfully, we're here to help. Read on for our picks of the best DXRacer chairs.
Products at a Glance
How we picked the best DXRacer chair
As we mentioned earlier in this article, it can sometimes be a little tricky to choose the best DXRacer gaming chair for you. After all, these are some elite-level chairs, so choosing the best one is a little like a parent trying to choose their favorite child. It's certainly not easy.
So, in making our decision we've taken a couple of things into account. For starters, we've thought about the budget. It will likely come as no surprise that these chairs can be expensive, so we've considered which options will give you the best value for money. We've also thought about their versatility and the things that these chairs can offer for gamers in specific. We've also made sure to test the most important thing – the comfort the chair provides.
With this information, you can thoroughly assess which will be the best option for you based on your individual needs. We've left no stone unturned, after all!
Our Recommended
Best DXRacer chair in 2023 – for price, comfort, adjustability
1
PROS
Durable
Affordable
135 degree recline
CONS
It's a little small - weight capacity of 200 lbs and made for users under 6 feet tall
Finding the right gaming chair is often no easy feat. Sometimes though you get lucky, and the first chair you sit in is the one for you. This is undeniably the case when you first encounter the DXRacer FD01 Gaming Chair. This chair ticks all the boxes – It's comfortable, oozes functionality and it's durable. What more could you want? Well, it's funny you should ask…
This truly is the DXRacer chair of your dreams. In terms of aesthetics, you can choose from black, or black and red color options that look sleek and attractive. The chair is made out of a mesh fabric that is totally scratch resistant – ideal if you have cats in your home that can't tell the difference between their cat tree and literally any furniture item in your home. It's also pretty durable so you can be sure that the sleek and new appearance will stay for quite some time.
The chair features a somewhat decent weight capacity of 200lbs though, in theory, it is durable to support heavier users. Naturally, it may not be ideal for much heavier users or people that are taller, in which case you may be better off looking at another DXRacer chair instead.
With the DXRacer FD01 Gaming Chair, you will have a recline ranging up to 135 degrees – perfect if you just want to relax for a little while after a hardcore match on PUBG. It's also fairly simple to make any adjustments too.
As with most other DXRacer chairs, you will also have a lifetime guarantee on the frame and a 2-year parts warranty. It's also fairly affordable in comparison to many other DXRacer options, so it's ideal if you're on a budget. Perhaps the only real issue is that the chair is somewhat small.
2
PROS
Comfortable
Long lasting
Comes with neck and lumbar support cushions
CONS
Doesn't have enough padding
The DXRacer Racing Series OH/RV131/N offers boundless levels of comfort to support you through your gaming sessions. Not only that, but you can be sure that your chair will wow your friends, thanks to the sleek design and attractive color accents.
The chair has a bunch of great ergonomic features, including plenty of adjustability options on the backrest and the armrest. As you can probably imagine, you can also adjust the height based on your needs. That chair even has lumbar support which is ideal if you struggle with back pain. There is also a headrest cushion.
Not only that but the chair is easy to adjust and use. If you want to move the chair, there are rubberized wheels on the bottom that will allow you to slide it across the floor without any issues. The chair shouldn't scratch your floor when you move it either.
There is one minor issue – the chair doesn't have quite enough padding. With that being said, it's still very comfortable anyway so it should keep you well-supported as you are sitting.
3
PROS
Comfortable
Attractive design
Reclines up to 135 degrees
CONS
The foam padding isn't very thick
If you're looking for an attractive gaming chair that will fit in with any environment, then you're sure to love the DXRacer Racing Series OH/RV001/NW. The model comes in a wide range of colors but the main color is always black. It looks sleek and modern – but there's more to this chair than just pretty looks!
The chair has a weight capacity of 250 pounds, and it's very simple to put together. When you first receive the product it won't be assembled, but it can still be put together easily by just one person. It is made out of PU faux leather and vinyl, which is very comfortable and easy to clean. Again, the chair also won't scratch your floor thanks to the well-protected wheels.
The chair has a lot of adjustment options – you can change the angle and the height of the chair, and it can also recline up to 135 degrees. Perfect for a mid-day nap! You can even adjust the armrests – they can move up, down, backward, forwards, inwards, and outwards. The foam padding isn't quite as thick as we would like, but perhaps this is not an issue for you.
4
PROS
Great stability
Sleek design - lots of color options available
Comfortable
If you're in the market for a DXRacer gaming chair that is great for bigger guys and girls, look no further than the DXRacer 275LB Gaming Chair. This chair is ideal for people with larger frames and for people that may be particularly tall thanks to the 275lb weight capacity.
The chair also provides a bunch of extra benefits too. It's very stable and strong, so you can be confident that it will last for quite some time. It's also ideal for a range of environments thanks to the sleek look. This is the best chair if you want a DXRacer for your office! It comes in a bunch of different color options too, so you're sure to find something that suits your tastes and requirements.
The chair has a swivel function that works effortlessly, so you can reach across the room without having to even get out of your chair. It also has 3-inch caster wheels, and you can make many adjustments to the chair with ease. It's no Logitech Embody, as it doesn't feel particularly plush, however, so this is something worth keeping in mind.
5
PROS
Comfortable
High weight capacity
Ideal for sitting for long periods of time
CONS
The sides of the chair can sometimes dig into your legs if you sit with your legs spread apart
Every gamer needs their throne. If you're looking for yours, then the DXRacer King Series OH/KS06/NW is definitely the chair for you. This gaming chair features an extra-large design and it has a wide seat base, which means that it's great for larger individuals. It can also accommodate people up to 300 lbs.
Not only that, but this chair is the gold standard for gamers doing long sessions thanks to the fantastic cushioning. It's possible to adjust both the angle and the height of the chair with ease, so you can make the chair fit your individual needs.
The chair comes in gorgeous color schemes. You can choose from black and white, black and blue, black and grey, black and red, and totally black. Each option looks sleek and modern, perfect for any gaming space. For extra peace of mind, you will also be happy to know that the chair comes with a lifetime warranty on the frame, in addition to a 24-month warranty on the parts.
In short, this chair is perfect for those extra-long gaming sessions, especially if you're doing a streaming marathon on Twitch! The only real issue that we found is that the sides of the seat can dig into your legs a little bit, which is a bit of an issue if you like to sit with your legs slightly spread. Otherwise, it's a fantastic option for any person looking for just a little bit of extra comfort.
Features and considerations for best DXRacer chair
Before you go and push that buy button, you need the facts: what exactly distinguishes a great DXRacer chair from a truly impeccable one? Here are just a few of the things that you need to think about.
Ergonomic Elements
Let's unleash our inner philosophers for a moment and ask 'What exactly is the purpose of a chair?' Because the honest truth is that sure, you could have a built-in drinks system, you could have chargers attached to your chair, or maybe it even glows in the dark. All of this is essentially meaningless if the chair doesn't fulfill its main function – keeping you comfortable while you're seated. All of the swanky accessories in the world aren't going to mean a thing to you if your rear becomes numb within 20 minutes of sitting in the chair.
Of course, you could use your dining room chairs, but they won't give you the ergonomic features that you need to keep you comfortable while you are gaming. Gaming chairs are designed to properly support you for those long sessions on your new Xbox console so you don't wake up the morning after with an aching body.
DXRacer gaming chairs have been made with comfort as a priority. Most of them are made out of PU faux leather, and they tend to have a fairly similar seat design and backrest. This is made in order to adhere to the shape of your spine so you keep good posture. They also tend to come with a lumbar support pillow that you can detach, ideal if you struggle with things such as back pain. Of course, some options will give you more ergonomic support than others, so you should keep this in mind as you make your decision if this is a priority for you.
Adjustment Options
Any good gaming chair should have plenty of adjustment options. Thankfully, a DXRacer chair will provide you with a lot of adjustabilities – you can usually adjust the armrests backward, forwards, and in and out. You can also change the height of the chair as it will come with a gas lift and a lever beneath the seat. The more adjustability options you have, the more comfortable you are likely to be as you can really cater the seat to your own needs.
Many DXRacer chairs will also allow you to recline the backrest up to 135 degrees. You should check the manufacturer's specifications to see what sort of adjustment options you will get with your chair. You can also check other customer reviews for further information.
Size
When you're buying a gaming chair you should always consider its size. You will need to make sure that your DXRacer chair is suitable for your size, whether you're short, tall, or anything else in between. This shouldn't be an issue with a DXRacer chair as they are designed to be inclusive, but it's worth double-checking anyway just in case.
In addition to this, you should think about the weight capacity of the chair. This is important, as people who weigh more than the weight capacity may not be able to use certain DXRacer chairs. For instance, if you weigh more than around 400 lbs in body weight then you need to look for a chair that caters to that weight. Some chairs are sometimes better suited for those with lower body weight.
Warranty and Guarantee
It's always worth keeping in mind that any DXRacer chair is likely to come with a lifetime warranty on the frame, and they often also have a 2-year warranty on the parts of the chair too. To put it simply, if a company has a warranty on their product it's usually a good indication that it's a product that you can trust, that has been designed to be durable and long-lasting.
If that wasn't enough, you can be sure that you are also covered if you get the product and you aren't happy with it. The company offers a 30-day return policy, and there's also an order cancellation policy if you happen to change your mind before the product is shipped.
Additional Considerations
DXRacer Chairs are made for gamers, so naturally, they tend to include a bunch of extra cool features that you're sure to appreciate. Let's go over just a few.
First of all, there are many DXRacer chairs that come with speakers built in, and this means that you don't need to buy a separate pair of speakers – you have a chair and speakers all in one! This is very handy, and you can connect your console to the speakers using either Bluetooth connectivity or by using an adapter.
Some DXRacer chairs also come with USB slots where you can charge things like cell phones and headsets so it's certainly worth looking out for these features too.
In addition to this, you should think about the aesthetics of the chair. Think about how you want your gaming chair to look – you want it to fit in with your gaming space, after all! DXRacer tends to offer a lot of different styles and designs anyway, so finding something to fit your unique sense of style shouldn't be too much of a challenge.
Our Verdict
DXRacer chairs can be a fantastic choice whether you're a gamer or not, so you can be sure that by buying a DXRacer chair you know that purchase will stand the test of time. In our opinion, the pick of the bunch when it comes down to it is the FD01 as it provides the best all-around features while also being not too expensive. But, in all honesty, if you didn't like the look of the FD01, any of the DXRacer chairs are stellar options and offer up great comfortability and overall durability.