Best Computer Chair For Long Hours in 2023 – our top picks
The best office chairs if you're spending hours in front of a screen
Last Updated on August 7, 2023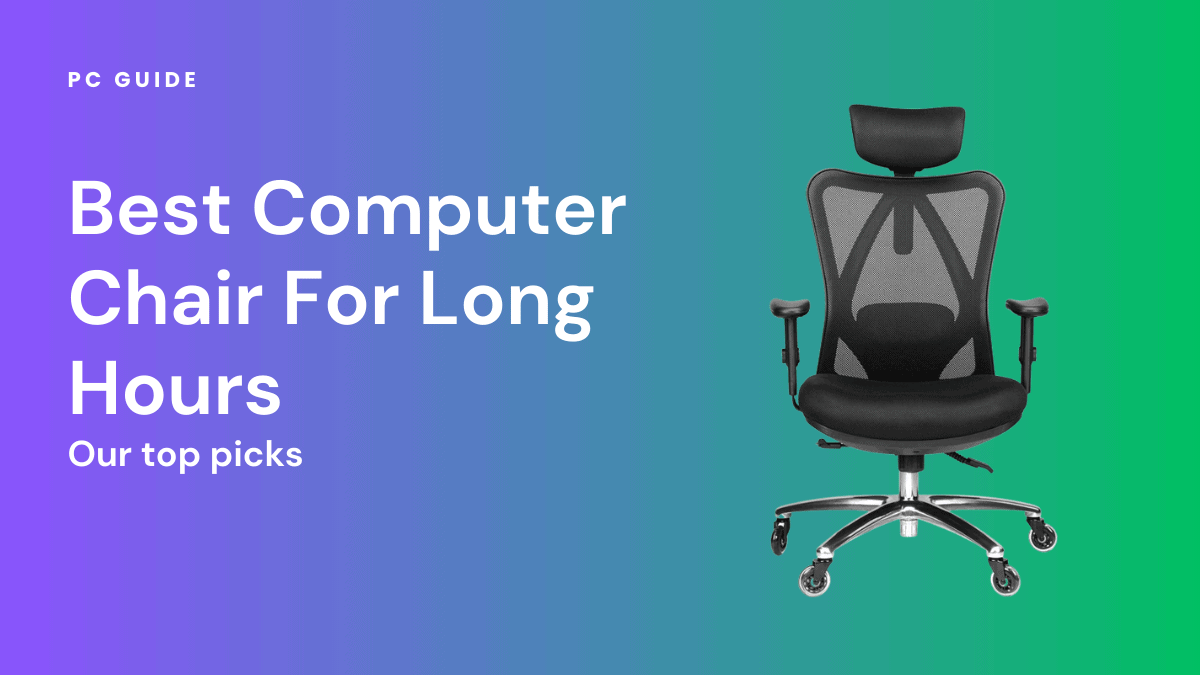 A skilled workman is nothing without the right tools, and if you're among the millions who spend hours a day pinned in front of a computer, a good computer chair stands as one of the most important investments you can make.
It's not just a question of comfort and productivity, but warding off the genuine risk of severe and permanent damage to the neck, back, and shoulders that comes with improper equipment.
Eight hours spent glued to a computer screen is already a strain on the mind and eyes, so it's vital to make the necessary arrangements to ease the impact on the body as much as possible.
Now, finding the right chair for your body type is easier said than done. A dizzying range of new computer chairs inundate the market each year, and with manufacturers shouting the merits of their respective products from the rooftops, it can be tasking to sort the good from the bad.
With so many choices out there, we've endeavored to piece together our selection of the very best computer chairs designed specifically for long hours.
Products at a Glance
How We Picked The Best Computer Chair For Long Hours
Although we'd love to definitively say this or that chair is the best computer chair for long hours, comfort and the efficiency of ergonomic features is incredibly subjective. With such a wide range of body types, heights, and sitting positions, what constitutes a good computer chair can vary vastly between people. Therefore, our suggestions are based on our experience, and, while they might not suit all of you, they are an excellent starting point for your journey to finding that perfect computer chair.
It goes without saying that our picks are all chairs that struck a note for us in some way or another. Ergonomics, sustained comfort after long periods, price, adjustment options, and materials largely guided us as we combed through what's available on the market today.
Below, you'll find a list of what we consider the four best computer chairs for long hours. Let's jump in.
If you are looking for gaming chair recommendations, then check out our Best Gaming Chair guide. As well as, Best Gaming Chairs Under $200.
Our Recommended
Best Computer Chair For Long Hours in 2023 – our top picks
1
PROS
Lumbar adjustments
Affordable
Comfortable
The Nouhaus +Posture Ergonomic PU Leather Office Chair blurs the line between a standard office chair and an executive chair, and is, as the name suggests, designed to safeguard the user's posture. The main feature ensuring this is a Click5 integrated lumbar support cushion built into the chair that can be adjusted to five different settings for optimized back comfort. Alongside, the Nouhaus +Posture Ergonomic PU Leather Office Chair incorporates a comfortable, supportive, open-cell foam cushion with a generous 19.3″ hip space.
Other features include a gentle 135-degree reclining mechanism, tilt lock, tension adjustment, flip-up armrests with curved pads, height adjustment, heavy-duty nylon wheelbase, and casters that support weights up to 275 pounds. The Nouhaus +Posture Ergonomic PU Leather Office Chair suits most body types with a supported height range from 5'4" to 6'2". The chair is upholstered with mesh, PVC, and polyurethane leather that, while cheaper than real leather, is easy to clean and is of good quality.
While the Nouhaus +Posture Ergonomic PU Leather Office Chair is advertised as easy to assemble, piecing it together can be somewhat tricky and involves a little wrestling with the parts. That said, this computer chair does ship with a generous 5-year full manufacturing warranty.
Priced under $200, the Nouhaus +Posture Ergonomic PU Leather Office Chair packs in lots of great features designed to deliver comfort for long periods, which is why it secured the crown as our pick for the best all-around computer chair for long hours. All in all, this is one of the best ergonomic office chairs on our list.
2
PROS
Affordable
Easy to assemble
Ergonomic design and adjustments
CONS
Comfort trails off after long periods
Not suitable for shorter users
The Duramont Ergonomic Adjustable Office Chair is stacked with ergonomic features that can easily be adjusted to find the right fit. In particular, a four-way adjustable lumbar support built into the S-shaped backrest can be shifted upwards and downwards and left and right, granting users a broader range of positions. It follows the natural contour of the spine.
Similarly, the attached headrest can be customized with both angle and height adjustments. The backrest features breathable mesh, while the seat is well-cushioned with high-density foam, topped by a mesh top layer, and a W-shaped design for excellent hip and coccyx support. You can adjust the height from 43 cm to 53 cm, armrests, tilt tension and lock, and recline to three preset positions – 110-degrees, 116-degrees, and 126-degrees. The maximum load caps out at 150 kg.
The Duramont Ergonomic Adjustable Office Chair has the added benefit of easy assembly thanks to clear instruction and supplied tools. No more than 15 minutes are needed to get it ready for use.
As for negatives, the comfort mileage of the Duramont Ergonomic Adjustable Office Chair will vary greatly depending on the person. The chair tends to suit taller users best. Comfort does tail off the longer the chair is used but performed decently for most eight-hour sessions with proper adjustments. Additionally, the lack of seat depth adjustment does limit how much you can customize the chair. The fact that the armrests don't include padding can cause strain for some, too.
Nevertheless, the ergonomic options are impressive for such an affordable chair. It is one of the best quality office chairs out and it wholly deserves to be our pick as the best ergonomic chair for long periods.
3
PROS
Racing bucket design
Great padding and soft finish
CONS
Limited adjustment options
Those looking for a gaming, racing bucket computer chair without forking out substantially higher sums for a brand name option from the likes of Secret Lab will find a lot of value in the OFM Essentials High Back Office Chair. The bucket borrows the familiar racing style shape and offers a generous 28″ width and 29″ depth. However, it isn't adjustable.
The OFM Essentials High Back Office Chair is designed to replicate the luxury feel of more expensive gaming chairs with a spot of executive flair thanks to thread stitched diamond-patterned soft-thread leather. Plus, the plush segmented padding follows a contoured shape to offer both support and comfort. Adjustments are limited to a center-tilt mechanism, tilt lock, and tilt tension. Still, an integrated headrest, padded armrests, and integrated lumbar support cushion offer good all-round comfort and ergonomics for long periods grinding away at the computer. Additional features include a 360-degree swivel base, weight support up to 250 pounds, and the OFM Essentials High Back Office Chair simple to assemble – no more than 10 minutes in most cases.
The lack of adjustment does limit the versatility of the OFM Essentials High Back Office Chair. But for those who find a comfortable position and want a bucket-style design with a luxurious finish, made with high-quality materials, it will prove incredibly comfortable for hours on end.
4
PROS
Excellent range of adjustments for the price
Great value
CONS
Seat cushion is a little hard
For those on a strict budget that require a computer chair fit for hours of use, then the Elabest Office Chair is, in our estimation, the best value option out there.
Suitable for a broad range of body types, the Elabest Office Chair offers a sizable seat and maximum weight support of up to 280 pounds. The chair's height can be adjusted, as can the tilt – from 90-degrees up to 120-degrees – and the tilt tension. Not necessarily the broadest range of options, but enough for most to find a good sitting position that should stand the test of a full day at the keyboard.
Upholstered with good quality PU leather, the Elabest Office Chair offers protection against spills and grime while being breathable. The back features a similar build with three stitched pads and a cushioned neck support. The seat itself packs in a 4.3" layer of high-density foam cushioning. Extra features include a 360-degree swivel base, quiet-rolling casters, and one year warranty.
The only real complaint, which may not apply to everyone, is that the seat cushion is more supportive than cushioning, which some would describe as too hard.
Features and Considerations
Here are a few things to consider when looking for the best ergonomic chair for your home office.
Ergonomics
Ergonomics can be defined as design that intends to limit user discomfort and fatigue to encourage safety, efficiency, and overall well-being. In other words, ergonomics is the science of comfort and efficiency. It's easy to see how this relates to computer chairs; a comfortable seat is conducive to better productivity and, by extension, safeguards the user's physical health.
In particular, ergonomic features in computer chairs work to support the user and encourage the body's natural shape – primarily, appropriate support for your specific body type and height (especially lumbar and back support), and a range of adjustments.
These features play a vital role in ensuring sustained comfort throughout hours of use and are crucial factors to consider when eyeing up the best computer chair for long hours.
While better ergonomics tend to come at a premium, we can't stress how important it is to have the right equipment for long hours in front of a screen. Your future self will thank you for investing today when you aren't plagued by unshakable back and neck pain five years down the line.
Adjustments
With manufacturers touting ever longer lists of adjustments for their desk chairs, it can be easy to dismiss these as marketing fluff. In reality, these are the tools you'll need to ensure the right fit for your specific body and, by extension, ensure you do not regret your purchase.
As a bare minimum, look out for adjustable seat height and tilt adjustments. Ideally, your computer chair of choice also includes armrest options (swivel, height, etc.), adjustable tilt tension, seat depth, and customizable back and lumbar support. The bottom line is that the more options there are, the more likely you'll find that perfect position and stay comfortable for long periods of use.
Fabric and Materials
It goes without saying that build quality plays a role in how long a chair can weather the demands of daily use and how sturdy it feels to the user. Nothing quite sets off pangs of buyer's regret than a computer chair that feels unstable when reclining backward or produces tedious creaks and squeaks on day one.
If a chair feels poorly built out of the box, it's more or less guaranteed it won't handle the stress of daily use for very long. Opt for chairs made of robust materials to avoid this.
Similarly, fabric factors into overall comfort. Peeling skin off low-quality faux leather on humid days, feeling hard components poking through cheap foam padding after only a couple hours of use, and the like all detract from the overall comfort of a computer chair. Preference plays a part here, which is why there's a decent range of materials: mesh, real leather, polyurethane leather, nylon, and so on.
Our Verdict
If you are looking for an all-round computer chair designed to handle the trials of long hours, then we suggest the Nouhaus +Posture Ergonomic PU Leather Office Chair. Affordable and comfortable, it offers excellent support and a lot of options to find the right fit.
There's no doubt that the Duramont Ergonomic Adjustable Office Chair ranks up there with a trove of adjustment options for ergonomics. As for racing bucket-style computer chairs, the OFM Essentials High Back Office Chair is an excellent choice.
Finally, if you are not looking for a high-end office chair then the Elabest Office Chair certainly fits the bill with great value packed into a chair suitable for hours on the computer for those on a budget.
With that, we'll wrap up our guide to the best computer chairs for long hours. We hope it's been informative and helped you to make that all-important decision. Drop us a message below with any questions or concerns.