Last Updated on
What comes after Black Friday? Cyber Monday. Another day of savings and deals to complete your Christmas shopping at a discount. Just like Black Friday, we know Cyber Monday can be stressful with everyone after the same thing, buying a discounted TV only to find a better TV with a better discount moments later. That's why we compile all of the latest and greatest Cyber Monday deals especially for our readers.
Now, it's safe to say one of our favourite retailers for successfully navigating Cyber Monday is Amazon. The company has just about everything you can think of and its enormous presence means it has some of the best deals around.
Over the last few years, Amazon has been building a catalogue of brilliant tech products, from e-readers to home security. This year, we're expecting huge Cyber Monday discounts on everything Amazon.
Featured Amazon Cyber Monday 2021 Deals
We shopped around for the best Amazon deals so you don't have to. Like we mentioned, Cyber Monday is stressful. If you're not exactly certain about what you're after, take a look at our featured Amazon deals for Cyber Monday 2021. We can guarantee that you'll find the best products at the best prices, no questions asked. But, it is important to note that Amazon products are hugely popular. While there's usually a lot up to grab, you should act quickly, if you want anything specific, to avoid losing out.
*Prices are subject to change
ANYCUBIC Photon Mono SE 3D Printer
SAMSUNG Galaxy Tab S7+ Plus
Samsung Galaxy Tab S7 Wi-Fi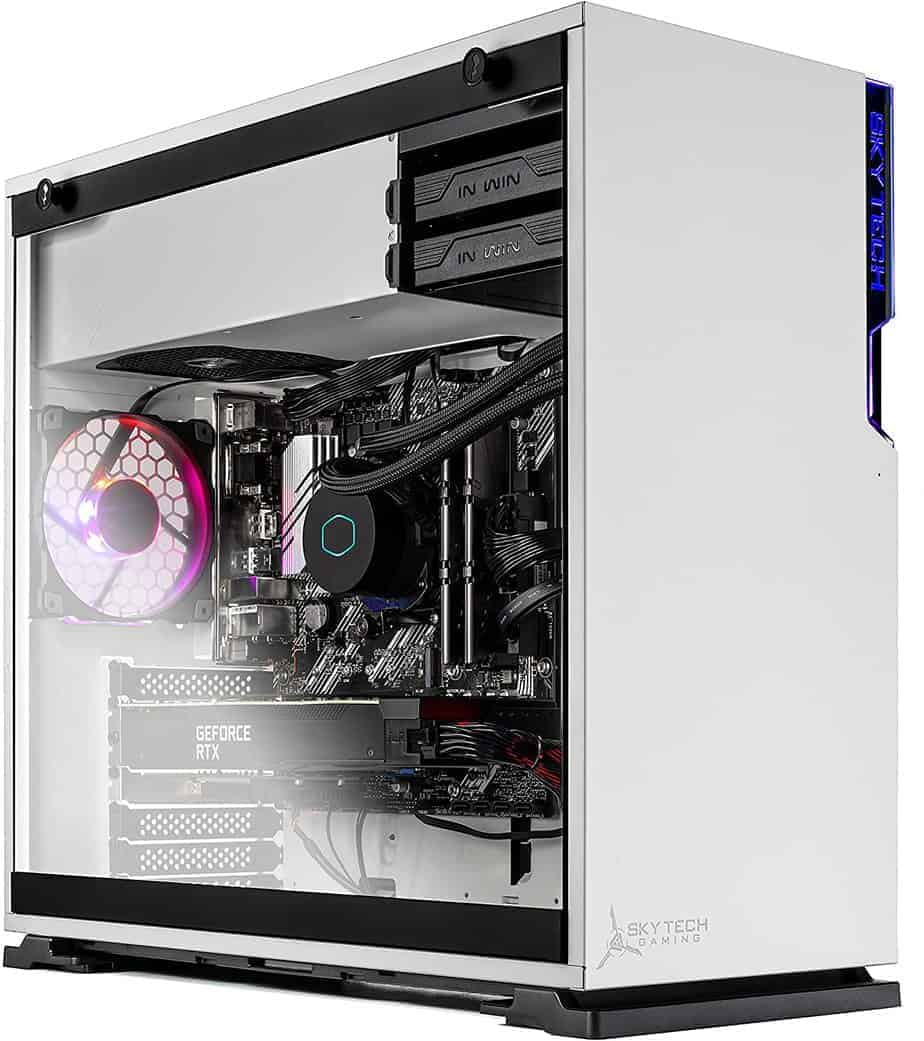 Skytech Shiva Gaming PC Desktop – AMD Ryzen 5 5600X, RTX 3080
CYBERPOWERPC Gamer Xtreme VR Gaming PC
Tile Mate (2022) 2-Pack. Bluetooth Tracker, Keys Finder and Item Locator for Keys, Bags and More; Up to 250 ft. Range. Water-Resistant. Phone Finder. iOS and Android Compatible.
Tile Mate (2020) 1-pack – Bluetooth Tracker, Keys Finder and Item Locator for Keys, Bags and More; Water Resistant with 1 Year Replaceable Battery
Amazon Echo Cyber Monday 2021 Deals
The Amazon Echo has to be one of Amazon's most iconic products. Powered by Amazon's virtual assistant, Alexa. Echo's are the perfect product if you're looking to make a house a smart home.
Echo's are Amazon's smart speakers and they come in a variety of models and styles: The standard Echo, the Echo Dot, the Echo Dot with Clock and Echo Dot Kids. These wonderfully useful speakers make use of Amazon's Alexa voice controls and can do everything from setting your alarm to turning on your lights in the morning (with the right light bulbs).
Earlier in the fall, Amazon announced a whole host of new Echo models and features, and we're hoping you'll be able to get your hands on some of these at discounted prices on Cyber Monday.
Amazon Kindle Cyber Monday 2021 Deals
If you're an avid bookworm, but hate the hassle of trying to flip pages while you multitask (it's not just me who resorts to using their phone as paperweight while trying to read and eat lunch at the same time, is it?), the Amazon Kindle is for you.
One of the first popular e-readers, the Amazon Kindle is a classic Amazon product and makes reading all the books you want easily. They're the perfect product for anyone who wants to read on the go while keeping all of their books in one place.
All of Amazon's Kindles have battery lives that span weeks and allow you to listen to your favourite reads as audiobooks with Audible. The next model up, the Kindle Paperwhite, is waterproof and can hold at least 4GB more storage than the original Kindle. Finally, the Kindle Oasis is all that and more with an ergonomic design, auto-adjusting light sensors and page turning buttons.
Amazon Echo Show Cyber Monday 2021 Deals
The Echo Show is part of Amazon's smart speaker family, but with a twist.
Along with your virtual assistant, the Echo Show comes with a touch screen. Depending on the model, the Echo Show features a 5.5" – 10.1" touch screen and built in camera. There are a number of models to choose from, from the smaller (and cheaper) Echo Show 5, to the newest Echo Show 10, which uses a motion sensor to follow your head movements so you can keep an eye on the screen while cooking or doing other things. We saw a number of great deals on Prime Day and Black Friday, so we're sure Cyber Monday 2020 won't disappoint those looking to get their hands on one this year.
Amazon Fire TV Stick Cyber Monday 2021 Deals
The Fire TV Stick is Amazon's answer to Google's ChromeCast. Plugged into your TV, you can stream from all over the world. With Netflix, Amazon Prime, Disney Plus, YouTube and so much more, you'll never be short of something to watch while relaxing with a takeaway.
The newest Amazon Fire Stick remote controls utilise Alexa voice commands, meaning you can flip from channel to channel without lifting a finger. Again, we're expecting some huge deals on these handy contraptions this Cyber Monday.
Amazon Fire Tablet Cyber Monday 2021 Deals
Not only are Amazon Fire Tablets high-profile and high-quality, they're insanely affordable. And that's before the Cyber Monday deals kick in. With up to 12 hours of battery life and HD screens, all of the Fire Tablet models are perfect. If you're looking for a less expensive answer to an iPad for your child this Christmas, the Amazon Fire Kids Tablet is perfect. They're also compatible with the Fire Stick, so you can cast your screen straight to the TV for easy watching. 
Amazon Ring Cyber Monday 2021 Deals
Amazon Ring is Amazon's home security brand. From video doorbells and indoor security cameras to car cameras and security drones, Amazon Ring has an extremely wide range of security products designed to keep your home as safe as it is smart. Most camera devices can be connected to an app on your phone so you can see what's happening no matter where you are, and some can automatically call 911 if they suspect danger. Again, we've seen a load of new Ring products out this year, and we're sure they'll be doubling down on discounts this Cyber Monday.
Where Do We Find The Best Cyber Monday Deals?
When we're looking for the best deals, trust us when we say just about everywhere. We want to bring you the most bang for your buck, so whether its Amazon, Best Buy, Newegg, John Lewis, Currys PC World, or whichever other retailer has the greatest deals this year, we'll bring them to you.
Cyber Monday can be overwhelming. If you can't find what you're after, just let us know. Drop a comment below with any questions you might have, the team at PC Guide is always here to lend a helping hand, and we'll be able to give you the best deals in real-time.
Good luck with your Cyber Monday shopping!