Last Updated on
Discord is a popular communication platform that allows users to message, voice, and video call using their servers. The Discord app is widely available and you can download it on your computer, gaming console, and mobile device. It has a range of features from screen sharing to video calling, making it a favorite for not only gamers but other communities too.
Getting Discord on the iPhone is really quick and simple. You must, however, have iOS 11.0 or newer installed on your iPhone otherwise you will not be able to download the app.
The oldest iPhone compatible with iOS 11 is the iPhone 5s. So as long as you have an iPhone released after 2013, you should be fine. These quick steps, which we will show you below will also work on your iPad or iPod Touch too. So without further ado, let's jump right in.
To get Discord on the iPhone you will need to download the Discord App. Discord is available from the Apple App Store and is free to download. Make sure you have a strong WiFi or mobile data connection so you can start downloading.
Open up the Apple App Store and using the magnifying glass icon, search 'Discord' to find the Discord App.
Now you are going to want to click 'install' on your iPhone. Discord is a free app but Apple will still ask you to verify the purchase by either using Face ID, Touch ID or by inputting your Apple ID password.
Once you have verified this, the app should start installing. This step should not take too long.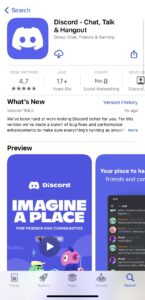 Now that the app is installed, you can open Discord by going back to your home screen and clicking the purple Discord icon.
Once the app is open, Discord will ask you to log in or register a Discord account. Here you will want to sign in as usual, just like you would on Discord on the web.
That's it! You should now be able to see all your servers and channels straight from your iPhone.
Does iPhone 11 have Discord?
You can download the Discord app on the iPhone 11 easily. By opening the Apple App Store and downloading the free app directly from there, you will be able to access Discord on your phone. Just to note, as long as your iPhone has iOS 11.0 or newer, you will be able to use the Discord App on your iPhone with no problems.
Summary
Discord is a really popular app for gamers and non-gamers alike. With over 6.7 million active servers at the moment, Discord has become a huge platform for communicating with people all around the world.
Getting Discord on iPhone is super easy. You can even follow this guide if you are looking to get Discord on your iPad or iPod Touch too. If you enjoy articles just like this one, be sure to check out our dedicated Discord guides section here on PC Guide.