Best Headphones Under $50 in 2023
Today, we have the perfect headphones under $50, a bargain for everyone! We also have the best buying tips to help you select your new headphones today.
Last Updated on October 16, 2023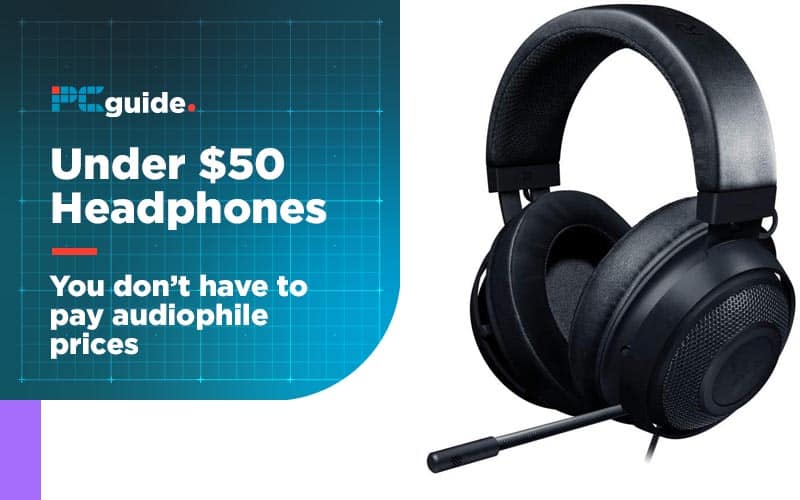 For many of us, music is a way of life, which means that headphones, too, are a way of life. Finding comfortable headphones that offer fantastic sound and last all day is the dream for many of us.
But that dream is out of our reach. The best headphones on the market can set you back hundreds, if not thousands of dollars, pricing many of us hard-working folk out. Instead, we are left with crackling and distorted sound with poor quality, shut out of high-quality headphones; it's a depressing reality for many of us.
But we are here to break you out of the Matrix and show you the truth! High-quality headphones do exist without the hefty price tag! We found 5 of the best that all sit under $50! Keep reading for the best headphones under 50 and our helpful buyer's tips to purchase the best headphones for you!
If you have a little more to spend, have a look at our Best Headphones under $100 article as well.
Products at a Glance
How we picked
Here at PC Guide, we take headphones seriously. After all, muffled, distorted music has no place in 2023. But what does that mean for you? It means that we never showcase a product that we don't truly believe in.
We set the highest standards and expect products to meet or exceed them. We can't expect you to trust us if we don't recommend the best. So when it came to today's article, we had criteria for our headphones. We tested the sound quality, battery life, comfort, wireless potential, noise-canceling, and cost to offer the best of the best.
We also looked at customer reviews, customer service, and warranties to ensure that the headphones would stand the test of time. These headphones are comfortable, offer incredible sound, and eradicate background noise! What are you waiting for? Check them out now!
Our Recommended
Best Headphones Under $50 in 2023
1
PROS
Affordable - suitable for most budgets
Long battery life - will last all-day
Noise-canceling technology - removes background noise for an enjoyable experience
Comfortable fit - suitable for extended periods
CONS
Some customers noted issues with the noise-canceling feature.
Taking the top spot today is Monoprice's SonicSolace Headphones! At an affordable price, these wireless over-ear headphones are sure to take your breath away!
The headphones feature an impressive 16 hours of playtime, allowing you to keep the tunes running all day long. The headphones are comfortable to wear all day, too, thanks to the cushioned ear cups and adjustable headband; you can have the perfect fit! They are incredibly durable, too, thanks to their brushed aluminum construction.
The headphones feature 40mm drivers and are extremely sensitive and responsive, ensuring that the sounds they play are nothing short of the best! Customers praised the excellent sound quality, especially the bass! They enjoyed them, whether at their desk or out and about, finding they delivered consistent sound no matter the environment!
There are easy-to-use controls on the headphones too, and a built-in microphone so you can control your tunes without needing to reach for your phone! The microphone is perfect for phone calls or gaming too! And thanks to the Bluetooth 4.0 connection, your songs are unlikely to drop or skip!
What's great about these headphones is you can enable noise cancelation when it suits you! When enabled, background noise is eliminated, and you can expect a playtime of roughly eight hours.
Some customers noted that the noise-canceling was not always effective. However, few customers reported problems with this, so you are unlikely to experience problems yourself! If you are looking to use these headphones for noisy environments, it is worth being aware of this problem, though.
If you are after an affordable set of headphones that feature excellent comfort, all-day battery life, and keep the background noise out, it's the Monoprice headphones for you!
2
PROS
Range of colors- suitable for all styles
Surround sound - perfect clarity for music, movies, and games!
Eco-friendly design - fantastic for your ears and the planet
Built-in microphone - take calls with ease
CONS
Some crackling sounds when in use
After a stylish pair of headphones? House of Marley has the ones for you! Their Positive Vibration 2 headphones come in a range of colors and feature a stylish on-ear design you are sure to love.
House of Marley is big on sustainability, and these headphones are no exception. Their eco-friendly headphones feature foldable aluminum cups, perfect for storage and travel. They also feature FSC certified wood and plush cushions of enhanced comfort.
Featuring 40 mm drivers, you will experience extraordinary clarity you are sure to love! Customers noted how clear and precise the sound was, especially when plugged into musical devices such as pianos.
Some customers did note a crackling sound when plugged into pianos and other devices, which can be an issue when playing music. However, few customers reported the problem, so you are unlikely to experience this yourself!
The headphones are easy to control, thanks to the one-button feature. You can pause, play, or skip songs as well as take calls all with one button! The integrated microphone makes taking calls a breeze, too; you can be sure there will be a clear voice!
The Bluetooth connection provides outstanding capability and ensures that you are always connected to your devices without a drop-in connection. Customers praised the connection as well as the quality and softness of the headphones.
After a sustainable and comfortable set of headphones that deliver excellent surround sound? It's the House of Marley headphones for you!
3
PROS
Affordable - suitable for all budgets
Brilliant sound quality - precise vocals and powerful bass
Excellent battery life - use all day without needing to recharge
Wireless and wired options - use the headphones your preferred way with ease
CONS
Heavier than other headphones
A popular brand, Skullcandy's Hesh 2 headphones are a fantastic option for those wanting to experience supreme sound! The affordable headphones come in three color options, offering one for every style!
Be prepared to experience sound like no other! The Hesh 2 features supreme sound technology that produces attacking and powerful bass with warm natural vocals and precise high sounds. Perfect for those that enjoy all types of music!
You can have these headphones on all day, too, thanks to the soft synthetic leather cushions. Your ears will be treated to comfort like no other! What's more, the flexible headband is comfortable but durable thanks to the metal understructure. These can be used daily without significant wear and tear is seen.
The durable construction of these headphones makes them heavier than others on the market, so be mindful of looking for something lightweight to use when exercising. However, for wearing around the house, they should be fine.
Skullcandy's headphones feature a brilliant 15-hour battery life, too, perfect for those on the go after all-day music! They are charged easily and quickly, too, with a micro USB port located behind the ear cup. A handy LED indicator blinks red when the battery falls below 10%; you'll never be caught out by a low battery again!
There is also a backup AUX cable included, allowing you to plug in and keep the music going, even when the battery has died! You will also have access to a microphone so you can take phone calls if needed.
The Bluetooth connection ensures your devices will be paired easily, allowing for easy streaming. You can also control your music through the headphones with the handy controls on the side. Answer calls, adjust the volume, pause your music, and even place calls on hold! Who needs to touch their phone when you have these headphones?
Customers praised the quality of the headphones, especially their superior construction and sound quality. They found the bass to be rich and deep, and spoken words crystal clear, perfect for music or movies!
They also enjoyed the noise cancelation technology, praising its effectiveness at blocking out all sounds – be sure to check before crossing the road with these on!
If you are after durable headphones that won't break easily and provide you with clear and accurate sound, grab the Skullcandy headphones today!
4
PROS
Affordable - suitable for most budgets
40% lighter than other headphones - perfect for all-day, comfortable wear
Noise-canceling technology - ideal for answering calls or listening to music
Fantastic sound - perfect for immersive music or gaming experience
CONS
Not the best when it comes to high-pitched sounds
After an affordable and lightweight pair of headphones? Why not try Razer's Kraken X headphones? These sit just under budget and provide a comfortable fit and outstanding sound quality!
The headphones are designed to be 40% lighter than others on the market, ensuring you can wear them comfortably all day! They are perfect for gaming, too, with a built-in microphone. The microphone also features noise-canceling technology, ensuring that background noise is eliminated when in use!
The durable headphones are made with gaming in mind. The surround sound is immersive, ensuring you never miss another second of sound! You can enable the surround sound when PC gaming easily, too, allowing you to switch between music and gaming with ease.
Razer's headphones feature handy controls, too, allowing you to adjust the volume and mute the microphone as and when you want! You can also adjust the headphones without worrying about causing damage, thanks to their robust construction! You can use these daily without worrying about anything happening to them.
Customers loved the lightweight and comfortable feel of the headphones, especially the memory foam padding along with the headband. They enjoyed the quality of the microphone and praised the noise-canceling abilities too.
However, some customers did note that the high pitch noises came across as screaming at times. Few customers reported the issue, but for those who listen to high-pitched songs or games frequently, these might not be the headphones for you.
After a durable and lightweight headphone set that will provide you with comfort all day long wear? Try the Razer Kraken X today!
5
PROS
Affordable - suitable for most budgets
Range of colors - one to suit every style!
Incredible battery life - perfect for all-day on the go use
Outstanding sound quality - delivers amazing bass
CONS
A Bright LED command switch is noticeable when used in the dark.
COWIN's E7 headphones are fantastic for those seeking excellent sound and noise-canceling technology! The affordable headphones come in several colors, meaning there is one for every style! Why not express yourself with some jazzy yellow headphones?
COWIN's headphones feature noise-canceling technology that will remove background noise where you are working or traveling. The technology works well on planes, offices, or the gym, so you can focus on the music you want to hear! The technology works well when the headphones are wireless or wired, so you never need to sacrifice your sound!
The option to go wireless is fantastic; thanks to the sturdy Bluetooth connection, you can be free from wires and enjoy a whopping 30 hours of playtime! Perfect for long journeys or those trips when you forget your charger!
Alternatively, you can wire up and listen worry-free. When you need to charge your headphones, they don't need long. Four hours will see them return to their full charge, ready to go again!
The headphones feature 45mm larger aperture drivers that deliver deep and accurate bass that will fill your ears with your favorite heavy bass riff! The powerful and crisp sound around your ear will make you forget the outside world entirely!
What's great about these headphones is you can swivel the earcups up to 90 degrees for a perfect fit and comfortable listening experience! Their lightweight design and comfortable texture ensure comfort and durability when using them.
What's more, there is also an 18-month warranty and customer support on hand should you encounter any issues during use!
Customers loved the headphones praising their enormous battery life and comfortable fit. They enjoyed the noise-canceling quality and found they could wear them all day without any issues and still enjoy high-quality sounds!
However, an LED on the command switch on the headphones stays on all the time. While it does not impact the performance of the headphones, it can be quite noticeable when used in the dark.
If you crave fantastic sound quality and headphones that rarely need to be charged, pick up the COWIN E7s today!
Things to consider
Not sure what you need from your headphones? Let us show you the areas you need to consider before hitting the add to cart button!
Sound Quality
Perhaps the most crucial feature of your headphones is the sound quality. You want a pair of headphones that will deliver clear sound at a loud volume without any distortion. Ideally, the headphones will have fantastic sound at all pitches, keeping your bass low and high pitched frequencies high.
Look for large drivers that will deliver fantastic sound and clarity to your music. These will also provide a deep bass that you can enjoy, whether listening to music or movies. It's worth checking customer reviews, too, for honest opinions about the sound quality.
When it comes to sound quality, the connection between the headphones and the device will play a part too. Most headphones will use a Bluetooth connection of 4.0 or above to deliver a flawless connection and feature AUX cords as a backup.
Be sure to consider the battery life when it comes to wireless headphones to ensure they will last the day.
Comfort
If you are wearing headphones all day, you want them to be comfortable. When purchasing your headphones take into consideration the earpieces and also the headband. Look for those that are cushioned and padded as they will provide lots of support and softness for your ears and head.
Memory foam or synthetic leathers are often used to provide cushioned support and comfort when wearing the headphones for extended periods. When considering the comfort, it's also worth considering the weight of the headphones.
Lightweight headphones tend to be more comfortable and should not cause any issues when wearing them for extended periods. Heavier headphones are sometimes more durable but can be painful during extended use. They can also be quite sweaty, so keep that in mind if your house is warm!
Durability
Durability is an essential feature when purchasing headphones. Look out for those that feature aluminum or other metals in their headband construction, as these can withstand frequent use and movement.
Consider the durability of the material used on the earpieces too. Not only should they be comfortable, but last. Materials that won't break or crack are desirable as these will leave your ears comfortable for years!
Noise Cancelling
No one wants their music ruined by honking cars or crying babies. Noise-canceling technology blocks out background noises, allowing you to solely hear the music streaming through your headphones and reduce noise when taking calls.
Some headphones allow you to enable and disable noise canceling, which can help and attract issues with its reliability. It's best to look for headphones that feature a reliable noise-canceling technology that allows for clear phone calls.
Our Verdict
And just like that, we have reached the end of our review! Now don't look so sad, we had fun, didn't we? Whether you are after impressive sound, undeniable comfort, or noise-canceling, we can all agree that the clear winner is the Monoprice headphones!
When purchasing your headphones, remember to keep an eye on the sound quality, comfort, battery life, and durability of the headphones. Also, be mindful of any noise-canceling technologies that can help improve the quality of your music and provide uninterrupted entertainment.
Whichever headphones you opt for today, we are sure you will be blown away by the quality and sound!