Best DSL Modem in 2022
Finding Your First-Class Ticket to Cyberspace
Last Updated on August 19, 2022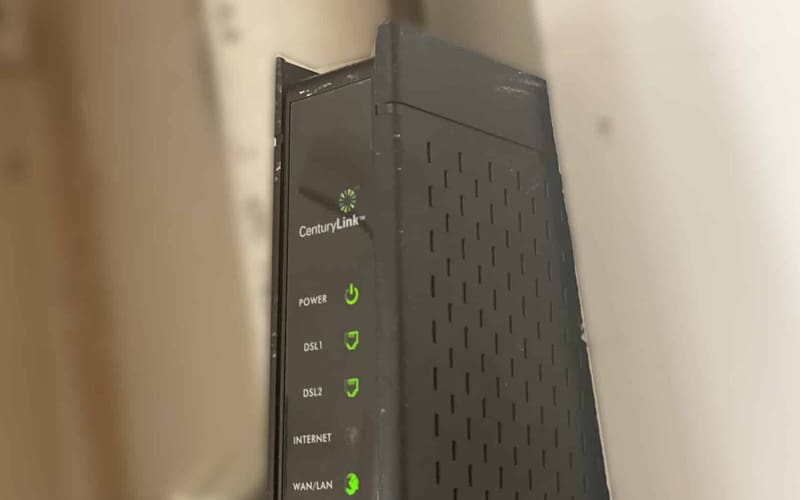 Your DSL modem is the bridge between your device and the wonderful world of the internet. Without one, there's simply no way to get online, so say goodbye to your Insta feed, get your Twitter account in order, shut down that FB page…you're off the grid.
The annoying thing is that when you're ready to get back into cyberspace, no two DSL modems are the same. Some are amazing, while some are, well…not so amazing, and if your major was anything other than computer science, differentiating between the good, the bad, and the downright ugly, can seem like an impossible task.
But don't lament that Philosophy degree, friend. You worked hard for that. Besides, we've done the legwork for you and found five of the best DSL modems you can buy.
You've been starved of internet for long enough, you poor thing, so let's not beat around the bush. We're going to jump straight into our reviews. Let's get you connected!
Products at a Glance
Our Recommended
Best DSL Modem in 2022
1
PROS
24MBps Download Speeds
Annex M
3 Firewalls
User-Friendly
2
PROS
802.11ac Wifi
Dual-Band
WPA/WPA2/WPS
Future Proof
3
PROS
600MBps 2.4GHz and 1300MBps 5GHz
3 Antennae
Design
CONS
Wired Speeds
No MU-MIMO
Price
4
PROS
Gigabit Ethernet
Dual Firewalls and WPA/WPA2/WEP
Price
Simple Installation
5
PROS
Gigabit Ethernet
Dual-Band
Design
Good Features
CONS
Price
No MU-MIMO
Installation
Do They Still Make DSL Modems?
Yep, DSL modems aren't quite relics just yet. They're still widely produced by a number of popular manufacturers such as Netgear and TP-Link. 
How Do I Choose a DSL Modem?
The aim of the game when choosing a DSL modem is to match up its abilities with your internet service, but first, make sure the prospective modem is compatible with your ISP. For more advice, see our buyer's guide above.
Are DSL Modems Faster Than Others?
Both DSL and cable network connections are way faster than dial-up, but as far as crowning a winner between them, it can't really be done. One will be faster than the other in certain situations, while the other will dominate in alternative scenarios.
Are DSL Modems All the Same Speed?
Not all DSL modems are alike. Some will facilitate much faster and wider internet connections than others, especially when it comes to wifi.
Is a DSL Modem the Same as a Cable Modem?
The difference between a DSL modem and a cable modem is that the DSL unit is hooked up directly to your phone line, while a cable modem connects to the network via your TV box.
Although cable connections tend to have a wider bandwidth, it's stretched across your area, reducing perceived transfer speeds.
DSL provides an exclusive connection to your house, so even though they're technically slower than cable connections, as you don't have to share bandwidth with your neighbors, they're often the fastest option of the two.
What Does DSL Mean on Modem?
DSL stands for digital subscriber line, meaning the modem in question will connect your devices to the digital subscriber line you've agreed upon with your internet service provider.
Our Verdict
That's all from us, folks. Was there a modem on our list that caught your eye? We're certain there's something for everyone here, from the power users to the online shoppers, from the hardcore gamers to the content creators.
As long as you heed the advice in our buyer's guide and always keep the deal you've made with your ISP in mind, picking out the right one for you should be a doddle. All that's left to do is give you a big, warm PC Guide welcome back to the internet!