Best Motherboard For i7 8700K in 2023
Today, we have the perfect article for you, packed full of the best motherboards for your processor and handy buyers tips!
Last Updated on November 22, 2023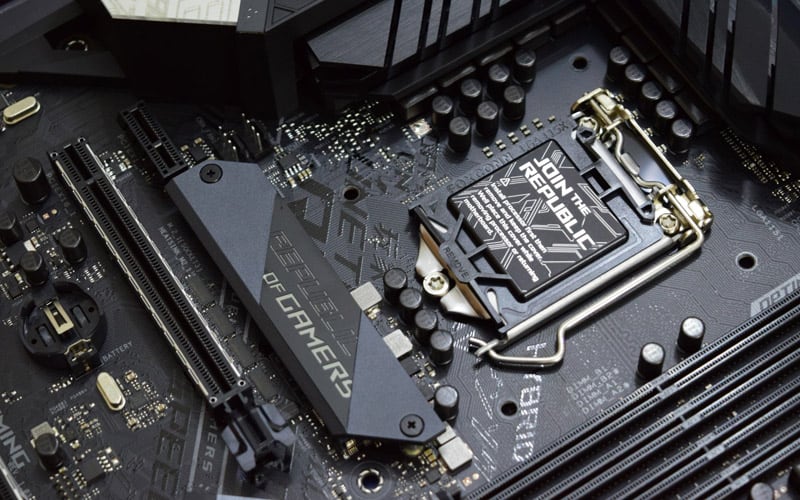 The time has come for a new motherboard. It's the moment many of us fear, ripping out the old and slotting in the new shiny motherboard. It's especially troubling for those of us who have just forked out on a new CPU or are trying to find a motherboard to match their i7 8700k CPUs.
After all, the last thing you want is a motherboard that can't deliver the speed and performance your CPU needs. No one wants a backward step when building their powerful PC, do they? You begin to panic, desperately searching for a motherboard that is compatible, anything that will work.
But we are here to stop the panic in its tracks! For we have scoured the internet and found the best motherboard for i7 8700k. That's right; your search is over! We have even thrown in some top buying tips, so all you need to do is sit back, relax, and prepare to meet your new baby, we mean, motherboard!
BF deals
Before we continue, we've spotted these top Black Friday motherboard deals, which could be good options if you want to save some money on a newer purchase. You can also check out our Black Friday motherboard deals page.
Intel Motherboards
AMD Motherboards
Products at a Glance
Here at PC Guide, your trust is invaluable to us. It's why we make sure that we don't recommend anything short of perfect for you to place in your computer. And motherboards are no exception!
To find the best motherboards for an i7 8700k processor, we had extremely high standards that the motherboards needed to meet or surpass before we even considered including them today! We considered the range of slots, memory, speed, and the included chipset to ensure that it could cope with the CPU.
We also considered the cost, warranty period, and customer reviews to ensure that the products recommended today are loved for all the right reasons! Sounds like the kind of motherboard you want? Keep reading to find out what motherboards made the cut!
Our Recommended
Best Motherboard For i7 8700K in 2023
1
PROS
Reasonably priced - suitable for most budgets
Excellent RAM - ensures a fast performance
Wide range of PCI slots - won't be struggling for connection space!
Easy to install - have your computer running again in no time!
CONS
Some customers reported noise issues
Kicking off our list is today's winner, the ASRock Z370 Taichi motherboard! At a reasonable price, the motherboard is compatible with your CPU and features an Intel Z390 chipset.
The compact size of the motherboard is perfect for a range of PC setups, and it integrates well with your existing CPU. You can expect fast speeds thanks to 64GB of RAM and 64GB of memory!
ASRock's motherboard is a fantastic option for gamers seeking a stress-free motherboard, Its overclocking abilities are fantastic, and it doesn't overheat or cause problems under duress. Customers found that when overclocking, updating their BIOs avoided any overheating issues and allowed their PCs to operate flawlessly. Ideal for gamers who need to crank the power!
There's a range of PCIe slots, all of which can run at single, dual, or triple capacity, providing you with a motherboard that can be tailored to your unique setup. How perfect does that sound? The slots are a lovely distance from the CPU socket, too, providing you with ample space should you ever decide to upgrade your CPU.
Customers loved the motherboard praising its flawless RGB and the high-quality accessories and slots. Perfect for those that want a hassle-free setup when it comes to their motherboard.
Some customers reported a hissing noise when the motherboard was in place and running. They struggled to reduce the noise, which can be distracting when using your PC, especially if you listen to music or gaming. However, few customers reported the problem, so it is unlikely to be an issue for you!
After an easy to install motherboard that has everything you would need and more? Then get the ASRock Taichi motherboard today!
2
PROS
Affordable - ideal for a range of budgets
Range of USB ports - perfect for charging or connecting other devices
DDR4 memory supported - allows for fast speeds and lots of storage potential
Turbo M.2 PCI-e slots fitted - ensures unbeatable performance
For those on a budget, MSI has the perfect option for you! Their Z390-A PRO motherboard won't break the bank and is a fantastic fit for your i7 processor!
MSI's motherboard features core boost technology allowing you to access the higher speeds of your CPU without any issues at all. You won't need to worry about your PC not reaching its overclocking potential; the MSI motherboard will not slow you down! It's fitted with an LGA 1151 socket, too, for convenient installation.
You won't need to worry about overheating when hitting those higher speeds, too, thanks to the extended heatsink! It sits on top of the VRM and works to dissipate excessive heat. The increased surface area ensures your motherboard stays cool, even under pressure!
There's fantastic sound quality, too, thanks to the Audio boost built-in! The HD audio processor is isolated from the rest of the motherboard to provide you with an immersive sound, whether streaming music or gaming!
MSI's motherboard features a fast system boot-up thanks to the Turbo M.2 slots! You can expect to see speeds of 4.4MHz data transfer, perfect for opening multiple files and all your gaming needs! The motherboard supports DDR4 memory, offering you access to those faster speeds and higher performance.
Speaking of slots, there is a range of PCI slots on the motherboard, offering a fantastic range of compatibility and connectivity! These slots are protected with a steel armor coating, offering excellent protection and reinforcement to support larger graphics cards. Another tremendous plus for gamers!
There is also a range of USB slots on the motherboard, delivering fast and secure connections that won't let you down!
Set up is a breeze; some customers did note that the M2 screw was challenging to find and added time to the installation process. Be sure to check out the reviews where customers have added pictures of the location of the M2 screw!
Customers loved the motherboard, praising its high quality and fast speeds. They noted that overclocking was easy and that they didn't need to worry about any overheating issues! They achieved speeds of almost 5Ghz, fantastic for gamers and streamers!
While it might take some time to locate the M2 screw and install the motherboard, the fast speeds and fantastic performance make this motherboard an excellent choice for gamers.
3
PROS
Reasonably priced - suitable for most budgets
Incredible cooling fans - prevent overheating even when overclocking!
Safe Slots fitted - ensures your components are safe and suitable for heavyweight gaming.
Easy to overclock - perfect for worry-free and easy to use!
CONS
Some customers experienced hot temperatures when overclocking.
Thanks to ASUS' Safe Slot feature, your added components will all remain safe even under duress. Got some heavyweight gaming planned? The motherboard is capable of keeping up with it problem-free.
ASUS's motherboard can be overclocked with just one click! It has never been this easy to overclock and have a perfectly optimized PC. The system will handle the tuning and optimize your system for the overclocking you need; how fantastic does that sound?
You won't need to worry about overclocking either, as the motherboard is fitted with an M.2 heatsink to keep your SSD cool. The heat is dissipated from the area to ensure your performance won't be affected, even when you are cranking the power! Your games won't be slowed down by an overheating motherboard now!
Speaking of games, they will sound phenomenal, too, thanks to the SupremeFX audio technology. You get a fantastic connection that won't drop, beautiful power delivery, and very low distortion. Perfect for games or streaming music.
ASUS's motherboard supports DDR4 memory and features a range of PCIe slots. Two of these slots feature their patent-pending Safe Slot technology that provides a metal framing around the slots. The framing provides enhanced protection and anchors the PCIe slot, making it perfect for heavyweight GPUs.
You can also personalize the Aura Sync RGB lighting and headers for a motherboard tailored to your specific style. After all, why not treat yourself to a motherboard that makes your whole system pop?
Customers loved the motherboard, finding it easy to install and had all the features they needed! They praised the quality of the cooling fans too and found the motherboard was kept cool. However, some customers did find the temperatures a little too hot when gaming or overclocking. The problem was not widely reported, but it's worth being aware of it.
If you are after a reasonably priced motherboard with everything you could ever need on it, why not try the ASUS ROG Maximus today?
4
PROS
Affordable - suitable for all budgets
Range of USB ports - perfect for all your devices
Large RAM - ideal for gamers
Reinforced PCI-e slots - prevents damage when in use
CONS
Some customers had issues with their BIOS.
For those after a bargain, take a look at the EVGA motherboard! It is the most affordable option included today and is sure to be a welcome addition to your PC. The Z370 chipset is perfect for your i7 processor.
The motherboard comes packed with ports and slots that will provide you with space for all of your needs. You have access to a range of USB ports, both 2.0 and 3.0, external and internal, for all your charging or connecting needs. There is also a USB-C port that will provide fast charging when you need it!
EVGA's motherboard is also fitted with PCIe slots that feature a reinforced structure that ensures larger GPUs can be inserted without causing any damage. Combined with a range of USB ports, connectivity is at your fingertips.
The impressive 64GB of RAM will ensure that all your data is dealt with quickly and trouble-free, allowing you to get on with what matters, enjoying your PC experience!
You can also enjoy easy overclocking with the motherboard too, making it a fantastic choice for gamers! There are little heating issues, too, so you can expect a cool and smooth operation!
Some customers found issues with the BIOS and that it slowed down their performance and overclocking abilities. Few customers reported the problem, but it is worth being aware of it before purchasing. A handy solution is to update your BIOS before installation to minimize any issues.
Customers enjoyed the affordability of the motherboard, praising its high quality for the low price. They praised the appearance of the motherboard as well as its outstanding quality. They enjoyed its overclocking abilities, too, finding they were able to overclock problem-free!
After an affordable motherboard, that does it all? Grab the EVGA motherboard today!
5
PROS
It is reasonably priced - suitable for most budgets.
Range of DDR4 slots - perfect for building the system you need
Range of USB ports - provides fantastic connectivity options
Overclocks easily - offers fast speeds without any overheating issues!
CONS
Some customers noted incorrect error beep codes.
That's right, we started with ASRock, and we are finishing with ASRock! Their Z370 Extreme4 motherboard is another outstanding choice for those seeking fast speeds and a range of connectivity!
The motherboard is reasonably priced and features a range of fantastic features. You have both a USB A and C port that can support 10 GB/s, perfect for charging or transferring files from a memory stick quickly!
It also supports DDR4 memory, ensuring you have access to fast file transfers and performance. The memory circuitry is also fully isolated to provide a stable performance that other tasks won't slow down. Alongside this, there is a range of PCIe slots that will ensure fast performance and are steel-covered to support heavy graphics cards, perfect for gamers!
Speaking of games, you can expect fantastic sound, too, thanks to the purity sound four technology. Expect high-definition sounds that are created with the latest technology on the market. Whether you are gaming or streaming music, you can expect crisp sound with little distortion.
ASRock's motherboard can overclock with ease, offering an enhanced performance perfect for gaming and streaming alike! While the motherboard overclocks with ease, you won't need to worry about overheating! The cooling system works to prevent overheating, even when overclocking.
You can also customize the motherboard thanks to the RGB lighting; why not tailor it to your style? You can customize it easily, too; thanks to the app you can download it directly; it's never been easier.
Customers enjoyed the solid build of the motherboard and how easy it was to install. They even enjoyed the elegant look when the motherboard was in place.
However, some customers noted issues with error beep codes not being accurate. You will need to be mindful of this when using and installing your motherboard. Few customers reported the problem, so it should not be an issue.
After a reasonably priced motherboard that overclocks with ease? It'd be ASRock for you!
Things to consider
Socket
When selecting your motherboard, you will need to make sure that the socket is compatible with your existing CPU and PC setup. The socket should come with the right size and chipset locks to avoid disappointment when you fit the motherboard and processor together.
Most motherboards will feature a compatibility list, allowing you to check this easily before making your purchase.
RAM
RAM refers to the short-term memory of your motherboard, telling you how well it will process data without slowing your PC down. When it comes to RAM, bigger is always better! The more RAM you have, the more your motherboard can run large amounts of data with ease.
It's worth purchasing a motherboard that features a range of memory slots, allowing you to upgrade the memory when needed! These will also enable you to store more data without hopefully slowing down your PC; a winner!
PCI Slots
PCI Slots are a vital part of your motherboard, providing space for external hardware such as network cards and memory cards. It's worth considering the number of PCI slots on the motherboard, and the type as these will determine the speed data is transferred from the motherboard to the relevant parts of your PC.
Ideally, a mixture of PCI 3.0 and 4.0 slots is ideal, as these will provide you with a wide range of compatibility and speeds! Be sure to work out how many slots you will need before purchasing your motherboard to avoid any disappointment when it arrives!
Form Factor
The form factor will indicate the size of the motherboard and whether it will fit into your existing PC tower. Before purchasing your motherboard, it's best to measure your current motherboard and space around it to buy the correct size.
Generally speaking, most motherboards will feature an ATX design that is quite small but packed with expansion slots and USB ports, perfect for gamers and PC builders alike!
Budget
When it comes to motherboards, they can be pricey pieces of kit to buy. It is best to set a clear budget before searching and sticking it as best as possible. Thankfully, motherboards for i7 8700k processors aren't too expensive, and you can find a bargain!
It's best to create a list of vital features, such as ports, memory, and size, to help set a budget and narrow down your search. Remember that you don't need to spend a fortune to get a high-quality motherboard! These days there is a motherboard for every budget!
Our Verdict
And just like that, we have reached the end of our review today. As you can see, there are plenty of fantastic motherboards on the market that will complement your i7 8700k CPU perfectly.
Whether you crave multiple ports, smooth overclocking, or a cool operation, we are confident you will find the best motherboard for your i7 8700k processor! Be sure to consider the factors we mentioned in our 'things to consider' section to help narrow your search too!