Best budget gaming mouse 2023 – overall, wired, lightweight
Our top picks for cheaper gaming mice that do what you need
Last Updated on December 6, 2023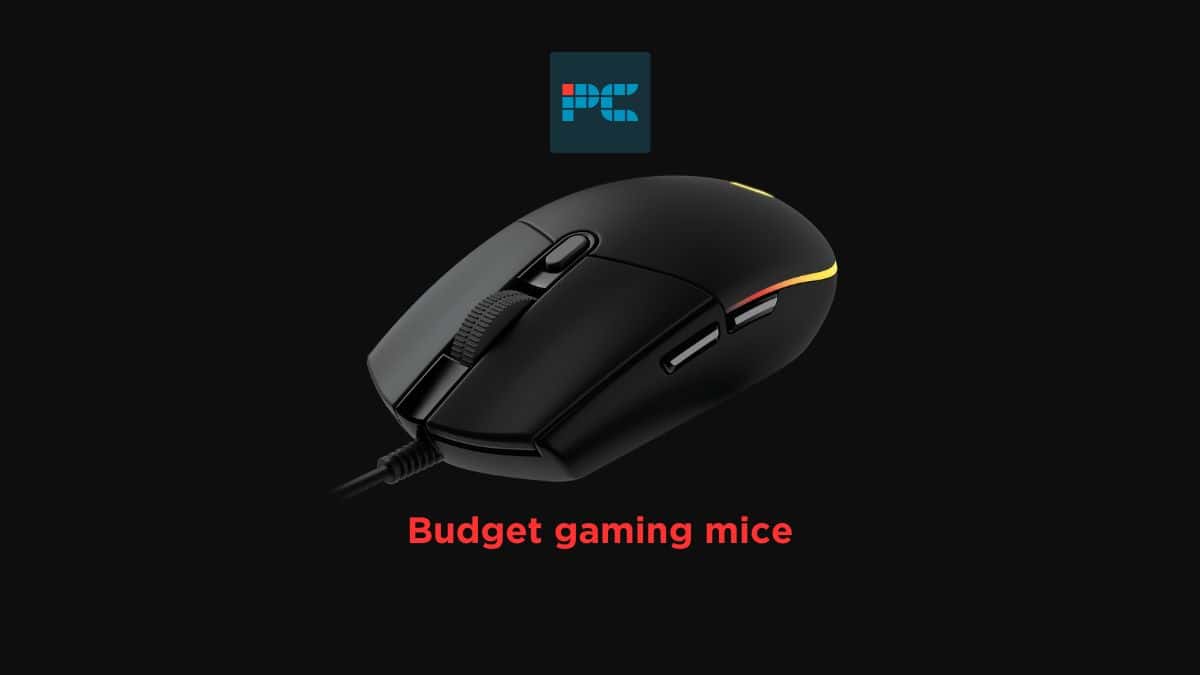 Are you searching for the best budget gaming mouse to enhance your gaming experience without breaking the bank? Look no further! This article delves into the realm of affordable gaming mice, offering insights and guidance to help you make an informed choice. With a focus on balancing cost and quality, we explore options that promise to elevate your gameplay without draining your wallet.
Gaming mice have evolved significantly, transforming from basic input devices to sophisticated tools designed to give gamers an edge. A good gaming mouse can greatly influence your gaming performance, offering better sensitivity, quicker response times, and additional features like customizable buttons and ergonomic designs. Even the best budget gaming mice can be fully featured – so let's get into it!
Products at a Glance
How we picked the best budget gaming mouse
Selecting the best budget gaming mouse involves a thorough analysis of market offerings and user feedback. We start by examining the most popular models within the budget range, looking for products that consistently receive positive reviews from both casual and serious gamers.
In addition to user reviews, we consult a variety of publicly available benchmarks and expert opinions. These resources provide an objective perspective on the performance and reliability of different models. We pay close attention to any recurring issues or standout features highlighted in these benchmarks. Of course, we also have extensive use of gaming peripherals ourselves, allowing us to make expert judgments on the best budget gaming mice available.
Our Recommended
Best budget gaming mouse 2023 – overall, wired, lightweight
1
PROS
High-precision sensor for accurate tracking
Customizable buttons and RGB lighting
Ergonomic design for comfortable use
CONS
Limited DPI range compared to higher-end models
Mostly plastic build may feel less premium
No weight adjustment options
The Logitech G203 boasts advanced features like a programmable RGB lighting system, a high-precision sensor with adjustable DPI settings ranging up to 8000 DPI, and six programmable buttons. This wired mouse is designed for gamers who value both performance and aesthetics.
Its high-precision sensor delivers accurate and responsive tracking, essential for fast-paced games. The customizable buttons can be programmed through Logitech's G HUB software, allowing users to tailor controls for different games, enhancing gameplay efficiency.
For users seeking a balance between affordability and functionality, the G203 shines. It offers the reliability and precision expected from a high-end gaming mouse at a fraction of the cost. The mouse is particularly well-suited for gamers who are just starting to explore the world of gaming peripherals and want a quality product without a hefty investment.
2
PROS
Extremely lightweight design
High-speed sensor
Flexible cable for smooth movement
CONS
Smaller sizes might not suit all hand types
Lower DPI compared to larger models
Limited programmable buttons
Razer Viper 8KHz Ultralight, known for its ultra-lightweight design, features a high-precision 8,000 DPI optical sensor and Razer's Speedflex Cable for minimal drag. This mouse is designed for gamers who prioritize speed and agility. Its lightweight build, only 61 grams, makes it one of the lightest gaming mice available, reducing hand fatigue and enabling quicker movements. It also includes six programmable buttons and customizable Chroma RGB lighting.
Ideal for gamers with smaller hands or those who prefer claw or fingertip grip styles, the Viper 8KHz offers an excellent balance of control and swift movement. Its low-profile design and high-speed sensor make it a great choice for fast-paced games where reaction time is key. The Razer 8KHz is a strong contender for gamers seeking a compact, lightweight mouse that doesn't sacrifice performance for size.
3
PROS
Low-latency wireless connectivity
Comfortable ergonomic design
Good battery life
CONS
Lower DPI than some competitors
Only six programmable buttons
Plastic body may feel less premium
The Corsair Harpoon RGB Wireless is a versatile gaming mouse featuring a comfortable ergonomic design, wireless connectivity, and a high-accuracy 10,000 DPI optical sensor. Its wireless nature ensures a clutter-free gaming setup with low-latency performance, crucial for competitive gaming.
The mouse is also equipped with six programmable buttons and dynamic RGB lighting, customizable through Corsair's iCUE software. The Harpoon RGB Wireless is designed to balance performance and comfort, with its contoured shape and rubber side grips ensuring a secure hold during intense gaming sessions.
This mouse is particularly suitable for gamers who prefer the freedom of wireless gaming without sacrificing precision. The battery life is impressive, allowing for extended gaming sessions without frequent charging. It's an excellent choice for gamers who play a variety of genres, thanks to its versatile design and customizable buttons.
How to pick the best budget gaming mouse for your needs
When it comes to shopping from among the best budget gaming mice there are a few things to look out for. The most important things to keep an eye on are DPI and the number of buttons. These will let you know what kind of performance to expect and can cue you in on what kinds of things the mouse is designed for. Additionally, be sure to consider weight and ergonomics to ensure you get the mouse that suits your needs best.
Monitoring Prices
Before we got into the details about about mice, we wanted to give you a quick tip for deal hunting. We mentioned this in passing from our very first product, but most products online have their prices change relatively often, you just might not realize it unless you are frequently visiting these product pages like we do.
Some products will show that they are "discounted" for months despite them effectively just adopting a new, lower price outright. This can give you a false sense of urgency because a product is over 50% off! Don't want to miss out on that sweet deal. But before you jump at it you should use an Amazon price tracker, like camelcamelcamel.com.
For instance, our first mouse, the Logitech G403 Prodigy, is "normally" out of the budget range; however, checking camel shows us that it's set at, or below, the price of most of the other mice on this list for the majority of the last year.
DPI
Dots per inch, or DPI, is a measurement of how sensitive a mouse is. More specifically, it measures how many pixels the mouse will move across the screen per inch that the mouse is moved.
While many gaming mice have incredibly high DPIs, up to 12000 from the list that we looked at, almost nobody actually uses their mouse with this high of a sensitivity. The two main advantages to having a higher DPI sensor is that it is more accurate and that it is better for very high-resolution screens.
Higher DPI will mean greater accuracy even when the DPI is turned down and will lend to a more reliable and responsive gaming experience. However, very high DPIs are also frequently used for those who have very high-resolution screens. Moving across a 4k screen requires four times the distance of mouse travel compared to a 1080 monitor unless you have four times the DPI.
Number of Buttons
The other important performance-related spec to look at when shopping for mice is the number of buttons it has. Many mice now follow a standard five-button layout that includes the left and right clicks, a forward and backward button on the side, and the mouse wheel. Many will also incorporate a sixth button below the mouse wheel that switches between preprogrammed DPI settings.
While these are all suitable for most tasks, there are certain things that require more buttons.
Weight and Ergonomics
The last major thing to consider when shopping for a mouse is the weight and how it will feel in your hand. While it can be hard to get a good idea of this while shopping online there are a few things to look for.
The weight of the mouse will determine how it feels overall. Lighter mice are easier to glide and are easier to pick up and reposition, but some people find that a slightly heavier mouse allows them to make more precise movements. Keeping this in mind will enable you to sort through the best budget gaming mice and find one that works best for you.
Are gaming mice worth the money?
Yes, gaming mice are worth the investment. They offer features like higher DPI settings, programmable buttons, and ergonomic designs that standard mice don't provide. These enhancements can significantly improve gaming performance and comfort, especially in fast-paced or competitive gaming scenarios.
Our Verdict
Topping our list of the best budget gaming mice, the Logitech G203 stands out as the best budget gaming mouse for its exceptional blend of performance, comfort, and customization at an affordable price. It's a testament to the fact that high performance and affordability can go hand in hand with gaming peripherals.
The Logitech G502X, with its HERO 25K sensor and 11 customizable buttons, is an excellent choice for serious gamers who demand precision and versatility. For those who prefer wireless freedom without compromising on responsiveness, the Corsair Harpoon RGB Wireless is a perfect fit. Lastly, the Razer Viper Mini caters to gamers who prioritize speed and agility with its ultra-lightweight design and high-speed sensor.