Best mini-ITX case in 2023 – air cooling, full-size GPU, style picks
Last Updated on December 4, 2023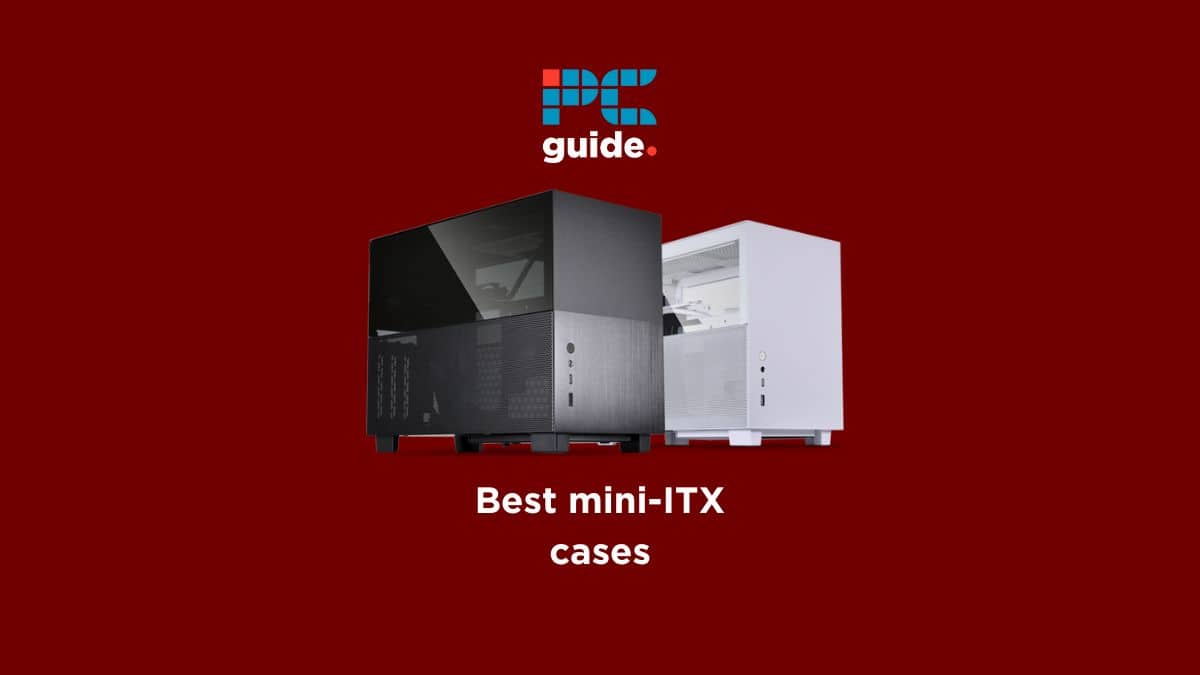 Small form factor builds appeal to people for many reasons and the best mini-ITX cases are a necessity. For some, the balance between portability and power inherent to small desktops offers the best of both worlds: the customizable power of desktops and the portability of laptops. While SFF builds never reach the heights of either, they fit some people's lifestyles well. That being said, the smaller scale comes with some of its own problems, like room to build and the compounded need for adequate cooling. Don't worry though, that's why this best mini-ITX case list, and the short guide that follows it, exists.
Products at a Glance
How we picked the best mini-ITX case
In selecting the best mini-ITX cases, we scrutinize various factors to ensure that our recommendations meet a broad spectrum of requirements. Our picks are based on a thorough analysis of publicly available benchmarks, user reviews, and industry expert opinions. We consider aspects such as cooling efficiency, build quality, design aesthetics, ease of assembly, and course, value for money. Whether you're building a compact gaming rig, a portable workstation, or a sleek home theatre PC, our selection aims to cover the best options available in the market, tailored for different use cases and budgets
If you're looking for specific motherboards as the base of your build, don't forget to check out our best H670 motherboard round-up or our best B760 motherboard piece.
Our Recommended
Best mini-ITX case in 2023 – air cooling, full-size GPU, style picks
1
PROS
Supports both ATX and SFX power supplies
Accommodates large GPUs
Modular design for flexibility
CONS
Premium price
Requires careful component selection
The Lian Li Q58 stands out in the best mini-ITX case discussion for its innovative design and flexibility. It supports both ATX and SFX power supplies, giving users more choices for their build. Despite its compact size, it accommodates up to 320mm long GPUs, making it suitable for high-end gaming setups.
For those who prioritize aesthetics along with performance, the Q58 doesn't disappoint. Its elegant exterior, combined with a well-thought-out interior, allows for impressive custom water-cooling setups and neat cable management. The case's side panels are made of tempered glass and ventilated steel, providing both a sleek look and efficient cooling.
Ideal for enthusiasts who want a small form factor without compromising on power or looks, the Lian Li Q58 is an excellent choice for building a powerful yet compact gaming rig or a stylish workstation.
2
PROS
Exceptional build quality and materials
Highly customizable interior layout
Good airflow for a mini-ITX case
CONS
High price point
May require more planning for component fit
Not as beginner-friendly for building
Streacom's DA2 V2 is a testament to the excellence in build quality and minimalist design. Crafted from premium materials, this mini-ITX case is both sturdy and aesthetically pleasing. Its unique feature is the adjustable bracket system, which allows for unparalleled flexibility in component placement, making it perfect for custom builds.
The case caters to a variety of cooling options, supporting both air and custom water cooling setups. The smart layout maximizes airflow, essential in a compact form factor. Its design is not just about looks; it's about providing an efficient and quiet computing experience, making it ideal for both work and play.
The Streacom DA2 V2 is perfect for users who appreciate high-quality construction and a minimalist design. It's well-suited for those who enjoy the process of building and customizing their PC, offering flexibility and excellent thermal performance in a compact package. As such it deserves its place on our best mini-ITX cases selection.
3
PROS
Elegant design with walnut finish
Good airflow for its size
Quality construction and materials
CONS
Limited CPU cooling options
Only suitable for minimal storage needs
Not ideal for high-performance gaming setups
The Fractal Design Terra brings a refreshing aesthetic to the mini-ITX case market, combining elegance with practical design. Its walnut finish and aluminum construction offer a unique look, moving away from the typical gaming-centric RGB-laden cases. The case supports Mini ITX motherboards and comes with a single pre-installed fan, optimizing airflow in its compact frame.
Despite its small size, the Terra provides sufficient space for essential components without feeling cramped. It supports up to three expansion slots, allowing for decent customization options for a Mini ITX build. It's particularly suited for builds that do not require extreme CPU power or extensive storage options, making it ideal for users who prioritize aesthetics and compactness over ultra-high performance.
The Fractal Terra is an excellent choice for those looking for a stylish, compact PC case that doesn't scream 'gamer'. It's perfect for home office setups or living room PCs where the design is as important as functionality.
4
PROS
Exceptional cooling capability
Supports large GPUs and extensive radiators
Integrated RGB lighting and fan control
CONS
May be noisy under heavy loads
Cable management requires careful planning
Premium price point for its category
The Corsair 2000D RGB Airflow stands out as one of the best mini-ITX cases which doesn't compromise on cooling performance despite its small footprint. Its design focuses on maximizing airflow, featuring removable mesh panels and a cooling-optimized interior.
This case is a dream for enthusiasts who want to build a compact yet powerful gaming rig. It supports an impressive number of cooling options, including up to eight 120mm or two 140mm fans and multiple radiators. For those invested in the Corsair ecosystem, the 2000D RGB Airflow's compatibility with iCUE devices is a significant plus, offering integrated lighting and fan control.
The Corsair 2000D RGB Airflow is ideal for gamers and enthusiasts looking to build a high-performance system in a compact form factor. It's particularly appealing, and one of the best mini-ITX cases, for those who want to showcase their build without sacrificing cooling efficiency. Although it may be a bit noisy for some because of it.
How to pick the best mini-ITX case for your needs
The charm of a mini-ITX case lies in its ability to house a full-powered PC in a significantly smaller footprint compared to traditional mid or full-tower cases. This makes them ideal for setups with limited space or for those who prefer a minimalist aesthetic without compromising on performance. However, choosing the right mini-ITX case involves careful consideration of cooling solutions, component compatibility, and design preferences. These cases must balance size constraints with adequate airflow, support for high-end hardware, and flexibility for future upgrades.
While we always say it's nearly impossible to pick the best of a given item because defining what's the best is up to you and your needs, this tired trope is particularly true when it comes to finding the best ITX case. This is thanks to things like cooling and compatibility, which can have much more of an impact thanks to the extra small scale.
To help you make sure you're getting the right case for your needs, we're going to look at three major factors to consider when in the market for a new mITX case.
Size and compatibility
It seems obvious that size would be a consideration when choosing a case for a small form factor build, but there are several things to look at when it comes to size. Not only do you want to look at the overall dimensions of the case to ensure it will be the size you want, but the graphics card and CPU cooler clearance should also be taken into consideration.
Many people will choose a shorter cooler or even water cooling by default when planning a small form factor PC, but if you want to get the most out of your hardware, a bigger cooler is always better. Some of the largest coolers on the market get up to– or even over– 160 mm in height.
Cooling
Cooling is arguably more important in small cases than in mid-towers since the air in the case can heat up much more quickly and to much higher temperatures since there is a much smaller volume within the case. If you're going to use high end or notoriously hot running hardware, then make sure your case can fit plenty of fans, has good airflow, and even consider water cooling.
Storage
If you have a large library of games, movies, or music, then you know the feeling of running out of space and having to uninstall or delete things to free up space. The best way around this is to simply add more drives to your system. However, in small form factor cases space is at a premium, so drive bays can be hard to come by.
Generally, there are two kinds of drivebays to look for. 3.5-inch bays are for standard hard drives which, while slower, usually offer terabytes of space at a good price. 2.5" bays, on the other hand, are for solid state drives, which are much faster and can drastically reduce loading times in games, but cost much more and offer less storage.
Can you game on a Mini-ITX PC?
Absolutely! Not only is a mini-ITX PC suitable for gaming, but in some scenarios, it can offer an enhanced gaming experience. Their compact size doesn't hinder their ability to house powerful components, making them capable of running most modern games efficiently. The key is to select components that fit well within the constraints of a smaller case while still meeting your gaming needs.
Our Verdict
The Lian Li Q58 tops our best mini-ITX cases list. It shines as a top pick for its excellent balance of form and function, offering a sleek design without compromising on component accommodation or airflow. Its versatility and high-quality build make it a prime choice for anyone looking to construct a powerful yet compact system.
For those prioritizing durability and build quality, the Streacom DA2 V2 stands out, while the Fractal Design Terra offers a unique aesthetic departure from the typical gaming look. The Corsair 2000D RGB Airflow, designed for enthusiasts, packs a punch in cooling efficiency and aesthetic appeal, despite its small size.