Best Portable Projector in 2022
The best portable projectors for presentations, meetings, and on the go cinema experiences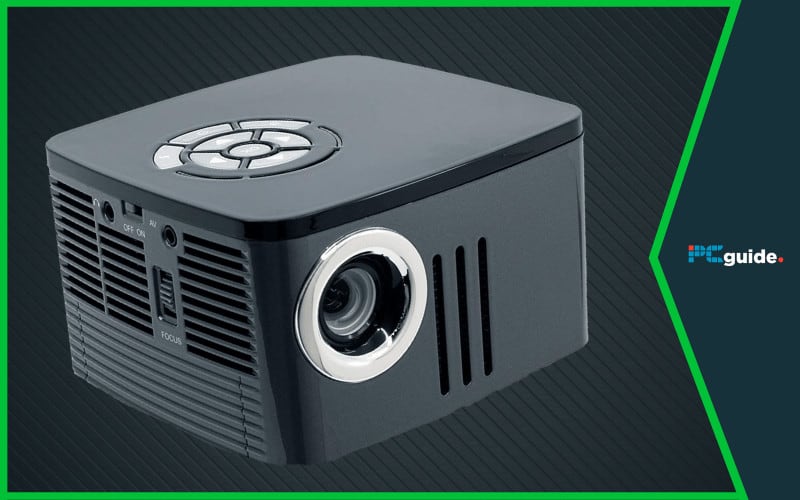 In today's world of tiny tech, projectors, known for their bulky aesthetics, have now joined the party coming in much smaller in size and weight. While you might think that the much smaller form factor will ensure a lackluster picture quality, you'd be wrong with many options competing with the big boys on the market.
When selecting the best portable projectors on the market, we encountered that because of their size, some manufacturers have opted to cut corners, making them excel in some areas but also lack in others. For example, there are portable projectors that can support full HD but have fewer lumens and vice versa thus making it quite tricky to choose between them.
However, we've attempted to simplify the process and showcase four of the best portable projectors available in which all have fantastic yet slightly different qualities. Moreover, we've given out awards to three of the five selections including best overall, best battery life, and best functionality to enable those with these aspects in mind to quickly make a decision.
Best Portable Projector in 2022
ViewSonic has some top of the line monitors you can buy so we're not shocked that they also have some great portable projectors that provide fantastic image quality whilst sporting a tiny form factor. The choice for us as the best selection is the ViewSonic M1+ Portable Smart Wi-Fi Projector as we think that it has the greatest features and projection.
With its short throw lens the M1+ allows up to a 100" projection from only 8.5 feet away and for those in even smaller spaces, you can benefit from 60 inches with just 5.2 feet needed. This isn't the only great aspect of its projection capabilities detailing a full HD resolution which provides a crystal clear image. Additionally, with ViewSonic slotting in an LED lighting solution, you can use this projector for years to come thanks to the 30,000-hour lifespan, perfect for those who love a bit of Netflix binge-watching. Unfortunately, you're only going to be getting 300 Lumens out of this portable projector which kind of limits its functionality to a darker room. While this is a slight annoyance for those who are wanting to use a portable projector in meetings etc., the main use for many will be for watching movies which usually takes place in darker environments anyway, so this shouldn't deter you too much.
To maximize portability, the M1+ is tiny with dimensions of 4.1″ x 1.1″ x 4.1″ making it pretty much palm-sized and very easy to carry out and about. Moreover, with the inclusion of a battery that can last up to 6 hours, you're able to watch multiple movies without having to worry about finding an AC outlet mid-view. Further enhancing this portability aspect is the ability to stream multimedia content from your mobile devices via WiFi as well as connecting to your smart TV for direct access to your apps, removing the need for lengthy cables. However, if you do want to hook up your device to this projector, you can make use of the micro SD card, USB-A, and USB-C slots which are always handy, especially if you're in a location that has no WiFi access. If neither of these methods takes your fancy, it also has 16GB of onboard storage so you can load up your media onto the projector itself before you travel, eliminating the need for any external hardware.
To conclude, the ViewSonic M1+ Portable Smart Wi-Fi Projector really is one of, if not the best portable projector you can buy. It has that full HD resolution coupled with a short-throw lens and an incredible battery life that'll keep you going for a while. The pros don't just stop there though, with its tiny form factor and brilliant playback features without the need for additional devices, you can fully take advantage of its portability. The only lackluster feature is that 300 Lumen brightness which is on the lower end but if you're going to be using it to watch media at night, you won't encounter any issues.
Plethora of connection options
Only 1.5 hours battery life
The AAXA P7 Mini Projector, as the name suggests, is a tiny device that can fit in the palm of your hand. It is still, however, a powerful portable projector that can still provide a solid viewing experience that many users would be wowed by.
You might be surprised to hear that the P7 comes with a full HD picture which is fantastic for you movie and TV show viewers, allowing for a much crisper image than the 720p resolution that a lot of portable projector manufacturers opt for. To get this image quality it utilizes a DLP optical engine coupled with a high MTF lens to provide optimal clarity as well as an LED illumination method, steering away from the traditional bulb approach. With this LED and lens combo, you can take advantage of up to 120 inches of projection as well as 600 lumens and 30,000 hour lifetime which is generous when you think of the size of this projector.
For selecting your media to play on this portable projector you're looking at a number of options including USB, TF card, HDMI, mini-VGA, and Composite AV which is more than enough to cover most of your connections out there allowing you to watch, view, or even listen to several different media types.
So, with its tiny form factor, you might be wondering how long the battery is going to last. Well, with the 38W Lithium-Ion Battery provided, you'll be getting around an hour and a half on a full charge which is pretty respectable and enough to cover a shorter movie. This might seem a little lackluster to some who are expecting multiple hours of playback time but this is a portable projector don't forget and will have drawbacks compared to their larger counterparts.
All in all, coming in at 4.7″ x 4.4″ x 2.7″ and 1.48 lbs as well as providing up to a 120" full HD projection, the AAXA P7 Mini Projector is a portable triumph. You'll still get the cinema-like experience while not having to lug around a massive piece of kit. The only downside is that battery life is capped to around 90 minutes which is a slight annoyance for those watching long movies. You can, however, keep it charging at the same time so that's a workaround to keep your viewing experience going for longer.
Can charge off a power bank
ASUS ZenBeam E1 Portable Mini Projector is another solid portable choice and similar to that of the ViewSonic M1+. It comes in at W4.3 x H1.1 x D3.3 inches and 0.68 pounds which is incredibly small and light, a real testament to today's tech. Additionally, with it being made for smaller spaces, you're able to reach a massive 120" screen size from only 12 feet away making it fantastic for movie viewers. The resolution is fantastic too allowing full HD watching that's smooth and crisp, creating a cinema-like experience. However, if you're just looking to use this as a presentation tool, the resolution will work in your favor too, wowing clients and coworkers with the amount of detail in your work.
Moving to the LED projection lighting we can see that it only emits 150 Lumens which is a little low in comparison to a lot of other selections. If you're wanting to use this portable projector in low-light rooms and at night time you'll be fine but anything other than that and you might struggle. On the other hand, where it does make up for this slight lack of brightness is in its functionality, allowing you to easily connect to game consoles and MHL-enabled mobile devices as well as screen mirroring thanks to a handy USB port. In addition, the USB port can be used to hook up a portable charger which is fantastic for those who are on the road and no access to an AC socket.
Looking further at the battery, while we know it can get juice from a portable charger, it can also last up to five hours which is more than enough for one sitting and removes the need for any cables to be kept on your person. 
Overall, the ASUS ZenBeam E1 Portable Mini Projector is yet another excellent portable projector. It has big screen capabilities and the full HD resolution, you'll be getting a really sharp viewing experience. Thanks to the size, weight, and battery it's similarly great for those who are on the go and don't have access to an AC outlet, making this device a top all-rounder and a really attractive choice.
Optoma is a big player in the projection industry thus why it's easy to get them on this list of best portable projectors. The one we've gone for here is the ML750 as we believe this is the best all-round portable projector that they produce, delivering fantastic picture quality and an LED lamp that'll last 10+ years.
Looking first at the picture, it utilizes a 20,000:1 contrast ratio for those vivid colors and a 1280×800 resolution providing a crisp, clear image. For those expecting full HD might be a little disappointed but with it being palm-sized, there are always compromises. The 1280×800 resolution is still sharp enough, however, and more than watchable, especially when coupled with a good quality screen. While we're on the topic of screens, you should aim to make it around 100 inches as this is the max output size you'll be getting from this portable projector which is great and more than some other options out there.
Moving to the LED lamp we alluded to earlier, it does have a superb lifespan coming in at 10+ years, 7 times longer than traditional counterparts, ensuring you'll get your money's worth from this device. You can similarly benefit from 700 lumens of brightness, allowing you to use this portable projector in lower lit meeting rooms, conference rooms, training rooms, classrooms, and maybe even outside in the day time with little clarity loss.
Finally, gandering at the ports we can see that you can use a number of different inputs such as HDMI, MHL, micro SD, and USB which is handy for those who aren't just using it for movie watching and want to take it to business meetings. Moreover, with the screen mirroring functionality, you can share content from your mobile device, notebook, or gaming console with the integrated HD cast Pro, reducing the amount of tech you'll need to lug around. The one big downside compared to some other portable projectors is the lack of a battery. This means you'll always have to have an AC outlet where you're using it, reducing that portability aspect ever so slightly.
Overall, with the ML750 you're getting the trusted Optoma brand that has the specs to back up the price. It has HD resolution and a projection size of around 100 inches coupled with its 700-lumen long-life LED lamp which come together to provide a top visual experience. As previously stated, however, it does lack that internal battery so if you want to use this portable projector in a place where there are no AC outlets, you're going to be struggling.
With all projectors, you're looking for a big-screen experience that you simply can't get with today's TVs. This is an especially important aspect when it comes to portable projectors because due to their size, the lens might have taken a hit thus impacting projection size. Thankfully, with the tech of today, you're still looking at least around a 100" image, still allowing for that cinema feel even with the smaller form factor of these devices. If you find that the portable projector you're looking at doesn't get to that 100" mark, you might want to reconsider your choice as you won't be getting enough bang for your buck.
With most, if not all portable projectors, you'll have the option for using them off their rechargeable battery which enhances the ability to take them out and about while not worrying if you'll have an AC outlet to hand. However, what you get with batteries is a limited life that could trip you up, especially if it's not sporting a higher capacity. So, when looking for the best portable projector for you, try to aim for a high battery capacity as you'll be able to watch your favorite movies and TV shows for longer without clutching for those annoying cables and recharging your machine.
As with the majority of tech, portable projectors vary in their specs quite dramatically with some offering a higher quality picture, others offering better battery life, and a few detailing larger projection sizes. This means that you should really consider what the main use will be of your portable projector, will it be for watching movies? A higher quality picture might be your top priority. Will it be for showing presentations to clients? A stellar battery life might be the thing to go for. Or, maybe you're looking for a super bright image for day time viewing thus needing a higher lumen device. If you think of this main use, you'll be able to select the best in class portable projector for you.
When trying to narrow down these four selections to pick the best portable projector, there's only one real winner in our eyes and that's the ViewSonic M1+ Portable Smart Wi-Fi Projector. It has that crispy full HD resolution coupled with the short-throw lens, requiring little space while also detailing brilliant wireless capabilities that others just don't seem to offer. If we had to choose a runner up that's another easy selection – the AAXA P7 Mini Projector. It has similar features and specs that the ViewSonic has with pretty much that battery life being the only thing that lets it down. It also has increased Lumens which may even sway you into this direction, potentially making it a better choice in comparison to the M1+ in your opinion.