Best Portable Projector in 2023
The best portable projectors for presentations, meetings, and on the go cinema experiences
Last Updated on December 16, 2022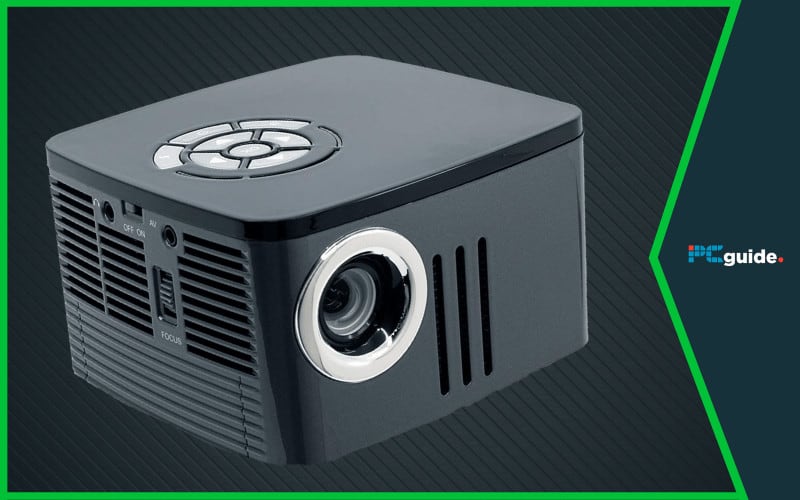 In today's world of tiny tech, projectors, known for their bulky aesthetics, have now joined the party coming in much smaller in size and weight. While you might think that the much smaller form factor will ensure a lackluster picture quality, you'd be wrong with many options competing with the big boys on the market.
Products at a Glance
How We Picked
When selecting the best portable projectors on the market, we encountered that because of their size, some manufacturers have opted to cut corners, making them excel in some areas but also lack in others. For example, there are portable projectors that can support full HD but have fewer lumens and vice versa thus making it quite tricky to choose between them.
However, we've attempted to simplify the process and showcase four of the best portable projectors available which all have fantastic yet slightly different qualities. Moreover, we've given out awards to three of the five selections including best overall, best battery life, and best functionality to enable those with these aspects in mind to quickly make a decision.
Our Recommended
Best Portable Projector in 2023
1
PROS
Short-throw lens
Full HD
Great battery life
16GB onboard storage
2
PROS
Full HD
Short-throw lens
Plethora of connection options
CONS
Only 1.5 hours battery life
3
PROS
Full HD
Long battery life
Can charge off a power bank
4
Can a portable projector replace your TV?
There is no reason why a portable projector could not replace your TV. The only thing to be wary of is your projector's bulb life if it is going to be on for extended periods of time.
Ultimately, using a projector over a TV is purely down to personal preference and the room you will set the projector up in. Projectors definitely have that 'wow' factor, however, you will need a good, wide clear wall and some good black-out curtains to be able to see any TV shows or movies during the day.
Our Verdict
When trying to narrow down these four selections to pick the best portable projector, there's only one real winner in our eyes and that's the ViewSonic M1+ Portable Smart Wi-Fi Projector. It has that crispy full HD resolution coupled with the short-throw lens, requiring little space while also detailing brilliant wireless capabilities that others just don't seem to offer. If we had to choose a runner up that's another easy selection – the AAXA P7 Mini Projector. It has similar features and specs that the ViewSonic has with pretty much that battery life being the only thing that lets it down. It also has increased Lumens which may even sway you into this direction, potentially making it a better choice in comparison to the M1+ in your opinion.