Best RGB RAM 2023
Find the best RGB RAM for your desktop PC
Last Updated on April 19, 2023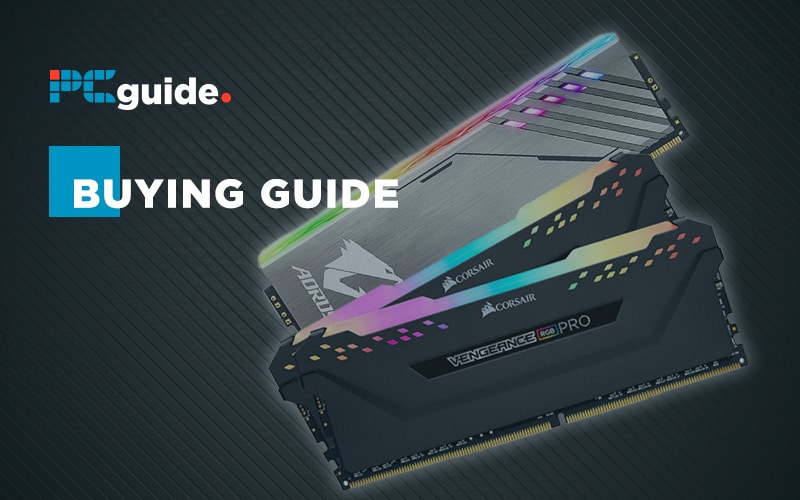 If you're looking for the best RGB RAM, we've got you covered right here.
Selecting the right RAM for your PC build is essential, you want the right memory speed, quality, and brand that will nicely slot into your new rig. Choosing an RGB RAM variant will certainly jazz it up a bit providing colorful lighting fit for the modern home and office environments. With this list of best RGB RAM on the market, we hope you're able to select the right one for you, potentially finishing that gaming rig off nicely.
So let's get into it – here's some RGB RAM you won't want to miss out on!
Products at a Glance
How we picked
When scouring the market for the best RGB RAM around, we soon realized that while the product pool is relatively limited compared to standard RAM variants, there are some stand out winners that set themselves apart from the competition. Unsurprisingly, most of our picks feature the top brands producing the best gaming components on the market so when choosing the best RGB RAM we focused on RGB lighting features, build quality and memory speed options as we believe that these key areas are the differentiating factors between products at the top of their game. 
Our Recommended
Best RGB RAM 2023
1
PROS
Good value
Great build quality
Array of memory frequencies
G.Skill is probably the least known brand on this list of best RGB RAM but don't think they aren't producing some stellar PC components. The TridentZ RGB Series RAM is one of said products being not only award-winning but also sporting an aesthetically pleasing design. You'll receive an exposed light bar with vibrant RGB LEDs, merged with the award-winning Trident Z heatspreader design, making for colorful RAM that you don't need to worry about overheating. Additionally, the RGB light bar uses the full-color spectrum with a plethora of customization options when linked to the provided software. 
Looking at the build quality G.Skill has spared no expense utilizing hair-line finished aluminum and a custom engineered ten-layer PCB which offers maximum signal stability. Moreover, each RGB RAM kit is rigorously tested across a wide range of motherboards, making it compatible with the maximum amount of rigs as possible. These kits also come in a bunch of memory speeds from the lower end 2400MHz all the way up to 4600MHz which compounds the compatibility aspect, even more, allowing the masses to pick up this top RGB RAM.
All in all, this RGB RAM from G.Skill is a great choice for many, not being expensive while also providing the build quality, top RGB lighting, and customization that you'd expect from pricier RAM kits.
2
PROS
Impressive customization options
Bright RGB lighting
Well designed
CONS
Limited memory frequencies
3
PROS
The Corsair brand
Top software bundled in
Brilliant range of memory frequencies
Great build quality
4
PROS
Well designed
Good software bundled in
CONS
Lighting a little dull and obstructed
Lack of memory frequencies
5
PROS
Top-tier RGB lighting
Great heat spreaders
RGB Fusion 2.0
Gigabyte brand
How to choose the best RGB RAM
There are three main factors to consider when shopping for the best RGB RAM
Memory speed
When looking at RAM, memory speeds are always the tricky part and always something that needs to be considered before making a purchase. Unfortunately, it isn't made easy for you to make that choice. With these RGB RAM selections above, the minimum you're looking at is 2666MHz, due to the DDR4 nature of the sticks, but the maximum is all the way up to 4600MHz so selecting one between that range is arduous. However, to simplify this, we think you should stick to one basic rule, check what speeds your processor and motherboard supports and work from there. For the most part, the higher the memory speed the better but always make sure you're buying from a reputable brand or your RAM could be shortlived.
RGB Sync
As this buying guide focuses on the best RGB RAM, the lighting of these components is the main differentiator between these options are the more traditional variants. As manufacturers are looking to keep you in their eco-system, a lot now offer an RGB syncing utility in which all of the lighting from each individual component, and even your case, will be in line with one another, creating a lighting spectacle. Some RGB RAM can even be synced up to other brands' software which is a nice feature and great for those looking who want a different spec than their go-to manufacturer is offering.
RAM profile
The profile of RAM sticks come in two variations; low and standard. While it's not proven that either one has benefits/drawbacks, apart from some potential cooling questions, what it does do is affect the amount of room you have in your case. Usually, with many cases being spacious and allowing more than enough room for all your components, there's no need to even think about buying low profile RAM. Mini-ITX builds, on the other hand, are often made with the smallest case possible so having RAM with a lower profile could be almost a necessity. Luckily, you'll still be able to get that RGB lighting with manufacturers coming around to low profile variants, meaning you won have to compromise that RGB synergy, great for you gamers out there.
Is RGB RAM worth it?
From an aesthetic point of view, yes, we'd say so. It looks excellent, and really makes your rig come alive!
Does RGB affect CPU performane?
In some cases, perhaps – but it's very minimal. The power used for the RGB on RAM is drawn from the motherboard, but again, it's so minimal that you shouldn't expect massive drops in performance.
What RAM has the best RGB?
From our list, we'd say the Gigabyte Aorus has the best RGB. There are loads of options out there, many of which have unique differences – shop around and take and see what catches your eye!
Our Verdict
When choosing the best RGB RAM for your needs, you need to consider what you're looking to get out of it. Are you looking for max customization or do you just want a plug and play RGB RAM kit that will last a long time? If you are looking for the best customization, we'd recommend the Crucial Ballistix Tactical Tracer RGB RAM as you can not only change up and sync the lighting, you can mix up the light bar too, a brilliant feature. However, if you want the best all-rounder, you can't go wrong with the Corsair Vengeance RGB PRO. You'll receive a product from one of the most trusted brands around when it comes to these components, and with the array of memory speeds available, it won't be hard finding one to fit into your machine.