Best Sound Card In 2022 (Gaming, Budget, Audiophile options)
Here We Are With The Best Sound Cards For Gamers, Music Listeners, And Audiophiles Alike
Last Updated on August 19, 2022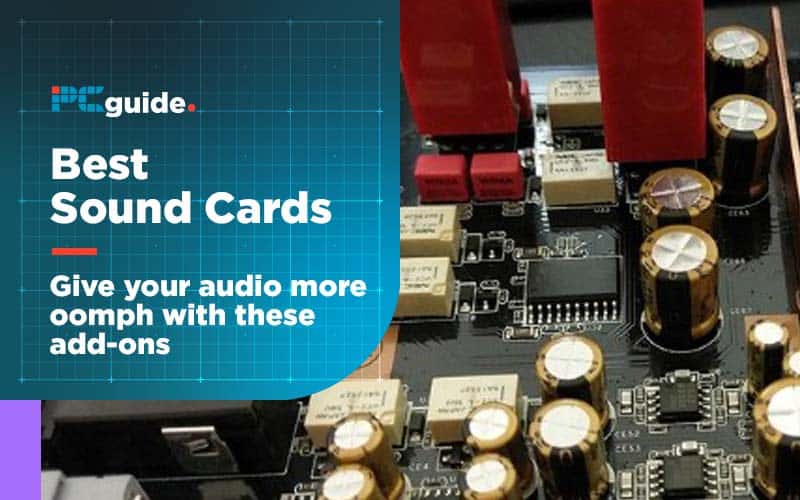 The integrated audio output of newer computer motherboards has improved a lot over the years. So much so, in fact, that for the average gamer, you wouldn't really need an audio card.
However, if you are an audiophile, dedicated esports gamer, or just looking to make your own media center, then there is definitely some value to be had here. A dedicated sound card provides far more sound clarity along with other features like headphone amplification, noise-free recording, and, most of all, high-end lossless audio quality.
Buying a sound card is a difficult thing to do for a lot of reasons. One, there are many industry standards and so many specifications. Two, most PC gamers are not overly familiar with audio-related terminology. Therefore, we have put together this guide for newcomers to the audio industry so that you can experience the best of the best.
Products at a Glance
Our Recommended
Best Sound Card In 2022 (Gaming, Budget, Audiophile options)
1.
PROS
Offers True 7.1 surround sound
Provides additional OpAmp for swapping
We are starting our list with the most powerful 7.1-channel internal sound card of all time: the ASUS Essence STX II. It is an audiophile-grade industry-leading sound card, which comes at a hefty price.
It is composed of two components: the mainboard, which provides outputs for Front, Headphone-out, Line-in, and S/PDIF; and the daughterboard, which provides six RCA jacks for multi-channel surround sound devices. You can buy the main board by itself, though, if you so wish.
The sound card uses a 4-pin Molex connector for extra power, which is connected to the mainboard. The mainboard uses PCM1792A DAC while the daughterboard uses PCM1796 DAC. These DACs are high-quality components with an SNR of over 122 dB and provide 24-bit/192-kHz audio.
There are three OpAmps on both the mainboard and the daughter board, which are swappable, and there are three extra OpAmps available in the swap kit. The mainboard also provides a high-quality headphone Amp with a maximum supported impedance of 600-Ohms.
The software controls of the sound card are pretty straightforward and offer controls for the output selection, mixer, effects, and some predefined DSP modes. The channels can be configured to operate in the virtual surround sound 7.1 mode while providing a great customization experience. There are four ranges for the headphone amplification and they should be chosen accordingly to prevent damage to the headphones (or your ears).
Staggering audio
Overall, this audiophile sound card provides staggering audio quality with a major focus on music quality. No doubt, this is easily one of the best sound cards for music, as well as gaming, but it is pricey, but then if you want the best sound you might be expecting that.
As all things should be, quality doesn't come cheap. And if you're looking to pair this with one of the best headphones, consider buying only the best audiophile headphones to maximize the quality of the audio output.
2.
PROS
Tons of audio-processing capabilities
Audio Control Module provides a great facility
CONS
No 7.1 surround sound despite high price
Creative is a name that is widely known for its PC sound cards, as it is one of the oldest companies when it comes to PCIe audio cards and has long had a reputation for cards with the best sound. This is especially true of the Creative Sound Blaster line of sound cards with the Creative Sound Blaster ZxR being the company's latest flagship sound card and it just so happens to be a great sound card for gaming too.
The sound card provides its audio quality via two boards, just like the Asus Essence STX II, along with the audio processor – an Audio Control Module (ACM).
The mainboard provides outputs for Mic, Headphone-out, Front Left and Right, Rear and the Sub/C while the daughterboard provides Aux-in and Toslink Optical S/PDIF-in and S/PDIF-out.
Swappable OpAmps
Sound Blaster ZxR uses the SoundCore3D chip replacing the X-Fi chip in the older models. The PCM1794 is used for headphone-out and Front-out while PCM1798 is used for Rear and C/Sub. The sound card also provides swappable OpAmps like the Essence STX II, although there are no extra OpAmps in the box.
The headphone Amp provides support for headphones with impedance ranging from 32-Ohm to 600-Ohms.
Feature loaded
The Sound Blaster Pro Studio suite provides many features dedicated to gaming, such as: surround sound, Crystalizer, and smart volume. There are two headphone amplification settings, the 32-300 Ohm setting and the high-gain setting for 600-Ohm headphones.
Perhaps the worst part about this card is that it doesn't have 7.1 surround sound support. This is obviously a big bummer 7.1-channel home theaters are getting increasingly more popular. It's also an odd decision since it's still priced like the premium card that it is. In some ways, it's kind of sad to see that this great card is just not viable for a huge sector of the consumer base that will be using 7.1 systems.
Better gaming features
Overall, we believe that this PCIe sound card is a great alternative to the Essence STX II, with better gaming features… but no 7.1-channel support but even taking that into account it still provides a great audio experience, especially when listening to music.
3.
PROS
High-resolution playback
Aurora RGB lighting
CONS
Molex power connector required for RGB
The Creative Sound BlasterX AE-5 is Creative's latest addition to the gaming-oriented sound cards and it's packed with features. First and foremost, while this is insignificant in the grand scheme of things, this is a nice looking card. This is largely due to its Aurora Reactive Lighting System, which makes this the first sound card with a built-in RGB controller.
The RGB does require a Molex power connector to power, which is an unfortunate requirement that you need to be aware of before investing in it. The sound card itself functions just fine without the additional power, though.
Like the Creative Sound Blaster ZxR, this sound card also does not feature 7.1-channel support, which is still disappointing, but not nearly as much so since it is significantly cheaper.
The sound card features one of the latest Sabre DACs with 32-bit 384-kHz playback and an SNR of 122 dB. Moreover, Sound Blaster has created a new methodology for headphone amplification. Called XAMP, the amplification is done on both headphone channels, supporting headphones with impedance-range of 16-600 Ohms. The most notable feature of the sound card is the inclusion of Scout 2.0, which greatly aids the user during competitive gaming.
We believe that this computer sound card is a must buy for people who want to experience the best in terms of competitive gaming, as its software features make it the best sound card for gaming, although it does not support true 7.1-channel surround sound.
4.
PROS
Offers 7.1-channel surround sound at a cheap price
The volume control box provides ease of use
CONS
Lower SNR than that of similarly priced cards
ASUS Strix RAID PRO is from the Strix lineup of sound cards, which are made for gamers, unlike the Essence series (seen with our first pick). Strix RAID PRO features two main components: the sound card and the additional volume control box.
The sound card provides a total of seven 3.5mm jacks, with support for 7.1-channel devices, box-link, mic-in, line-in, and S/PDIF-out.
The sound card requires additional power apart from PCIe power, which it receives through the 6-pin power connector.
The sound card features ESS Sabre9006A DAC, which supports up to 24bit 192-kHz playback with an SNR of 116 dB, which could have been a bit higher like the similarly priced BlasterX AE-5.
The sound also incorporates a dedicated headphone amp, supporting headphones with an impedance-range of 16-600 Ohms.
Customization options aplenty
The Strix Sonic Studio software provides many options to customize the audio such as Compressor, Perfect Voice, Noise Gate, and Voice Clarity. The sound card also supports the virtual 7.1 surround sound, with great control over the channel positions.
Overall, this gaming sound card rivals the features of the Creative Sound BlasterX AE-5.
While the AE-5 arguably offers better sound clarity, this supports 7.1 Surround Sound and has its snazzy volume control box.
5.
PROS
Cheap price for the features
CONS
Buggy drivers
Only three outputs for 7.1-channel devices
Here we are with another Creative product: the Creative Sound Blaster Audigy RX 7.1. This sound card is much cheaper than the previously mentioned sound cards, but this is at least partially due to the fact that it's an old product.
Blured Lines
However, if you're thinking that means it's worse you'd be wrong as it provides sound quality that's good enough to diminish the lines between a high-end and low-end sound card.
It features six 3.5mm jacks and one Toslink optical S/PDIF-out. The card features 7.1 channel support but provides only three output ports, which is why you might have a hard time connecting 7.1 channel devices.
The DAC of the Creative Sound Blaster Audigy sound card features 24-bit 192-kHz playback, while having an SNR of 106 dB, which is quite lower than other sound cards.
The sound card features the famous CMSS-3D positioning audio algorithm; however, I think the CMSS-3D is more a gimmick than an actually beneficial feature, so take from that what you will.
To conclude, this audio card might not be the best sound card out there but at this price point, you won't find anything better.
Things to Consider
The first thing to look for in a sound card is the quality of the Digital-to-Analog-Converter. This module is the main component responsible for playback; the better the quality of DAC is, the more noise-free your audio will be.
So how do you tell the quality of the DAC? Usually by its SNR, or Signal to Noise Ratio. This basically refers to how much louder the useful intended sound is than the useless noise.
Some high-end sound cards provide as much as 124 dB SNR. Most of the motherboards with onboard audio solutions provide an SNR of 80-90 dB, which is a pretty large difference since decibels are logarithmic.
Moreover, apart from the SNR, the DAC is responsible for bit-depth and the sampling rate of the audio.
High-end sound cards provide as high as 24-bit or even 32-bit audio with a sampling rate as high as 192-kHz or 384-kHz in the latest sound cards. These specifications roughly define the audio quality of the sound card, although there are other factors included such as gold-plated connectors, Electromagnetic-Interference shielding, etc.
A Headphone amplifier is an important component of sound cards and is a must if you own a pair of studio-grade headphones. Such headphones usually have a higher impedance, which is why they cannot be adequately driven by low-end sound cards that do not include a headphone amplifier.
If you use studio-grade headphones with poor audio solutions, you will have low volume. Therefore, if you want to use studio-grade headphones, make sure that the sound card you are buying offers a dedicated headphone amplifier whose supported headphone impedance is greater than the rated impedance of your headphones.
5.1 channel systems are absolutely necessary for a great home-theatre with many of the new sound systems featuring the new 7.1 or even 7.2 surround sound. Such audio systems provide unbelievable immersion, as it gives the feeling of 3D sound.
The ability to provide discrete channels to the sound system is solely based on the sound card. A lot of sound cards provide virtual 7.1 sound, which is achieved through audio processing solutions but there are a few sound cards which provide true 7.1 surround sound support. The chances are if you own a high-end 7.1 home-theatre system, you might be using expensive external audio solutions but if not, then the latest 7.1-channel sound cards might provide you with a great surprise.
As for headphone-users, most of the high-end headphones are stereo headphones and you can only achieve 7.1 channel surround sound through the sound card's Digital Signal Processing (DSP).
The latest Dolby Atmos format also provides 3D sound but has tons of additional requirements. There are some true 7.1 surround headsets on the market, with up to ten individual drivers, but the audio latency in such headsets render them inferior to high-end stereo headphones.
The sound card's software features are absolutely necessary for most users, as every user has different preferences for audio features. In fact, it is one of the main reasons to actually get a sound card.
The most notable feature being Virtual Surround Sound, which is widely used in combination with gaming headsets for improved spatial awareness, especially in esports titles. Moreover, such software solutions are capable of providing advanced audio features such as customizable frequency response and various equalizer settings.
When we speak of the interface, there are two types. First is the interface of the sound card with the computer and the second is the interface of audio devices with the sound card. Most of the latest sound cards use a PCI-Express slot so make sure you have an extra, unobstructed slot.
Sound cards, such as Asus Essence STX II or Creative Sound Blaster ZxR, require two PCI-E slots: one for the mainboard and one for the daughterboard. This might be an issue for people who are using micro-ATX motherboards, which do not provide a lot of PCI-E slots.
As for the audio device interface, one must take a look at the output ports on the sound card. Some sound cards provide multi-channel support through RCA jacks while others use 3.5mm jacks. In the case of headphones, some sound cards provide 3.5mm jacks whereas others use 6.3mm / ¼-inch jacks.
Swappable OpAmp (Operational Amplifier)
Some high-end sound cards provide an option to swap the OpAmps on their PCB, as some OpAmps provide different audio characteristics. This feature is great for audiophiles who love to customize the sound of their card.
Additional Power And Connectors
Apart from the basic requirement of the sound card, such as PCI/PCI-Express slot on the motherboard, some of the sound cards require additional power to drive the components. This is usually a Molex connector or a Six-pin PCIe power connector, so make sure that your power supply has an available power connector for the sound card.