Best USB C Cable in 2023
Today, we are covering the best USB-C cables on the market, looking at what makes them great and showing you how to find the perfect cable!
Last Updated on April 25, 2023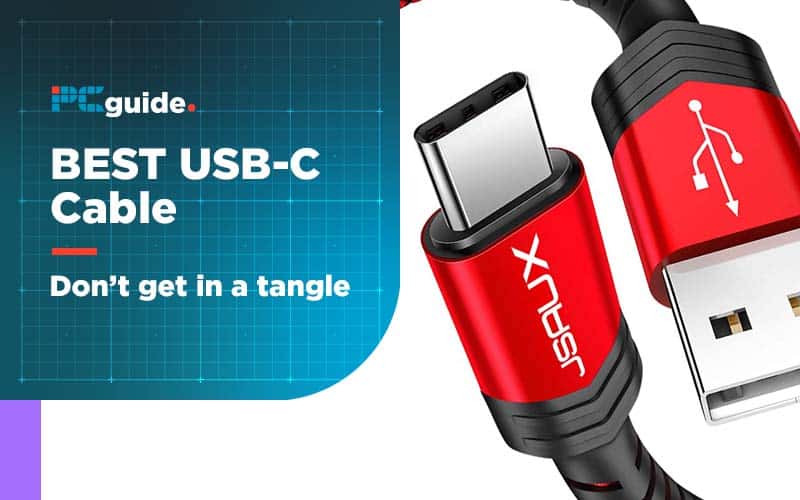 The time has come. The moment you feared. You go to connect a USB to your laptop or tablet only to realize it has a USB C port. Your larger USB won't fit, try as you might, your files are trapped on your memory stick, external hard drives are inaccessible, and don't even consider plugging your phone in to charge!
Suddenly your new laptop is an alien in your home, struggling to connect and understand your ways. What can you do? Splash the cash on new wires? Purchase brand new memory sticks and lose your vital files?
Well, there is a way! USB-C cables! These adaptors provide a bridge between old and new technologies, allowing them to exist in harmony together! And luckily for you, here at PC Guide, we have the five best USB C cables! Keep reading for discrete and easy-to-use cables that will provide you with access to all your technology!
And if you need a hub you can check out our Best USB C Hub article right here.
Products at a Glance
How We Picked
Here at PC Guide, we take our computers, laptops, and all accompanying parts very seriously. It's why we wouldn't recommend anything less than the absolute best to you.
The USB-C cables included today met and even surpassed our highest standards! We judged the material of the cable, its longevity, the connection to your device, and the price. We ensured that not only were we impressed with these cables, but that customers were too. Put your worries at ease, for these are the best USB-C cables on the market!
Our Recommended
Best USB C Cable in 2023
1
PROS
Affordable - suitable for all budgets
Multi-pack options - fantastic for those with multiple devices
6 feet long - perfect for desk or lap use
Reversible design - diverse and easy to use
CONS
Lack of resistor can be an issue
Reigning supreme and not breaking your bank account is the AmazonBasics USB C cable! The cable comes individually or as a multi-pack, fantastic for those needing multiple ports or wanting to share the cost with family or friends!
The 6ft cable also comes as a 3ft or 9ft option, providing the best length for you and your setup. Connectivity won't be an issue with the cable; it's compatible with a range of devices, allowing you to sync and charge with ease.
The cable also features a reversible design, so no matter which way you insert it, the cable will work! There's an incredibly fast data transfer speed of up to 480Mbps, ensuring your files, photos, and movies transfer and load quickly!
It is also certified by USB-IF to be compliant with USB 2.0 standards so that safety will be the least of your concerns! Instead, you can sit back and enjoy your experience!
The cable will work with most devices for compatibility, although the lack of a resistor means it will struggle with older devices or toddler charging sources. The lack of resistance also means you can experience unreliable charge rates that can be dangerous, be sure that you are using a compatible device such as those enabled with USB Type-A.
However, if you seek an affordable and easy-to-use USB-C cable, then look no further than this offering from Amazon Basics! The range of compatibility, reversible design, and long cable is perfect for almost everyone!
2
PROS
10 feet long cable - provides lots of movement
Superfast speeds - great for charging your phone or watching HD movies!
Reversible connector - allows for easy insertion no matter what!
Lifetime warranty - offers worry-free use.
CONS
Quite thick compared to other cables on the market.
Got a bit more money to spend? Why not invest in Anker's Powerline USB-C cable? The cable comes in three size options, 3ft, 6ft, and 10ft, allowing you to get the size that suits you and your set up best!
The 15W cable supports fast sync and charging, with a data transfer speed of 5Gbps. What does that mean? You can transfer an HD movie in less than 5 seconds! No longer are you waiting for files to transfer, load, and open; in the blink of an eye, it's done!
The connector is reversible, too, meaning whichever way you insert it, it will work! It's incredibly durable too, the Aramid fubar reinforcement provides durability, along with safety and reliability. The 56K pull-up resistor adds to the safety so that you can use the cable worry-free!
There is also a lifetime warranty, so you won't need to worry should anything go wrong! There is also fantastic customer service on hand should you encounter any issues along the way. The cable also features a 5,000 bend lifespan to ensure that the cable will stand the test of time.
Customers enjoyed the USB-C cable, praising Anker's customer service with customers replacing damaged cables within 24 hours for free! Now that's the customer service you want! They praised how well the cable worked, enjoying the sturdy construction and premium feel.
Some customers did note that the cable was quite thick compared to other USB-C cables on the market. If you are limited on space, this could be an issue for you to consider before making your purchase. However, a thicker cable can be easier to handle for those with any grip issues.
If girth doesn't bother you, why not invest in Anker's fantastic USB-C cable today?
3
PROS
Super affordable - fantastic for all budgets
Range of sizes - bound to be one suitable to your laptop or PC setup
Supports fast charging - can see your phone charged to 70% in 30 minutes!
Universal compatibility - never need to worry when using it.
CONS
Some customers had issues with the fast charging.
On a tight budget? Then check out RAMPOW's USB-C Cable! The most affordable option today, the cable, offers all you would need without breaking the bank!
The 3A cable features fast charging, allowing you to charge specific devices from 0 to 70% in as little as 30 minutes! Perfect for those of us who never want to wait for our phones to charge! RAMPOW tested their fast charging with a Samsung Galaxy S9 so that you might experience different times depending on the device.
The cable also supports 5Gbps high-speed data transfers allowing you to transfer photos, videos, music, and files in seconds! No longer are you waiting to access your memory stick or phone files!
You can use the USB-C cable worry-free too! Not only does the cable comply with CE, FCC, and RoHS certificates, it comes with a lifetime warranty, ensuring that should anything go wrong, you are protected! It's incredibly durable, too, designated to withstands over 20,000 insertions and bends. The upgraded connector is reversible, so you don't need to fuss about it, simply plug the cable in, and you are good to go!
There is a fantastic range of compatibility, allowing you to charge and connect your phone, tablets, and gaming devices with ease! Who needs multiple cables when RAMPOW's does it all?
Customers praised the high quality of the cable, especially the braided design. They found the cable extremely durable, with many preferring it over other expensive cables they had previously purchased!
Some customers did note that the fast charging was not always effective. They found that the charge times were much slower than expected, leaving them with phones that still had low battery. However, this could be due to their devices rather than the charger.
If you seek a reliable and affordable charger with impressive transfer speeds and universal compatibility, why not grab the RAMPOW USB-C cable today?
4
PROS
Reasonably priced - suitable for most budgets
Braided cable - offers enhanced durability and wire protection
Compatible with a range of devices - the only cable you'll need
Two size options - find the one that suits you best
CONS
Not a fast charging cable
After a reasonably priced USB-C cable? Look no further than Belkin's braided USB-C cable! The cable comes as 3.3ft or 6.6ft and features a durable braided design that will convert your USB-A to USB-C with ease.
The cable is perfect for charging and syncing your phones, tablets, gaming devices, and more! Compatibility is unlikely to be an issue, as the cable works with Samsung devices, Apple, Nintendo Switch, and more!
The cable is highly durable, too, having been tested with over 10,000 bends! You are unlikely to experience the dreaded bent or snapped cable with Belkin's offering! The braided design ensures that the wires remain in the cable and avoids the usually broken wire that only works at certain angles.
Customers loved the cable, praising its durability and compatibility with its devices. They found fast transfer speeds, which allowed them to open and share files, photos, and even movies easily! Perfect for those who are always in a rush!
Some customers noted that the 12W power does not support fast charging, which can be an issue for those needing to charge phones or devices quickly! However, if fast charging isn't a priority, we think you will love this cable!
Are you looking for a durable and reasonably priced USB-C cable with fantastic compatibility? Look no further than Belkin's offering today!
5
PROS
Affordable - suitable for most budgets
Range of colors - one to suit every style!
Fast charging - recharge your phone in minutes!
Extremely durable - you won't need to worry about replacing it!
CONS
Some customers struggled to achieve fast charging speeds.
Wrapping up our product list today is the JAUX USB-C cable. With an impressive seven color options, you can have a stylish cable that compliments your computer's color scheme!
The cable comes with three size options: 3.3ft, 6.6ft, and a whopping 10ft allowing you to get the right size for your set up. You won't need to worry about straining the cable too far with these options!
JSAUXs cable features a braided design, using strong and flexible fibers and 3D aluminum to ensure that it is incredibly durable. The cable was tested with over 1000 different bends to ensure it can survive whatever you put it through!
The 3A cable supports fast charging too, and can accelerate charging by up to 25% depending on the cables and devices! No longer will your phone's low battery be an issue! The fast charging works best through your device's original wall charger.
The cable works with most devices such as Mac, Samsung, and even your wireless PS5 controller! Who needs multiple cables when you have just one JSAUX cable?
Customers loved the cable, praising its durable quality both on the braiding and the tips! They enjoyed the length of the cable and found the velcro strap a nice touch to prevent the wire from tangling when not in use.
However, some customers experienced connection errors and struggled to achieve fast charging with their devices. Be sure that you use your original wall plug to achieve fast charging speeds, and you should not experience this issue.
If it is a durable cable with fantastic length, color options, and fast charging you crave, then why not grab JSAUX's cable?
Things To Consider
Not too sure what you need from your new USB-C cable? Let's look at some factors to consider when choosing to make the buying experience a smooth and enjoyable one!
Compatibility
The first thing you need to consider is the compatibility of the USB-C and the device you want to connect. These days there is a fantastic range of compatibility, and you are likely to find a universal connection.
Most product descriptions feature a list of compatible devices, so be sure to check this before you purchase to avoid any disappointment!
Reversible design
USB-C cables that feature a reversible design are nifty pieces to have. They can be inserted into your USB-C port no matter which way up they are, making them super easy to use! There's no need for faffing and turning them over; simply slot them in, and you are away to go!
These reversible designs are also great for those with any grip issues or struggle with their hands. It means you can just slot the cable in with ease, and no need to fiddle around with small components. It's also worth opting for a thicker cable in these cases, as they are much easier to handle.
Size matters
The size, especially the length, of your cable is another essential factor to consider. Most cables will come with different length options allowing you to tailor them to your needs. The longer the cable, the more room there will be between your USB device and the USB-C port.
But with this length do come issues. Longer cables can become easily tangled and are harder to maneuver. Look out for cables that come with a velcro strap to keep it together and prevent tangling.
Shorter cables can have their problems, making it difficult when charging or using the cable for gaming purposes. Why not measure the space and find the best length for you?
Fast charging
Fast charging is a vital consideration for some users. It allows your smartphone or tablets to be charged quickly, but they will need to be compatible. Generally, you can access the faster-charging speeds, allowing some phones to charge in as little as 30 minutes!
We see faster charging times on newer devices such as the latest Samsung phones and their handy features. However, it is not universal, and you can expect different charging times depending on the device.
As a general rule, the USB-C cable will need to use at least 12-15W or be a 3A cable to support fast charging and is best used through the device's original wall plug to guarantee those fast speeds. Be sure to check the product description and reviews to see the fast charging capabilities and speeds on the USB-C cable.
Transfer speeds
Data transfer speeds will show you how quickly files, photos, and videos will transfer from your plugged device to your laptop or PC. The latest USB-C cables can transfer the fastest speeds of up to 10Gbps, but these can be costly. For most users, 5Gbps is perfect.
The faster the speed, the faster your files will be transferred and can be accessed. These speeds should not vary from device to device so that you can expect more consistency here compared to the fast charging speeds.
Keep an eye on the transfer speeds when purchasing your USB-C, so your work or play is not slowed down by slow data transfer speeds!
Is USB And USB C The Same?
USB and USB-C, also known as USB Type-C are different connectors. The design of a USB-C is much smaller than that of a traditional USB connection and has more rounded edges.
Alongside, their physical differences, USB-C can also be inserted in any orientation whereas a USB technically has a 'correct' side up.
The newer USB-C comes with a range of benefits too. From higher power delivery and faster data transfer, you should expect to see much faster charging when using this type of connector.
What are USB C cable used for?
USB-C cables can be used to transmit both power and data. Data can travel in both directions allowing for the transfer of files between devices.
What is the fastest USB C cable?
Thunderbolt 3 cables offer the fastest transfer speeds of up to 40GBps. It also has a charging speed of up to 15W.
Our Verdict
And just like that, we have reached the end of your review today! As you can see, there are some fantastic options when it comes to your new USB-C cable, without needing to spend a fortune!
The cables included today will offer reliable connections, fast transfer speeds, and many can charge your devices quickly! What more could you possibly need? Why not grab one today? Just be sure to check the compatibility before you purchase!