Best USB C Cable
Today, we are covering the best USB-C cables on the market, looking at what makes them great and showing you how to find the perfect cable!
Last Updated on August 19, 2022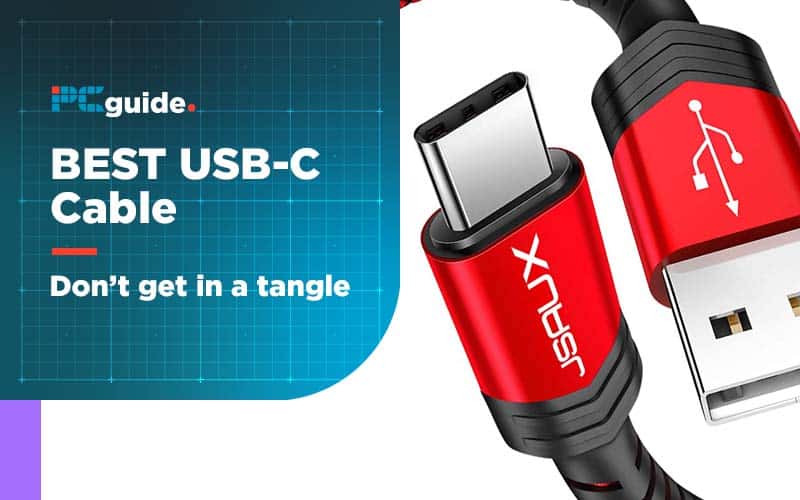 The time has come. The moment you feared. You go to connect a USB to your laptop or tablet only to realize it has a USB type C port. Your larger USB won't fit, try as you might, your files are trapped on your memory stick, external hard drives are inaccessible, and don't even consider plugging your phone in to charge!
Suddenly your new laptop is an alien in your home, struggling to connect and understand your ways. What can you do? Splash the cash on new wires? Purchase brand new memory sticks and lose your vital files?
Well, there is a way! USB-C cables! These adaptors provide a bridge between old and new technologies, allowing them to exist in harmony together! And luckily for you, here at PC Guide, we have the five best USB C cables! Keep reading for discrete and easy-to-use cables that will provide you with access to all your technology!
And if you need a hub you can check out our Best USB C Hub article right here
Products at a Glance
Our Recommended
Best USB C Cable
1.
PROS
Affordable - suitable for all budgets
Multi-pack options - fantastic for those with multiple devices
6 feet long - perfect for desk or lap use
Reversible design - diverse and easy to use
CONS
Lack of resistor can be an issue
2.
PROS
10 feet long cable - provides lots of movement
Superfast speeds - great for charging your phone or watching HD movies!
Reversible connector - allows for easy insertion no matter what!
Lifetime warranty - offers worry-free use.
CONS
Quite thick compared to other cables on the market.
3.
PROS
Super affordable - fantastic for all budgets
Range of sizes - bound to be one suitable to your laptop or PC setup
Supports fast charging - can see your phone charged to 70% in 30 minutes!
Universal compatibility - never need to worry when using it.
CONS
Some customers had issues with the fast charging.
4.
PROS
Reasonably priced - suitable for most budgets
Braided cable - offers enhanced durability and wire protection
Compatible with a range of devices - the only cable you'll need
Two size options - find the one that suits you best
CONS
Not a fast charging cable
Our Verdict
And just like that, we have reached the end of your review today! As you can see, there are some fantastic options when it comes to your new USB-C cable, without needing to spend a fortune!
The cables included today will offer reliable connections, fast transfer speeds, and many can charge your devices quickly! What more could you possibly need? Why not grab one today? Just be sure to check the compatibility before you purchase!