Best USB flash drives in 2022
Last Updated on March 14, 2022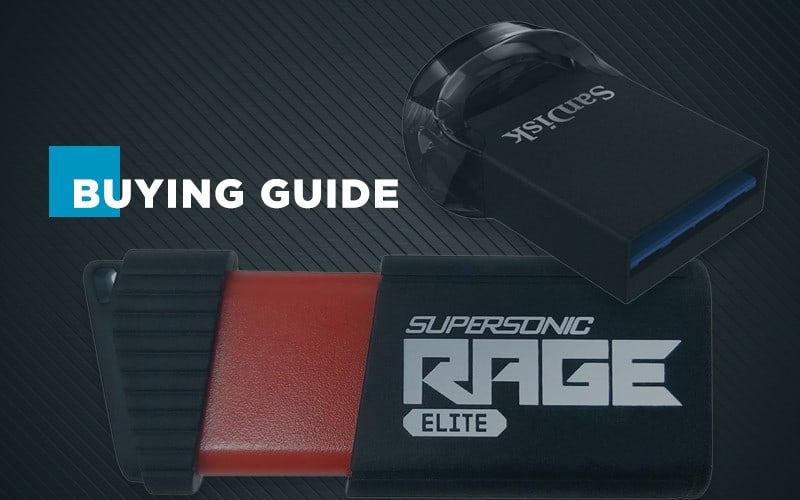 I'm trying to think back to when I first got a USB flash drive. I know it was considerably less than 1gig at the time, maybe 256 meg but man things have certainly moved on.
There is perhaps no greater measure of technology for the masses than in the realms of storage. The capability of flash memory has shot up so dramatically over the past decade we can now comfortably walk around with terabytes of data in our pockets. When you stop and think about it it is all a bit crazy.
Flash Drives are of course the smaller, maybe less reliable version of their external HD brethren. They probably find themselves with a reputation for being more unreliable somewhat unfairly, as they tend to get abused a lot more. Dangled off keychains, thrown onto desks, shoved into the back pocket of your jeans – how are they meant to last an eternity.
They are however a vital part of many everyday lives, we keep important documents on them so losing them should not be an option and as they get bigger in size, the more we stand to lose when we are careless with then.
While we can't make you a more careful individual, we can tell you which the best USB flash drives are out there at the moment to at least solve half of your conundrum!
Products at a Glance
Our Recommended
Best USB flash drives in 2022
1
PROS
Large capacity
Blazing fast
Robust
CONS
With large capacity comes great responsibility
Not cheap
2
PROS
Huge capacity
Good protection
CONS
Not that fast considering you will be transferring large files probably
3
4
PROS
Tiny design offers good protection
Range of capacities
USB 3.1
Do I need to get a USB 3.0/3.1 USB flash drive?
Your patience will thank you if you do. USB 3.1 operates about 15x faster than USB 2.0 (as long as you plug it into the correct port on your PC obviously) so the time you will save if you are a regular transferrer of files will soon mount up.
Our Verdict
Patriot's Supersonic Rage 2 wins the day here because it is lightning. I should have said supersonic but thought I'd mix it up a little. Its large capacity is useful but the way it passes it's contents around feels next-gen. Patriot is onto a winner with this technology if they can keep it going forward.
Well worth the little extra you will pay for it.