Best PCI-e Wifi Card in 2022
Five Awesome PCI-e Wifi Cards for Welcoming Your Build to the Wireless World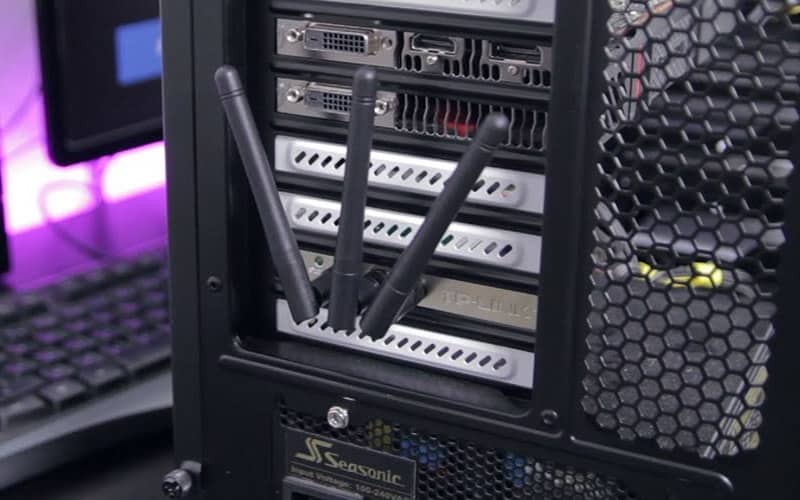 A PCI-e wifi card is a simple enough concept. Hook one of them up to your motherboard and voilà! You have a wireless connection that you didn't beforehand. But the particulars of a wifi card's abilities are a little more complicated.
It's frightfully easy to pick up one that doesn't actually cater to any of your needs, and then you're out of pocket, and you still don't have a wireless connection…what luck, ay?
Not to worry though, friend. If we have anything to say about it, you'll never have to go without a wifi connection ever again. Having put up with a lifetime of squiffy wireless connections here at pcguides, we've picked up a thing or two about quality PCI-e wifi cards, and we're going to share our absolute favorites with you right now!
Let's not draw things out any longer than necessary. You've already been starved of wifi for god knows how long, you poor soul, so we're jumping straight into the reviews.
Best PCI-e Wifi Card in 2022
876 and 400MBps Connection Speed - Speedy connection eliminates lag.
Extended Range - Gives you greater freedom of movement.
Bulky Heat Sink - Increases connection stability.
Price - It's a great value for money card.
Antennas - We'd prefer a greater range extension.
TP-Link is a well-established player in the networking industry, and the Archer T6E is one of their most brilliant creations. Featuring 876MBps in the 5GHz band and 400MBps in the 2.4GHz band, this insectile little fella is more than capable of supporting long-scale streaming, and gaming in resolutions up to 4K.
Looking at the Archer, the first thing you'll notice is that beefy heat sink ensuring the cores remain cool and in control when you're pushing your connection with some high-resolution, online, multiplayer gaming. With this thing hooked up to your motherboard, you'll never be able to blame lag for your defeat ever again.
The antennas could definitely be improved, but they do offer a fair bit of range, so you can wander further from your router and still enjoy a speedy, stable connection.
Compatible with pretty much every Windows operating system still in use, it should help most builds find a secure signal, but unfortunately, it's not primed for Linux. Besides that, this is a fantastic value for money wifi card that competes at the highest levels of the industry.
Price - Reliable wifi for less than $20!
Discrete - Doesn't stick out like a sore thumb.
External Antennas - Feel free to set up shop far away from your router.
300Mps - Not the fastest connection in the world.
No Thermal Solution - May get hot when pushed which will destabilize connection.
If you're looking for something a little more discreet than the chunky Archer 1300, this Rosewill N300 will definitely hit the spot. Creating a secure single that facilitates upload/download speeds of 300MBps, it's the perfect compact wifi card for casual gaming, flawless zoom calls, and buttery smooth streaming.
Much like the Archer, it comes with two detachable antennas that significantly improve signal range, so say goodbye to that router; you may not see it for some time.
It's designed for use with Windows operating systems XP through 10, so it should slot right into your build and kick straight into action.
When it comes to applications that require a completely steadfast signal such as competitive gaming, we wouldn't rely solely on the N300. Lacking any advanced thermal solution, it's not as stable as some other options on the market, but for a budget solution for day-to-day computing, it can't be beaten.
2100 and 1000MBps - One of the fastest cards on the market.
Quad MU-MIMO - supports four individual wifi connections.
Low Profile Bracket - This makes installation on SFF builds a breeze.
Long Range - You could probably pick up this thing's signal on the moon.
Impressive Heat Sink - Can handle heavy usage without destabilizing.
Price - You've probably guessed by now that this doesn't come cheap.
Compatibility - You'll need a 64-bit operating system.
The PCE-AC88 is a dauntless wifi beast capable of pushing out connection speeds as high as 2100MBps on the 5GHz band and 1000GBps on the 2.4Ghz band. To explain how impressive that is, let's put it into a bit of context. 100MBps is typically considered a decent speed for online gaming. On its highest band, this wifi card provides over 20 times that connection speed.
Not only does it feature four fantastic, range-boosting external antennas, you can use the R-SMA connectors to hook up an even more powerful set of aftermarket antennas. The included antennas can attach directly to the card, or they can be wired in, giving you more options in terms of placement and coverage.
The AC88 also has quad MU-MIMO connectivity, so you and three other cohabitants can all enjoy individual communication with the router, amounting to smooth, secure signals all round.
Fitted with an impressive red heat sink, the AC88 handles itself incredibly well, making it perfect for high traffic, data-heavy applications. Despite this, as it's such a high-powered card, it can run pretty hot, so we recommend keeping ambient and case temperature at a minimum.
2402 and 574MBps Connection Speeds - Faster than you'd ever really need.
Bluetooth 5.1 - Extremely low latency communication between computer and wireless peripherals.
OFDMA - Speed up network interaction of multiple connections.
Price - Pretty sweet price tag for a wifi 6 card.
Range - Dual external antennas provide pretty decent range.
No Thermal Solution - You'll have to prioritize the AX when it comes to cooling.
The Ubit AX may look like it's not up to much, but make no mistake, this diminutive dynamo packs one hell of a punch! Firstly, this is a wifi 6 device, which means it's capable of much higher speeds than previous generations. How fast is it? How does 2402MBps sound? And that's just on the 5GHz band. It offers a further 574MBps on the 2.4GHz band
Moreover, it has Bluetooth 5.1 connectivity ensuring that not just your PC has solid access to the network, but your wireless peripherals such as headphones, keyboards, mice…etc, all benefit from the ultra-fast connection speeds.
It doesn't feature MU-MIMO connectivity, but it does offer something called OFDMA which helps to smooth out low bandwidth usage across multiple connections.
Although the AX is designed to provide seamless connectivity during data-heavy workflows, it doesn't come with any sort of integrated heat sink, so we highly recommend taking your own measures to keep it cool.
Wifi 6 - Fastest connection speeds we humans have mustered yet.
Separate Antenna Stand - Saturate a greater area with wifi signal.
Bluetooth 5 - Uber-fast data transfer between computer and peripherals.
MU-MIMO and OFDMA - Simultaneous connections are guaranteed to be fast and stable.
Dedicated Heat Sink - This thing handles heat incredibly well.
Price - More expensive than the AX.
We've just explored some incredibly impressive PCI-e wifi possibilities, and we know you're dying to click 'confirm purchase' already, but before you do that, it makes sense to run over some key wifi card considerations.
Data Transfer Speed and Bandwidth
Let's start with one of the most exciting aspects of a wifi card, the connection speed. You can buy wifi cards with pretty juiced speeds these days, but it's not as simple as buying the fastest one.
A lightning-fast wifi card is fantastic, don't get us wrong, but it won't speed up the network connection that your router has already established. Your card can only run as fast as this primary network connection.
So, what you need to do is find a wifi card that matches your established network speed. This way you're not forking out cash for technology you can't take full advantage of.
For things like competitive online gaming, we'd suggest looking for something with at least 1GBps transfer speeds. This should be enough to support pretty much any online gaming scenario, no matter how data-heavy the game is.
For standard usage, you can settle on something more low-key with transfer rates upward of 300MBps. On the other hand, if you want the ultimate wifi experience, why not treat yourself to something with a 2 or even 3GBps transfer rate?
Cooling and Signal Stability
Computer chips get hot. It's just a fact of life. And it's another fact of life that heat kills computer chips…it's sort of Superman/Lex Luther, Batman/The Joker state of affairs. If a computer component gets too hot, you'll begin to see a decline in performance and in severe circumstances, crashes.
When it's your PCI-e wifi card that's overheating, you'll first notice your connection speeds dropping significantly. From there on out, your connection will become unstable. This is obviously something you'll want to avoid, and the best way to prevent it from happening is to choose a wifi card with a dedicated heat sink.
These heat sinks collect the heat from the core components of the card and transfer it to benign areas where it can then be dissipated by your cooling system. It's not the end of the world if you choose a card without a thermal solution, but you'll have to take it upon yourself to keep it cool.
Range
Next on the agenda is wifi range, which is largely determined by the quality and number of antennas that come with your card. Besides making your wifi card look like a cute little bug, they're responsible for receiving and transmitting the wifi signal, so in a way, they're the most essential part of the card.
Generally speaking, a wifi card with more antennae will be capable of processing larger amounts of data across a wider area. Wifi cards that come with a dedicated unit for the antenna are preferable as you can place them strategically to maximize coverage of the area.
Furthermore, antennae aren't made equal. The quality of their design has a direct impact on their range and signal strength. Some wifi cards will have detachable antennas, so feel free to make an aftermarket upgrade to boost your signal.
MU-MIMO
When multiple devices are drawing wifi signal from a router, the router can only communicate with one at a time. This basically creates a device queue. If there are only a few devices communicating with the router, you won't notice you're in a queue because the router communicates so quickly with each one. If there are more devices or more data-intensive applications, you'll have to wait longer for the router to communicate with each one.
This is where MU-MIMO (multi-use, multi-input, multi-output) comes into play. It separates lines of communication, so each device has its own direct link to the network. MU-MIMO isn't an essential technology, but if there are a number of you dipping into the same network connection, it's definitely worth your while.
Wifi Generation
Wifi 6 is currently our highest performing wifi, but unfortunately, you can't just buy a wifi 6 card and expect 2402MBps connection speeds. To reap the benefits of a wifi generation, every part of the network chain must be built using the same generation of technology. So, for instance, if you have a wifi 5 router, all your other connective hardware needs to be wifi 5 too.
What PCI-e Wifi Card Should I Get?
You should get a PCI-e wifi card that makes the most of your primary network connection. Matching up the bandwidth is an important aspect of this process. You should also consider how much range you'll need from a wifi card. Are you near the router or a staircase and two rooms away? More or better quality antennae can help boost coverage.
Are PCI-e Wifi Cards Better than USB?
PCI-e wifi cards tend to be faster and more powerful than USB wifi adapters. The reason for their unparalleled speed is that they plug directly into your motherboard, which negates the latency of a USB adapter having to transfer data through the I/O to your main board. PCI-e is also much faster than USB in the first place, so even if they both had direct access to the motherboard, the PCI-e card would be more efficient.
Do Wifi Cards Make a Difference?
A quality wifi card can make a huge difference to your computing. Firstly, you won't need a cable physically connecting you to your router, freeing you up to set your computer up anywhere in the building. Secondly, they often provide such stable connections to the network that people use them in place of the integrated wifi in their motherboards.
Does a Wifi Card Give You Wifi?
A wifi card doesn't give you wifi. Wifi is drawn from your main router. A wifi card simply allows a device to receive the wifi signal that's already being emitted by your router. Wifi cards also boost the range of your router's wifi allowing you to set up camp further away.
Breathe a big sigh of relief, friend. Your wifi woes are a thing of the past. With one of these awesome devices making themselves at home in your motherboard, unless you stop paying your bills, you'll never be without stable wifi again.
We hope that this article has answered some of your wifi card-related questions and shed a little light on the technical aspects of their performance and compatibility.
As long as you use our buyer's guide to help you decide what sort of PCI-e wifi card would work best in your situation, you're all set to make your purchase!