Best 3D Printer Slicer in 2023 – for experts and beginners
A 3D printer is only as good as the slicer you use. We've found five of the best.
Last Updated on August 10, 2023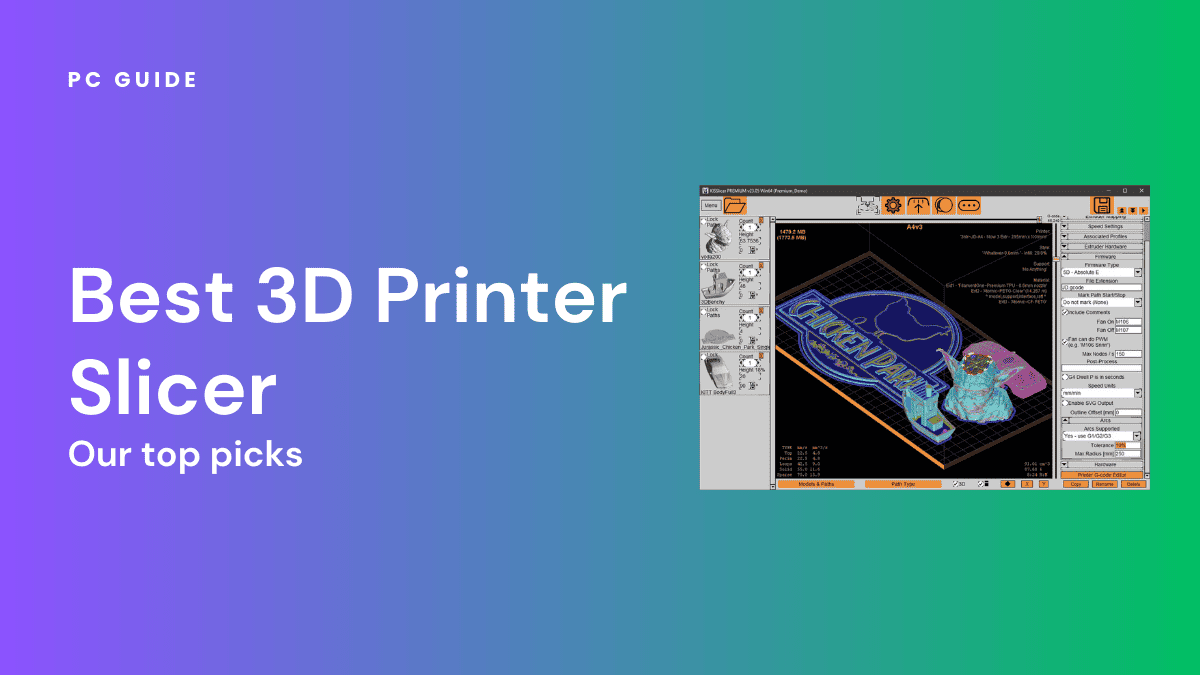 Looking for the best 3D printer slicer on the market? Well, read on as we explore both free and paid options to suit all needs.
A 3D slicer is one of the main components that make printing 3D models possible. Slicers are 3D printer software programs that you import models into, either in .STL, .GCODE, or .OBJ file format. 3D printer models from the basis of your print, containing the heights, edges, and all the information and details about your print. As the name suggests, they essentially slice your model into layers.
Needless to say, what 3D printer slicer you go with matters. But how do you know which one to choose? This is a particularly tough question, as most slicers are free, and most deliver the same, high-quality results.
Well, we've attempted to answer that question and hopefully make your decision a little easier, with a list of 10 of the best slicers out there. Most of these are free, meanwhile, some are paid with free versions available. You'll also find a buyer's guide that tells you what to look out for in a good 3D slicer, as well as the answers to some frequently asked questions.
Products at a Glance
How we picked the best 3D printer slicer
We carefully considered a variety of factors when selecting the best 3D printer slicers on the market. Firstly, we chose slicers that are compatible with a variety of printer types and materials. This ensures that our recommendations will work for most users, regardless of their printer setup.
Next, we looked at the experience level. We included slicers that are suitable for both beginners and experienced users. This is to make sure that there are easy-to-use options as well as slicers with advanced settings for greater customizability.
Finally budget. We made sure to include both free and paid slicers in our recommendations. This way, users on a tight budget can still find a great slicer that meets their needs. We believe that these factors are important for choosing a 3D printer slicer. We hope that our recommendations will help you find the perfect slicer for your needs.
Looking for something different? Be sure to check out our best 3D printer under $1000? Or if you are new to 3D printing, head over to our best 3D printer for beginners piece.
Our Recommended
Best 3D Printer Slicer in 2023 – for experts and beginners
1
PROS
Rapid prototyping
Great support technology
Produces excellent pre-print simulations
Precise and advanced settings for extruders
CONS
One of the more expensive slicers
The most expensive and technical option, Simplify 3D is one of the most compatible 3D printer software out there. It can be used for education settings, as well as business settings for rapid prototyping, and is recommended by beginners and experienced makers alike. 
While it is one of the more expensive options out there, you definitely get your money's worth with the benefits provided by Simplify3D, especially in the supports department. A lot of 3D slicers struggle with supports, but with Simplify3D you can effectively customize your support thickness and material, and also remove them easily. This is not only time-saving but leads to a better surface finish, unmarred by post-processing. 
Simplify3D also gives you access to incredibly precise and advanced settings for extruders, infill 3D printing settings, extruder temperatures, cooling and fans, rafts and brims, retractions, as well as supports. It also produces great pre-print simulations that highlight any weak points that could cause the print to fail. This helps you save potentially hundreds of dollars on wasted filament from failed prints. Instead, you can use Simplify3D's advanced tools to pinpoint errors and fix them. 
While there are many free options for 3D slicers that do an excellent job, sometimes a paid 3D slicer is a worthy investment and Simplify3D is no exception.
2
PROS
Incredibly detail-orientated
Premium option lets you combine multiple STL files into one print
Even with the free version you have access to new print styles and filaments
CONS
Not very beginner-friendly
Our choice for experts, the KISSlicer – or Keep It Simple Slicer – is incredibly detail-oriented, focusing on technical aspects of 3D printing that experienced makers will appreciate.
The free version of KISSlicer only offers single extruder 3D printing. It costs $42 to access dual extruder 3D printer tools and the Premium $82 option gives you access to more advanced tools, like the ability to combine multiple STL files into one print. 
New types of print styles, mesh topologies, and filaments are frequently added, and you have access to all of these even if you opt for the free version. 
However, KISSlicer is one of the less beginner-friendly user interfaces. If you would like to try this print slicer software, head over to their website using your browser. KISSlicer is available both on Mac, Windows and Linux.
3
PROS
Beginner-friendly
Completely-cloud based
Print quality, supports and materials are easy to adjust
CONS
Unable to access your models if your internet crashes due to the slicer being cloud-based
A versatile slicer, SelfCAD combines artistic, technical, and 3D printing features under one 3D modeling software tool, and is suitable for both beginners and professionals. 
However, what makes the SelfCAD stand out is that it's a completely cloud-based 3D slicer. You don't need to download anything, to connect and edit your STL files all you need is an internet connection. Of course, there is a downside to this as you'll be unable to access your models if your internet crashes, or if you're on the move and can't connect to the internet. 
You can easily adjust print quality, infill, supports, and materials for your preferred print settings with SelfCAD.
4
PROS
Analyzes and repairs files
Simulates DMLS and other powder bed fusion prints
Cuts down on any errors in the printing process
CONS
Some functions are limited unless you pay for them
Now acquired by Autodesk and complementing their Fusion 360 software, Netfabb is an advanced 3D slicing and 3D file preparation software that specializes in 3D file analysis and some very advanced extras. 
It not only prepares and slices 3D models but analyzes and repairs files based on any difficulties it detects that could occur during the printing process and based on Netfabb's analysis of the files. 
Not only can Netfabb easily create weight-saving lattice structures, but also simulate DMLS, other powder bed fusion prints, DED, and more to detect part distortion, any areas that will come under too much pressure during the printing process, or that may not fuse properly. This is not only an impressive feature but a money-saving one too. Metal 3D printing is expensive and the more errors that can be prevented over time the better it is for your wallet!
5
PROS
Open-source and free
Compatible with most desktop 3D printers
Ability to estimate printing time
Ability to make use of third-party plug-ins
CONS
Cura takes twice as long to process prints compared to other slicers
Developed by the famous Ultimaker, Cura is open-source and free and is used by Ultimaker's large community of users. Even if you're new to the world of 3D printing, you've probably heard the name 'Cura' before. 
It is compatible with most desktop 3D printers and works with the most common 3D formats such as .STL, .OBJ, .X3D, .3MF. It also works with most image file formats like BMP, GIF, JPG, and PNG. You also have the option to export your files to USB and SD Card. Online you will find detailed instructions on how to utilize the tool best, making it a great choice for beginners and hobbyists.
Cura's other features include material usage, the ability to estimate printing time, and showing a tool-path. Experienced users can also make use of third-party plug-ins. 
Features and considerations
Now that you have an idea of what the best 3D printer slicers are and what you can expect from them, you may be wondering what the best slicer is for you and what features to prioritize. Below, we'll break down the essential features of a high-quality slicer.
Easy to use
Extremely advanced tools are only an asset to you if you can use them, or if learning how to use them is fairly simple. The interface of a good 3D slicer should be simple and easy to learn, with appropriate guides available for you to learn how to use professional 3D slicing tools. So, be sure to look for a tool with a simple user-friendly interface.
Slicer supports
An important component of a good 3D slicer software is automatically generated supports that ensure your finished print is as accurate and precise as possible, especially over wide-angle 3D printing.
Repairing and warning features
If there are any errors in your file that could affect the print, a high-quality 3D slicer will alert you to these errors and fix them for you if necessary. This not only prevents wasteful, failed prints, but saves you time as well as money on wasted 3D printer filament. 
Speed
A good 3D slicer should save you time by quickly importing STL files (or any other 3D printer file), no matter how large or complex the model is.
3D printing data
Most high-quality 3D slicers inform you of the expected, remaining time to print while also telling you how much filament is needed, and how much is left.
FAQs
Can any 3D printer use any slicer?
Unfortunately not. While most slicers are compatible with a majority of 3D printers this is not always the case.
How do you make 3D printer files?
Firstly, choose a CAD software. such as TinkerCAD, This is a program that specializes in ease of use and is suitable for beginners.
Do not forget the preview stage before downloading your design. Next export your CAD files into a downloadable .STL file.
.STL files are the most common 3D printing files. These files are made of several tiny triangles, with more detailed parts having more triangles. This is because 3D printers can better understand information in geometric shapes.  When your file is sliced, it will prepare your CAD model and turn it into a G-code file which 3D printers can make use of.
Why is Solidworks so expensive?
Solidworks product licenses are offered in a tiered system of Standard, Professional, and Premium.
As you upgrade to Professional and Premium subscriptions, you get access to additional capabilities, as well as additional licenses and support costs.
Solidworks may be so expensive because it recognizes that its customers have unique needs and may benefit from more Solidworks features than just 3D CAD. If you contact Solidworks they can provide you with a bespoke service and offer a custom Solidworks price quote for all the products and services that meet your needs.
Our Verdict
Our top slicing software goes to Simplify 3D– our pick for the best 3D printer slicer. It is one of the most compatible 3D printer software around. It is perfect for education, as well as businesses seeking rapid prototyping. A great choice for both beginners and experienced makers who are not on a tight budget.