Best smartwatch for Google Pixel phones in 2023
Can Samsung and Fitbit harness the power of Google Pixel?
Last Updated on August 2, 2023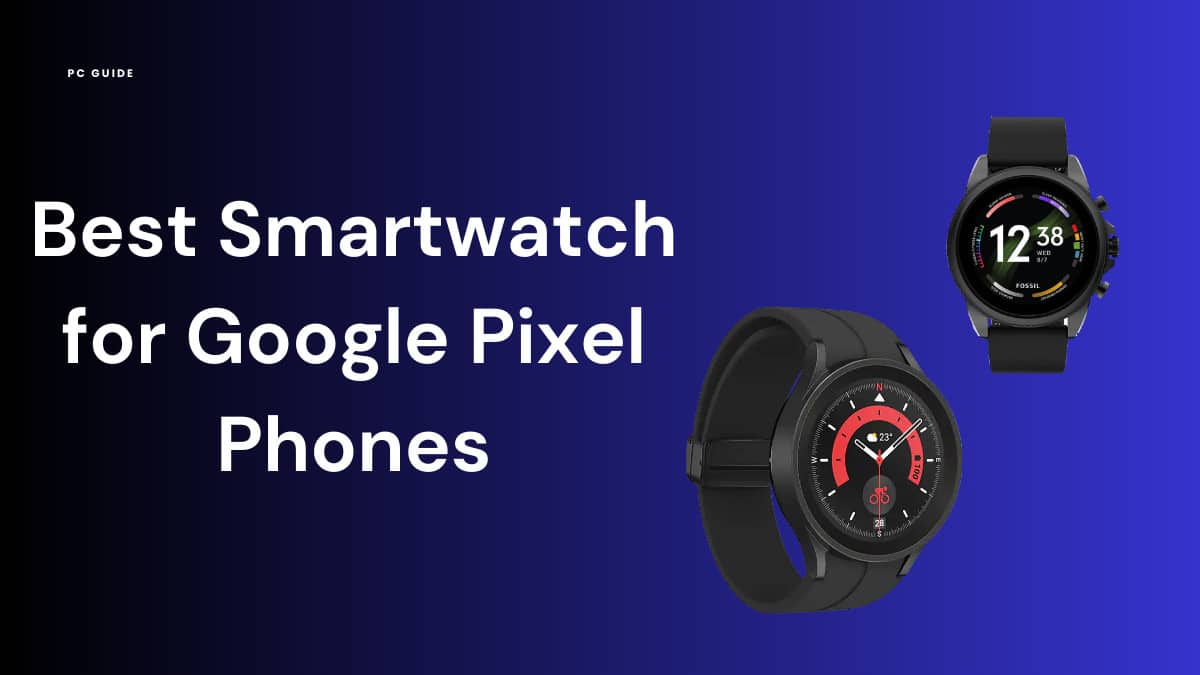 If you've landed here wondering, "What's the best smartwatch for Google Pixel phones", you're in the right place. We'll look at the main contenders in the wearables ecosystem, and steer you in the right direction. But first some background.
Remember when Google bought Fitbit for $2.1 billion last year? Well, it looks like that investment is going to start paying off with the Pixel Watch now official and already available.
There's one thing for certain. It will compete head-to-head with the Apple Watch and other Android smartwatch competitors – likely the Galaxy Watch 5 and 5 Pro.
There's more to consider though. Namely, Galaxy Watches have now ditched Tizen, and make use of Wear OS. It also looks like Fitbit will be using WearOS on all future models, which may end up turning into some form of Pixel line.
Products at a Glance
Seiko was the first to introduce the first instance of a smartwatch into the tech world. Models such as the Data 2000 in 1993 allowed users to enter data thanks to an attachable keyboard that the watch could be docked onto. Imagine it is a very early form of USB sticks without USB, sticks, or flash memory.
Fast forward to 1998, Steve Nabb would reveal his own invention and design, the world's first Linux wristwatch. A year later, Samsung would release their first watch phone, the SPH-WP10, protruding antenna and all. In fact, it seems everyone has had a go at making their own smartwatch, even Microsoft had a go with their SPOT smartwatch that hit store shelves in 2004.
The first smartwatch to truly have smartphone capabilities like the ones we have today was the 2014 release of ThinkSmart. The end result of tech startup Omates 1m Kickstarter smash hit, ThinkSmart was the latest innovation in wearable technology at the time alongside such as Google Glass.
As the Samsung Gears and early Apple Watch Series models came and went, more and more features were added to smartwatches from various manufacturers. The standard features now include heart rate monitoring, stress, and temperature, notifications, calling, texting, and so much more. Some Smartwatches don't need to be near a smartphone to operate anymore thanks to Smartsim and LTE technology.
The best smartwatch for Google Pixel
There are a few smartwatches that play well with Google Pixel and vanilla versions of Android 12, but there's always the annoyance of OEMs pushing their specific services over the ones user prefer.
Rather than scraping the internet in the hope of finding the best smartwatch for Google Pixel, we've brought them to you. There's not really a budget option here, with anything below $100 not being worth it because of build quality or poor operating system and app execution.
Plus, if you want to get in line for the Galaxy Watch 5 – definitely not a budget option – you can do that now. For now, though, let's dive into our best smartwatch for Google Pixel selections.
Our Recommended
Best smartwatch for Google Pixel phones in 2023
1
PROS
Sleep tracking
Swimproof 3
CONS
Crown button can catch on the left wrist
Watch OS is Google's own Smartwatch operation system, which is backed up by this best smartwatch for Google Pixels Qualcomm 4100+ chipset. There's more performance and a much more reliable connection than ever before thanks to built-in Bluetooth 5 technology.
Fossil Men's Gen 6 smartwatch tracks various activities such as goals, steps, sleep, heart rate, and SP02 (blood oxygen). There are also built-in activity modes with GPS to keep users on track, the sensors onboard this best smartwatch for Google Pixel will make it compatible with most fitness tracking apps.
The always-on display is brighter than last-gen with more colors and a higher pixel count. There are thousands of watch faces the choose from alongside hundreds of apps to use directly from the watch face. Contactless payments, music, social, news and even more are now sitting on a user's wrist ready for action.
2
PROS
ECG monitoring
Advanced workout tracking
Exceptional battery life
CONS
Pricey
GPS not as accurate
Android-only compatibility
The Samsung Galaxy Watch 5 Pro proves to remain a golden standard for those looking to pair a powerful smartwatch alongside a Google Pixel phone. With up to 80 hours of battery life in tandem with a music storage capacity of 16GB, the Galaxy Watch 5 Pro is a machine worth considering.
One of the major downsides of the Watch 5 Pro is it's only compatible with Android phones. While this shouldn't be a problem for Google Pixel phone users, it's something to consider before placing an order. At $380, it's also the most expensive on this list but wears that staple for good reason, as it remains arguably the best Android smartwatch.
The Watch 5 Pro leverages a scratch-resistant screen and a titanium case for extreme durability. It's an adventurer's wearable that doesn't compromise on quality. When using GPS mode, the battery does tend to dip by a lot, but you can rest assured with a 45-hour battery in this case, which isn't too bad.
This device also has one of the most advanced ECGs to read heart rhythms and body composition with exceptional quality. It's not only got water resistance and built-in GPS, but also fitness trackers galore for all of your cycling, hiking, and assorted outdoor activities.
3
PROS
Skin temp sensor
6-day battery
Fitbit Sense is an 'advanced health smartwatch' according to Fitbit, which is probably down to their electrodermal activity sensor (EDA) that helps users manage stress. There's also an onboard ECG and on-skin temperature reader. The six-day battery life is a welcome feature in the smartwatch space too.
Fitbit Sense comes with a six-month trial of Premium which breaks down all of these statistics into digestible information users can take advantage of to live a healthier lifestyle. There's also brand new mindfulness content alongside tracking key trends in heart rate variables, breathing rate, and more.
Fitbit Sense focuses on stress management. Stress can lead to all kinds of issues such as obesity and diabetes, and thanks to the various new scanners on Fitbit Sense, these statistics power a new experience in the mobile app that helps users de-stress whilst showing them how much stress affects their body.
4
PROS
Over 100 professional workout modes
Sleep and stress monitoring
Google also powers the Ticwatch E3, making Google Assistant and Google ecosystem compatibility a reality. This best smartwatch for Google Pixel uses Mobvoi to monitor and track not just the users' help but family members too wearing compatible devices.
There are over 100 workout modes to pick from too which are powered by TicExercise and TicHealth. From swimming to mountain climbing, there's a profile for your workout in this smartwatch.
NFC capabilities are built-in, which means paying contactless via Google Pay is a possibility. Other built-in features include GPS, speaker, microphone, barometer, and 24-hour heart rate monitoring. There's also an essentials mode when the battery percentage drops to five percent. This means users can use their smartwatch in a basic capacity until they can plug it in to charge.
5
PROS
Sleep monitor
Phone notifications
CONS
Some instances of syncing issues
Fitbit Versa is the next level for fitness enthusiasts and the best smartwatch for Google Pixel hunters. A personalized daily readiness score uses insights from a user's body to guide them toward an activity or recovery day, although this is a premium membership feature.
Although users will likely use Google Assistant with Google Pixel, Alexa comes built into Fitbit Versa. This feature allows users to grab a quick weather update, set timers, and get on-screen answers to questions. If a user's home is Alexa-powered already, this is a no-brainer.
Users can also build a better sleep pattern thanks to recognizing and repeating good sleep habits thanks to sleep tracking and a personalized sleep score. Premium Members also get a sleep score breakdown to better understand it alongside sleep sessions from Calm.
Regardless of being a fitness fanatic or couch potato, users can't really escape the wealth of fitness features that appear on smartwatches these days. There's not a good reason to ignore them either, from improving sleep quality to making sure a user's heart is OK, there are only positives that come from these features.
All of the above watches have the basic functionality needed for the best smartwatch for Google Pixel, although we'd lean towards smartwatches running Google's Wear OS for the best compatibility with Pixel devices. Google-to-Google compatibility is always going to win out, although some users may want the brand reputation partnered with Samsung devices for example.
FAQs
Do I need to use a Smartwatch using Wear OS?
No, you can use any Android-compatible smartwatch, but we would recommend using Wear OS smartwatches with Google Pixel handsets for the best possible performance and compatibility between the two devices.
Can I use Google Pay on a Samsung Smartwatch?
Yes, you can! Open the Google Play app on a Galaxy Watch and download Google Pay. If you already have Google Pay set up on your Google Pixel device, all of this information will be imported to the Galaxy Watch app too.
Are ECG scans dangerous?
Whilst we wouldn't recommend them for users of pacemakers or children, smartwatches don't pose much of a threat. With that being said, we are not fit to give medical advice, please get a professional medical opinion if in doubt.
Our Verdict
Whilst looking like a traditional watch, our pick for the best smartwatch for Google Pixel phones features Wear OS. This means Google Assistant will be in full swing and more apps will be compatible with both Fossil Men's Gen 6 and Google Pixel handsets.
It has NFC capabilities alongside every other feature a user would need for a capable smartwatch. It's also running on the latest Qualcomm Snapdragon 4100 architecture, which means it will be receiving the latest Wear OS 3 update when it drops.