Last Updated on
If you are looking for the best Cyber Monday 3D printer deals, then we have you covered right here.
Now, 3D printers can be expensive, but you might be able to grab your favorite one during the Cyber Monday sale, which is now live. However, if you want a 3D printer before that, then we have listed some good discounts that you can claim right now. Plus, we will be updating this page throughout Cyber Monday, so watch this page for special deals.
Whether you're a hobbyist, a DIY enthusiast, or simply looking to get 3D prints of your Anime cosplays, a 3D printer can be a great investment for you. You can create 3D prototypes of your projects quickly and easily with a 3D printer. If you are an educator or a student, you will find these printers useful while teaching complex concepts or for projects.
Whatever your use case is, chances are that you will find 3D printers discounted on Cyber Monday and the weekend before it. To help you save some time, we have rounded up some of the best offers available.
Best 3D printer deals 2023
Here, we have rounded up some of the best deals on 3D printers that you can grab. We keep updating this page with new deals, so check back here again.
Save 27% NOW!
Official Creality Ender 3 3D Printer
Fully Open Source with Resume Printing Function DIY 3D Printers Printing Size (8.66 x 8.66 x 9.84 inches)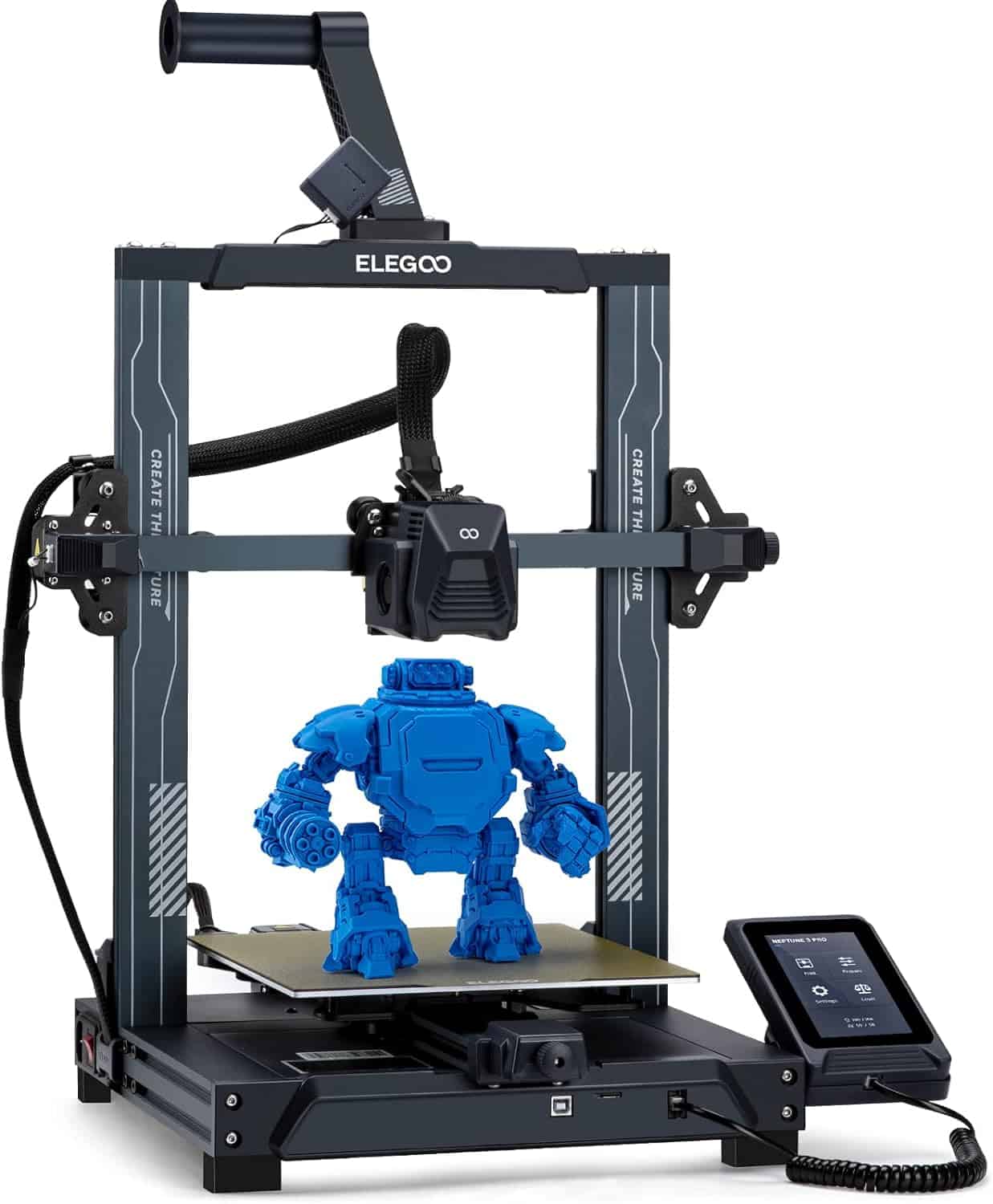 Save 34% now!
ELEGOO Neptune 3 Pro FDM 3D Printer
with Auto Bed Leveling, Dual-Gear Direct Extruder, Dual Lead Screw Drive, Removable Capacitive Screen, 8.85×8.85x11in Large Printing Size
Save 30% now!
Anycubic 3D Printer Kobra 2 Pro
500mm/s High-Speed Printing, High Power Powerful Computing New Structure, Upgraded LeviQ 2.0 Auto Leveling Smart Z-Offset, Print Size 8.7″x8.7″x9.84″
Save 31% now!
Official Creality Ender 3 Max Neo 3D Printer
Large Print Size 11.8×11.8×12.6in, Ender 3 Max Upgraded with CR Touch Auto Leveling Dual Z-Axis All-Metal Bowden Extruder 4.3" Color Knob Screen
Where to find the best 3D printer Cyber Monday deals?
3D printers are increasingly popular with hobbyists and professionals alike, so they're found for sale in many different places. You'll find them at specialist tech and hardware stores, for example, but also at large online retailers. You can expect to find Cyber Monday deals on Amazon, Newegg, Best Buy, and other similar retailer websites. As Cyber Monday is all about tech, you can check out retailers that specialize in selling electronics.
3D printer Cyber Monday shortlist
When will 3D printer Cyber Monday sales start in 2023?
Cyber Monday deals are now live, but you might see deals before then. You'll certainly see Black Friday deals before that date, so you can nab an early bargain if you see one. Either way, keep your eyes peeled for deals throughout November 2023 to get the best possible discount. Additionally, our page will be updated throughout the day with the best deals, to keep it bookmarked and check in to find the best 3D printer deal for you.
How to get the best Cyber Monday 3D printer deals in 2023?
Make sure you know why you want a 3D printer and also what you'll make with it. This will help you decide which models meet your needs so you can buy the right product. Also decide on a budget so you know how much you can spend on your new 3D printer. Then, you can make a list of 3D printers that meet your needs and then see if they're available on different websites like Amazon, Best Buy, and more. Plus, you can also track price history through The Camelizer and Honey, which are two browser extensions that give you real-time data on the fluctuating pricing histories of many models.
Features to consider when looking for Cyber Monday 3D printer deals
To get the best 3D printer this Cyber Monday, here are a few things to consider –
Printer Size: The right printer size will depend on the stuff you want to print. For instance, if you are planning to make 3D prints of jewelry, then a small printer might be sufficient for you. So some of the best 3D printers for jewelry are small to medium in size.
Filament compatibility: Most consumer-grade FDM printers use filaments like PLA, ABS, PETG, and more. The type of filament that you use largely depends on what you want to print. So you shoud look for a printer that is compatible with the filamemts you intend to use.
Usability: If you are a beginner or a hobbyist, then you should look for a 3D printer that does not have too many complicated controls and uses a simple software.
More Cyber Monday deals