Last Updated on
Cyber Monday is the end of the Black Friday sales event that takes the world by storm every year – but that doesn't mean the deals are over. The Steam sales continue to give us an opportunity to build out our PC gaming library at a low cost, thanks to all of the different Cyber Monday deals live right now!
Before you go ahead and hoover up all Steam has to offer, why not see if you need to upgrade your rig first. Below are some fantastic prebuilt gaming PCs to get the most out of your game purchases.
*Prices are subject to change
MSI Infinite RS Gaming Desktop
iBUYPOWER – TraceMR Gaming Desktop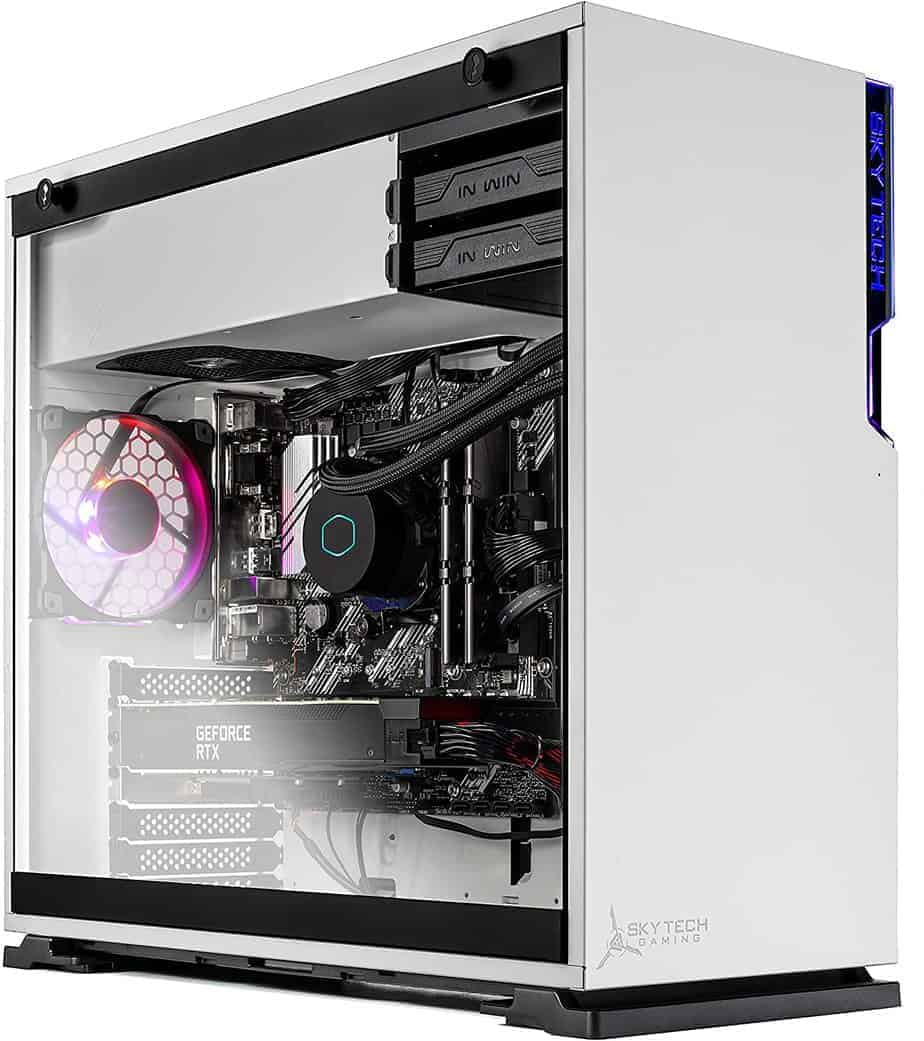 Skytech Shiva Gaming PC Desktop – AMD Ryzen 5 5600X, RTX 3080
CYBERPOWERPC Gamer Xtreme VR Gaming PC
HP Pavilion Gaming Desktop TG01-2170m PC (Configurable)
Featured Steam Cyber Monday Deals In 2021
Let's say you don't have a specific game in mind and you are still set on picking yourself up some new games whilst Cyber Monday lasts. We have selected the very best Cyber Monday Steam store deals and made them easy for you to scroll through, just so you know exactly what the quality deals this year are.
Basically, if you want the best games adding to your Steam library during Cyber Monday, then check out recommendations.
*Prices are subject to change
Destiny 2: Beyond Light (Steam)
Resident Evil Village Deluxe Edition (Steam)
Horizon Zero Dawn™ Complete Edition (Steam)
Red Dead Redemption 2: Ultimate Edition (Epic Games Store)
Borderlands 3 Standard Edition (Steam)
Best FPS Steam Cyber Monday Deals 2021
Love first-person shooters? Me too, that's why it's first on this list – but there is more to PC FPS games than just Counter-Strike. Check out the latest FPS titles to go on sale on Steam right here. Cyber Monday usually means that most of the main sales events have taken place, so if you don't see what you want on offer right now, chances are it isn't getting marked down!
Best RPG Steam Cyber Monday Deals 2021
RPG games are always a treat to play on PC – with much deeper and more interactive elements included than you might find on a console port (especially when you consider the wealth of post-game DLC available to everyone…).#
Best Battle Royale Steam Cyber Monday Deals 2021
When it comes to gaming there has been no bigger rise to popularity than when it comes to the genre of Battle Royales. Fortnite, Apex Legends, Call Of Duty: Warzone – not my thing, but they are immensely popular – and more than likely going on sale during the course of Cyber Monday!
Best Racing Game Steam Cyber Monday Deals 2021
There are a whole bunch of different racing games out there on Steam, and to be honest, picking that whole bunch up for a nice discount makes the different racing games even more fun to play. Enjoy the following racing games even more with their lowered price, and have fun staying on the circuit!
Best VR Steam Cyber Monday Deals 2021
When it comes to gaming, there is a lot of agreement that the future lies in the hands of VR. So, if you already have yourself a VR headset (or just picked one up in the Black Friday sales) then you should probably check out the best games for VR on sale right now on Steam!
How Do We Find The Best Steam Deals During Cyber Monday
The answer to this is pretty simple really. Because the PC Guide team are committed to bringing you the very best deals from across the internet whilst Cyber Monday lasts, we are scouring the internet for all of the very best Cyber Monday deals – and that means checking all the major retailers participating, like Amazon, Best Buy, Newegg – and in the case of video games: Steam.
We are going to be staying on Steam and updating this list live throughout Cyber Monday, so if you want to cut through the confusion of the Steam store and constant refreshing, just check this page. We are going to be doing the same for a whole load of different technologies as well – just check out our different Cyber Monday deals pages for more savings!