Our Best Cheap Gaming PC Under $500 in 2023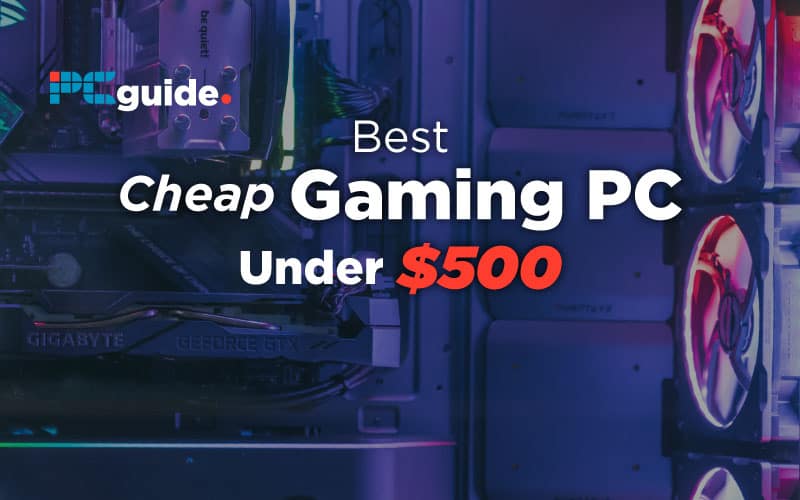 We all know that high-end PCs are far superior in terms of graphical quality and FPS rates over their console counterparts, but creating a budget PC that keeps up with console hardware is somewhat of a challenge. $500 however goes a long way in making a gaming rig that challenges the top-spec consoles out there. As with all the budget builds we feature, functionality comes first, so this one doesn't come with the maximum levels of RGB, but we have tried to beef up the aesthetics to make it more attractive. Unfortunately, due to various factors, the prices of the hardware listed fluctuate daily. We aim to update all of our builds as much as we can to ensure they are as close to the specified build price as possible.
With a $500 budget, we've been able to separate the graphics card and CPU to maximize performance and graphical capability. Due to this, the Ryzen 5 2600 is a fantastic choice for the build, providing 6 cores and 12 threads, minimizing GPU bottlenecking. You're also looking at a clock speed of 3.4GHz right out the box and the overclocking capability of up to 3.9GHz if you want to supercharge it.
For this build, we're looking for a motherboard that supports third-generation Ryzen processors at a reasonable price. The MSI B450M does exactly that. You're getting the trusted MSI name, built with top of the line materials, alongside some extra features such as their core boost technology, improving the overall performance of your CPU.
Purchasing RAM for your PC is something that should be carefully considered. It needs to have good speeds and reliability to last under heavy stress. The Vengeance range from Corsair is the prime example of stellar quality RAM at a good price point. The two 8GB sticks of Vengeance LPX that we've gone for here give you 3600MHz memory speeds and enough power to keep up with your gaming requirements.
As previously mentioned, we've been able to stretch the budget in this build to have a dedicated GPU instead of the combined chip from the lower-priced PCs. The XFX Radeon RX 570 RS XXX we've gone with is probably the best value GPU in this price range, giving you a huge 8GB worth of memory and solid 1286MHz speeds. Additionally, it is overclockable, allowing you to push the performance even further.
Fast storage is almost a necessity nowadays for preventing you from getting bogged down in load times. The PNY CS900 is exactly that, it gives you 535MB/s seq. read speeds and 500MB/s seq. write speeds which are brilliant for such a low price. The 240GB storage should be more than enough for the time being and if you need further storage, using a large HDD to accompany it could be ideal.
A visually pleasing case at budget prices can sometimes be a tricky task, but the AeroCool Cyclon range ticks the right boxes. It comes with a clear acrylic window to show off your rig's insides, as well as a diagonal RGB light strip on the front. It also has some nice functional features with sd and micro sd slots on the top, in addition to an internal dual chamber design for maximum ventilation.
The Thermaltake Smart 500W PSU has an efficiency rating of up to 86% which is vital for keeping energy consumption down. As well as being efficient, the intelligent smart series ultra-quiet cooling fan regulates the temperature extremely well, delivering excellent airflow at low noise levels. The 500 watts of power is also more than enough for this gaming rig.
With the $500 budget for this build, we've been able to build a more than respectable gaming rig that not only competes with the consoles of today but beats them in many aspects. The FPS levels you'll be getting in games like Monster Hunter World and Witcher 3 on high graphical settings will definitely suffice, and if you're looking to play the latest AAA titles, you're still going to get relatively good performance with such budget components. Overall, if you're expecting high FPS on max settings for the latest releases you might fall a bit short, but we think you'll be more than happy with the gaming prowess you get for $500. If you did end up building this rig, enjoy your new PC! Be sure to check out our other articles if you have any issues or want to explore different options!