Best NAS for Home in 2023
Get the right device for your home setup with these top picks
Last Updated on November 25, 2023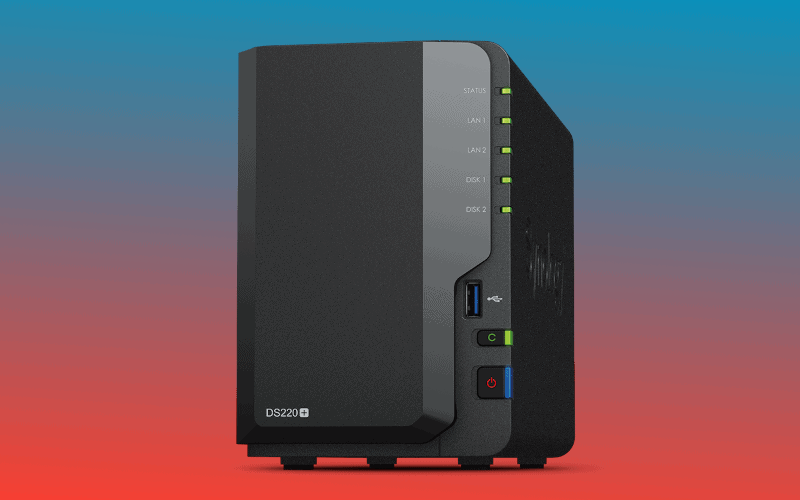 There was a time when Network Attached Storage (NAS) was almost exclusively hardware that small businesses used, often to provide straightforward file serving without the overheads and knowledge required to run servers. These days NAS is a popular technology in the home, enabling owners to have a central location to store personal files. But, the humble NAS can do so much more than collate a music collection or duplicate everything stored on Google's Cloud services – which is why you're likely looking for the best NAS for home use.
Products at a Glance
How we picked the best NAS for Home in 2023
A good NAS can record from security cameras, provide a live backup of a running PC, transcribe video for mobile devices, be a web server and provide dozens of other useful functions. It's the flexibility of the modern NAS that has made them such a huge success, and an investment in the right one can enable the owner to easily reconfigure the NAS as their needs change.
For this guide we'll be focused entirely on the best NAS for home, breaking down what makes a home solution different from something a business might deploy. Many cheaper NAS are bought by both businesses and home users, so what makes a NAS more suitable for being in the home than in an office or machine room?
Probably the most critical aspect of a NAS is its flexibility. Doing more than one job provides a better return on the investment. To achieve that requires sufficient memory to run multiple applications and enough processing power to multi-task those effectively.
Beyond RAM and CPU power, the other essential home requirement is working with audio-visual media. The ability to transcode content into formats that network-attached devices, like computers, phones, and tablets, will be vital. And having the network bandwidth to move files from the host PC to NAS and back quickly is also crucial.
The final part of the NAS jigsaw is the mature NAS operating system. It needs an accessible GUI enabling the owner to easily make changes or add new applications without expert help.
To bring this guide together, we've considered these critical requirements and a range of budgets to define five of the best NAS devices for the home. No NAS is perfect, but we've reviewed each of them to help you choose what could be the right solution for you.
Our Recommended
Best NAS for Home in 2023
1
PROS
Celeron power
DSM OS
Best App selection
2GB RAM (upgradable to 6GB)
CONS
No 2.5GbE LAN ports
Potentially soon to be replaced
Synology revamps its products usually on a two-year cycle, and the DS220+ came along to replace the DS218, another highly successful NAS.
What makes the DS220+ a little different is that, unlike many others, it doesn't use an ARM-derived processor. Under this hood is an Intel Celeron J4025 processor, making it the equivalent of an entry-level PC. This chip has an integrated GPU that can transcode video files smoothly, making it perfect for those using Plex or similar media streaming solutions.
When you combine this hardware with arguably the best small NAS OS, Synology DSM, and the massive selection of applications available, the DS220+ is really on another level of user experience.
There are a few issues that we need to mention, the first being that the pricing of the DS220+ is more than most brands are asking for a dual drive NAS. Another is that the DS220+ will be replaced by a new model, possibly this year. That last point is based on a two-year replacement cycle, but it seems a good bet. If Synology launches the DS222+ soon, that might make the DS220+ a little cheaper for those that want one.
2
PROS
Inexpensive
1GB of DDR3L RAM
BTRFS file system
4K transcoding
CONS
No memory upgrades
Limited selection of apps
TerraMaster doesn't get embroiled in flashy aesthetics or branding. All its smaller NAS look practically identical on the outside, and it seems unlikely to revamp this styling any time soon.
Along with a familiar look, its NAS has an asking price that is substantially lower than some of the better-known NAS brands. Accordingly, the TerraMaster F2-210 has plenty to offer for those wanting a robust home NAS on a budget.
The F2-210 uses the popular Realtek RTD1296 chip that can transcode 4K video and 1GB of DDR3L RAM. That's sufficient memory to install a few applications and have them perform well.
Like the Synology machines, the F2-210 can use either EXT4 or BTRFS file systems, and with two drive bays available, it is possible to organize the drives into RAID 0 (striping), RAID 1 (mirror), or JBOD (just a bunch of drives).
Other features include a single gigabit LAN port and dual USB 3.0 Type-A ports for external drives or sharing printers.
Comparing this to the very similarly specified Synology DS220+, the differences are mostly down to the quality of the installed OS and the number and quality of the applications. Synology has a slight edge on the software quality, but the TerraMaster F2-210 is considerably cheaper. Those with modest requirements might find the F2-210 a good fit.
3
PROS
Top specification
Good App selection
Dual 2.5GbE LAN ports
CONS
Doesn't include a remote
Needs an SSD slot for caching
Expensive
If you intend to have a NAS next to the TV, it needs to be quiet and appropriately styled.
The QNAP HS-264-8G addresses both those requirements by having the appearance of a cable TV box and passive cooling solution while packing plenty of processing power and a considerable amount of RAM. If those features weren't enough, it also comes with dual 2.5GbE LAN ports, and uniquely in our line-up, it also has dual HDMI out.
That last feature enables it to output media directly to a TV or monitor, circumventing any streaming issues or network performance. QNAP built a unique user interface for use with the TV that is separate from the desktop environment of the onboard OS.
However, to get the most from the TV interface requires a remote control that QNAP doesn't include in the box – incredibly. So that cost is another $30 if you want to make the most of HDMI out.
Our only other reservation about this machine is that to exploit the dual 2.5GbE LAN ports requires that one of the two drives is an SSD, set to cache mode. If only QNAP had put an M.2 SSD slot on QNAP HS-264-8G, both drive bays could have been used for storage. Despite that limitation, this is a powerful NAS that can cope with many installed applications, even if its forte is media serving.
4
PROS
Comes with drives pre-installed
Easy to setup
Good value
CONS
Limited app selection
Drives aren't replaceable on some models
When Western Digital introduced the My Cloud devices, its purpose was to create another avenue for selling WD drives and NAS hardware without expressly using that term.
Looking remarkably like the My Book line of USB-connected external hard drives, these simple NAS devices come with hard drives pre-installed and are effectively ready to use out of the box.
The single drive versions come in 2TB, 4TB, 6TB, or 8TB capacities, and the dual drive 'Duo' versions don't offer the 2TB capacity but offer 4TB, 6TB, 8TB, and add 12TB, 16TB, and 20TB options.  
Setting up the device involves connecting it to the internal network, usually with a LAN cable into the router, and then once you've created a My Cloud account with WD, you can then configure the NAS using just a web browser.
By default, the Duo versions have the drives set to 'mirror' mode, protecting the contents from the unexpected failure of a single drive. We'd recommend the Duo models for this reason, but also because the single drive models aren't designed to be user-serviceable. The Duo design offers the possibility of user-installed replacement drives in the event of failure and the possibility of upgrading the capacity once the unit is out of warranty.
Alternatively, Extra capacity can also be added via the USB 3.0 ports, and doing this won't invalidate your warranty.
What the My Cloud Home Personal Cloud offers is a very simple-to-use solution that comes ready for deployment. It doesn't have the flexibility of a Synology or QNAP NAS but is useful for those that need basic file serving and backup functionality.
5
PROS
Easy to follow install Wizard
1GB of DDR4 RAM
2.5GbE LAN port
CONS
Lacks SSD caching
No RAM upgrades
Asustor, a subsidiary of Asus, has carved an enviable reputation for building high-quality NAS that usually comes with all the latest features and technology. Asustor calls the DRIVESTOR 2 'the Little NAS That Can', and we'd generally agree with this sentiment given the specification and detail that has gone into this product.
Built around a Realtek RTD1296 Quad-Core 1.4GHz Processor, this 2-bay NAS connects to the LAN using a single 2.5GbE LAN port and has dual USB 3.2 Gen 1 ports for connecting external storage and peripherals.
This unit comes as 'diskless', allowing the owner to decide exactly how much space they need and if that capacity is to be protected by RAID. In theory, this unit could take two of the new WD 26TB drives. Alternatively, Asustor offers the USB-connected AS6004U NAS Storage Capacity Expander, and two of those can add another eight drives externally.
When choosing a NAS, it's important to decide what its primary purpose is, and what other things you might want to include in its workload.
If all you require is a file server, then the ability to transcode video might not be important, and conversely, for those using Plex or other media distribution applications, that ability might be critical. All NAS these days can backup other systems and share peripherals, like printers, so any choice should tick those boxes.
Drive Capacities
Where things become a little more complicated is in respect of drive capacities, since even a single-bay NAS can hold an enormous amount of data given the size of available hard drives.
A single-bay NAS restricts the capacity to the largest single drive you can afford, and you can't build any resilience into the system, such as mirroring. To mirror, aka RAID 1, requires a minimum of two bays. For more efficient drive redundancy, a four-bay NAS can operate using RAID 5 mode. Assuming all drives are the same size, this mode protects all four drives from data loss in the event of a drive failure by copying a portion of its data to the other three other drives.
If the data stored on the NAS isn't critical, using single drives or performance RAID modes will work fine. But for those with important personal documents, some drive resilience is the smart move, including backing up the contents to connected external storage.
Local network speed
One pitfall that many NAS owners fall into is not considering the speed of their local network. If all the contents stored on the NAS are uploaded to that machine using a computer, the fastest possible pathway is required.
Typically, most home routers and switches run at 1GbE (a gigabit), giving a maximum transfer speed of around 113MB/s. If the NAS has a LAN port with 2.5GbE, 5GbE or even 10GbE, then the switch that connects it to the network and any computer transferring files will need to be upgraded to that specification to get full performance.
Our Verdict
There is a good reason that Synology dominates the small NAS market, as it has an uncanny way of making the most reliable hardware and combining it with easily the best OS for these devices. Synology makes machines that answer the current requirement of its customers and have enough flexibility to meet future demands when they arise.
The Synology DiskStation DS220+ is a perfect example of pitching the performance, price point and feature set of a NAS just right, making it almost irresistible to those who like to research available products before purchasing.
It's easy to ask, where are the 2.5GbE LAN ports or an M.2 SSD slot? But most users don't need those things, though they do need the great DSM OS and its app collection. We are curious to see if the machine that replaces the DS220+ has more network bandwidth, as this is something Synology has so far resisted while Asustor and TerraMaster both offer it on home NAS.
For those that need more space than the dual-bay, the DS420+ is a four-bay version of the same platform, and the DS920+ offers four bays and 4G of RAM. Budget-minded buyers might want to consider the cheaper if less powerful DS220j.