Last Updated on
AMD will catch up to Intel's DDR5 and PCIe 5.0 support this year. And simultaneously look to take a stride forward in performance with the release of its new AM5 socket – the home for the company's upcoming Rzyen 7000 CPUs, built using the Zen 4 architecture.
The new AM5 platform will use the LGA 1718 socket; yes, AMD with an LGA ('Intel style') socket. While that may raise some questions, we've got your answers and the latest updates on Socket AM5 below.
26/09/2022: Ryzen 7000 performance numbers are here…and they look good!
01/9/2022 It's official, AMD has made the announcement that Zen 4 Ryzen 7000 CPUs and Socket AM5 will be with us on September 27.
17/08/2022: A huge leak has appeared, as reported by Videocardz, with the first image of the Zen 4 Ryzen 7 7700X processor.
AM5 socket announcement
AMD's Zen 4 live stream event took place on August 29 at 7pm ET, and is viewable on the AMD YouTube channel.
Sources previously suggested AMD had shifted its Zen4 and Socket AM5 launch to September 27. The move was reportedly so that AMD's newest tech launches the day as Intel's unveiling of its 13th-gen Raptor Lake. That would put AMD a step ahead, at least in terms of pure availability.
With the rivalry between AMD at boiling point, our Ryzen 7000 vs Raptor Lake explainer has all you need to know.
AM5 socket release date
Confirmed: the socket AM5 release, of motherboards and Zen 4 CPUs, will be on September 27.
Previously, September 15 date was due to a June 17th tweet by Twitter user @wxnod, leaking a picture of a Chinese AMD presentation.
At the top of the picture (below) the date 'September 15th' is seen, and the assumption was that this was the general, global release.
At Computex 2022, AMD's Chair and CEO, Dr. Lisa Su, confirmed that AMD's socket AM5 "Zen 4" processors would arrive in "Fall 2022".
The release would be alongside supporting AM5 motherboards featuring B650, X670, and X670 Extreme chipsets.
Prior to the official announcement, Digitimes reported industry sources claimed processors would begin rolling out as early as September.
Twitter leaker 'Greymon55', who noted in February that it was unlikely Zen 4 would release in Q4, would be proven right by a September release too.
Following on from the Zen 3-based Ryzen 7 5800X3D release earlier this year, a full lineup of Zen 4 CPUs arriving in September is going to make it an interesting time for AMD and system builders.
What CPUs and motherboards will be released?
All four Ryzen 7000 Zen 4 CPUs will be launched on September 27. That means:
Ryzen 9 7950X
Ryzen 9 7900X
Ryzen 7 7700X
Ryzen 7 7600X
Zen 4 Ryzen 7000 CPU Specs
We now have the confirmed specs for the four AM5 CPUs launching on September 27. They are as follows:
| | | | | | | |
| --- | --- | --- | --- | --- | --- | --- |
| CPU | Cores | Threads | Base | Boost | Cache | TDP |
| Ryzen 9 7950X | 16 | 32 | 4.5GHz | 5.7GHz | 80MB | 170W |
| Ryzen 9 7900X | 12 | 24 | 4.7GHz | 5.6GHz | 76MB | 170W |
| Ryzen 7 7700X | 8 | 16 | 4.5GHz | 5.4GHz | 40MB | 105W |
| Ryzen 5 7600X | 6 | 12 | 4.7GHz | 5.3GHz | 38MB | 105W |
Zen 4 Ryzen 7000 CPU pricing
Confirmed pricing has now been provided by AMD for the following CPUs. We're yet to hear confirmed pricing for motherboards, but if you're looking to buy an AM5 motherboard, we're keeping an eye out.
If you're looking for where to buy Ryzen 7000 CPUs, we've got that covered too.
Zen 4 Ryzen 7000

Confirmed Price

(USD)
Ryzen 9 7950X

$699
Ryzen 9 7900X

$549
Ryzen 7 7700X

$399
Ryzen 5 7600X
£299
AM5 / Zen 4 Ryzen 7000 performance
Well…it's good. We've now had a look at the numbers and Ryzen 7000 performance is a true lift compared to the previous generation.
In fact, even the Ryzen 5 7600X will offer excellent performance, beating the 5900X across standard single-core benchmarks and real-world gaming perfomrance.
We've given our view of the numbers, and what this means if you're looking to upgrade in our Ryzen 7000 performance article.
Are there AM5 motherboards?
Yes, there will be. Socket AM5 X-series motherboards will arrive in September, while the B-series motherboards will be available in October. The four chipsets available for partners to build their motherboards around are:
X670 Extreme: Bringing the most connectivity and extreme overclocking capabilities with PCIe 5.0 support for two graphics slots and one storage slot
X670: Supporting enthusiast overclocking with PCIe 5.0 support on one storage slot with graphics support optional
B650E: Designed for performance users wanting more PCIe 5.0 support.
B650: Designed for performance users with PCIe 5.0 storage support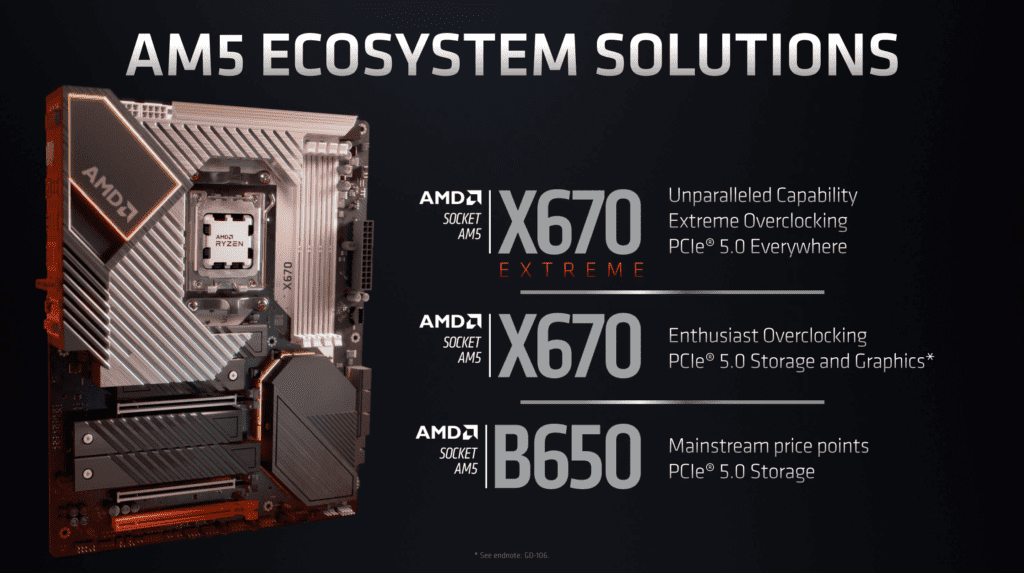 At Computex 2022, AMD released information regarding the flagship socket AM5 motherboards to be available utilizing the top-tier X670E chipset:
ASRock X670E Taichi
ASUS ROG Crosshair X670E Extreme
Biostar X670E Valkyrie
Gigabyte X670E Aorus Extreme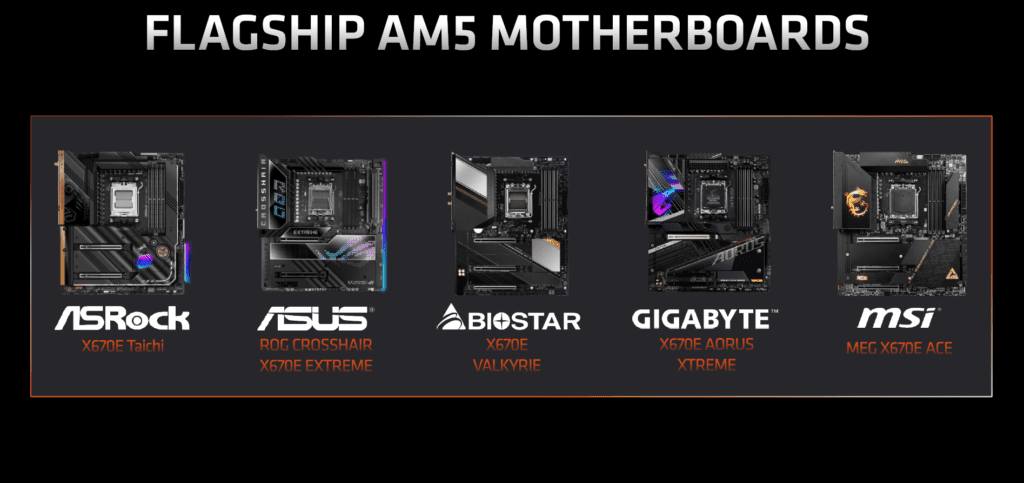 How long will AM5 be supported?
During the August 29, 2022 event announcing the upcoming launch of Socket AM5 and Zen 4, AMD's David McAfee stated:
"Just like AM4, we're making a commitment. To support the AM5 platform with new technologies, and next-generation architectures, through at least 2025."
Can AM5 use DDR4?
AM5 sockets CPUs will be the first to make use of the faster DDR5 specification, catching AMD-based Zen 4 systems up to Intel's Alder Lake systems on RAM.
It doesn't appear that DDR4 support will be offered at launch, and it may not be in AMD's plans to release an AM5 socket chipset that does. A leaked compatibility list for the AM5 socket doesn't mention DDR4 at all, although it mentions DDR5 26 times.
Separately, Tom's Hardware has reported it has been confirmed by multiple industry sources that the X670 and B650 AM5 platforms will only support DDR5 memory.
What Socket Type Is AM5?
Socket AM5 is an LGA socket type, a first for AMD's consumer products. LGA stands for Land-grid array, as opposed to AMD's previous PGA (pin-grid array) sockets. The first leak of the LGA 1718 socket images was reported by Igor's Lab.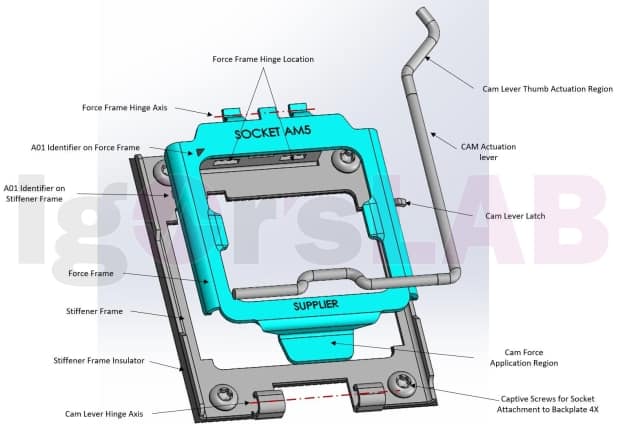 LGA is a 'zero-force insertion' socket. PGA sockets depend on pins sticking out of the bottom of a CPU, while LGA sockets require 'lands' – which are less likely to be damaged during installation or removal. This means there is less likelihood of damage to a Zen 4 processor using the socket type too.
However, AMD's change from the PGA socket type used for AM4 to LGA 1718 for AM5, doesn't necessarily mean you'll need to replace your cooler to keep Zen 4 temps down if you are switching over to an AM5 system.
Will AM4 coolers work on AM5?
Yes. At Computex 2022, AMD confirmed that Socket AM5 Zen processors will be able to make use of Socket AM4 coolers. Previously, several CPU cooler brands confirmed that their AM4 coolers will be compatible with the AM5 socket to keep Zen 4 processors cool.
Noctua stated, "…all Noctua coolers and mounting kits that support AM4 are upwards compatible with socket AM5, except the NH-L9a-AM4 and the NM-AM4-L9aL9i."
Additionally, Arctic tweeted that it could "guarantee the compatibility of its coolers with the new AMD processors".