Best Raspberry Pi Starter Kit in 2022
Getting started with a Raspberry Pi has never been easier
Last Updated on February 1, 2022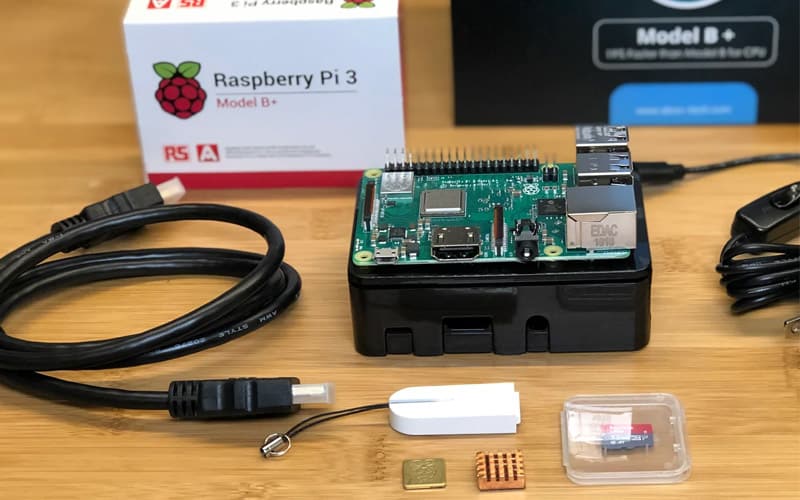 Raspberry Pi starter kits are a fantastic way to make those first steps into the world of the Raspberry Pi. These affordable kits include everything required to get up and running: the Pi itself, case, cables, power supply, SD card, cooling solution, and even a keyboard and dedicated touchscreen in some instances. With the right kit, all you'll need to bring to the table is a willingness to learn and a smattering of creativity.
Furthermore, a lot of these kits are designed with beginners in mind, offering a gently guided path to carry your first project from an exciting idea to a functional reality. Even those daunted by the prospect of coding, electronics, and DIY tinkering will find everything needed to learn the basic skills to quickly enjoy their time with a Raspberry Pi. There are more advanced kits for those with loftier ambitions that include add-ons like sensors, motors, and LEDs, and others that target specific projects such as retro gaming systems.
If you're set on exploring everything the Raspberry Pi has to offer but need a nudge in the right direction, you've come to the right place. We pulled together our top recommendations for Raspberry Pi starter kits that should suit everyone from green newcomers to more experienced tinkerers eyeing up more challenging projects.
Products at a Glance
Our Recommended
Best Raspberry Pi Starter Kit in 2022
1
PROS
Raspberry Pi 4
8 GB RAM
128 GB Micro SD Card
Good quality case
USB-C On/Off switch for the Pi
2
PROS
Raspberry Pi 4
64 GB SD Card
4GB RAM
PiSwitch
More affordable that the CanaKit Extreme
CONS
Lower specs than the Extreme Kit
3
PROS
Raspberry Pi 3 Model B+
32 GB SD Card
External MicroSD Card reader
Power supply with integrated on/off switch
Wi-Fi and Bluetooth
Great price
CONS
Slower than Raspberry Pi 4 kits
4
PROS
Raspberry Pi Zero W
Power supply
Compact case with GPIO access
Wi-Fi and Bluetooth
Very low price
5
PROS
Raspberry Pi 4
32 GB SD Card
Power supply with on/off switch
Affordable price point
Compact case
Excellent cooling
CONS
Case build quality lags behind pricier options
Our Verdict
Our top pick is the CanaKit Raspberry Pi 4 8GB Extreme Kit. It includes the best and fastest Raspberry PI available, 8 GB of RAM, a massive 128 GB SD card, and a high-quality case. There's everything here required for you to get a first taste of Raspberry Pi computing.
In our runner-up spot, we have the CanaKit Raspberry Pi 4 4GB Starter MAX Kit. This beginner's kit has the same great features as the Extreme kit other than 4 GB of RAM and a smaller 64 GB SD Card. For us, it's one for beginners that feel uncomfortable paying more than $150 for a starter kit but still want a high-quality, reliable Pi experience.
To save even more money, we also highly recommend the Labists Raspberry Pi 3 B+ Starter Kit, which, as the name suggests, packages in the previous-gen Pi 3, which is still an excellent Pi with a lot to offer first-timers despite being an older model.
The Vilros Raspberry Pi Zero W Basic Starter Kit delivers everything you need for compact Pi projects. If you can look past the lack of an SD Card, few kits are priced this low with so much to offer. Finally, for sheer value alone, we recommend the Labists Raspberry Pi 4 4GB Complete Starter PRO Kit, which offers more or less the same as the more expensive MAX kit.
With that, we'll bring our guide to the best Raspberry Pi starter kits to an end. Feel free to get in touch with any questions or concerns via the comments section below.