Best Raspberry Pi Starter Kit in 2023
Getting started with a Raspberry Pi has never been easier
Last Updated on May 9, 2023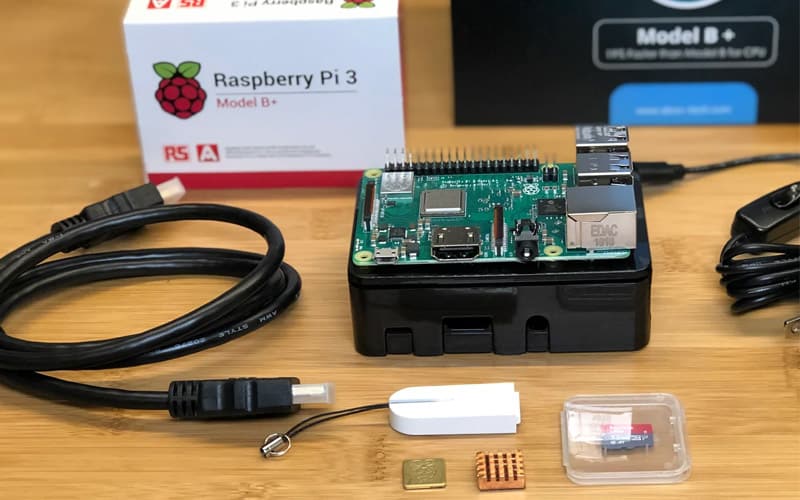 Raspberry Pi starter kits are a fantastic way to make those first steps into the world of the Raspberry Pi. These affordable kits include everything required to get up and running: the Pi itself, case, cables, power supply, SD card, cooling solution, and even a keyboard and dedicated touchscreen in some instances. With the right kit, all you'll need to bring to the table is a willingness to learn and a smattering of creativity.
Furthermore, a lot of these kits are designed with beginners in mind, offering a gently guided path to carry your first project from an exciting idea to a functional reality. Even those daunted by the prospect of coding, electronics, and DIY tinkering will find everything needed to learn the basic skills to quickly enjoy their time with a Raspberry Pi. There are more advanced kits for those with loftier ambitions that include add-ons like sensors, motors, and LEDs, and others that target specific projects such as retro gaming systems.
If you're set on exploring everything the Raspberry Pi has to offer but need a nudge in the right direction, you've come to the right place. We pulled together our top recommendations for Raspberry Pi starter kits that should suit everyone from green newcomers to more experienced tinkerers eyeing up more challenging projects.
Products at a Glance
How We Picked
Choosing the right Raspberry Pi starter kit is very much about assessing what's included in the price, specifically the constituent parts of the package. More pertinently, the quality of these. Alongside, it's worth looking for kits that are beginner-friendly with clear instructions and, ideally, a guide to get first-timers up and going with a test project or two. In that same spirit, kits with easy assembly also scored points for us.
There are many great Raspberry Pi start kits out there, which complicated matters on our end. To avoid overwhelming newcomers with a glut of options, we've narrowed our recommendations to five kits. Below, we've penned a review for each that hones in on why we think each kit is worthy of your attention. Further down, we've also slotted in a quick buyer's guide that includes a few tips to aid your own search for that perfect Raspberry Pi starter kit.
Our Recommended
Best Raspberry Pi Starter Kit in 2023
1
PROS
Raspberry Pi 4
8 GB RAM
128 GB Micro SD Card
Good quality case
USB-C On/Off switch for the Pi
Topping our list of the best Raspberry Pi starter kits is the CanaKit Raspberry Pi 4 8GB Extreme Kit. It includes a Raspberry Pi 4 Model B, the latest and most powerful full-fat Pi model available with a 1.5GHz 64-bit ARMv8 quad-core CPU, four USB ports, two micro HDMI ports, Wi-Fi, Bluetooth, LAN, and USB Type-C power. The kit includes the beefy 8 GB of RAM version, no less.
Complementing the Pi itself is a roomy 128 GB Samsung EVO+ Micro SD card – plenty of space for most users. The card comes preloaded with NOOBS, the popular Pi operating system installer, offering a range of operating systems to choose from, including Raspberry Pi OS, LibreELEC, OSMC, Recalbox, Lakka, RISC OS, Screenly OSE, Windows 10 IoT Core, and TLXOS.
The CanaKit Raspberry Pi 4 8GB Extreme Kit also has two six-foot micro HDMI to HDMI cables, a 3.5A USB-C Raspberry Pi 4 power supply with a noise filter, fan, heat sinks/thermal pads, a case, and an on/off PiSwitch that lets you power down the Pi without removing the power supply. Compared to some other kits, the packaged contents are limited to the bare minimum but are everything you need to get a Pi ready for action other than a display and keyboard/mouse.
The good quality case adopts a sleek black high-gloss finish, a cut-out shaped like the Pi logo on the top, and an integrated fan mount to house the accompanying low noise system fan. Installation is straightforward, chiefly because of the limited number of parts and the cases cooling confidently tackles everything you could throw its way.
At $160, the CanaKit Raspberry Pi 4 8GB Extreme Kit doesn't come cheap, but the price tag guarantees a good overall level of quality and the peace of mind of knowing you're buying a great beginner's kit.
2
PROS
Raspberry Pi 4
64 GB SD Card
4GB RAM
PiSwitch
More affordable that the CanaKit Extreme
CONS
Lower specs than the Extreme Kit
Our runner-up pick is the CanaKit Raspberry Pi 4 4GB Starter MAX Kit. It's virtually identical to the CanaKit Raspberry Pi 4 8GB Extreme Kit, except that it includes the 4 GB version of the Raspberry Pi 4 Model B and a smaller 64 GB EVO+ Micro SD Card. Halving the RAM count and SD Card capacity results in a decent price drop, down from $160 to $125, making it a better option for those that want a more affordable Raspberry Pi kit.
Other than the Raspberry Pi 4 and 64 GB SD Card, the CanaKit Raspberry Pi 4 4GB Starter MAX Kit includes two micro HDMI to HDMI cables measuring a generous six feet, a 3.5A USB-C Raspberry Pi 4 power supply with a noise filter, a set of heat sinks, well-guided quick start guide, 30 mm fan, and the same PiSwitch as the Extreme Kit that simplifies powering the Pi on and off.
While the CanaKit Raspberry Pi 4 4GB Starter MAX Kit features the same well-built and sleek case as the 8GB kit, it's the high-gloss white variant, which, it has to be said, is rather fetching, adding a touch of class.
Installation is just as effortless despite non-case integrated heat sinks. These are easy to install thanks to the provided thermal pads. As above, it's a basic kit geared towards beginners, and in our eyes, a well-rounded first taste of the world of the Raspberry Pi.
3
PROS
Raspberry Pi 3 Model B+
32 GB SD Card
External MicroSD Card reader
Power supply with integrated on/off switch
Wi-Fi and Bluetooth
Great price
CONS
Slower than Raspberry Pi 4 kits
One of the best ways to save money on a Raspberry Pi starter kit is to buy a kit featuring a previous generation Pi model. The Labists Raspberry Pi 3 B+ Starter Kit is one such kit and, as the name implies, includes the Raspberry Pi 3 Model B+, which has been superseded by the more popular and powerful. This model contains a Cortex-A53 ARMv8 1.4 GHz SoC, dual-band Wi-Fi, Bluetooth 4.2, Gigabit Ethernet, support for Power Over Ethernet, four USB ports, audio, and one HDMI port.
Dropping down to an older model impacts performance and what you can hope to achieve with a Pi. Still, it's a highly recommended entry point for beginners to learn and get to grips with what's possible with these excellent mini computers.
In the kit, you'll find the Raspberry Pi 3 Model B+ and a 32 GB SanDisk MicroSD Card preloaded with NOOBS (OS choices include Ubuntu Mate, Snappy Ubuntu Core, Windows 10 IOT Core, OSMC, LibreELEC, Weather Station, Risc OS, and Pinet). Alongside there's an external USB MicroSD Card reader, quick start guide, HDMI cable, 3V power supply with integrated on/off switch, copper/gold plated heat sink set, and a well-cooled black gloss case with wall mounts and stabilizing rubber feet.
4
PROS
Raspberry Pi Zero W
Power supply
Compact case with GPIO access
Wi-Fi and Bluetooth
Very low price
If you're looking for an even smaller footprint Raspberry Pi, the Vilros Raspberry Pi Zero W Basic Starter Kit includes the Raspberry Pi Zero W model. It has all the connectivity of the standard Zero model (a 1 GHz single-core CPU, 512 MB of RAM, mini HDMI and USB ports, 40-pin HAT GPIO, CSI camera connector, and video headerse) alongside 802.11 b/g/n wireless LAN and Bluetooth 4.1. The kit itself is among the cheapest available, too, priced at under $30.
Alongside the Pi, the Vilros Raspberry Pi Zero W Basic Starter Kit packs in a decent black three-piece snap black cover with easy access GPIO cover, 2.5A power supply with a noise filter, micro USB adapter, double pin header, and mini HDMI adapter, camera module adapter, and heatsink for the Zero W SoC.
Presumably, to keep the cost of the kit down, Vilros has opted not to include a MicroSD Card preloaded with NOOBS with the Raspberry Pi Zero W Basic Starter Kit. While we'd expect kits to include one, this isn't a deal-breaker as it's easy and cheap to source a MicroSD card these days. The only potential hiccup may be the process of loading it up with NOOBS, something that may not suit beginners that want functionality out of the box.
5
PROS
Raspberry Pi 4
32 GB SD Card
Power supply with on/off switch
Affordable price point
Compact case
Excellent cooling
CONS
Case build quality lags behind pricier options
While the CanaKit options above are excellent starter kits, they do push the price above $100. With the Labists Raspberry Pi 4 4GB Complete Starter PRO Kit, you have virtually the same components for under $100, with only a compromise on the build quality of the included case as the only notable negative.
The Labists Raspberry Pi 4 4GB Complete Starter PRO Kit has the latest Raspberry Pi 4 with 4 GB RAM, quad-core Cortex-A72 (ARM v8) 64-bit at 1.5GHz, dual-band Wi-Fi, Bluetooth, four USB ports, Gigabit Ethernet, two mini HDMI ports, and audio. The kit comes with a decently-sized 32 GB SanDisk Micro SD Card with NOOBS preloaded to install various operating systems, including Ubuntu, Windows 10 IOT Core, OSMC, and more.
The black case included in the kit isn't great, but it's fit for purpose and offers excellent cooling performance thanks to the pairing of a 30 mm fan and chunky copper heat sinks. The fan runs loud under high loads, but this is a reasonable sacrifice to keep costs down.
Rounding off the kit's contents is a 5.1V 3A power supply with an in-built on/off switch, two micro HDMI cables, a handy screwdriver, USB SD Card reader, and a concise and informative quick start guide to get you up and running in no time.
Things To Consider
Necessary Basics
While Raspberry Pi starter kits come in a variety of shapes and sizes, they are a few core components that aren't optional and should be in every kit worth its salt:
Raspberry Pi – we'd suggest the latest Raspberry Pi 4 as it's the most powerful to date, has a wealth of connectivity options, and is still relatively cheap at around $30 to $45, so it won't inflate the price of the kit too significantly. The Raspberry Pi Zero is an excellent pick for a small form factor option, while those who want to save some money should consider the previous-gen Raspberry Pi 3 Model B+. There is also a newer Raspberry Pi 5, check out our article to see how it compares to the Raspberry Pi 4
SD Card – the Raspberry Pi doesn't have any storage built onto the circuit board itself; thus, an SD Card is a crucial component that should be included in any starter kit worth the money. Capacity depends on your aims, but we'd recommend at the very least 16 GB to give you plenty of leeway.
Power supply – no Raspberry Pi starter kit is complete without a power supply designed to provide just the right amount of power to the Pi. For kits with a Raspberry Pi 4, make sure it includes a USB Type-C cable.
Case/Keyboard/Touchscreen/HDMI Cable – while useful, in our opinion, these aren't essentials, especially as the large majority of people have a keyboard, mouse, and HDMI cable (if you opt for a Pi 4, we'd recommend kits with a micro HDMI cable as these are less common) already at home. Cases are a matter of preference as the Pi is designed to function just as well without one.
Instructions, Guides, and Lessons
As a bare minimum, a Raspberry Pi starter kit should include a quick start guide detailing how to piece together the components. This will be a boon for newcomers confounded by the spread of parts in front of them. Ideally, you'll want a kit that also includes some form of additional documentation, either a guide book or, even better, project guides that walk you through bringing to life your first application or program.
Many Raspberry Pi kits target the educational fields and STEM disciplines, baking in a digestible and well-guided experience for children, which often comes in the form of informative yet sufficiently detailed lessons that can cover everything from basic electronics to programming by way of robotics. These are usually sequential, teaching new skills each time with the ultimate aim of equipping you with everything you need to bring your own projects to life. If your interest in the Raspberry Pi is rooted in a thirst for knowledge, we highly recommend these types of kits.
What is a Raspberry Pi used for?
Raspberry Pis are highly customizable and can be used for a range of tasks. These can range from automation, learning programming, industrial applications, and much more.
What Language does Raspberry Pi use?
By default, Raspberry Pi can use Python, C/C++,  and scratch. However, nearly all language compilers and interpreters can be used on a Raspberry Pi.
Is Aa Raspberry Pi good for beginners?
Yes, Raspberry Pis were designed to make teaching computer science easy and accessible for people worldwide. There is a large dedicated community providing many materials and guides online that make learning to use the Raspberry Pi easy.
Our Verdict
Our top pick is the CanaKit Raspberry Pi 4 8GB Extreme Kit. It includes the best and fastest Raspberry PI available, 8 GB of RAM, a massive 128 GB SD card, and a high-quality case. There's everything here required for you to get a first taste of Raspberry Pi computing.
In our runner-up spot, we have the CanaKit Raspberry Pi 4 4GB Starter MAX Kit. This beginner's kit has the same great features as the Extreme kit other than 4 GB of RAM and a smaller 64 GB SD Card. For us, it's one for beginners that feel uncomfortable paying more than $150 for a starter kit but still want a high-quality, reliable Pi experience.
To save even more money, we also highly recommend the Labists Raspberry Pi 3 B+ Starter Kit, which, as the name suggests, packages in the previous-gen Pi 3, which is still an excellent Pi with a lot to offer first-timers despite being an older model.
The Vilros Raspberry Pi Zero W Basic Starter Kit delivers everything you need for compact Pi projects. If you can look past the lack of an SD Card, few kits are priced this low with so much to offer. Finally, for sheer value alone, we recommend the Labists Raspberry Pi 4 4GB Complete Starter PRO Kit, which offers more or less the same as the more expensive MAX kit.
With that, we'll bring our guide to the best Raspberry Pi starter kits to an end. Feel free to get in touch with any questions or concerns via the comments section below.