Best Portable Charger in 2023
The best portable charger to keep you going while you're out and about
Last Updated on October 5, 2023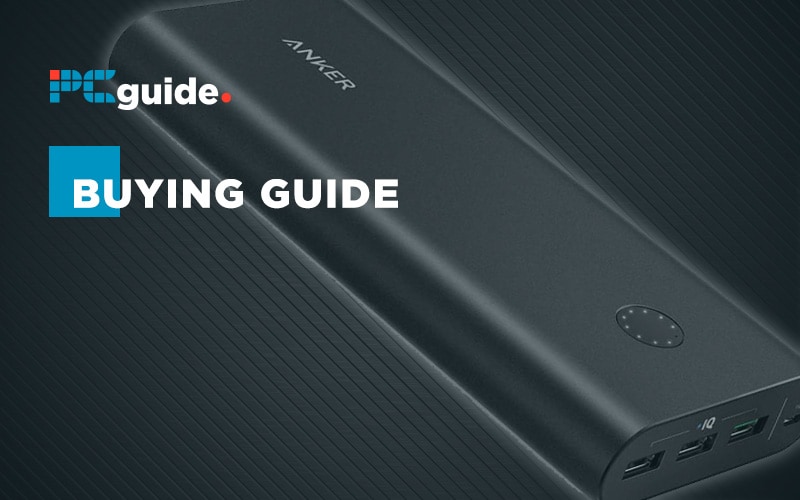 As today's devices are getting smaller and smaller, battery lives are unfortunately taking a little bit of a hit. However, battery tech advancing, portable chargers are now completely mainstream and have the ability to potentially extend your device's battery life by three to four times. So, acquiring one of these devices should keep your devices going for just that little bit longer.
Products at a Glance
How we picked
Choosing the best portable charger for you is down to a few factors; how easy it is to carry around, the capacity of the portable charger, and what devices you're looking to charge. As usual, you're going to have to make sacrifices in some areas to boost the abilities in others but with our list of best portable chargers, we've scoured the market to try and minimize these sacrifices as much as possible so you can get the most out of your purchase. We have then gone one further and given some of our picks some awards such as best overall, best for laptops, and best budget in an effort to simplify the process even further, especially for you individuals who already have a key aspect in mind and want to focus their selection solely on this.
If this isn't quite the guide for you, we've got plenty more to choose from. Check out these for more tech inspiration:
Our Recommended
Best Portable Charger in 2023
1
PROS
Incredible battery capacity
Quick charge 3.0 tech
Anker's proprietary tech
Three USB ports
Anker has a bunch of portable chargers on the market that do an excellent job but it's their PowerCore+ range that improves upon the base models and bolsters them both in terms of features and overall performance. This specific portable charger sports a huge 26800mAh capacity which is more than enough to fully charge your devices, potentially even twice or three times over. It also uses Qualcomm's impressive Quick Charge 3.0 technology, which allows compatible devices to charge 85% faster. This, therefore, allows said devices to get up to 8 hours of use from just 15 minutes of charge time. Moreover, for those devices that don't support Qualcomm's Quick Charge 3.0 technology, Anker has incorporated their own proprietary PowerIQ and VoltageBoost tech which come together to provide universal full-speed charging.
Looking at the ports, you're able to take advantage of three USB slots to charge three devices at once, perfect for those who have a number of devices on their person and need a boost when low. For charging the portable charger itself, it uses a micro USB input which is handy due to its small form factor, but micro USB cables are prone to breaking so potentially make sure you have a spare with you just in case.
Moving to the design of this best overall portable charger, it's easy to see that Anker hasn't really strayed away from the norm with its rectangular body and curved edges. It is a little on the thick side due to the size of that high-capacity battery but nothing too out of the ordinary and more than portable.
Overall, this portable charger is a top pick from most individuals. It has a large capacity with the ability to charge your devices over and over as well as three USB ports to simultaneously slot in your cables. Additionally, with that quick charge technology, you'll be back to full battery in no time at all, further boosting the pluses if this thing. As mentioned, it is a little chunky but it isn't fat enough for it to be a con and still more portable both in terms of size and weight.
2
PROS
Brilliant battery capacity
AC functionality
Superfast charging tech
While the majority of portable chargers are designed for handheld devices sporting USB slots as their method of charging, you may be taking your laptop out and about and don't have an outlet to plug it into. With this portable charger from RAVpower, you'll get the best of both worlds, an AC port for your laptop but also a USB slot to plug your phone into. Moving to the capacity, it utilizes a 20000mAh battery which is a respectable amount, plenty for your phone, and to keep your laptop going for an extended period of time. Moreover, with the Superfast charging technology, you'll be able to shorten that charge time down, up to 2.5 times faster than traditional portable chargers.
Of course, the ports are the main buying factor of this portable charger as it has that all-important AC functionality. However, it does have a couple of added extras including the aforementioned USB port as well as multi-functional USB-C port which is used for charging the device itself as well as any USB-C enabled products that you'd be looking to juice up on the go.
With the inclusion of that AC functionality, it does come at the cost of a slimline design making it more cuboid-like. The weight is slightly increased to this too, so if you're wanting a slim and light portable charger, this choice isn't for you. However, don't think that you won't be able to take this out and about because you can, it just doesn't share the same form factor as traditional portable chargers.
All in all, this portable charger is the best pick around for you laptop users. It has that AC functionality as well as a USB-C option for you Macbook owners so you won't be left high and dry in terms of battery life when on the go. It also has a 20000mAh capacity which is enough to charge your devices a number of times as well as it's Superfast charging ability to get you back up and running quickly. On the other hand, it is bulky so if you're not buying a portable charger for laptop usage, it's probably best to stay away and go for a slimline portable charger to slip into your pocket or handbag.
3
PROS
Brilliant battery capacity
LED light
Battery indicator
Great value
Buying budget tech, in general, that's actually of good quality can sometimes be a very tedious task due to manufacturers skimping on the materials used to craft products. However, with this iMuto portable charger, you can forget those worries as they've been able to create a solid portable charger that also has a high capacity battery for much less than you'd imagine. Looking at that high capacity battery we can see that it has 20000mAh, impressive considering the cost, as well as a digital display indicator to tell you how much is life in the current life cycle which is a feature that many other portable chargers fail to include. There's also smart power tech that iMuto has incorporated, which delivers the fastest charge time to your devices intelligently, shortening your wait time.
The ports on this best budget portable charger are pretty basic with two standard USB slots but this is more than enough for most people who usually carry one to two devices on their person anyway thus eliminating the need for additional functionality. There's a pretty useful LED light that's also included next to the ports, handy for when you're in the dark and need a torch or just want some lumination while trying to insert your cables.
The overall design is similar to most portable chargers out there with its rectangular outer shell to surround the internal battery back. However, with the inclusion of the LED light and the display that shows how much power is left in your charger, it stands out from the crowd and is a great overall selling point. Moving to the size and weight, it's definitely one of the smaller portable chargers and not exceptionally weighty too, making it a brilliant choice for those wanting an on the go portable charger that can fit into smaller spaces.
To conclude, this budget portable charger is pretty exceptional considering the price. You'll be getting the capacity of portable chargers that cost much more as well as a small form factor. The addition of that LED light and battery display indicator are solid choices from iMuto and further enhance the attractiveness of the product. The only downside is that you won't receive any quick charge tech but with the smart power functionality delivering the best current to your devices, it isn't too much of a deal-breaker, especially for the price.
4
PROS
Extremely slim and lightweight
Good battery capacity
Handy cable connectors
A portable charger should be exactly that; portable. However, while most are relatively lightweight and have a smaller form factor, they're just not portable enough to fit into pockets. However, Omars has created an extremely thin and light portable charger that will not only fit into your pocket, it might even be smaller than your phone. Due to this, you might think that the capacity would be low but this is not the case. You'll be receiving a 10000mAh battery which is a decent amount of juice and more than enough to extend the life of your devices while on the go. The intelligent charging technology bundled in allows you to charge the bank itself back to full in less than five hours as well as funneling the correct voltage to your connected devices in an effort to improve their charge time.
With this portable charger being so slimline, you'd think the ports might suffer but you're actually going to be receiving a pretty stellar lineup. You'll get two standard USB outputs as well as a USB-C input/output for charging your list of tech coupled with a micro USB input if you don't have a USB-C cable to hand. The amount of ports is a welcomed surprise and with the variation of standard USB and USB-C slots, you can take advantage of both cable types.
Of course, where this portable charger excels is its design being so slimline and lightweight. Looking more closely, it's actually potentially smaller, slimmer, and lighter than the standard phone which is a huge plus and will certainly sway people because of it.
Overall, this portable charger is the pick for those wanting power on the go that doesn't take up much room at all. With the inclusion of the solid 10000mAh battery pack and the number of ports at your disposal, you should be able to power a plethora of devices on the go with little to no impact to your carry load.
5
PROS
Tiny
Decent battery capacity
While we've selected the Omars SlimPack 10000 mAh Portable Charger as our more portable option, this is the smallest portable charger with its 10cm length and 3cm width. This does affect its capacity in terms of power but not to the extent to where it becomes unusable and a worthless purchase as it still sports a 5000mAh battery pack which should keep your devices going for a decent amount of time. You won't get multiple charge cycles for your phone but that's to be expected. It does however still have intelligent power routing so your devices will receive the optimal current and get them back to full power as quickly as they can.
Moving to the ports, obviously due to its size, it is a little limited with just a sole USB port for charging your external tech and a micro USB slot for powering up the portage charger itself. However, if that's all you're looking for then you're good to go. If you are looking for more ports and are willing to sacrifice a tiny form factor, just your standard slimline portable charger will do the job.
All in all, for those that are wanting a portable charger that's extremely small but still has enough juice to power your devices for a decent amount of time you can't go wrong with this choice from Poweradd. Yes, it only has one USB slot, with the ability to charge a sole device but that's definitely to be expected from a product of this size and definitely shouldn't deter you if you're wanting a portable charger of this ilk.
Things to consider
Ports
With most portable chargers you're looking at maybe one or two USB ports to slot your charging cables into to provide the juice they need as well as a micro USB input. However, there are some that detail up to four USB slots which could be a lifesaver especially if you're someone who carries around a bunch of electronics or are wanting to charge up the whole of your family's devices. These do come at a premium, however, and are likely to be a little chunkier so always worth keeping in mind before making that purchase.
As previously stated, you're more than likely to receive a device that can support USB charging and while that's perfectly fine for most, there may be occasions where you're in dire need of an AC outlet. Luckily, there are some options out there that come with an AC socket built into the portable charger, making it a perfect companion for the likes of a business trip or traveling abroad. These are the largest and heaviest form of portable chargers but are still perfectly viable for slipping into a backpack or handheld luggage so no real concern there.
Capacity
The capacity of a portable charger is something where many get tripped it by as it's quite confusing what the numbers associated with them mean. Essentially, the number of mAh is what defines the capacity but these range from a small 2200mAh all the way up to a massive 50000mAh so determining what you require is a little tricky. As a baseline, we'd probably recommend around 10000 as a good starting point as this battery capacity should be enough to keep you going for a while. However, if you're looking for a super small portable charger, 5000mAh might be the one to go for and on the other end of the spectrum, if you're aiming for a higher capacity, around 20000 is a good medium both in terms of weight and form factor.
Design
The design and form factor of a portable charger can influence how easy it is to carry around and fit into the holdall of your choice. Being portable, you're likely to want one that is slimline while also not being too heavy which can come at the cost of capacity, but this is something that you need to weigh up before purchasing. Similarly, if you require a portable charger that has a bunch of USB ports or even AC support, it's going to be influencing the design, usually making it bulkier and heavier so worth taking note of and considering what devices you're likely to take on the go.
Our Verdict
Best overall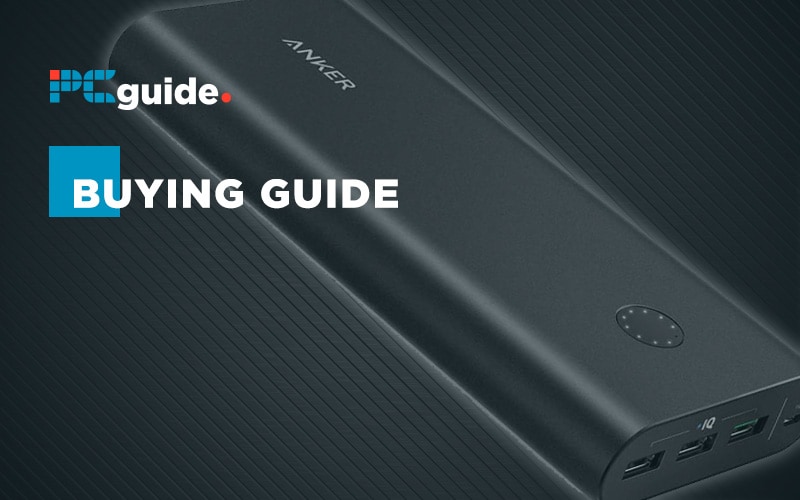 Best Portable Charger in 2023
There are a number of solid portable chargers on the market and being able to pick one as the best portable charger around is a difficult task. There's also the needs of the consumer to take into account, whether they're looking for high capacity, a bunch of ports, so on and so forth, further compounding the challenge. However, based on our five selections above, we believe that our best overall pick the Anker PowerCore+ 26800mAh Portable Charger is a brilliant all-rounder and a portable charger that can be used by pretty much anyone. On the other hand, if you're someone that is extremely budget-conscious, we definitely recommend opting for the Omars SlimPack 10000 mAh Portable Charger it's not only got a decent capacity but due to its form factor, it makes for the perfect charging companion pretty much fitting into your pocket right next to the device you're likely to be filling up with some juice.