Best Wireless Charger in 2023
The best Qi wireless chargers
Last Updated on April 23, 2023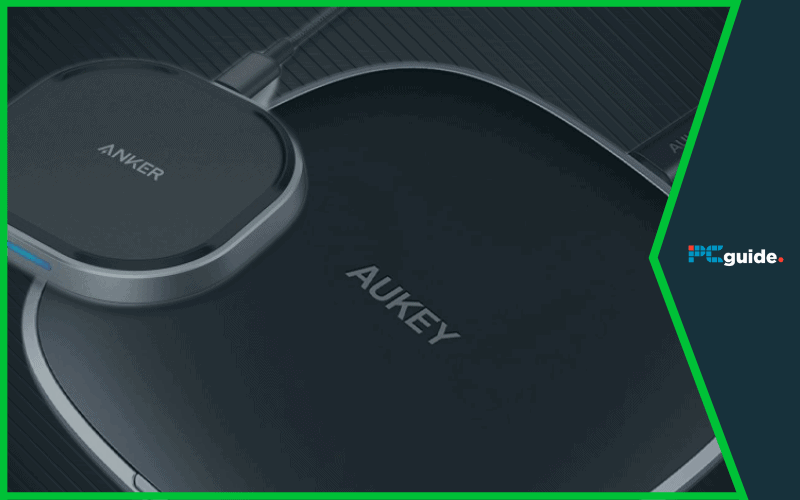 If you're looking for the best wireless chargers available right now, we've got you covered right here.
Wireless charging with an induction pad and compatible device is some real sci-fi stuff, where you can keep your device's battery topped up by simply placing it on a pad, and letting it gradually charge without having to connect a charging cable.
By buying one of these relatively cheap wireless charging pads, or perhaps several of them if you want to charge in a few different places, lets you forget about fiddling around with a charging cable. It's a lovely modern convenience that might even change how you think about charging.
You can use Qi wireless chargers for devices such as Phones, Tablets, Headphones, smartwatches, and even the Philips IconiQ shaver! It's a broadly adopted standard, that manufacturers like Apple, Samsung, Xiaomi, LG, Motorola and many others support. If there's a specific device that you are wanting to charge wirelessly, you may wish to check with the manufacturer that is in fact supported.
Here's our roundup of the best options for Qi wireless chargers.
Products at a Glance
How We Picked
We've focused specifically on Qi-certified chargers, which have undergone official certification by the Wireless Power Consortium, that maintain the Qi charging standard. They say that chargers that have undergone Qi certification "have passed rigorous, independent laboratory tests for safety, interoperability, and energy efficiency".
Buying a non-certified charger could potentially run the risk of not functioning properly, potentially damaging your devices, and even in some extreme cases causing severe overheating, and potentially even fire risks, so it's highly recommended that you stick to certified devices. There are plenty of reasonably priced certified options, which is what we've focussed on for this guide, and it's probably not worth trying to save a buck or two by going for a less reliable option.
Our Recommended
Best Wireless Charger in 2023
1
PROS
Good value
Great build quality
Nice color options
CONS
Connects via dated Micro USB
Somewhat plain design
Faster wireless chargers are available.
This is a solidly built reliable Qi-certified wireless charger from Anker. It's not particularly flashy, but it will get the job done, and has solid specs and performance for the price.
This charger goes up to 10W and will charge up compatible devices at this reasonable fast speed, although the exact time it takes to charge a particular device will vary depending on factors like battery capacity. It's also compatible with devices that are only able to wirelessly charge at 7.5W or 5W rates, but it will of course take longer to charge.
Anker say that this charger will be able to charge your phone even inside a case, and providing that the case is no more than 5mm thick.
The biggest drawback with this wireless charger is that it connects to a power source via Micro USB, rather than the more modern and more widely used UBC-C connector. This isn't a major setback, but it does mean that you can't use the same cable to power this as you would use for other USB-C devices. Perhaps more of a consideration if your phone and other devices charge via USB-C, and you want a wireless charger to use when travelling. If your plan is to just leave this plugged in at a particular stationary location, then this is far less of a concern.
Anker sells this charger with an 18-month warranty.
2
PROS
Really cheap
Offers 10W charging
30 month warranty
CONS
Not particularly visually appealing
Charging surface not fully rubberised
No support for 7.5W charging
This is the cheapest wireless charger in the lineup, and it is also the most basic, but it's still a decent wireless charger that would sit very nicely on any desk or bedside table.
Despite the budget friendly price, it still offers charging speeds of up to 10W. It also supports speeds of 5W for devices that aren't capable of 10W charging, although that's going to take quite some time to full charge a device from zero percent.
Rather than a fully rubberised flat surface for gripping your device when it's charging, this features a pair of raised rubber ridges on the left and right of the charging surface. It's not a serious shortcoming, but you may want to be a little more careful with placing your devices to charge with this model compared to some of the alternatives.
This charger is only rated for use with cases that are 3mm or less, so if you're using a slightly thicker case, this may not be the best option.
It's a great value wireless charger, and especially if you intend to have them positioned in multiple places around your home or workplace, this is a great way to get several wireless chargers without breaking the bank. RAVPower offers this charger with a fantastic 30 month warranty when bought through Amazon and then registered on their website.
3
PROS
15W charging
Very durable
USB-C connector
CONS
Pricy
Still slower than wired charging
No color options.
This is Anker's premium wireless charger, offering the fastest charging speeds from this entire lineup. This will charge compatible devices at 15W speeds. The fastest wired charging options do go higher than this, but it's still very much in the realm of fast charging. If topping your devices with as much juice as possible in the shortest amount of time is a top priority for you then this is a great option.
It features a square with rounded corners design and a durable metal base. It's the nicest-looking wireless charger in this lineup, but it's still fairly understated.
This wireless charger features a USB-C connector. If you're using it with a device that also charges via USB-C, this gives you more flexibility in how you can use it, since it will be able to be powered with the same charger that you would use to charge your phone wirelessly.
Paying this much of a premium mostly for a bump in charging rate might not be appealing to most users, it's going to depend on how important charging speed is to you.
Like Anker's other wireless chargers, this supports cases of up to 5mm thickness and comes with an 18-month warranty.
4
PROS
USB-C connectivity
Decent speeds
Reliable brand
CONS
Not the cheapest option
Not the fastest option
Plain design
This particular charger is a great option for anyone who wants to have a wireless charger that connects via USB-C but doesn't want to pay a large premium for the fastest wireless charging. It's a 10W wireless charger from Aukey, that also supports 5W and 7.5W charging speeds.
It's well made, Aukey has been making chargers for phones for a decade now, and their chargers are very reliable. This charger is only rated for compatibility with cases that are 3mm or less in thickness, so bear that in mind if you're picking out a new case.
We've included this option mainly for anyone who is looking for a wireless charger that features USB-C, but if that's not an important factor for you, then the other chargers in this lineup are perhaps better options.
This is only covered by the standard Amazon product warranty.
Things To Consider
Wired charging is always going to be faster than wireless charging. We're probably several years off from getting wireless charging that can match the top-end speed of today's wired charging. But wireless charging is still a nice convenience, and the speeds are still reasonably decent with faster wireless chargers.
What power cable should I connect these wireless chargers to?
For optimate performance, all of these wireless chargers should be connected to a port that offers wattage higher than the wireless charger. So for example in order to get the full 15W capabilities from a 15W wireless charger, it should be connected to a port that is supplying it with 24W or more, and a 10W wireless charger should be connected to a port that is supplying it with 15W or more.
Can I wireless charge my phone while it's in a case?
Qi charging can in general be used with phones in cases, but there are a few caveats. You can wireless charge phones in cases, but not any cases that contain metal or magnets. You also cannot wirelessly charge in a case if you're using a case that features protruding grips or stands. You also cannot use it in cases that you use to store credit cards in.
Keeping your phone in a case might reduce charging speeds somewhat, and each individual charger is rated for different case thicknesses.
Where can I find out more about Qi Wireless charging?
Head over to the Wireless Power Consortium website for more information about the Qi wireless charging standard.
Our Verdict
The Anker PowerWave Pad 10 is our top pick for wireless charger. It's a great value charger that offers decent speed, and a thoughtful design. One or several of these placed around your home or workplace would let you leave behind the hassle of having to physically plug in your phone or other devices in to charge every time they're running low.