Best Cheap Gaming PC – Top 5 Gaming Desktops in 2023
The Ultimate List Of The Best Prebuilt Cheap Gaming PC You Can Buy Today
Last Updated on January 31, 2023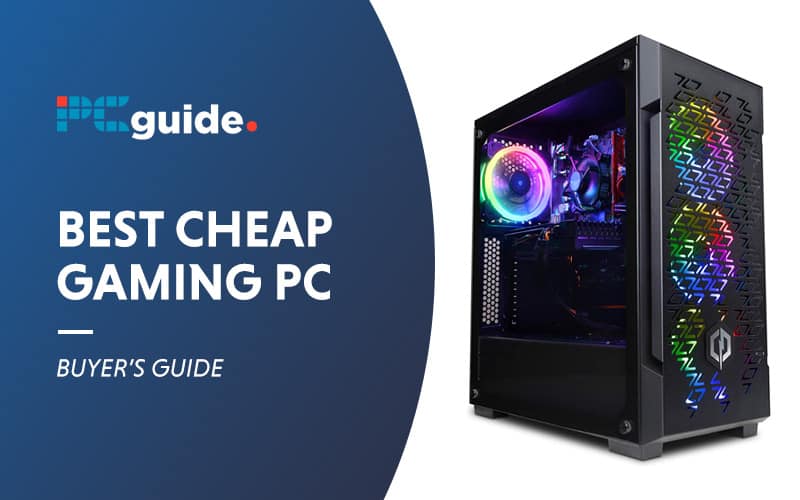 If you're looking for great cheap gaming PC deals so you can play all the popular games or at least as many games as possible, things can get expensive fast, and all of a sudden you might not even be looking at cheap gaming PCs at all. But having your own gaming PC doesn't have to cost you a fortune.
As a PC gamer, you might be worried that you can only get an affordable rig if you build it yourself, that's not always the case, as we'll show you in this article where we show you how to get a prebuilt pc for the best possible price.
That being said, it can be hard to find an affordable gaming PC with all the options on the market today, especially one that's actually a good value to make PC gaming a worthwhile pastime. So, if you're looking for a decent gaming PC, the cheapest gaming PC, or perhaps an entry-level gaming PC to play the latest AAA games on, it's going to be hard.
That is why we've gathered the best cheap gaming computers this year and show you some of the best gaming PC deals you would find on the market.
Let's find you the affordable prebuilt gaming PC of your dreams. New PC Gamers? Are you ready?
Products at a Glance
How We Picked
For choosing the best budget pre-built gaming PCs, we obviously had to consider the price versus performance. All the PC gaming selections below vary in price a little, with the most expensive being the most powerful, but they all offer a slight difference in their need. For example, there are some CUK models that make the list and are extremely compact, perfect for those who have very limited space.
Enough explaining our reasoning, let's get into the best budget gaming PCs.
Our Recommended
Best Cheap Gaming PC – Top 5 Gaming Desktops in 2023
1
PROS
Powerful graphics card
Comes with keyboard and mouse
Intel processor
Aesthetically pleasing
CPU: Intel Core i5
If you're a hardcore gamer, you should be excited about the Cyberpower Gamer Xtreme with Intel core CPU. This may be the most expensive gaming computer among the bunch (coming in above $800) but it's also easily the best on the list.
Cooling
Aesthetically speaking, this has 4 included RGB case fans that don't just make the system look cool but also keeps it cool. Plus, it also comes with a keyboard and mouse, so that's something. Just remember that prebuilt gaming PCs are notorious for having low-quality PSUs so we personally recommend upgrading to a more reliable one down the path so you don't run into issues with your GPU and Intel core CPU.
CPU and GPU
Under the hood, you'll also find a very popular gaming processor: the Intel Core i5-9400F that's also paired with a decent GTX 1660 graphics card. Needless to say, this can easily take down 2018's– and some of 2019's– recent games such as Monster Hunter: World, Forza Horizon 4, Assassin's Creed Odyssey, Anthem, Apex Legends, Far Cry New Dawn, and many more at 1080p resolution/high-ultra without going under 60FPS.
Of course, as graphics cards go you can definitely get better if you shop around but what is included here is a good starting point when you have a budget for your own computer. Further down the line, we are sure you will want to upgrade the CPU Intel Core i5 that is also present here to bring it more in line with the best gaming PCs out there.
Storage
While it does come with an SSD that you could use to install your OS and favorite games on the SSD it's only 120GB, which means you will quickly need to rely on your 1TB HDD. Still, the SSD should give you faster load times and responsive gameplay and have the rest of your files in the 1TB hard drive.
RAM
Just remember that this only has 8GB of DDR4 RAM. And while this should be fine for gaming, you're going to need more if you're going to stream. The Intel Core i5 is still an adequate CPU but if it is a particular modern game you want to play you would be advised to check suitability to avoid disappointment as gaming demands have risen sharply since this CPU hit the shelves. Having said that most games should run with some of their features toned down a little in order to get a smooth gaming experience.
Overall, this is a really good prebuilt gaming intel Core PC that's loaded with plenty of ports (6x USB 3.1, 2x USB 2.0) and definitely worth it– if you can spare a few more hundred dollars more for an upgrade along the way. Until that point, it's a really affordable PC, even at this stage.
Operating System
Coming with Windows 10 home as the standard operating system, you will obviously be able to upgrade this for free once Windows 11 comes out. That's a great reason to get your own PC at the moment in readiness for the big launch.
2
PROS
Better priced than the Cyberpower
Nice design
Solid graphics card
CPU: AMD Ryzen
If you think the Cyberpower Gamer Xtreme above is a little over your budget, then the SkyTech Archangel Computer Desktop gaming computer might strike a better price point for you.
Looking at the aesthetics department, this features a blue and white color and design that strongly resembles a character from the Alien vs Predator movie (or at least that's what I see).
GPU and CPU
The Nvidia Geforce GTX 1060 graphics card and the Ryzen 3 1200 processor may fall under the beginner's bracket but they still manage to do a really good job in gaming, nonetheless. In fact, this can handle 2018 and 2019 games fairly well– although you'll need to tone the graphics settings down a bit to experience the buttery 60FPS smoothness on some titles like Anthem and Monster Hunter: World.
To give you a better overview, here are games and their recorded FPS value on their respective graphics preset:
Shadow of Mordor: Average 40-60 FPS Ultra Settings
Battlefield 1: 50-90 FPS Ultra Setting
Star Wars BattleFront: 50-75 FPS Ultra Settings
Far Cry Primal: 50-60 FPS High Settings
GTA V: 50-75 FPS Very High Settings
OverWatch: 64-90 FPS
Again you will probably want to be looking at other options for graphics cards once they start becoming available on the market once again.
RAM and Storage
This has 8GB of DDR4 RAM like the CyberPowerPC above but this doesn't have an SSD storage. Nevertheless, you still have 1TB of HDD storage that should easily fit all your games and files. Plus, you also have all the ports you need because it has 4x USB 2.0 and 5x USB 3.0 ports.
SERIOUS PSU
One thing that puts this ahead among the rest of the contenders on the list is the 80 Plus Certified 500 Watt Power Supply that it comes with. We personally admire SkyTech for taking this seriously.
This lets you easily focus on upgrading other components first. But since this doesn't come with a keyboard and mouse, it's likely going to be your first. So head over to our best mechanical keyboards or our best gaming mouse roundup unless you already have one.
Overall, it's reasonably priced, performs really well, and can last for years with some upgrades along the way.
Is this the best gaming PC? Of course not but as a stepping stone to your perfect gaming desktop it is a great step on the way. A budget PC is always going to come with some compromises but if you want to try your hand at a few other hobbies such as video editing or graphic design, you can certainly get up to that with this PC.
While the latest games on this might be a stretch, the good news is it will play anything you throw at it as long as you keep your expectations in check and opt for lower settings.
An Nvidia Geforce GTX video card rather than an Nvidia Geforce RTX card might seem a letdown at the moment but you need to look at the price of this budget PC before getting too upset because it is great value.
3
PROS
Tiny form factor
16GB RAM
SSD storage
CPU: AMD Ryzen
CONS
No room for a dedicated GPU
We highly recommend the CUK AsRock DeskMini (with AMD Ryzen 5 3400G) if you're looking for a compact budget gaming PC (prebuilt); however, it's also worth noting that its size isn't just its greatest asset, it's also its greatest downfall.
This is perfect for users living in an apartment or small spaces who also play casual games. However, you're going to need a bigger case if you want to upgrade your GPU along the way. The integrated Vega 11 graphics card in this cheap gaming desktop may be able to handle light games fairly well but you'll need more power if you want to run AAA and more graphically demanding games at 1080p.
GPU
To be fair, this has a fairly decent integrated GPU (Vega 11) known to perform similarly to some of the pricier external GPUs out there
RAM
This does have 16GB of DDR4 RAM, which is more than most of the other PCs on this list, but that's because the Ryzen 5 3400G is an APU (a processor that has both CPU and GPU in a single chip), which shares memory resources with the RAM. As such, it's a really good thing that this has that extra RAM.
Storage
Just remember that this does have only 512GB of SSD storage which is respectable but you'll definitely need a separate hard drive if you're certain you're going to need more. But you shouldn't need more USB ports on this one since you have a total of 3x USB ports coupled with a handy USB-C port for your future-proof peripherals.
4
PROS
Tiny form factor
APU is a little lackluster
CPU: AMD Ryzen
CONS
No room for a dedicated GPU
We can easily say that the CUK AsRock DeskMini (with AMD Ryzen 3 3200G) is the best you can get if you can only spend under $500.
GPU
This is a really good cheap gaming PC that's similar with its more powerful brother above: it also runs an APU chip. However, the Vega 8 (integrated graphics card) isn't very powerful; it's not even close to a GT 1030.
This means it won't be able to run most of the modern games like PUBG, Far Cry New Dawn, Apex Legends, AC Odyssey but should be able to run MOBAs like League of Legends and Dota 2 smoothly.
Storage
The case is as small as the one above so you'll still need a bigger case if you want to use a dedicated graphics card in the future in your gaming computer. Moreover, you'll also need more storage if you want to install more games or plan to save large files in the machine since it only comes with a 256GB SSD storage. But, there is a 512GB variant that's just $20 more if you want that little extra storage.
Connectivity
In the connectivity department, you're looking at 3x USB ports as well as the more up-to-date USB-C port. In all honesty, this machine is a really great pick if you're just looking for a computer that can play MOBAs– though you'll definitely need some upgrades along the way if you want to make the best out of this computer.
5
PROS
Room to upgrade
Comes bundled with peripherals
CPU: AMD Ryzen
CONS
APU is a little lackluster
Not as attractive as the rest
The Lenovo IdeaCentre 510A 15L is certainly one of the best budget gaming PCs in this price range.
RAM, CPU and Storage
To start, this has an AMD Ryzen 3 3200G similar to that of the previous CUK, coupled with 8GB of RAM and a 256GB SSD. These all come together to produce some solid gaming performance that'll surprise you considering the cost.
The one we've gone for here is also pretty much a full kit including a mouse, keyboard, and mouse pad meaning you don't have to go out and buy any peripherals to get yourself up and running
Just remember that this only uses an APU so that means you'll be limited to older games or less demanding indie titles. However, because this case isn't as small as the two CUKs above, you'll be able to get a dedicated graphics card down the line and not worry about getting a new case.
Things to Consider
Know Your Budget
How much are you willing to spend on the setup for your PC Gaming? Our list is composed of prebuilt gaming PC from a wide budget range so you should have a solid pick based on this alone.
If you're strictly on a budget, the Lenovo IdeaCentre 510A 15L is easily the best you can get your hands on. But if you can spend more, up to $800, then there's no reason to pass on the Cyberpower Gamer Xtreme (GXiVR8060A5).
Know Your Needs
Do you intend to just play MOBAs? Or are you interested in modern, AAA titles? If it's the latter, you'll definitely want a more expensive prebuilt gaming PC. However, if you're into indie games and other light games, the cheaper ones should do just as fine.
What Are Your Future Plans?
Planning is also important if you want to invest only in the best cheap gaming PC. As you can see, the Lenovo already has a decent processor but it doesn't have a decent graphics card. So, if you're going to get a graphics card soon this should be a smart choice.
Having a good idea which parts you'll get next is a good way for you to get the most from your initial investment. If you're not sure what parts you might be interested in upgrading to, then you should check out some of our other guides, in particular: CPU, motherboard, RAM, and the GPU guide.
How do I get the best cheap gaming PC deals?
PC Guide will always point you to the best deals we can find out there. Our deals team keep a close eye out for the best cheap gaming PCs and keep pages such as this one up to date all the time.
So whether you are looking for the best prebuilt gaming PC or the best budget gaming PC, you can be sure if we recommend it, it is worth snapping up.
Is a prebuilt PC the best option for PC gaming?
A prebuilt PC is a good way to perhaps save money and not stress about having to put everything together – especially if you haven't built your own system before.
Try and look for options with as decent a graphics card as possible rather than PCs that come with a discrete GPU.
Is it worth buying a budget PC or saving up for a better one?
You can still get great performance out of some older Nvidia GTX cards in a budget build and you will probably find this is where you will get a good deal and a low price.
PC gamers looking for the latest hardware offering great performance may tend to shy away from the less pricey options and this sometimes means you can grab a real bargain.
Our Verdict
So, for the absolute best budget gaming PC the only choice for us is to opt for the Cyberpower Gamer Xtreme. Yes, it's on the higher end of 'budget' when it comes to a gaming rig but you want something that is going to be able to run the more graphically intense games without having to compromise too much on FPS, you're going to have to pay that little bit more. It's also, in our eyes, the best-looking budget gaming PC on this list with its vibrant RGB lighting and see-through side panels.
So if you are a new PC gamer looking for decent performance from your new gaming PC while looking to play games or even virtual reality titles as far as prebuilt gaming PCs go, we hope you have found this list useful in your quest to get your own PC.