Best NAS devices 2023
The best NAS devices for home and business networks
Last Updated on February 20, 2023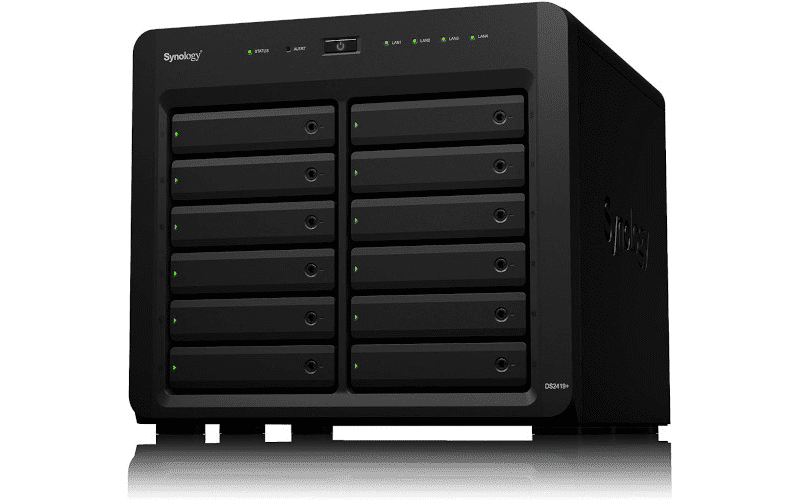 Choosing a Network Attached Storage (NAS) device for either individual, or business use can be a little overwhelming due to complex terminology and the variations of products out there. There are also various different uses for NAS, whether it be for media streaming or sharing files between co-workers, you're going to want a slightly different setup. With this NAS focused article, we're going to be breaking down what NAS actually is alongside how to choose the best NAS products for your needs, helping you build the optimum storage machine.
Products at a Glance
How we picked the best NAS devices
Best Home Network NAS Devices
For home networks, you're going to want enough functionality for storing your files alongside media streaming, if required. So, you'll need to consider whether you want to buy the full package or a diskless system in which you can buy the storage separately. We'll be detailing the two best options and additional storage.
Best Business NAS Devices
For those business users out there, you're going to want a slightly different overall setup for your NAS system. While you'll be looking for the main overall features, you may want faster transfer speeds and the option to upgrade to more storage with more and more files being accrued as time goes on. We're going to be detailing two beefed-up NAS enclosures and the best NAS HDD to put into them.
Our Recommended
Best NAS devices 2023
1
PROS
Storage included
Ideal for home use
This NAS solution from WD comes fully-fitted with 4TB of storage which is more than sufficient for the average user using it for storing documents, backing up data, and even streaming media. Additionally, the high-performance 1.3 GHz dual-core processor and 1GB memory make for seamless media streaming and ultra-fast file transfers which are perfect for home users.
It also offers up Milestone Arcus Surveillance software with unlimited camera licenses which is advantageous for those using a NAS system for home security purposes. So, if you want a quality device and you're not bothered about having huge amounts of storage, preferring everything given to you out the box, this WD option could be perfect for you.
2
PROS
IronWolf health management system built in
Made for NAS
We believe Seagate's Ironwolf range which has been specifically created for NAS drives is some of the best storage for your NAS systems. Not only has it been tailor-made for NAS but it offers up a better overall build quality than your traditional HDD.
The integrated IronWolf Health Management system is an added bonus, allowing you to see how your drive is doing, and avoiding potential failures. Additionally, Seagate is confident in its reliability, boasting 1M hours MTBF.
3
CONS
Need to add a lot of storage at extra cost
More storage you ask? Well, 12 bays of potential space could be enough to last a lifetime. The Synology DS2419+ enclosure not only offers up an insane amount of space but the power to match. The quad-core, 2.1 GHz CPU and 4GB DDR4 memory give the NAS enclosure enough oomph to match your business needs, coupled with over 1,716 MB/s reading and 671 MB/s writing speeds for maximum efficiency.
Furthermore, the Synology Drive Client provided allows you to effortlessly perform real-time data backups and point-in-time file recovery which can be essential for important documents and client-sensitive data. If you're looking for maximum storage, great functionality, and fantastic software, the Synology DS2419+ is the way to go for your business.
4
PROS
Huge storage option
IronWolf health management system built in
CONS
Disks this size are not cheap
Again, we've opted for the Seagate Ironwolf for our additional storage pick but this time, the 10TB version.
As stated previously, it comes with all the reliability necessary for heavy usage. The increase from 4TB to 10TB should be more than sufficient for one HDD and slotting these into the 6, or even the 12 bay NAS housing, will provide any business with umpteen amounts of storage.
5
CONS
Need to buy storage
Only two bays
The Synology DS218j NAS enclosure offers great customizability with the power to boot. With over 113 MB/s reading, 112 MB/s writing speeds and a dual-core CPU with hardware encryption you're going to have sufficient transfer speeds and the performance to cope with whatever the average user will throw at it.
It is, though, diskless which is the main downside for those entry-level users looking to jump straight in. You're going to need to buy the HDDs/SSDs at an additional cost so that is the main consideration you need to make when choosing this diskless Synology option. Luckily, we've detailed what we think is the best drive to go for below.
Things to consider
When choosing the best NAS device for you, you're going to need to think about the purpose you're buying it for. Are you looking to store all of your important documents? Store your media for streaming over your home network. Or just for good, old-fashioned backups?  You're going to need to think about storage options no matter what but what purpose you're using the NAS device for will certainly influence the decision you make. For example, storing important documents.
You're not going to need 20TB of space for this but choosing a 2TB or 4TB option would be more than sufficient. On the other hand, if you're looking to beam 4k media to your TV, that 20TB of storage might not be a bad idea. If you're a business user, you're going to be focusing on storage but also reliability and the amount of bays your NAS device has so you can expand your storage as your business grows.
Furthering this, you may need to consider file transfer speeds, especially if you need to access large client folders instantaneously. Below, we're going to be detailing some of the best NAS devices for both home networks and businesses to help you no matter what requirements you have.
What is NAS?
NAS has been a storage solution since the 1990s, offering businesses the opportunity to securely share files with their employees without having to store them on the respective machines. It utilizes a multi-hard drive based approach in a server-like housing to store all the necessary files and create a personal 'cloud'. Today, NAS as a whole has had its fair share of upgrades, including the ability to form NAS clusters and create online backup solutions. However, many home NAS users are using the solution for something you may not have thought of, media streaming. This is due to software such as Plex which can be installed on other devices and pull your files from your shared NAS device. If you want to delve a little more into the history of NAS, speed comparisons, and how it works, take a look at our full breakdown.
Should I get an NAS device?
You might want to invest in a NAS if you need to access files and data from multiple devices. This is good for accessing multiple workstations – so collaborative work is a breeze.
Our Verdict
When choosing the best NAS device for you there are a number of considerations you need to make in terms of storage, reliability, and overall functionality. However, if you're a home NAS user, we suggest you go for the diskless Synology option as this offers the most customizability for your needs, allowing you to slot in the specific storage from the get-go.
However, the WD 4TB version should be more than enough storage for many of you out there, so if you want an all-in-one package, go for that. For business users, even though the Synology 12-bay variant offers huge amounts of upgradability, the QNAP is superior overall. With Thunderbolt 3, the speeds you'll be getting are unprecedented and will enable your employees to access data instantaneously.