Last Updated on
When you think of PC storage, the traditional terms are hard drive (HDD) or solid-state drive (SSD) but there's a product you may never have even heard of; Network Attached Storage (NAS). We're going to talk more about what NAS actually is, how it's different from the more well-known methods of storage, and how it compares, so you can make a judgment on whether it's for you. If you do think you'd benefit from NAS, we're also going to detail some NAS products, helping you choose the correct one for your setup.
What is NAS?
NAS has actually been around since the 1990s and was based upon the success of file servers from companies such as IBM. It was developed primarily as a file server solution for desktop operating systems in which a variety of users can access the files throughout a business. When you break down what the components of NAS are, it is simply a bunch of storage drives all connected to housed circuitry allowing the files to be shared over the cloud. It has since evolved from 1990s architecture, now with the ability to form NAS clusters for multi-server filing, alongside an introduction of NAS online backup solutions for online disaster recovery. The system is almost a fully-fledged server in itself sporting a stripped-down operating system and offering configurability options. On the flip side, it doesn't usually have peripheral, or even monitor support, so it could never be utilized as a general-purpose server. Therefore, the NAS solution is not for everyone, and more tailored toward businesses or individuals looking for a multi-drive storage solution for file sharing across devices, rather than the average PC user who is wanting a more traditional storage package. Today, NAS has become increasingly popular for media sharing/streaming due to the ability to store huge amounts of music, TV shows, and films onto the system and serving it to multiple devices over home networks.
How is it different from traditional storage?
As previously stated, it was developed primarily as a file server solution for desktop operating systems so for this reason, it is a little different from just using today's HDDs and SDDs. It does, however, use similar internals, utilizing RAID arrays containing specialized internal NAS HDDs to store your files. These NAS HDDs can actually be used in your traditional PC setup without any special formatting, but the differences are noticeable when it comes to the quality and additional features. Essentially, as previously stated, a NAS system is a multi-hard drive housing with added functionality, allowing you to access these files anywhere at any time. You can also wire a NAS solution up to your PC rather than over WiFi, enhancing the overall speeds and utilizing it as backup storage.
NAS vs DAS & SAN alternatives
There are alternative solutions to those searching for a NAS solution such as direct-attached storage (DAS) and storage area network (SAN). However, these are not direct carbon copies and may even require proprietary servers to function. Take DAS, for example, it is an extension to servers that exist already thus not having the 'self-containment' abilities of traditional NAS systems. In spite of this, DAS does have some advantages over NAS with robust configurability options and hardware support, making it a more general use server. 
SAN operates a little differently to both DAS and NAS, utilizing a block-based storage approach. This simply means it doesn't appear as a file server, it appears as a regular disk in your OS and is visible in disk management utilities, thus available to be formatted with a file system. Due to this difference, NAS and DAS systems can be combined to form a very impressive file-sharing machine offering both file-level protocols and block-level protocols from the same system.
Speed Comparisons
For consumer-level NAS devices, you're banking on a fast network connection for your data transfer speeds if you're wanting to file share across multiple devices. The average home user is looking at between 3mb/s and 20mb/s which is surprisingly low when you consider how high SSDs transfer data. However, this is due to its wireless sharing and not being a directly connected device, so even with the fastest SSDs, you would experience slow down compared to it being plugged directly into the machine. On the other hand, if you were to have a gigabit connection, it would be a different ball game and you'd get speeds of around 120MB/s, depending on how fast your drives are. To compound this, if you're utilizing a NAS solution in a wired capacity, you could experience speeds of 40Gbps over Thunderbolt 3 which are mind-blowing speeds. You would only be getting these however from a Thunderbolt 3 enabled NAS system, so make sure you're looking out for the capabilities of the solution you're purchasing.
NAS Products
For Home Networks
Synology 2 bay NAS DiskStation DS218j (Diskless)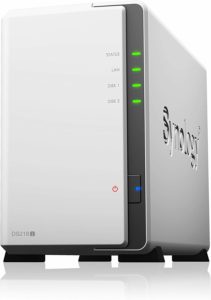 For home networks, you are going to want a NAS system that does the job and isn't overkill. For the average user, you're only going to need a 2 bay NAS system due to not having terabytes upon terabytes of data to store. The Synology 2 bay NAS DiskStation offers all that you need for an entry-level home system with over 113 MB/s reading, 112 MB/s writing speeds and a dual-core CPU with hardware encryption. It is, however, diskless so you're going to need to buy those HDDs/SSDs at an additional cost.
For Businesses
QNAP TVS-672XT 6 Bay Thunderbolt 3 NAS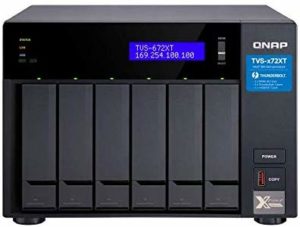 If you're looking for a NAS system for your business, a more robust solution may be in order. This 6 bay, Thunderbolt 3 capable NAS from QNAP has everything and more for a complex, high-storage NAS setup. It boasts an impressive Intel Core i3-8100t 4-Core 3.1 GHz Processor architecture coupled with 8 GB SODIMM DDR4 RAM and 2 Thunderbolt 3 ports, allowing for intense tasks such as real-time 4k video editing. There are also 5 additional USB ports useful for those looking for a complete wired approach.
Additional Storage
Seagate IronWolf 4TB NAS HDD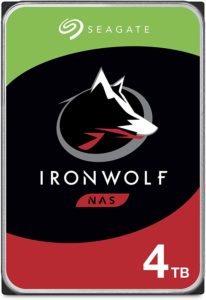 4TB worth of storage is more than sufficient as an additional drive. This Seagate IronWolf specialized NAS HDD showcases 7200 RPM spin speeds and AcuTrac technology, delivering vibration tolerance in multi-user environments. Additionally, with Seagate's proprietary software IronWolf Health Management, you can automatically see data loss prevention, intervention, and recovery options.
Conclusion
All in all, NAS, when broken down, is simply a large storage setup that can be used as a cloud-based solution. However, it could potentially revolutionize your storage process especially if you are a business that deals with a lot of data that various employees need access too, or if you are an individual who is looking to share large files across a home network of devices. We have listed some potential NAS solutions that you could go for but if you want a more in-depth product selection, check out our article on the best NAS products.