Be heard loud and clear with the top gaming microphones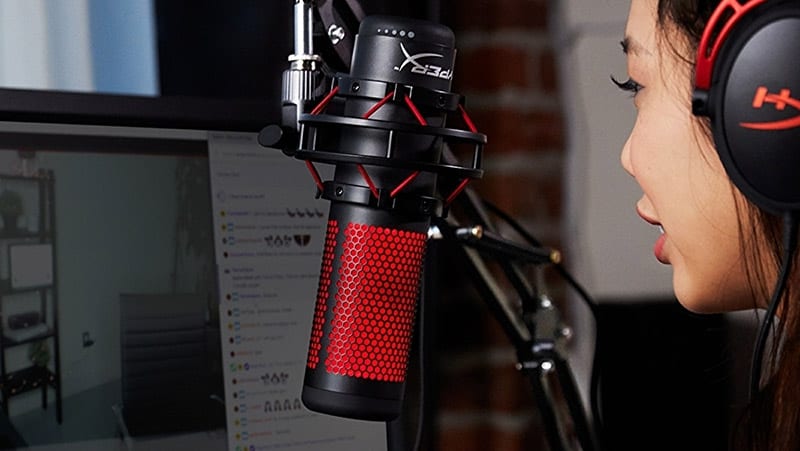 While gaming headsets have come on in recent years and some of the best out there provide clean microphones free of pesky interference, they are no match for the real thing. With the prevalence of affordable USB mics that boast many of the same features as their professional-grade XLR brothers, gaming microphones are a cost-effective way to improve your gaming/streaming setup.
With better noise reduction, natural-sounding vocal quality and clarity, and gain/volume control, the right microphone levels up your gaming by making your voice clearer to teammates who'll line-up to compliment your dulcet tones. The problem is finding the best one to suit your needs amid a confounding abundance of excellent gaming microphones.
To that end, we've put in the hard work, so you don't have to, and compiled a list of best gaming microphone recommendations. Whether you are a gamer looking to pack away that worn gaming headset or a streamer on the hunt for a quality mic to top up your setup, we've got you covered.
To find the best gaming microphones, we looked for the products that offered a balance of key factors you should look for when shopping around for a mic: polar patterns, frequency response, bit rate, connectivity, on-mic controls, sound quality, software, price, and extra features such as pop filters and shock mounts. With budget in mind, we concentrated on USB microphones to strike a balance between price, sound quality, and features, mainly ignoring the pricier XLR options.
In the end, we slimmed down our choices to four top recommendations. Read on to find a brief review of each, highlighting their strengths and weaknesses alongside pros and cons for those that want to avoid a lengthy read. We've also added in a handy 'things to consider' section at the bottom to make sense of the often overly complex lexicon of terms associated with microphones and offer some pointers to guide your hunt for the perfect microphone for gaming.
On-mic LED volume meter and adjustment dial
Overly sensitive at high gain
Blue is rightfully known as a leading force in the microphone game, namely with its bestselling Yeti model. As a plug-and-play USB condenser mic, the Blue Yeti X pairs the best features of the original and the more compact, budget Nano alongside some choice upgrades at a slightly higher price tag.

The Blue Yeti X delivers nothing short of superb audio with a broad dynamic range and a well-rounded, crystal-clear profile, aided by no less than four polar capture patterns (cardioid, bidirectional, omnidirectional, and stereo) easily swapped thanks to a button on the back of the mic, and a four-capsule condenser array. Such versatility usually comes at a much higher price. The new iteration is also more sensitive than the original — both a blessing and a curse. At higher gain levels, the mic can be just a little bit too sensitive, one of the only real gripes we have.

Among the improvements is an 11-segment LED meter that tracks volume levels for easy visual monitoring. The new easy access Smart Knob mounted on the front of the mic allows on the fly gain fine-tuning, headphone volume and blend adjustments, and mic muting. There's even a headphone jack mounted on the microphone to monitor the mic's sound capture directly.

As much as the original Yeti was a staple of streaming setups, it wasn't necessarily the most visually appealing mic. With the Yeti X, Blue offers a more compact, less chunky design but just as rugged whether supported by a boom arm or the included sturdy desktop stand.

The Blue Yeti X is also very well-served on the software side, thanks to Blue's versatile Blue Vo!Ce software. The suite grants access to a wealth of vocal effects, presets, filters, noise-reduction widgets, compressors, limiters, and so on so that you can piece together a unique profile.
Includes desk-stand with shock mount
Red LED lights up when active
Included desk-stand on the short side
No LED adjustments or off function
The HyperX Quadcast, a close second to the Yeti X, fills our runner-up spot with one of the more 'gaming' designs of our recommendations. While good looks are one thing, the mic delivers where it matters, too, with quality audio and a generous feature set.

On the sound quality side of things, the HyperX Quadcast falls slightly behind the Yeti X in terms of clarity and overall fullness but still provides crisp, warm, and precise audio that is night and day compared to that captured by gaming headsets. Much like the Yeti X, the HyperX Quadcast provides four polar patterns (stereo, omnidirectional, cardioid, bidirectional) adjusted via an easy access dial.

The sensitivity can be adjusted via a dial on the microphone's underside, which also features a built-in headphone jack for easy real-time zero-latency monitoring. The microphone is bathed in the glow of a red LED when active. Unfortunately, the LED can't be turned off, so you'll need to be a fan of the color scheme or look elsewhere.

A Tap-to-Mute sensor mounted on the top of the HyperX Quadcast makes quick work of cutting out sound, and the mic's red LED dims accordingly. Other notable features include an internal pop filter, a sturdy, if a little small, desk-stand with a built-in anti-vibration shock mount, and compatibility with a wide range of software (OBS, XSplit, etc.) and platforms (PC, Mac, PS4).

HyperX also sells an alternative model, dubbed the Quadcast S. The only difference is the inclusion of customizable RGB lighting rather than the stock red light on the Quadcast. One for those that want to spice up their setups with some lighting flair.
Wave Link digital mixing software
Single cardioid polar pattern
Given Elgato's focus on streaming-related hardware and accessories, it should come as no surprise that the company has thrown its hat into the gaming/streaming microphone ring with the broadcast-grade Elgato Wave:3 USB mic.

If a large part of your gaming time is spent entertaining on stream, then vocal quality, and control over audio sources, are even more critical. The Elgato Wave:3 steps up to the plate with excellent quality audio, a versatile digital mixer, and features designed to avoid common streaming audio hiccups.

The Elgato Wave:3 sounds great with an emphasis on clear, bright audio. It's limited to a single cardioid polar pattern, perfect for solo gaming and streaming, but not as versatile as the mics from Blue and Hyper-X above.

Adjustments are straightforward, thanks to a multifunction dial mounted on the front of the mic. It allows you to fine-tune the gain, adjust the mix between the mic and PC audio, and tinker with the headphone volume. There's also a capacitive mute sensor on the top of the mic for silent, one-touch muting. The Elgato Wave:3 is very well put together with a robust but compact build with excellent features such as a multilayered noise shield, a premium condenser capsule, headphone input, a steel grille, and a heavy-duty desk stand.

We were also impressed by the Clipguard technology, which automatically reroutes audio through a second signal path when the input level peaks, cutting it down to a lower volume to avoid distortion and clipping.

Our favorite feature is without a doubt how the Elgato Wave:3's Wave Link software acts as a digital mixer. You can control up to eight audio sources, then blend, mix, and fine-tune them as you see fit. In the context of streaming, you can manage audio from games, music players like Spotify, subscriber alerts, browser, discord, and audio decks like the Elgato Stream Deck.
Cardioid polar pattern only
Unabashedly an entry-level mic, the Razer Seiren Mini delivers professional-grade audio quality by cutting out most of the price-swelling extras. For around $60 – roughly the price of a mid-range gaming headset – you get a reasonably major leap in audio quality.

Adorably ultra-compact and highly portable, The Razer Seiren Mini handles knocks and bumps with ease thanks to heavy-duty construction, a stable tilting stand, and a built-in shock mount to dampen accidental knocks. It's available in three colors (classic black, quartz pink, and mercury white) to offer users a certain degree of customization to homogenize their gaming setups.

It's impressive on the audio front, too, outperforming virtually all other mics in this price range. A super-cardioid polar pattern with a tight capture angle reduces ambient noise to cancel out those pesky mouse clicks and typing sounds of a mechanical keyboard. The result is a warm, balanced, and accurate sound that faithfully and clearly picks up the voice. Razer's integrated a flat frequency response and a 14mm condenser capsule that do much of the heavy lifting.

It's worth noting that the Razer Seiren Mini has no headphone jack, mute function, or physical buttons, and all adjustments are made via voice chat software like discord, so not one for those that value tactile controls.

While the Razer Seiren Mini may lack the multiple polar patterns and stacked feature set on par with the mics above, it more than makes up for it in straight value for money. In other words, a boon for gamers on a budget.
Polar pattern put simply, determines how a specific microphone picks up an audio signal. There are multiple polar patterns, each designed to shine in particular situations. Some are designed for a single, direct audio signal, and others are equipped to pick up audio from multiple sources and directions.
More and more microphones offer multiple polar patterns to adapt to various tasks. There are four main patterns worth knowing about.
Cardioid – Perfect for solo players who speak from a consistent position into the mic and want to avoid background noise. The cardioid pattern captures audio sources positioned directly in front of the microphone.
Bidirectional – as the name suggests, the bidirectional pattern captures audio from two directions, specifically through the microphone's front and back. Perfect for one on one interviews or podcasts.
Omnidirectional – once again, the clue is in the name. The omnidirectional pattern records audio signals from all directions in a broad 360-degree radius.
Stereo – this pattern aims to mimic real-world sound as heard by us humans by capturing multiple sound sources regardless of positioning from the left and right. Think those tingle-inducing ASMR videos on YouTube.
Microphones are available in two connection types: USB and XLR. As we mentioned above, our recommendations only feature USB microphones because they tend to cost less, offer almost instant plug-and-play connectivity, and don't require any additional hardware to work. There are some downsides. Notably, any kind of control (EQ, volume, and gain, for example) is done via software (although manufacturers are making it easy with on-mic physical controls). USB microphones are the best option for simple gaming setups with only a single microphone.
XLR is the professional standard (with the audio quality to match) and with that comes more tinkering than USB microphones, chiefly in that you'll need an audio interface to hook up the mic to your PC. While this involves an extra cost, XLR is better suited to more elaborate, multiple mic setups in the sense that you can plug in more than one microphone (even instruments), fine-tune settings, mix, and monitor via a physical mixer, and more generally have far more control over the mics with plenty of scope for expansion.
Dynamic vs Condenser Microphones
Two types of gaming microphones are available – condenser and dynamic.
Condenser mics are the more sensitive of the two and excel at picking up even the softest sounds. They are best suited to situations with little to no ambient noise and tend to offer a broader selection of polar patterns.
On the other hand, dynamic mics are far less sensitive and do a better job of cutting out unwanted noise, hence why they are favored for live music. They tend to cost more than condenser mics.
A condenser microphone will do fine for most gamers unless you have a particularly loud mechanical keyboard or game in an environment with lots of background noise.
While the microphone itself is important, it's also worth considering what accessories you'll need. The most helpful include boom arms (ideally an adjustable one), especially if your streaming and don't want the mic concealing your face or you have limited on-desk space, pop filters to cut down on harsh plosive sounds and keep the mic clean, and shock mounts to keep vibrations caused by accidental knocks from bleeding into your audio as unpleasant noise.
Every setup is different so buy accessories according to your needs.
Our pick for the best gaming microphone is the Blue Yeti X. Packed with great features, four polar patterns, impressive on-mic adjustments, and stellar sound quality; this mic is a worthy successor to its Yeti sibling.
Coming in second, the HyperX Quadcast is worth every penny. Much like the Yeti, you get fantastic sound quality and an impressive feature set, including four polar patterns, tap-to-mute, shock mount, and easy access adjustment dial.
For those that like to pepper their gaming with some streaming, we recommend the Elgato Wave:3. Designed by the best in the streaming business, this mic delivers top-notch sound alongside some streaming-specific features. Not least is the excellent Wave Link digital mixing software that allows you to manage all audio sources on the fly and the useful anti-clipping Clipguard tech.
If you want to go cheaper, our top budget recommendation goes to the small but mighty Razer Seiren Mini. Compact, portable, and unassuming, this mic boasts as much personality as it does professional-grade audio – a perfect entry-level microphone for serious gamers.
With that, we'll bring our guide to the best gaming microphones to a close. We hope our recommendations prove helpful and help steer you towards a microphone that serves you for years to come. The comments section is open should you have any questions or even recommendations of your own.