Best VR Headset For Movies 2023
The most immersive way to watch movies
Last Updated on April 21, 2023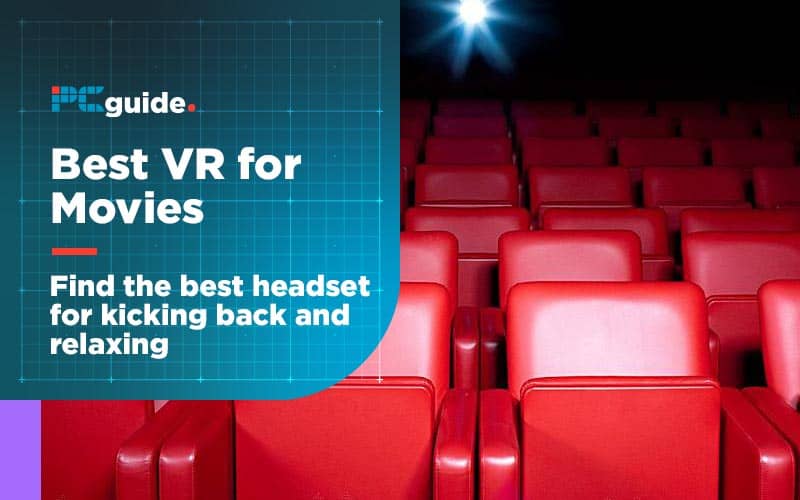 If you're for the best VR headset for watching movies, you've come to the right place. Whether you're sampling an action-packed Hollywood blockbuster or a left-field indie flick, there's no doubt VR levels up immersion; that feeling of being up close to the characters, imbibing every story beat, viscerally experiencing every fiery pyrotechnic burst, and hanging on every piece of pivotal dialogue.
With so many of us deprived of the theater movie-going experience over the past year, VR movies propose a viable alternative that can be enjoyed from home alone or alongside friends thanks to the power of the internet, as long as you have the right headset for the job. Which is the best VR headset? How much do I need to spend for a decent experience? These are all valid questions.
Fret not, with today's guide, we aim to make choosing the best headset for movies as easy as possible, offering up all the potential nuggets and pointers required to find that perfect VR headset for movies.
Products at a Glance
How we picked
If you are making those first tentative steps into the world of virtual reality, you'll likely be overwhelmed by the jargon and sheer choice of headsets out there. We've been there, and it isn't exactly a barrel of laughs.
To that end, we've hand-picked five headsets that, in our humble estimation, deliver the best VR movie experience out there. All too conscious that not all of us have a limitless budget to throw at a headset, we've pulled together picks at various price points, from premium devices down to more humble options that, while easier to digest on your monthly statement, still deliver a perfectly reasonable VR experience.
Read on as we share the specifications, crucial information, and the pros and cons that any VR cinephile should know about before clicking the buy button. There's also a 'Things to Consider' section packed with good-to-know info about shopping for VR headsets specifically for movie watching. Let's dive in with our top pick for the best VR headset for movies.
Our Recommended
Best VR Headset For Movies 2023
1
PROS
More affordable than most headsets
Standalone and tethered functionality
Inside-out tracking
3664 x 1920 resolution
90-degree field of view and 90 Hz refresh rate
CONS
Mandatory Facebook account
A stunning example of how far VR tech has come in recent years, the Oculus Quest 2 is still one of the best on the market today. While primarily designed for gaming, it's no slouch when it comes to movies, positioning it as our best overall VR headset for movies.
For a very affordable price (by VR standards) of $300, the Oculus Quest 2 delivers a 3664 x 1920 resolution, 90-degree field of view, and 90 Hz refresh rate. The built-in speakers with cinematic 3D positional sound are excellent, adding all the audio depth of the movie viewing experience.
While these are excellent specifications, especially for the asking price, Oculus Quest 2 stands out for being at the forefront of wireless VR technology thanks to its standalone functionality. Thanks to a Qualcomm Snapdragon XR2 chip, 6 GB of RAM, 64 GB/256 GB of storage, and a long-life battery, the Oculus Quest 2 offers the best mobility of any headset out there; you can take it on the road, watch movies from the comfort of your couch, or even snuggle up in bed.
Additionally, the standalone mode isn't short of content with direct access to the rich catalog of content on the Oculus Store, including a growing selection of movies and VR experiences alongside games.
At the same time, the Oculus Quest 2 is an equally impressive tethered headset as long as you buy the requisite Oculus Link USB-C cable and pair it with a suitably powerful PC. Doing so grants access to even more content via Steam as well as the Oculus Store.
There's a slight catch to an otherwise superb VR headset: the Oculus Quest 2 requires a mandatory Facebook account and that you sign in to said account to use the headset. With Facebook's sketchy reputation for harvesting data, this might not please some, so a point to consider before rushing to buy the headset.
2
PROS
Premium headset
2880 x 1600 resolution
110-degree field of view and 90 Hz refresh rate
Comfortable
CONS
A pricey option just for watching movies
The HTC Vive Pro may no longer be the sprightly young buck it once was, but it still holds its own against the latest VR headset contenders.
It has everything you need for an immersive movie viewing experience: a comfortable design, 2880 x 1600 resolution, 110-degree field of view, 90 Hz refresh rate, high-impedance 3D spatial audio headphones, and even a pair of mics should you fancy some chit-chat while catching a movie with friends. Thanks to plenty of well-placed padding, good weight distribution, a range of adjustment options (headband, IPD, etc.), and an ergonomic design, it's incredibly comfortable to boot.
The HTC Vive Pro is a tethered headset, so you'll need a PC to watch movies, and unlike an inside-out tracked headset, it does require a bit of setup with a duo of Base Stations 2.0. Overall, this pulls the brakes on where you can hope to watch movies, so we'd urge a look at the Oculus Quest 2 above if mobility is a feature you're looking for.
Priced just shy of $1000 for the complete package (controllers, Base Station, and headset), we'd be hard-pressed to recommend the HTC Vive Pro solely for watching movies, and we'd wager the price alone will put many off. But, if your movie watching comes accompanied by some gaming, then the HTC Vive Pro is undoubtedly a viable pick for those seeking out a premium experience.
3
PROS
2560 x 1600 resolution
110-degree field of view and 80 Hz refresh rate
Inside-out tracking
Well-rounded headset at a decent price
CONS
Discontinued
Sourcing issues
A staple among VR enthusiasts since it launched back in 2019, the Oculus Rift S remains a top choice for VR movie viewing because of the well-rounded value it offers from comfort to the quality of the display and access to a rich catalog of Oculus Store content.
The headset pushes an LCD with a 2560 x 1600 resolution, 80 Hz refresh rate, and 110-degree field of view: everything you need for a premium viewing experience, although not quite as sharp and bright as AMOLED displays.
It's also designed for prolonged sessions thanks to an unusual strap design that sees an adjustable plastic band wrap around the head, complemented by a soft over-head strap. The design means a more balanced weight distribution so less strain and pressure on the face, which certainly pays dividends as you approach the tail end of a movie.
The Oculus Rift S uses inside-out tracking, affording users a much easier setup and a bit more freedom of movement than headsets that employ lighthouse Base Stations for their tracking needs. While still tethered, the Oculus Rift S allows you to move around with a bit more ease and find a nice spot to enjoy a movie rather than being pinned to a desk.
With all that said, there's one major issue with the Oculus Rift S: Facebook has officially discontinued the headset and promised only sporadic, if any, stock replenishment. Consequently, finding one can be quite the feat, depending on where you are in the world.
There's a silver lining, though; stock liquidation and the perception that the Rift S is an 'old' headset means the asking price is generally lower than the MSRP (on top of Facebook applying a heavy end-of-life discount), bolstering the headset's value proposition even more. You'll likely land a sweet bargain if you can find one.
How to choose the best VR headset for watching movies
There are loads of things to consider when choosing the right VR headset for watching movies, so let's take a look at some of the key areas you'll want to focus on.
Resolution and refresh rate
One of the first specifications you're likely to encounter when studying a headset listing is the display resolution. Much like monitors and TVs, this refers to the maximum number of pixels the headset can produce – think of 1920 x 1080, 2560 x 1440, 4K, and so on.
The resolution directly correlates to the amount of visible detail and the clarity of the picture, something that's crucial to VR given the proximity between the user's eyes and the display. Imperfections, pixelation, and the dreaded screen door effect are common with low-resolution headsets. Higher resolutions tend to deliver a sharper image with finer details that's much more enjoyable to view for prolonged periods. For movie watching, prioritize headsets with higher resolutions if possible.
Refresh rate refers to how many images or frames the headset can display every second. For example, an 80 Hz headset produces up to 80 frames per second. In VR, a decent refresh rate wards off stutters and choppiness for a smooth experience. For movies, which are generally shot at the 24 frames per second Hollywood standard, it's slightly less of an issue given that most headsets deliver at the very least a 60 Hz refresh rate or higher.
Comfort
Given that movies generally last anywhere from 90 minutes to two hours, comfort is arguably one of the most important factors to consider alongside a headset's display quality. A degree of pressure on the head and face is unavoidable for such long sessions, but good quality cushioning, adjustments (including interpupillary distance to reduce eye strain and instances of distortion), and straps can mitigate this considerably, thus contributing to a better overall viewing experience.
Comfort features vary significantly between models, and the reality is that the most comfortable headsets tend to be the most expensive, such as the HTC VIVE Pro and Valve Index. But, headsets like the affordable Oculus Quest 2 perform admirably on the comfort front, so don't necessarily ignore the more wallet-friendly options entirely if comfort is a priority.
Standalone or tethered
Unlike VR gaming, where you'll either be prancing around the room or sitting in a gaming/office chair, VR movies are best experienced lounging on a sofa or cocooned in freshly laundered sheets on a bed. It's worth considering whether a headset is a standalone device or requires a constant wired connection to a PC to work.
PC tethered headsets generally deliver higher fidelity visuals thanks to the power of a desktop rig but limit freedom of movement. Standalone headsets are essentially mobile, so you can easily hop to the sofa or bed as you see fit, but at a cost to the quality and detail of the movie viewing experience. It's a case of weighing up whether mobility or visual quality is more important for you.
Are VR headsets good for watching movies?
Yes, as they essentially put you in a virtual theatre, which is actually pretty cool. You can even watch 3D movies with specific apps and headsets.
Can you watch Netflix movies ono Oculus Quest?
Yes, you can. Netflix movies can be watched on Oculus Quest 2 and Meta Quest Pro headsets.
Our Verdict
Best VR Headset For Movies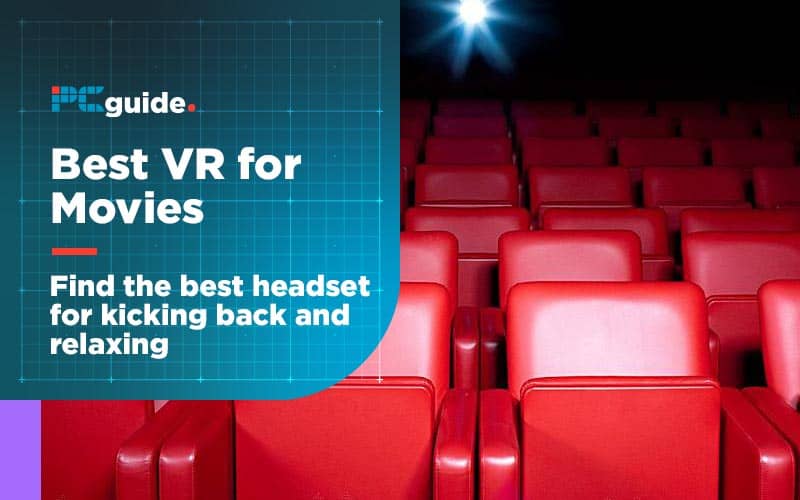 Best VR Headset For Movies 2023
The Oculus Quest 2 is the cinephile's headset of choice with excellent specifications, crisp visuals, mobile standalone functionality, and an affordable price tag.
For a high-end movie viewing experience, the HTC Vive Pro delivers a highly comfortable headset with solid specifications and plenty of added extras, only let down by a high asking price.
Although discontinued, the Oculus Rift S is a value-packed way to experience movies in all of VR's immersive glory, that is if you can find one for sale.
The Oculus Go is our top pick for the best standalone VR headset for movies; affordable, good visuals, and designed specifically to deliver a superb content viewing experience.
Finally, using your phone for all the heavy lifting, the Destek V5 VR Headset is the most cost-effective way to experience VR, albeit watered to match your mobile performance.
Don't hesitate to send any questions or concerns via the comments section below.