Best Gaming PC in 2023 – Top Picks
When you are looking for a gaming PC so much comes down to your budget, so here's a spread across the board of things that may take your fancy.
Last Updated on December 5, 2022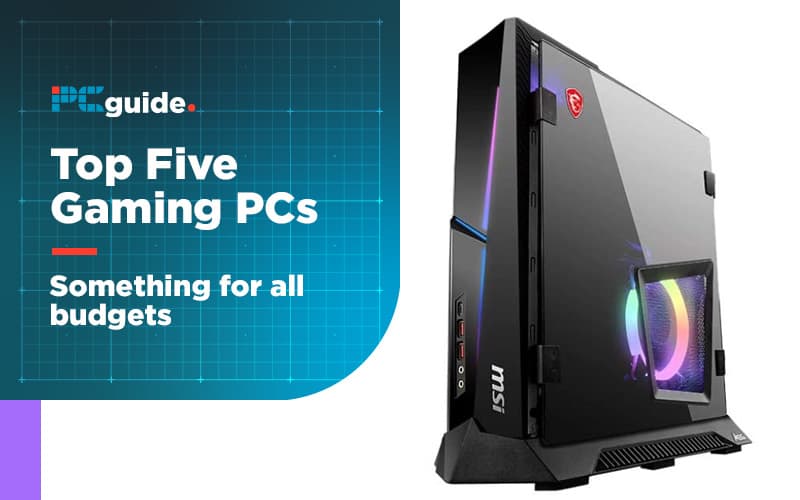 There's a lot that goes into any PC, but most especially gaming PCs. This can be a lot for newcomers to grasp, but fortunately, we're here to help.
Regardless of your budget or your needs, there's a gaming PC out there for you. What makes the best gaming computer will vary from person to person: some want the smallest gaming PC, others want fancy RGB lighting, and some just want the best gaming desktop for their budget— large or small (we aren't looking it at gaming laptops in this article. None of these approaches are wrong, which is why the top gaming computers in the gaming PC reviews below are all so different from one another.
For those of you who don't understand spec sheets and the such, don't worry: we'll explain plenty about each pre built gaming PC here and how they perform. We've also written a buying guide that you can consult at the bottom of the article, just in case you aren't sure about what to pick.
Products at a Glance
Our Recommended
Best Gaming PC in 2023 – Top Picks
1
PROS
GPU Nvidia Geforce RTX 3080
Looks smart
SSD and HDD included for good storage
CPU AMD Ryzen
Nvidia Geforce RTX 3080
CONS
Not blessed with great airflow (understatement)
Not for the faint of wallet
It seems an age now since it became apparent that the best way to get your hands on a new graphics card was to buy a whole new damn gaming PC and cut your losses. At least if you find yourself doing this (assuming you have the cash for the extra initial outlay) then you will have invested a machine that should, in theory, stand the test of time, or at least for the next couple of years.
The Trident X – part of the CUK Meg line from MSI is an expensive old way to get into PC gaming. Let's get that right out of the way to start with. You could get yourself between six to eight Xbox Series X consoles (well, you can't get them either but you get the point!) for a similar monetary outlay. And no, that's not a typo. So what an earth do you get for your Magic Beans here? Well an RTX 3080 is the main treasure included in that almost airflow-less box of tricks. Couple that with an Intel Core i9-10900KF Ten Core Processor (20MB Cache, 3.7GHz-5.3GHz) and you won't ever have slowdown in a game of Peggle again. A small price to pay.
Capable of great things
In all seriousness, this is a  gaming PC that is going to rip through anything you deem to throw at it for the foreseeable future. Fancy a bit of Microsoft Flight Simulator 2020 in 4K or in VR glory, this will do just fine. Same if you want to ray trace the bejesus out of Cyberpunk 2077. The ice caps will melt before your components do (highly likely anyway). 64GB of RAM is unnecessary and you could probably flog 32 GB of it on eBay to recoup some of your losses but, in all honesty, if you have enough to drop on this in the first place you realistically won't be bothered.
The only minor downside is perhaps the case. MSI cases seem to be designed more like a NASA-designed air-lock with restricted airflow, and we are talking about expensive high-performance parts here. So it's definitely something worth keeping an eye on. You could easily swap all the high-end components into a more practical case for next to nothing (comparatively) anyway.
2
PROS
Futuristic looking
High-end components will last
CONS
Design won't suit everyone
High=end = high price
When your PC is called the Behemoth you kind of expect it to be a giant but we assume this gaming PC from Allied Gaming is so named because of the power of its components (rather than its price!). Weirdly, despite the great parts inside the obvious standout feature is the unique case that has the main hold of the PC rotated 90 degrees clockwise and then mounted on a stand to give it a contemporary and modern look. Now that won't be for everybody but if you like it (and we do) then it is a nice talking point – even if it is only to yourself because your partner couldn't be less interested.
Team Red Titan
Allied Gaming has sided with AMD when it comes to the graphics card and the monster RX 6900 XT is the pixel-pusher of choice here. This card competes with the highest Nvidia has to offer and if a little Big Navi is what you desire, this is a great way to get hold of one.
An Intel Core 19 10850k props up the brainpower and once again propels this machine into the stratosphere of those that can play anything you can throw at them.
The motherboard is a Z490 from Gigabyte that comes with Wi-Fi enabled and ARGB and we have to say the whole thing looks very pretty indeed. Large storage options, again with an NVMe SSD weighing in at 1TB with a further 2TB on the HDD front so you won't be short of space to store your games.
Very much worth a look if you want to get into PC gaming in a big way.
3
PROS
Good blend of decent parts and price
Case looks nice lit-up
GPU Nvidia Geforce RTX 3070
CONS
Prices still inflated due to parts cost
Minimum expected 16 GB RAM DDR4 and storage included
Stepping down in price considerably and more into the mid-range for many more people we have this nice-looking gaming PC with plenty of lighting effects from Skytech. This is the first of our PCs which is powered by AMD, coming resplendent with a Ryzen 5 5600 X as its CPU. The graphical grunt comes in the shape of the brilliant Nvidia GeForce RTX 3070, which remains the best bang for buck video card on the market today….We say on the market, but chance would be a fine thing.
Storage Issues
Now obviously we have been a bit spoiled for choice with the two gaming PCs above but the step-down in components here is certainly noticeable. Not so much in terms of the CPU and GPU which are still perfectly capable of handling pretty much everything at Ultra level, but the perhaps slightly underwhelming 1TB NVMe SSD with no extra HDD and 16GB of RAM. While this is a mid-priced machine, it is still $2000 so a little extra headroom (even if it just for the ego) on the RAM front wouldn't have gone amiss.
A 750W PSU and four RGB fans come complete meaning that you won't have to spend any more money and can get gaming right away, even if you won't be playing Call of Duty on Ultra settings. It's a nice machine and at half the price of our top pick you could say it's great value for money.
4
PROS
Solid performer
All AMD if you are a Team Red fanperson
Will fit into most enviroments
Decently priced
CPU AMD Ryzen 9 3900X
CONS
Looks a little bland perhaps
Scrimped a bit on RAM and storage
CyberPower has a reputation of hitting the sweet spot when it comes to affordability and decent spec PC gaming. Our final two gaming rigs on our list are no exception as they both head from their stable. This is the more expensive of the two by some margin and the first of our PCs here to feature both an AMD CPU and GPU under the hood. An AMD Ryzen 9 3900X 3.8GHz, and an AMD Radeon RX 5700 XT provide the horsepower making goof quality 1080p gaming a reality.
Need to upgrade further?
Again though we are limited ever so slightly with just 16GB of RAM and a 1TB NVMe SSD so you will probably have to add more (certainly storage) sooner rather than later.
Tempered glass and fans come as standard and this is a nice little machine at this price. Sometimes the best PC for you is not going to be the one that costs the same price as a car and this is the niche Cyberpower haver managed to fill nicely here. A great option for those looking for a solid gaming PC.
5
PROS
Powerful graphics card
Comes with keyboard and mouse
Intel processor
Aesthetically pleasing
CPU: Intel Core i5
CONS
Higher end of budget price
If you're a hardcore gamer, you should be excited about the CyberPowerPC Gamer Xtreme with Intel core CPU. Aesthetically speaking, this has 4 included RGB case fans that don't just make the system look cool but also keeps it cool. Plus, it also comes with a keyboard and mouse, so that's something. Just remember that prebuilt gaming PCs are notorious for having low-quality PSUs so we personally recommend upgrading to a more reliable one down the path so you don't run into issues with your GPU and Intel core CPU.
Solid performance
Under the hood, you'll also find a very popular gaming processor: the Intel Core i5-9400F that's also paired with a decent GTX 1660 graphics card. Needless to say, this can easily take down 2018's– and some of 2019's– recent games such as Monster Hunter: World, Forza Horizon 4, Assassin's Creed Odyssey, Anthem, Apex Legends, Far Cry New Dawn, and many more at 1080p resolution/high-ultra without going under 60FPS.
Of course, as graphics cards go you can definitely get better if you shop around but what is included here is a good starting point when you have a budget for your own computer. Further down the line, we are sure you will want to upgrade the CPU Intel Core i5 that is also present here to bring it more in line with the best gaming PCs out there.
While it does come with an SSD that you could use to install your OS and favorite games on the SSD it's only 120GB, which means you will quickly need to rely on your 1TB HDD. Still, the SSD should give you faster load times and responsive gameplay and have the rest of your files in the 1TB hard drive.
Just remember that this only has 8GB of DDR4 RAM. And while this should be fine for gaming, you're going to need more if you're going to stream. The Intel Core i5 is still an adequate CPU for a gaming PC but if it is a particular modern game you want to play you would be advised to check suitability to avoid disappointment as gaming demands have risen sharply since this CPU hit the shelves. Having said that most games should run with some of their features toned down a little in order to get a smooth gaming experience.
Overall, this is a really good when compared to many pre built gaming intel Core PC that's loaded with plenty of ports (6x USB 3.1, 2x USB 2.0) and definitely worth it– if you can spare a few more hundred dollars more for an upgrade along the way. Until that point, it's a really affordable PC, even at this stage.
Coming with Windows 10 home as the standard operating system, you will obviously be able to upgrade this for free once Windows 11 comes out. That's a great reason to get your own PC at the moment in readiness for the big launch.
How To Buy The Best Gaming PC For You
If you're new to the gaming PC hardware space and gaming desktops in particular, chances are all these spec sheets and the such don't make a lot of sense to you. In this section, we'll go over the basic info you need to know to pick the best prebuilt gaming PC for you. That being said, don't expect a full rundown on every PC component; just enough info to understand what separates a good gaming computer from the best gaming computer.
Popular CPUs And What You Need Them For
In past years, the differences between AMD and Intel processors were severe, especially in terms of single core performance. Back then, you couldn't have a top gaming PC if you were running an AMD CPU; however, since the launch of Ryzen processors, AMD is only marginally behind Intel in single-core, and has generally taken a lead in multi-core workloads (especially in the streaming and rendering space).
For the most part, something like a Core i5 and a Ryzen 5 will be generally-interchangeable from a performance perspective. The former will be slightly better for games, and the latter will be better for streaming.
A Breakdown of the current CPU tiers:
Intel Core i3 and AMD Ryzen 3 – Decent gaming performance, and middling streaming/rendering performance. Budget gamers go here.
AMD Ryzen 5 and Intel Core i5 – Great gaming performance, and arguably the sweet spot for gamers. Decent streaming/rendering performance.
Intel Core i7 and AMD Ryzen 7 – Slightly better for gaming versus i5/R5 chips. Most of the benefits here are increased boosts in streaming and rendering workloads.
Intel Core i9 (desktop) – A bump up from i7 chips, adding hyperthreading in addition to physical cores. Minor improvement in gaming performance, more reasonable improvements in streaming/rendering/etc.
Intel Core i9 and AMD Ryzen Threadripper – Server-tier chips with completely massive core and thread counts. Worse gaming performance than standard i7/R7 desktop chips.
Popular Resolutions And What GPU You Need
In this section, we're going to list popular resolutions and recommended GPUs for those resolutions so you can get the most out of any of the gaming desktops listed here on this page.
1080p Full HD – Standard Full HD. Base PS4 and Xbox One target this, but generally have to scale below it. For native 1080p gameplay, you'll want cards like the GTX 1050 Ti and the RX 470/570.
1440p Quad HD – Further improved HD quality. PS4 Pro and Xbox One X are usually running closer to this than actual 4K, but using upscaling to achieve a better image. For native 1440p gameplay, you'll want cards like the GTX 1060, RX 480/580, and the RTX 2060.
4K Ultra HD – Aside from a few titles on the Xbox One X, completely out of the range of modern consoles. Cards like the RTX 2070, RTX 2080, AMD Radeon VII, and RTX 2080 Ti excel here.
For those interested in VR gaming, aim for the 1440p tier if using the standard Oculus Rift/HTC Vive. The 4K tier will be necessary for higher-resolution VR headsets like the HTC Vive Pro.
Below, we'll give you a quick rundown of RAM capacities, as well as a brief word on RAM speed so you make a decent decision on how much you will need for your gaming PC.
8 GB – Standard. All you need for gaming and light multitasking.
16 GB – Extra. More than enough for gaming and heavier multitasking.
32 GB – Ridiculously extra. More than enough for heavy gaming, heavy multitasking, and whatever else you can throw at your PC.
RAM speed doesn't generally have a massive effect on average FPS. However, it does improve minimum FPS, which means faster RAM will help alleviate framerate drops where they occur. Most DDR4 RAM is just fine for this already, though.
Now, we'll break down the differences between SSDs and HDDs so you can decide what's best for your gaming PC.
SSD (Solid State Drive) – No moving parts. Smaller. Less power consumption, virtually no heat generation. Much faster storage speed, making overall system responsiveness better when the OS is installed on this drive. Greatly shortens in-game loading times, but is generally only recommended for a few of your favorite multiplayer titles. Much more expensive.
HDD (Hard Disk Drive) – Moving parts. Larger. More power consumption and heat generation. Slower storage speed, but much more storage per dollar. Ideal for large media libraries and Steam backlogs.
If you're used to console or laptop gaming, chances are you may not be ready for the massive machines in gaming PC land. Most desktops on this list (even our "Medium" Tier), will be much larger and heavier than your standard gaming console, which makes them more difficult to move around on a frequent basis. In the PC space, making a rig smaller and lighter will raise the cost of performance dramatically, and this rule applies especially to laptops.
Mini – Console size or smaller.
Small – 2 large consoles taped together. Generally much easier to move around than the larger sizes.
Medium – 2.5 large consoles taped together. Okay for moving around, but maybe heavy depending on what's inside.
Large – A full-on computer tower-sized gaming PC. Big and heavy, not ideal for moving around regularly.
Very Large – Even bigger. If you plan on attending LANs or you move around a lot… don't get one of these. Or always be the host.
Our Verdict
It's perhaps too easy to recommend the most expensive gaming PC in the round-up but the sheer quality of what you get in the box here makes it justifiable. is it out of the price range of many people, for sure but considering we are living in a time where components are so hard to come by there is always going to be a premium on getting your hands on the best stuff.
This is an amazing gaming PC that won't struggle with whatever you challenge it with. It could easily be your only PC outlay for the next four or five years so consider it a well-spent investment. Far better than throwing your cash at Dogecoin at any rate.