Best Tablet Holders for Bed
There's nothing quite like sinking down into your bed to watch re-runs of Breaking Bad on Netflix and then hearing the smash of your tablet as it falls to the floor. Let's fix that with these great tablet holders
Last Updated on October 19, 2021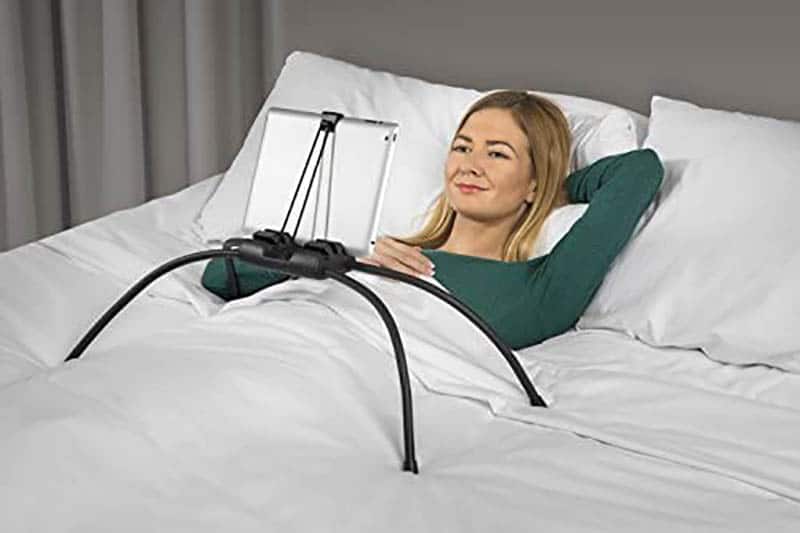 It's not that long really since having a TV in the bedroom would have been considered a luxury. Nowadays it is almost cumbersome to have to bolt a massive screen to the wall when we can watch programs of our choosing on all manner of our devices. Where a wall-mounted TV has the advantage though is that you don't have to worry about dropping it or propping it up against something in a comfortable viewing position. There is also the added problem that at some point you are going to drop off to the land of nod as well, further increasing the possibility of an expensive accident. To counter this then what you need is a good tablet or phone holder for bed and that is exactly what we have here.
We have hunted down the best five tablet holders for a little nighttime viewing and there should be something here to suit all styles and budgets.
Products at a Glance
Our Recommended
Best Tablet Holders for Bed
1
PROS
Great design
Fits most tablets
Handy pockets
Lightweight but sturdy
CONS
Still need to take care not to knock it and send it flying
The Moko Tablet Pillow Stand appealed to us because of its style and function. It just sets out to do a job and completes it with a few little extras that add to the quality of life and it's small and convenient enough to just pop at the side of the bed when your evening's viewing is complete.
The design is lightweight but also sturdy enough to support your devices via its triangular pillow, at the side of which you will find a couple of pockets where you can easily store a stylus or an AirPods charging case. The size of the cushion is pretty much suitable to hold the largest tablets out there and it comes in a variety of different colors to suit a range of decors. They are all a bit on the denim side of design but because it looks so nice the whole thing is just unobtrusive.
You can also use it if you are sat on the couch or if you need to prop your table up safely at the table. It's pretty much perfect if you aren't looking for anything permanent.
2
PROS
Suitable for any tablet holding terrain
Light and flexible
CONS
Looks like it could come to life and murder you
Awkward to move out of the way
From the product image, you may well be wondering how this little gizmo actually holds your tablet, but when you see it unfurled in all its glory like in the image below you can see a nightmarish spider-creature clutching your trust iPad. This is fine unless you doze off and then wake up with this thing staring you in the face. To be fair, its unique method of sitting astride your prone body keeps your tablet out of the way and in the perfect viewing position. Where it isn't great is if you need to get up, especially in a hurry, or fall asleep and turn over with it still in position.
The fact the legs are flexible however makes this a remarkably useful beast because it doesn't matter how even the surface is – ie your bed and duvet, you can adjust it to always remain straight. For that feature alone it is worth considering.
3
PROS
Strong and mobile
Will last a lifetime
Heavy, mobile base
CONS
Much more expensive than others
Storage could be an issue
Our second runner-up in our rundown is comfortably the most expensive option on our list, but you are paying for build quality and flexibility here. In fact, we would say that the Levo Deluxe could serve much more of a purpose than holding your iPad alost while you watch Netflix. The level of adjustability here would make it ideal for holding your iPad if you use it as a musical instrument, or to show sheet music. It would also serve a purpose for an elderly relative who might spend a lot of time in a chair.
The weighted base with four castors on means it can easily be rolled out of the way, and the arm can also be folded back on itself to make a little more room. If anything the solution here is possible over-engineered. Are you going to spend the best part of $200 on a way to watch shows in bed? Well if you are, spend it here.
4
PROS
Can be positioned in just about any way you like
Can be used anywhere
CONS
It's just a beanbag with a plastic front
Not overly secure
The iProp Universal Bed and Lap Stand from the unusually named Flotsam is the same theory as those beanbags you may have seen for holding GPS units on a car dashboard and it works very well here too. Despite its diminutive size, as a beanbag, it feels quite weighty and not like it will slip around anywhere. It also molds itself nicely to whatever surface it is placed upon, regardless of how uneven it might be.
An extra neat factor here is that you can unzip the bean bag and use it to carry and store your headphones and the like to keep them out of the way and it can also be used to display your device in either landscape or portrait mode too. It's a winner.
5
PROS
Holds your screen firmly in position where you want it.
CONS
Risk of bashing your head on the clamp
Not particularly discrete
Our final product of the five is another contraption you can attach to your bed. It's effectively like a monitor arm for your iPad and while the marketing amused us (well, me) with comments as such as 'to free your hands in bed' and 'the perfect bed companion', it is in fact a solid solution if you want something a little more semi (stop it) permanent.
The biggest issue with it, besides it just looking a bit like a murderous robot again, is if you position the clamp on your headboard as shown in the image above, you stand a decent chance of fracturing your skull if you suddenly lean back. So don't do that. Everything works as is expected though, so if this is the kind of thing you are looking for, or indeed need, then it won't let you down.
Things to Consider
It all really boils down to whether you want something that you can leave in position or whether portability is a thing for you. Either way, there are solid options for both here. The ultimate aim is to prevent you from dropping your tablet and damaging it. Anything is better than propping it up on the bed as you fall asleep.
Budget
Budget only comes into it if you are prepared to drop close to $200 on the Levo Deluxe Floor Stands. Realistically we can't see a use case for it worth that much, but if you have a specific need then it could be very useful for you.
Our Verdict
Editor's Choice
Best Tablet Holders for Bed
The Moko Tablet Pillow Stand ticks the majority of our boxes. It looks like it is designed for a single purpose, is presentable and portable and you never really feel as though your table it going to get away from you while you watch it. At this price, it comes highly recommended.