Best Cheap Gaming Desk In 2023 (Glass, Steel-Frame, Wooden)
Last Updated on August 14, 2023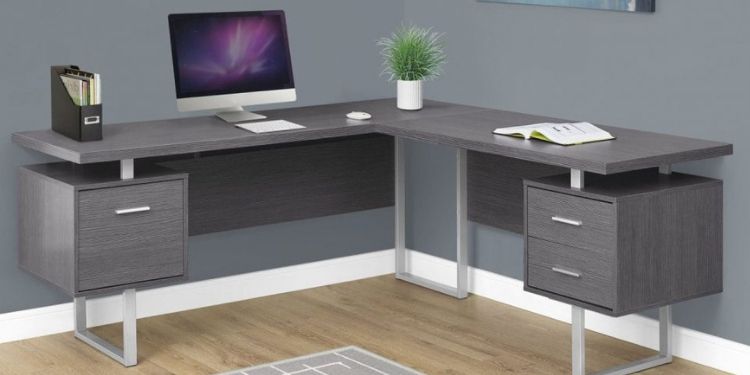 A computer desk not only provides support to your computer setups but also plays a great role in the aesthetics of your desktop PC rigs. Some of these computer desks provide accessories like height adjustability, special-purpose drawers, etc. However, some gamers prefer a plain computer desk for their gaming setup, as it looks cleaner and often has a larger surface area per dollar.
In this article, we will look at some of the best cheap gaming desks for your high-end computer rigs.
Products at a Glance
How we picked the best cheap gaming desks
We made sure to keep a few things in mind when searching for the best cheap gaming desks. First, we tried to pick ones which had decent compatibility with gaming chairs. We also tried to pick sturdy building materials, e.g desks with a solid metal frame. Furthermore, features like cable management, a monitor stand, keyboard tray, headset hooks and other such accessories were prioritized. They tend to make setting up and marathon gaming sessions far easier.
Other things we looked out for when choosing the best gaming desk on a budget included ergonomics – a good gaming desk should provide ergonomic features to support your comfort during long gaming sessions. This includes features like adjustable height.
Our Recommended
Best Cheap Gaming Desk In 2023 (Glass, Steel-Frame, Wooden)
1
PROS
Large surface area
Uses E1 grade desk panel board
CONS
No shelves, drawers, etc.
The first product on our list is DlandHome 63-inch X-large Computer Desk. We put this product at the top of our list because it's a beast of a computer desk that can easily handle a large computer rig; not to mention the quality of the product is really impressive. This computer desk is available in five themes and all of which look fabulous, to be honest.
The base of the computer desk is pretty strong and uses steel walls which are thicker than most of the other computer desks on the market. The top of the computer desk is also made of high quality, E1 grade panel board, which is scratch and wear-resistant.
The desk's height is also adjustable. However it can only be adjusted by about 2 cm. The 63-inch width of the desk ensures that the user will be able to place more than one screen on the top along with the PC, as most of the consumer-grade screens are 20-25 inches long, leaving enough space for even a large PC case. If you only really use a laptop, then there are smaller 55-inch and 47-inch models, as well.
2
PROS
Sleek Design
Dedicated keyboard drawer
CONS
The shelf cannot be taken off
Z-Line Belaire Glass L-Shaped Computer Desk is one of the most elegant-looking computer desks we have ever seen and it offers a lot of features. The curved frame of this computer desk is very unique which greatly enhances the looks of the computer rig.
The desk is comprised of two large, 34" wide by 24" deep parts. These are joined by a third glass piece in the middle that is 24" by 24". The two larger surfaces on either side ensure that large computer rigs can easily be placed on the top. In fact, you can easily put three monitors on this desk if you place the center monitor on the middle surface.
The right side of the desk provides a dedicated keyboard drawer while the left side of the desk provides extra shelf on the top, which does not seem to be removable by any means (unless you are fond of saws).
While this isn't a complete, it is worth warning that this desk is heavy; the whole thing weighs nearly a hundred pounds and its shipping weight is 110 lbs. Not only is it heavy, but, as with any L-shaped desk, you should put it together in the room you plan to keep it in.
3
PROS
Provides a footrest
Steel frame provides a strong foundation
CONS
No shelves, drawers, etc.
The SHW L-Shaped Home Office Corner Desk is a great desk for computer users, especially if you want an L-shaped desk, but don't want to deal with one of the heavier, glass types.
We did see some people complaining about the height of the desk, but it's really not clear why. Despite being roughly the same height as most other desks- okay, it is about a half inch shorter than most of the other desk on this list– this popped up much more often. Perhaps this is an instance where a half-inch makes a large difference for those on the other side of the standard height bell curve?
Other than that, the build quality of this computer desk is really great thanks to the steel frame, and this one is just quiet easy to understand because there aren't much bells and whistles here. So, Without a second thought, this can be a great basic desk for your new PC setup.
4
PROS
Offers a lot of room
The side shelves are very useful
CONS
The surface rubs off rather quickly
The Ameriwood Home Dakota L-Shaped Desk is a desk with a classic aesthetic that can be used as a computer desk due to the large surface area.
One can keep a gaming PC on the right side and the monitor on the left side, which will allow you to have a great view on the PC while being in front of the screen. Moreover, the bookshelves can be used to store books or Blu-Rays which adds some nice compact storage options. This might seem simple, but often desks that are much pricier still just have legs and a top slab.
While the top of this computer desk feels strong enough to hold heavy objects, the texture placed on the surface isn't very durable and might rub-off after a few months. You might want to try some wood stain markers (can't promise how well this would work; we didn't test it) or some alternate, creative solution. This is a good value L-shaped gaming desk which delivers support for gaming monitors
5
The Tribesigns 55" Computer Desk is a great product with a strong frame along with a thick MDF top. This PC desk's assembly is relatively easy (it should only take about 15 minutes).
In a lot of ways, this is really similar to our top pick, or the 55-inch version of our top pick. It even has a lot of colors (actually there are even more color options than the top desk), so you can buy the one which matches your computer rig. Or your gaming chair, headsets or other gaming devices. It means you could also adjust your RGB lighting on such accessories.
The frame of this desk is much thicker than other desks, which not only provides durability but also looks very good. The large 55-inch surface area can be used to place up to two monitors while hosting the PC, speakers, and peripherals.
This desk doesn't come with any drawers or shelves. We would knock it for that more if it wasn't such a common trend with modern desks.
Gaming Desk Buyer's Guide
Buying a desk is not a complex task but some simple steps might be able to enhance your shopping experience and might actually prove to be a life savior, as the safety of your computer rig greatly depends on your desk. Below is a guide for those people who are considering to buy a computer desk for their beloved rigs.
Size of the Rig
First of all, you need to decide the size of the desk you want to buy. If you own a small computer setup that is comprised of a regular ATX casing and 24-27 inches screen, then you might not want to buy a computer table larger than 40 inches.
On the other hand, if you want to place your laptop on the same desk or you own a multi-monitor setup, then we would recommend you buy a computer desk that's at least 55-inch wide.
Material Choice
The material of the computer desk is of great importance and one should not cheap out on the material, especially in case of glass.
The most common material for the top of desks is composite wood, which can vary greatly in strength. However, most is strong enough to hold even the heaviest computer rigs.
Tempered glass is another popular material, although you obviously need to more cautious of its maximum load and how you set down things.
You should also pay heed to the frame's material. Some use weaker metals, like aluminum, and can easily be deformed by heavy things, like if you try to sit on it. Steel frames are best because they are not prone to any kind of deformation usually.
Additional Features
It's also a good idea to key an eye out for extra features that might not be as common, but which are still greatly appreciated:
Keyboard drawer – a dedicated keyboard drawer is a great option for those people who like to place their keyboard beneath the top surface. Most can be pulled in and out; however, not all of them are wide enough for a regular sized keyboard and a mouse.
Footrest – Some of the desks provide a footrest at the bottom, which provides ease of use and can greatly enhance your sitting experience.
Dedicated placements – There are some computer desks which provide dedicated placement for the screen, mobile, DVDs or other usual stuff.
FAQs
Is a standing desk worth it for gaming?
Not in our book. Perhaps if you like games you can quickly dip in and out of. But for longer gaming sessions, you'll want to have a chair which properly supports your back. You could also go for a desk with adjustable height, to switch between standing and sitting.
How much is a good gaming desk?
The price for a good gaming desk depends on what you want and need from a gaming experience. If you spend most of your free time gaming, you might want to invest in something which will stand the test of time. However, if it's your first time purchasing a dedicated gaming chair, you can get something good for around $100-$200 dollars, or even less.
Our Verdict
The Desk For Multi-Monitor Setup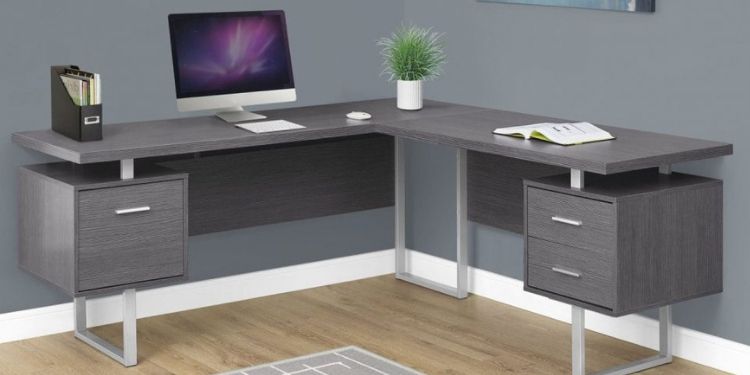 Best Cheap Gaming Desk In 2023 (Glass, Steel-Frame, Wooden)
Our favorite cheap gaming desk is the DlandHome 63-inch X-large Computer Desk. It delivers quality design with enough space for multiple monitors.