Best Laptop Under $600 in 2022
Maximize your laptop specs with these best mid-range models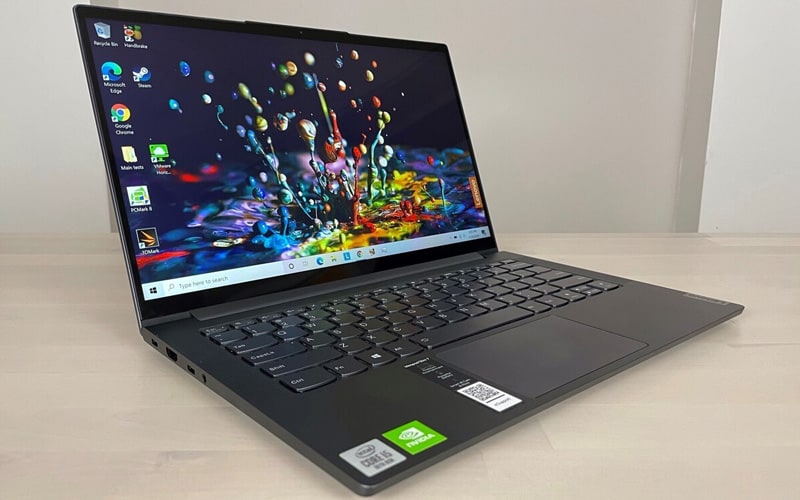 Having a laptop is just as important these days as having a good pair of socks – pretty much everything these days is done online. For this reason, it's always important to make sure that you have a good laptop that can do a number of different things without any problems.
Of course, we aren't all made of money. We don't all have thousands of dollars that we can spend on buying a shiny new laptop. Well, you will be pleased to know that you don't need to be a millionaire to buy a decent laptop for yourself. Sometimes, it's just a matter of having around $600 to get something decent that will work well for everyday use.
Okay, so where do you find these elusive, budget friendly laptops? In our guide of course! Read on to find out about our picks of the best laptop under $600!
It goes without saying that for $600, you most likely aren't going to get an industrial-level, super speedy laptop. That doesn't mean you need to settle for something that could have been made in the late 90s that runs slower than a snail.
In our ranking, we've considered laptop speed, alongside how it performs as a whole for most general, everyday tasks. In addition to this, we've taken the time to think about what sorts of ergonomic properties the laptop has – does it have a comfortable keyboard?, how does the mouse work? Is the lighting on the laptop good?, and can you view the screen from a number of angles without the picture becoming distorted? We've considered all of these important elements to ensure that when you buy your laptop you get the very best user experience for your money.
Best Laptop Under $600 in 2022
Ideal for business and studying
The battery life could be better
Looking for the best laptop under $600? Look no further than the ASUS Vivobook 15. This laptop works like a dream for everyday tasks such as writing documents, browsing the internet and so much more. When you combine all of this with the impressive price tag on the laptop, it's hard to find reasons not to buy it.
The first thing that you're likely to notice about the ASUS Vivobook 15 is the stunning design. Despite the low price tag, this laptop really does look like the kind of thing that you would expect to see for a $1000 budget. The specifications are fairly decent too, though nothing too beefy – a 128 GB SSD, Intel UHD graphics, and 8 GB of RAM, along with an Intel Core i3-1005G1. It won't work wonders in the gaming department, but if you're looking for something for studying and gaming, you could do a lot worse.
You will also be pleased with the connectivity of this laptop. It has two USB Type-A ports, in addition to a power jack, another USB Type-A port on the right-hand side of the laptop, an HDMI 2.0 port, USB Type-C, headphone port, and a place to put a microSD card. All in all, a solid option for people on a budget. The only real issue is that the battery life isn't the best when it isn't connected to power.
The display isn't the best
The HP 15 is a jack-of-all-trades kind of laptop that you can rely on for everyday use. With a stunning design and a comfortable keyboard, you are sure to enjoy using this laptop. Of course, that's not all that it has to offer either!
The laptop features a large 15.6-inch screen and it has a Full HD IPS touch screen. This is particularly handy if you want to make scrolling easier for yourself. In addition to this, the laptop features a 512 GB SSD which runs incredibly quickly. It has a Ryzen 5-3500U processor and a decent 8 GB of RAM. These are very good specifications for such a low price.
The connectivity options on this laptop are very good and the laptop has good speakers, which is perfect if you feel like playing some music while you work or study. It's essentially the ideal laptop for studying and for doing office work. The only real issue with it is that the display leaves a lot to be desired, but it's certainly a solid option for everyday tasks.
Battery life is very good
The screen isn't very bright
The affordability of the Acer Aspire 5 isn't the only thing that this laptop boasts. This is a high-quality laptop that can give you pretty much everything that you could possibly need for a laptop for completing standard computing tasks, such as word processing or browsing the internet.
The specifications with this laptop are actually very strong considering the price. With your purchase, you will get an Intel Core i5 8250U quad-core processor that runs very quickly. You will also have 8GB DDR4 RAM which is great for streaming videos and movies, and especially good for multitasking. The 256 GB SSD is a great touch, too.
If all of this wasn't enough to sell you on the product, the laptop also has a very good battery life. Commuters are sure to love this model. There are great connectivity options and the laptop is very durable. The screen isn't particularly bright though, which is something worth keeping in mind.
A bit heavier than the average portable laptop
As far as budget laptops go, you are sure to love the Dell Inspiron 15. This laptop looks sleek and modern, and features a high-quality performance that is perfect for work in the office.
The laptop features a large 15 inch Full HD screen with anti-reflective properties. It has 8 GB of RAM and a speedy 256 GB SSD hard disk drive. This means that the laptop is fast and efficient – you won't need to worry about waiting around for ages for programs or web pages to load. It has a 10th generation Intel Core i3-1005G1 1.20 GHz Dual Core processor for even faster operation.
In addition to this, the laptop features a decent battery life, so it's a good choice if you want to work away from home. The only complaint that we have about this laptop is that it is a little bit heavier than the average portable laptop, weighing 6.16 pounds. This can make a difference if you're carrying a lot of things such as books, but otherwise, it's a fairly minor complaint as a whole.
Ideal for basic tasks and for office work purposes
The specifications could be a lot better.
Last but not least is the Microsoft Surface Go 2. This is a great choice if you're a fan of Microsoft products and want something with a premium design on a lower budget.
It offers fairly decent performance. It has 4 GB of RAM, 64 GB of storage and it has an Intel Pentium Gold 4425Y dual-core processor. These are certainly not bad specifications, but it is worth noting that you may not be able to carry out any super intense tasks like gaming or graphic design with this laptop. On the other hand, it also has a great battery life so it's good if you're planning on using it away from home or the office.
It's also worth noting the unique design. You can flip it over and use it like a tablet, or you can use it like a standard laptop. It's a solid option if you're looking for a basic-level laptop without many bells and whistles, and you won't need to break the bank to buy it either. Of course, if you are looking for something a little faster that has more power, it may be worth looking elsewhere.
Now, before you press that buy button on one of the picks we've mentioned above, it's really worth your time to thoroughly assess exactly what you are buying. After all, what may be good for one person may not necessarily be a good choice for you. With that in mind, here are a few of the key things that you should be thinking about when you try to buy the best laptop under $600.
You aren't going to be getting anything particularly spectacular at $600 as far as the RAM and processor are concerned. You should, however, be able to get at least 8 GB of RAM for your money. In all honesty, this is all you really need to do most tasks on your laptop, and you can run all sorts of software with this level of RAM. You could run things like illustrator, Photoshop and so much more.
At this price level, you are most likely to find processors like Intel i3 or i5, and occasionally you may find an older Intel i7 processor. In general, if you want a better performance you should be looking for i5 processors or above for the best results.
Laptops come in various different shapes and sizes – you can find two different laptops that look totally different, even if they're made by the same manufacturer. You can find laptops that are super portable on the market. These laptops are usually slim and weigh very little, so they're perfect for businesspeople or for students that have their laptops with them while they're on the move.
You should keep an eye out for any features that may make your user experience even more enjoyable. For example, you can look for laptops that have keys that are spaced apart well so that you can type with ease, or a backlit keyboard in case you like to use your laptop in the evenings or in locations where the lighting may not be the best. Check that the mouse pad is easy to use.
Graphics may or may not be something that you want to take into consideration. Are you going to need dedicated graphics? If you're planning on using the laptop for things such as gaming or graphic design, having dedicated graphics can certainly come in handy. In fact, a lot of visual software and certain games may not run at all without a good quality dedicated graphics card.
If you're planning on watching a lot of videos or you're thinking of gaming on the laptop then it's also worth thinking about the speakers. Are the speakers high quality? If not, you may find yourself having to buy separate speakers for the laptop, which can cost you extra money.
It's also important to think about the laptop's connectivity. Does the laptop have many ports that you can connect to, such as USB ports or HDMI ports? Does it connect to Bluetooth? These things can make a big difference when you're trying to buy a laptop.
If you're looking for a laptop that's portable for your budget, then you may also want to think about the battery life. Sure, you can carry your laptop from your office to a coffee shop without any trouble, but what about when you get to that coffee shop and your laptop dies after five minutes because the battery life is abysmal?
For that reason, you should look for a laptop with decent battery life, especially if you're using the laptop for business or for school. Look for a laptop that can hold charge for 6 hours or more if possible. The most portable laptops generally have better battery life, whereas a gaming laptop won't last as long in terms of battery. If you're using the laptop for everyday tasks, it's best to get a portable laptop with better battery life.
The amount of storage that you get is largely going to depend on what exactly you are planning on using the laptop for. For instance, if you also wish to use your laptop for gaming, then you may want to get a laptop with a higher storage capacity. If you're just going to be using it for typing up notes on Microsoft software then you may not need as much storage. With that being said, it is usually better to opt for more storage unless you already have an external hard drive that you can connect to the laptop. If you want a faster performance then an SSD drive will be handy for you, though these can be quite expensive.
The operating system of your laptop can have a big impact on how it works as a whole. There are a few different operating systems on the market and there isn't really one that's 'the best' – it mainly depends on your own personal preferences. The main operating systems are Windows, Chrome OS or MacOS.
In general, you will usually get the most flexibility out of a Windows 10 operating system. It's the most common operating system that you'll find, and it works with a wide range of different programs.
MacOS is an exclusive operating system to Apple products, such as the MacBoo. It operates similarly to Windows 10 in many respects, but with a few key interface changes. It is worth noting though that most MacBooks cost quite a bit of money unless you're buying a model that's a few years old, so the chances are that you may not find a MacOS operating system on a laptop under $600.
The final option is the Chrome OS operating system. You will usually find this operating system on devices such as chromebooks. It's an operating system made by Google, it's secure to use and the interface is easy to navigate. It works very similarly to windows, and it comes with the Google Chrome browser built in. This is a fantastic choice for working online, especially if you're particularly fond of Google packages.
Whether you're spending $600 or $2000, you want to find a laptop that is going to last. The last thing you need is to buy a laptop that lasts for less than five minutes, so you end up spending all that money again just to buy something new. For that reason, it's a good idea to consider the durability of the laptop. Is it made out of high quality materials, is it scratch resistant? You can usually see how durable a laptop is by checking other online reviews to see what other consumers think.
Buying a great laptop on a budget doesn't need to be difficult – sometimes you just need to know what you're looking for! These are a few of the best laptops under $600 that you can enjoy and if you want our opinion on the absolute top pick, we think the ASUS Vivobook 15 can't be topped. It has an attractive overall design, is both slim and light, and boasts decent enough specs for a variety of different uses.
Hopefully, now you can browse and work with ease on a high-quality laptop that didn't break the bank!