Best LGA 1155 CPUs in 2023
Five CPUs That Will Breathe New Life into An LGA 1155 Motherboard
Last Updated on November 27, 2023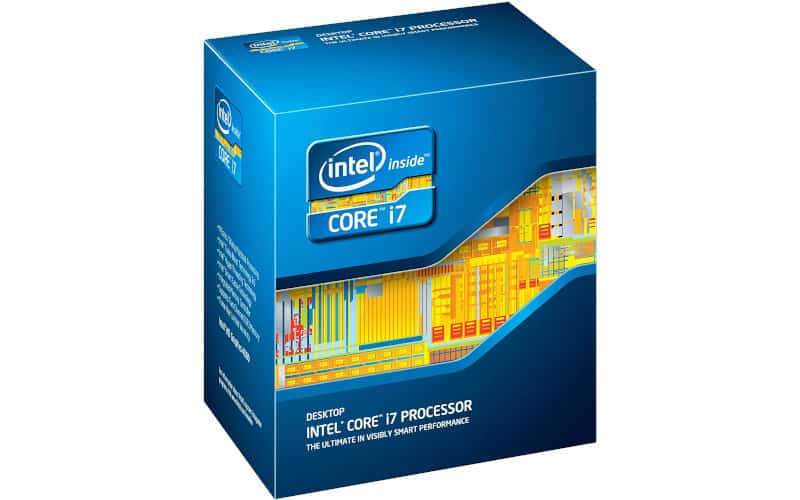 It's 2022, and the LGA 1155 socket has been around for around 10 years. So while it's tin anniversary time, it's worth considering whether the socket is still a solid choice if you're looking to pull parts for a flexible workstation – or a pretty functional gaming setup for older titles. Can't find a second-hand CPU, or maybe you don't want one? These are the best LGA1155 CPUs in 2022.
The LGA 1155 socket encompasses two whole generations and one full tick-tock cycle of Intel CPUs, so there's tons of compatible hardware to check out. Anything with Sandy Bridge or Ivy Bridge microarchitecture is a possibility. Sure, if you've been running the same socket for over 10 years, you may want a change for yourself.  But, if you're just looking to replace a cooked CPU, or considering a build from parts, this guide is for you.
Cyber Monday deals
Before we continue, we've spotted these top Cyber Monday CPU deals, which could be good options if you want to save some money on your new purchase. You can also check out our Cyber Monday CPU deals page.
AMD CPUs
Intel CPUs
Products at a Glance
Features and specifications
It's not as though LGA 1155 CPUs are new to anyone by now, and of course, exact specs will depend on the CPU you choose so the features and specifications to keep in mind are fairly simple. First off, we're in a 2012 tech dimension here: it's the era of Full HD to 1440p gaming.
You'll certainly want to pair your CPU with a suitable graphics card though, and that may even mean fitting an NVidia 3060Ti for happy gaming results – although you should check a bottleneck calculator, like CPU Agent to see what limits that will bring. RAM-wise, you'll be looking towards DDR3-2400 sets as a maximum specification for your system.
The LGA 1155 socket encompasses two whole generations and one full tick-tock cycle of Intel CPUs, so there's tons of compatible hardware to check out. Anything with Sandy Bridge or Ivy Bridge microarchitecture is a possibility.
When you've been running the same motherboard for over 10 years, it's only natural for you to ask yourself if you've taken things as far as you can go. You wonder if it's time to retire the old fella, but before you say your tearful goodbyes, take a quick look at our list of the five best LGA 1155 CPUs.
Our Recommended
Best LGA 1155 CPUs in 2023
1
PROS
4 hyperthreaded cores are perfect for multitasking
Ivy Bridge architecture offers the best LGA 1155 performance
Very energy efficient
Large thermal capacity for overclocking
CONS
Heats up quite fast during OC, so you'll need to optimize cooling
Quite pricey for a 9-year-old CPU
If you're determined not to fall too far behind in gaming or general computational contexts, the Intel i7-3770K is hands down your best option. Featuring four hyperthreaded cores with 8 threads in total, multitasking isn't a problem. You'll even be able to run pretty advanced video editing or 3D rendering software without any hiccups.
Being that this an Ivy Bridge unit, it's not quite as old and is slightly more advanced than a lot of other LGA 1155 options on the market, so it has held its price very well – but if you're looking to shock some life into an aging motherboard, the i7-3770K is what you need.
That the Intel Core i7-3770K is the best LGA 1155 CPU is objectively indisputable. Built on the Ivy Bridge blueprint, it promises slightly faster performance, lower energy consumption, and better security features than anything the Sandy Bridge series has to offer.
While you're stuck with a maximum of four cores no matter which LGA 1155 CPU you settle on, the i7-3770K features the cream of the 2nd and 3rd gen core crop. Not only do they provide faster per-core performance than most other LGA 1155 CPUs, but they also feature hyperthreading, offering huge potential for multitasking. If you appreciate versatility in a PC, the i7-3770K won't disappoint.
Moving on to gaming specifically, you can absolutely punch some decent frame rates out of this CPU in 1080p when paired with a decent mid-range CPU such as the GTX 1070 Ti or GTX 1660 – possibly even an RTX 3060. Anything beyond that and you may witness some bottlenecking.
With a base frequency of 3.5GHz and a boosted rate of 3.9GHz, this CPU's clock speeds land right in the sweet spot for some silky smooth gaming. Being that this quad-core monster only pulls 77 watts and has a relatively high thermal headroom, overclocking can be fruitful, stable in the region of 4.6GHz with air cooling, but the heat ramps up pretty fast, so we'd recommend a custom loop.
Not that you'll really need it, but the i7-3770K comes loaded with an integrated Intel HD 4000 graphics card. It's no replacement for a discrete GPU, but it's a nice touch from Intel.
2
PROS
4 hyperthreaded cores are great for most workflows
Unbeatable price to performance ratio
Decent 3.4GHz and 3.9GHZ clock speeds
Can be overclocked to around 4.3GHz
CONS
Not quite as much headroom for OC-ing as the 'K' edition
Base is 1GHz below the recommended clock speed for gaming
The standard i7-3770 bears a striking resemblance to the K-series edition. It's a hyperthreaded quad-core, top-tier Ivy Lake processor with exactly the same 32GB memory and DDR3 1333/1600 support. It's fantastic for gaming, casual use, and as a workstation too. So, what exactly is the difference here? Well, for one thing, cost. And that's the most significant defining factor between them. The only areas costs have been cut are the 1GHz lower base clock speed and slightly less thermal headroom for overclocking, so if you want to get the best bang for your buck, check this i7 3770 out!
Our second LGA 1155 champion is the i7 3770, which is virtually the same chip as our top pick, but it can be snatched up for a lot less. We're talking almost $200 less than the K-series chip. That probably sends your spidey senses tingling, alerting you that something's not quite right, and while it's shrewd to be weary, honestly, it's just a fantastic value-for-money chip.
That's not to say there aren't some minor differences. They're just majorly disproportionate to the huge amount of money you save. All you're missing out on when you drop that 'K' suffix is 1GHz of base clock speed, leaving you with 3.4GHz, yet parity remains intact in terms of boosted rate, maxing out at 3.9GHz
The only other difference between this and the K-series chip is that you don't get quite as much thermal headroom for overclocking, but you can still push 4.3GHz without too many problems at all. Besides these minor diminishments, they might as well be the same CPU. They have the same memory configurations and support, and the 3770 even has the same integrated Intel HD 4000 graphics card.
So, if the i7-3770K was a little rich for your blood, treat yourself to this chip, and give yourself a pat on the back for being such an awesome bargain hunter.
3
PROS
Fast single-core performance ideal for gaming
Great clock speeds reduce latency
4 cores are all you need for some immersive gaming
Integrated Intel HD 2000 graphics card
CONS
Not brilliant for multitasking
Graphics card isn't as good as our top picks
Coming in at number three we've got one of the best LGA 1155 i5 processors. Some gamers may be put off by the fact it's a single-thread quad-core CPU, but therein lies this chip's biggest strength. The single-thread cores excel during focused tasks, giving this chip a similar gaming performance as our top two cards. The price you pay is a reduced capacity for shouldering parallelizing workflows, but if all you're after is a standalone gaming CPU, the i5-3570 is everything you'll need to play most modern games.
Our first i5 offering may seem a tad on the humble side, but just wait until you see what this thing can do in real-life gaming scenarios. Teamed with a half-decent GPU, in 1080p resolutions with the settings on high, you can expect it to break the desired 60 fps average without breaking a sweat. It even holds the 50fps threshold in 1440p on high settings.
Why is this? The single-thread cores are designed to go hell for leather during individual applications, so as long as you don't overload it with tasks, it will perform incredibly well, especially for a card that costs less than $100.
Sharing the same 3.4GHz base clock speed as the i7 3770, it only drops a 1GHz from our top two pick's 3.9GHz maximum boosted rates. These epic clock speeds are another reason why this chip doesn't lag behind its more expensive CPU cousins.
What this chip is lacking in is the ability to deal with threaded workloads, so if you often challenge your CPU with simultaneous applications and demanding programs, it's probably not the chip for you.
4
PROS
Great price
Decent clock speeds should be able to handle most modern games
Integrated Intel HD 2000 graphics card
4 cores make this a great standalone gaming CPU
CONS
Poor performance during threaded workloads
Higher power consumption means higher temperatures
No future-proofing means you'll have to replace sooner rather than later
Integrated graphics card is a little weak
From the not-so-distant topiaries of Ivy Bridge, we have finally arrived at the sizable 32-nm Sandy Bridge, but before we cross, a few preliminary observations. Sandy Bridge microarchitecture isn't quite as efficient as Ivy Bridge, and that's in terms of both performance and power consumption, but that's not to say this chip isn't perfect for some.
It's still a quad-core processor: the single-thread design can really move during most gaming scenarios, pumping out playable frame rates in 1080p on high settings. Again, this i5 isn't ideal for concurrent workloads, so if you're looking for an all-rounder chip, you may want to scroll back up and reconsider the hyperthreaded options.
Clock speeds are impressive, that 3.5GHz sweet spot sitting right in the middle of its 3.3GHz base and 3.7GHz boost frequency. You can still run 3.5GHz requirements games on that 3.3GHz base, but switch on Turbo Boost Technology in the BIOS and you should be able to play roughly 71% of the top 1000 games.
We'd say the largest difference between this chip's Sandy Bridge building blocks and those of Ivy Bridge is the power consumption. The 95-watt draw means a hotter system. Add that to the locked multipliers and you've got an OC-ers nightmare.
5
PROS
Integrated Intel HD 2000 graphics card can be OC-d meaning for very basic older games, you may not need a discrete GPU
2 hyperthreaded cores enable basic multitasking
Fantastic budget option
3.3GHz clock speed should be plenty for most games
CONS
Dual-core design limits performance
Not suitable for some newer games, nor is it futureproof
No Intel Turbo Boost so you're stuck with base clock speeds
Featuring just 2 cores, you could say the i3-2120 is a little light on hardware, but thanks to Intel's hyperthreading technology, you have four threads for handling basic multitasking. But it is best to let it focus solely on the task at hand when gaming.
Many will turn their nose up at the simplicity of this CPU…it doesn't feature Intel Turbo Boost technology, and it can't particularly be overclocked. Well, we see the i3-2120's stripped-down nature as endearing. It's perfect for a young gamer, a beginner gamer of any age, or for those who enjoy playing older games.
The fact that it's not the cheapest chip on our list is a testament to its abilities and relevance. The 3.3GHz clock speed may be just short of the desired frequency for gaming, but it can still play most older games.
One thing we will say is that even with 2 hyperthreaded cores, the i3-2120 isn't particularly performance-focused, so if you need a little bit more even in an older socket-based system, you will have to fork out for a more powerful processor.
Intel vs AMD
The two big silicone slingers at the moment are Intel and AMD. Up until very recently, Intel CPUs were regarded as the fastest for gaming, their single-core design, excelling during focused workflows. After years of trying, AMD has finally taken the gaming throne with their latest generation of Zen 3 CPUs.
Historically, AMD is seen as more of a gamer-friendly brand as they produce many backward compatible CPUs whereas Intel drops motherboards like they're going out of style. AMD CPUs also usually start at slightly lower prices than their Intel equivalents, but we don't need to worry so much about that in this instance.
Cores and Threads
Once you've settled your internal Intel/AMD debate, the next thing you should consider is core-count and core style. Cores are the fundamental aspect of any computer processor. They're in charge of managing data and executing instructions. Generally speaking, the more you have, the better your PC will run and the more it will be able to do, especially simultaneously.
Core threads are sort of the task managers of each core. There are only ever one (single-threaded) or two (hyperthreaded) threads per core. Single-thread cores offer swift support for singular tasks. Hyperthreaded cores enjoy supporting multiple applications at the same time.
Architecture
The architecture of your CPU refers to its basic building blocks as well as most functionality. It's a little reductive, but new architecture is typically preferred to older generations. New architecture almost always allows for a greater number of CPU cores whilst simultaneously lowering power consumption. A newer design may also have entirely new processes or hardware unseen in previous generations.
LGA 1155 sockets are compatible with two architectural generations of Intel Processors: Sandy Bridge and Ivy Bridge. Ivy Bridge is the latest of the two, but it's what's known as a tick update, meaning it's only slightly improved over Sandy Bridge, rather than being a whole 'tock' step up.
Our Verdict
So, those are our LGA 1155 CPU suggestions, not bad, ay? As you can see, there's no need to commit that LGA 1155 motherboard to the towering heights of your local landfill just yet. There's still plenty of piss and vinegar coursing through its fiberglass skeleton.
The i7-3770K is objectively the best chip of the bunch, so if you're looking for something that won't just blow away those LGA 1155 cobwebs, but tear them away in a silicone storm, it's the one to go for. The high clock speeds and hyperthreaded quad-core design is ideal for almost all modern computational applications.
Alternatively, if we were picking out one of these CPUs today, we'd go for the i7-3770 as it has very similar performance and a price tag that defies all reason. If you want to go even cheaper, though, the i5-3570 has those punchy single-thread cores itching to push your games to the limit.
Our penultimate CPU, the i5-2500, is another awesome budget option, and despite that Sandy Bridge architecture, during most games, it can really fly. It's not for the OC addicts out there, but if you have a lower-end LGA 1155 board, it's a lovely fit. Finally, our dinky dual-core dynamo, the i3-2120, is great if you're just starting your gaming adventure.