Best cheap gaming chair in 2023 – our top budget picks
Comfortable gaming on a budget
Last Updated on August 7, 2023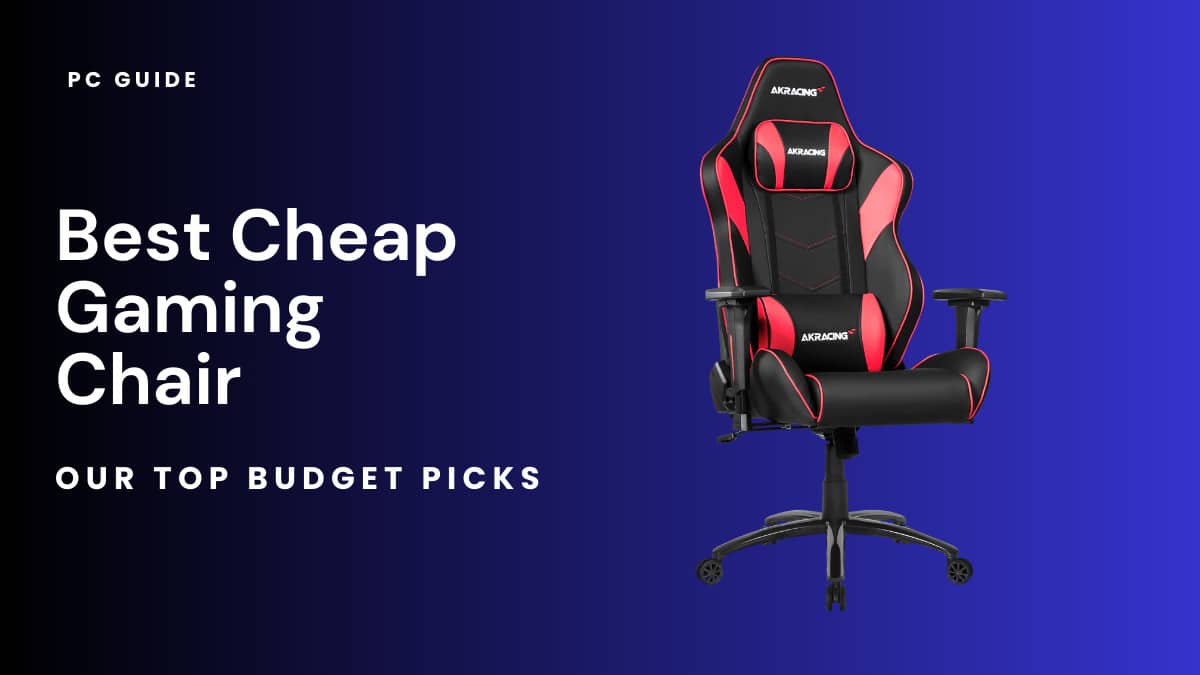 If you're looking for the best cheap gaming chair, we've got you covered with our top picks to give you the most bang for your buck.
Often an afterthought when piecing together a gaming setup, a gaming chair can not just complement a rig but is vital for comfort and proper back support for long hours of gaming. After all, the majority of time spent in front of a PC involves sitting in a chair.
Chairs come into the equation when most of the budget has already been set aside for hardware, leaving very little to play with. It can be hard to justify spending half the cost of a decent gaming PC on what is often incorrectly seen as a glorified office chair. They are specifically designed for long gaming sessions through purpose ergonomics and gaming-centric features and are worth the money.
Fortunately, the gaming chair market is no longer restricted to $500 or more options, and it's entirely possible to pick one up at an affordable price without sacrificing comfort and ergonomics. While cheap isn't always synonymous with quality, and there are justifiable concerns that budget options won't stand the test of time, we've gathered together the very best cheap gaming chairs that shine for their solid build, comfort, and ergonomics. With these, rest assured that you won't be hampered by a case of buyer's regret months down the line and instead view it as a smart long-term investment.
So if you have been looking at the Secretlab Titan or PC gaming chairs from Herman Miller has caught your eye, this page is not for you. More high-end offerings can be found in our general Best Gaming Chairs page is probably more up your alley. Here we are focusing on great gaming chair deals for the lighter pocket.
Products at a Glance
How We Picked
Below, we've rounded up reviews of what we consider the best cheap gaming chairs currently available and suited to different needs, gaming setups, and budgets within the low-priced range.
We concentrated our search on key criteria – comfort, ergonomics, padding, build quality, adjustment options, and upholstery fabric – which led us to five gaming chairs that stood above the rest within the budget range – perfect for a long gaming session. Looks also factored into the process to a certain degree – half the appeal of a gaming chair is the unusual design.
We focused on chairs that sell for cheap compared to expensive brands like Secret Lab and Herman Miller. None of these are what can be considered premium options and consequently don't include luxury features such as the highest quality fabrics and PU leather, memory foam, and elaborate multi-tilt mechanism with exotic lumbar support and a head pillow lined with mink fur. Nevertheless, our picks of the best gaming chairs will offer excellent comfort for hours of play at a fraction of the price. Let's dive in.
Our Recommended
Best cheap gaming chair in 2023 – our top budget picks
1
PROS
Great price
Lumbar support pillow
Metal frame
High-quality PU leather
CONS
No padding and limited adjustments on armrests
Padding loses some of its shape over time
For our best all-around best cheap gaming chair, we chose the GTRacing Pro Series Gaming Chair. It borrows the now ubiquitous bucket seat racing style popular in racing chair design to offer excellent comfort and ergonomics, all while not hitting the wallet too hard. So while it may not be the best gaming chair on the market, it's certainly our favorite cheap one.
Much like the AKRacing Core Series EX, it incorporates many features of much pricier chairs. A robust metal frame combined with a five-point base and heavy-duty casters allows weights up to 300 lb. A smooth, high-quality PU leather upholstery, a generous layer of foam padding, and a recessed seat with raised padded wings combine to ensure the GTRacing Pro Series Gaming Chair maintains comfort for long hours.
Adjustable lumbar support pillows and head pillows and a full-length backrest aligned to the spine's shape provide generous all-around support. Alongside, there's also an array of adjustment options – vertically adjustable armrests, 360-degree swivel, 90 to 170-degree reclining and rocking, and seat height.
As for negatives, the armrests lack padding and don't swivel, limiting just how much they contribute to the GTRacing Pro Series Gaming Chair's overall comfort. Another point is that while the foam padding on the backrest and the cushions are firm and supportive, the seat does tend to lose some of its shape over time unless fluffed up regularly.
The GTRacing Pro Series Gaming Chair does well to avoid the prohibitive price usually associated with gaming chairs without compromising ergonomics and comfort. It is a feature-full option for those looking for a gaming chair under a price point of $200.
2
PROS
Comfortable
Steel Frame
Supportive cold-cured foam padding
CONS
More expensive than other cheaper gaming chairs
If a leather gaming chair isn't your cup of tea, then the softer feel of a fabric chair such as the AKRacing Core Series EX is an excellent option. Developed by the folks over at AK, who has cultivated an image as a reputable brand in the gaming chair space, the AKRacing Core Series EX edges more towards a luxury chair but with a more reasonable price tag.
Gaming chair aesthetics often dip into over-the-top designs that aren't to everyone's taste. The AKRacing Core Series EX gracefully sidesteps the issue with a sleek, understated look that will lend an air of professionalism to your gaming setup. It's available in several colors, including sober black and more adventurous red.
Durability is assured thanks to a one-piece all-steel frame. Simultaneously, 50 to 55 kg/m3 density shape-retaining cold-cured foam padding paired on the seat base with high quality, breathable fabric upholstery on both the front and back guarantee comfort. Ergonomics are taken care of thanks to an adjustable lumbar support pillow and headrest, 3D armrests, backrest curvature that matches the natural shape of the spine, and a range of adjustments for seat height, tilt angle, tilt lock, and four-mode recline up to 180-degrees.
Officially the AKRacing Core Series EX supports heights between 160 and 190 cm, weighs between 55 and 115 kg (300 lb), and features a generously sized seat and backrest, making it perfect for larger users looking for the best gaming experience.
With a price slightly higher than most other budget options, be prepared to pay a little more for the AKRacing Core Series EX, though.
3
PROS
Carbon fiber leather
Adjustable integrated lumbar support
Wide profile suitable for larger body types
Weight capacity 300lb
CONS
Cushioning is supportive, but more on the stiffer side, which might not suit all
As a cheap alternative PU leather upholstered gaming chair at a lower price, we suggest the AutoFull Gaming Chair. The AutoFull Gaming Chair is particularly suitable for taller and bigger users due to its wide backrest and seat. Heavy-duty materials, including a high-load bearing steel base and ergonomic metal frame, help in that respect too and can support a weight capacity of up to 300 lb.
While the AutoFull Gaming Chair does feature a detachable lumbar support cushion like many models on our list, it also features integrated lumbar support adjustable thanks to a twist knob mounted on the side of the backrest for easy tinkering. Add to that good overall ergonomic shape and fully adjustable 3D armrests with a car-style lever, multi-splice backrest cushioning, an adjustable headrest, height adjustment, and 90 to 155-degree reclining; it's a breeze finding a comfortable position. For the price, it's astounding the range of adjustments AutoFull squeezed into this chair.
The only real gripe we have with the AutoFull Gaming Chair – and this is subjective – is that the cushioning is stiff rather than plush. This helps maintain better posture and is comfortable but may not suit everyone, notably those who want a comfier feel alongside good support. That said, the blend of carbon fiber leather and soft waterproof PU leather feels great to the touch, and a stiffer feel definitely comes into its own the longer you use the chair. No loss of shape or sagging foam here no matter how exciting your best gaming exploits are.
4
PROS
Massage lumbar pillow
Durable steel frame
350 lb weight support
Affordable
CONS
Armrest adjustments are limited to height
While we'd generally warn against gimmicky features as they disappoint more often than not, those looking for an integrated massage function should consider the Blue Whale Massage Gaming Chair.
Of course, the main attraction is the USB-powered massage lumbar pillow that works to relax and reduce fatigue. Allied to this are a removable headrest, wave-patterned backrest support, and wide, curved seat cushion for a pretty complete ergonomic game chair package that remains comfortable as the hours pass.
Faux leather upholsters the chair, and while not as pleasant to the touch as more expensive chairs, it still feels pleasant when paired with the high-elasticity and high-density foam cushioning that covers the chair. A large, sturdy metal frame can handle weights up to 350 lb making it suited to larger body types.
On the adjustment front, the Blue Whale Massage Gaming Chair features a 360-degree swivel, a four-mode adjustable recline from 90 to 155 degrees, a 20-degree rocking function, a tilt lock, and seat height adjustment. The Blue Whale Massage Gaming Chair also has the added benefit of being easy to assemble. Armrest adjustments are limited to height, so no 3D tinkering, which detracts from the overall versatility of the chair.
Features and considerations for the best cheap gaming chair
Height and Body Type
Not all gaming chairs suit every person. The wide variety of heights, body types, and sitting positions influence how a chair will feel to a particular person. Some chairs are more suited to taller or shorter users by design, and it's crucial to buy one that suits you.
Similarly, not all chairs can support all body types, which is why most manufacturers list a weight limit, more often than not, starting at around 200 pounds and climbing higher for some models. Much like height, ensure your chair of choice suits your body type.
While taking this into account, we highly recommend looking for chairs with a decent spread of adjustment options. These are effectively the tools that will allow you to shape the chair to your needs and find a comfortable position.
Don't Skimp On Ergonomics
It's easy to reduce a chair to simple support for the posterior and view it as a superfluous expense, but a good chair serves a more important role, which is to promote good posture and safeguard the neck, spine, and shoulders to avoid pain. In other words, ergonomics, and we recommend not messing around when it comes to the possibility of long-term damage, even if it means spending a bit more money.
Look out for built-in lumbar support, whether that be pillows or integrated into the backrest, and related adjustability options. Similarly, some chairs ship with adjustable headrests and armrests to help hone in on the right fit for good support during lengthy sessions.
In the same vein, you'd associate comfort with generously padded cushions, but these tend to cause pain after long-term use, so look out for chairs with firmer designs that support rather than a cushion. Manufacturers are slowly phasing out softer designs due to the demand for ergonomic features, so it's relatively easy to find suitable chairs. All those in our guide offer good ergonomics.
FAQ
Do I Really Need a Gaming-Specific Chair?
Ultimately, a chair is a chair, but not all chairs serve the same purpose, and it's the added functionality and features that set gaming chairs apart. They are specifically designed for long periods of gaming.
While similar to office work, gaming is generally a more relaxed affair, and gaming chairs come with a wealth of options to match. These range from padded headrests and armrests to more bespoke features such as more pronounced recline options and bucket-style seat designs. As you can see, these are not what you'd associate with the typical office chair.
A gaming chair also has the added benefit of being suitable for everyday computer use and work, furthering its all-round value as it has uses beyond gaming. Whether you need one is subjective, but gaming chairs' growing popularity suggests that serious gamers find a lot of use and value in gaming chairs.
Is a cheap gaming chair worth it?
We'd say going for a more entry-level gaming chair is perfect if you're trying to keep costs down, especially since many of the sub $100 – $150 chairs are actually very high quality for the price. If you want to spend a little more and gain more functionality and better build quality, we'd recommend checking out our ultimate picks for the best gaming chairs available today.
Our Verdict
Its ergonomic racing chair design, comfort, and range of adjustments make the GTRacing Pro Series Gaming Chair a worthy choice for anyone looking for a cheap gaming chair. Designed with extended hours in mind, it should quickly be given a place of honor in your gaming setups.
If you prefer a fabric gaming chair, then we can't heap enough praise on the AKRacing Core Series EX, which is frankly a steal for the price and is just as impressive as the GTRacing Pro Series Gaming Chair.
For those looking for a lower-priced PU leather gaming chair paired with surprising ergonomic flexibility, the AutoFull Gaming Chair is an excellent choice. Similarly, we recommend the Blue Whale Massage Gaming Chair for those looking for an extra bit of flair whatever video game you are sporting and functionality courtesy of a massage function.
Finally, the OFM Essentials Racing Chair wins out for pure value. It may have a low price tag, but it certainly delivers everything you'd want from a gaming chair fit for long periods of gaming.
With that, we'll bring our guide and review of the best cheap gaming chairs to a close. We hope you've found it informative, and it goes some way toward helping you find a cheap gaming chair that suits your needs. Have any questions? Don't hesitate to get in touch via the comments section, and we'll be sure to respond.
If you think we have missed one of the best budget gaming chairs on the market today, be sure to let us know in the comments below.