Best Smart Bulbs For Alexa in 2023
Automate your home lighting with the best Alexa bulbs
Last Updated on April 27, 2023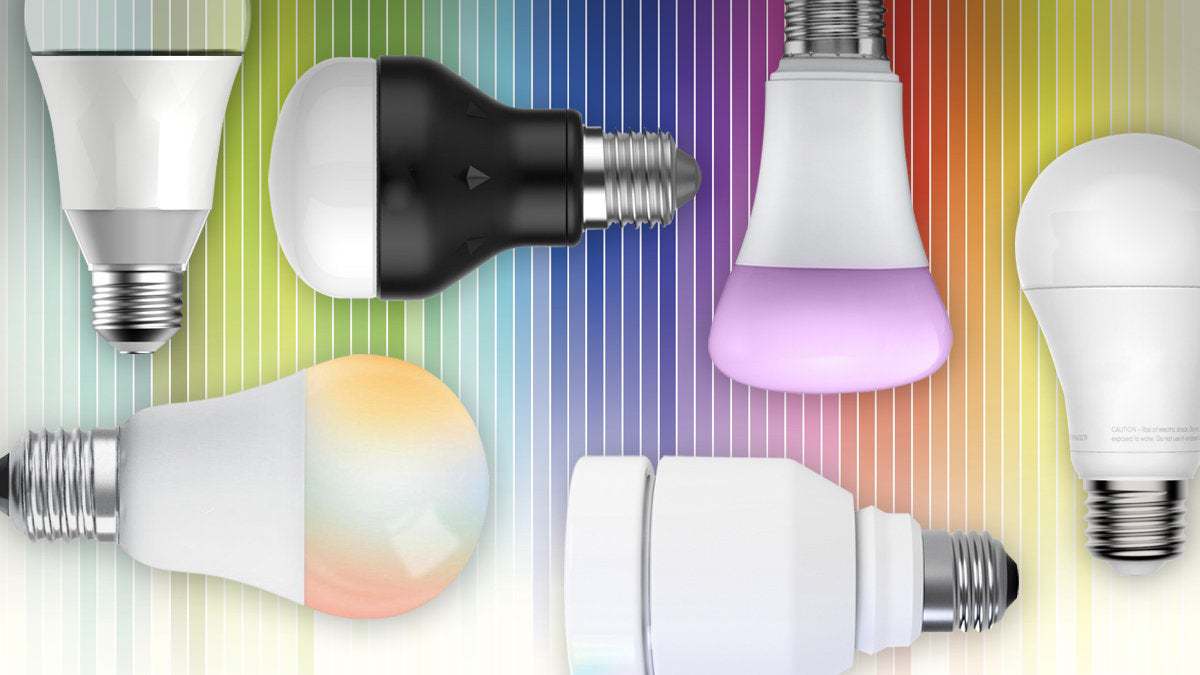 The best smart bulbs for Alexa come in handy in today's rush-out-of-the-door lifestyle. Forgot to turn off the lights? Don't worry, just ask Alexa to turn them off via voice controls or use the Alexa app via your smart handset or tablet. Want to set your smart lighting system up for various events, or just time different bulbs to come off and on at different times? The best smart bulbs for Alexa allow this dream to become a reality.
There's no wiring or electrical work to be done either. Simply buy the right light bulb fitting for the corresponding female fitting, plug it in, and sync up directly to Alexa or to the necessary hub dependant on which bulbs you choose. If we're being honest? There's no need to buy all singing and dancing best smart bulbs for Alexa solutions if you just want a handful of bulbs to turn off and on via voice commands. 
Products at a Glance
Best Smart Bulbs For Alexa - How Did We Pick?
As usual, we wanted to cater to every potential user. From someone who needs multiple lighting options to kit out a larger home, office, or venue to a normal user who just wants their lighting downstairs to be voice-controlled, we've got you covered. The range of best smart bulbs for Alexa we've chosen includes expensive bulbs powered by hubs to simple WiFi bulbs that connect directly to Alexa.
Our Recommended
Best Smart Bulbs For Alexa in 2023
1
PROS
800 lumen
Around 30% cheaper than its competitors for the same product
CONS
No Zigbee or equivalent hub compatibility
Nirebird color-changing smart light bulbs are big contenders for the best smart bulbs for Alexa title. They have the same if not more features than the competition for a price tag that will compliment anyone's wallet. These best smart bulbs for Alexa have WiFi functionality built-in and support 2.4Ghz connections, which means every wireless router should be able to connect up. 
WiFi smart bulbs are normally the easiest to set up. Using a third-party app to connect to your WiFi network, Nirebird smart light bulbs will then connect up to Alexa using the necessary third-party skill, which usually shares the same name as your setup app.
This set of four or six smart bulbs should cover a lot of people's needs. The dimmable 800-lumen bulbs feature around 16 million colors which are fully customizable through the Alexa app. As the final nail in the competition's coffin, these smart bulbs have very similar specs as high-end bulbs at the fraction of the price.
2
PROS
Bluetooth Low Energy Mesh 5.0 ensures great coverage
60W Equivalent @ 800 lumens
Sengled is positioning itself as a budget alternative to Philips Hue, offering similar products for a considerable markdown in price. Although some of their marketing material is a bit questionable, such as Bluetooth smart bulbs being a great option as they don't slow down WiFi networks (WiFi bulbs will not slow down any network), they make good smart bulbs.
Featuring a 3-year warranty and U.S.-based live customer service, there's certainly an element of brand confidence when purchasing a Sengled smart bulb for Alexa. These Bluetooth-compatible bulbs are pretty much a plug-and-play product. Simply screw the bulb into your chosen light fitting (make sure you buy the right light fitting) and set them up using Alexa.
You can then voice control your light bulbs, with these smart bulbs featuring dimming and scheduling support. This kind of support comes in really handy when making it look like someone is home when you're away on a business trip or on vacation. The Bluetooth low energy mesh keeps these smart bulbs for Alexa connected, even if one or two are too far away from your Amazon Echo.
3
PROS
60W and 75W
Light recipes for different mood lighting
For someone who wants the pedigree of Phillips Hue without going to town on their other products and setting up a Philips Hue bridge, these smart bulbs are for you. Granted, you'll only be able to set up ten bulbs compared to the hue bridges max capacity of just over 50, but if you're looking at finding 50 smart bulbs, chances are budget isn't too much of an issue.
With that being said, you'll be losing some functionality via the hue app by having Hue bulbs just running off Bluetooth. Timers and remote turn-offs being amongst them, but you should be able to control these features via the Alexa functionality instead. Worst-case scenario, they are a good stop-gap for someone looking to upgrade their lighting system to a Hue bridge supported setup down the line.
We have to say, the color 'hues', design, and unique ambient features to make the bulbs pop. It purely comes down to personal preference whether or not these differences warrant sinking an extra $100 when compared to cheaper brands that pretty much do the same job. For someone looking to invest in Philips Hue brilliant selection of lighting solutions, it probably is worth it in the long run.
4
PROS
Energy-saving 60W bulb
Compatible with Alex and Google Assistant home hubs
CONS
Zigbee compatible hub needed
Unlike the previously showcased Bluetooth bulbs, these Sengled smart bulbs for Alexa require a Zigbee hub. In a similar fashion to Philips Hue, the Zigbee hub is needed to hook up multiple devices to your smart home network. But the great thing about the Alexa Amazon Echo range is that some have a Zigbee hub built-in.
The Zigbee connection supports both 2.4Ghz and 5Ghz WiFi signals, which other smart bulbs for Alexa don't support. The chances are you'd be absolutely fine with 2.4Ghz connections, but for households with multiple smart bulbs, 5Ghz just ensures speedy voice controls, etc.
Brightness can be adjusted from 1%-100% alongside these smart bulbs packing 60W equivalent of light squeezed from 9 watts. They support timers, schedulers and will look great in any home lighting setup. In fact, they'll look great in commercial setups too.
5
PROS
Light recipes for different mood lighting
Connect up to 50 lighting products
CONS
An expensive option for just light bulbs
When people talk about Wifi lighting and the best smart bulbs for Alexa, Philips Hue normally comes up. Philips Hue setups are great for larger setups that rely on solid connections over large areas. It's also a great choice for intuitive and interactive lighting that responds to what's going on whilst gaming and watching films. Ambient lighting is a big selling point for Philips Hue, but ultimately their products aren't suitable for small setups or for someone who literally wants a bulb to turn on and off with their voice.
Considering users on a smaller budget, it's probably not a great idea to invest in Philips Hue. It can cost upwards of $700 for a Hue hub, three smart bulbs, a gradient strip for your TV, a sync box that allows the light strip to display ambient lighting in sync with your TV, and maybe a portable light or two. Philips Hue products always have a great build quality and come with unique features, but these are high-end products for big-budget smart lighting.
If you have that big budget, go for it and enjoy yourself. But for more modest shoppers, there are smart bulbs out there at a fraction of the cost that has similar features. When it comes to the best smart bulbs for Alexa, you can say Philips Hue is the best, and they are up there, but consumers are paying for a brand above all else.
There are so many options when picking the best smart bulbs for Alexa these days, one could say there are too many products. It comes down to what you'd like to do with the bulbs and on what scale. If you're planning on kitting out a large home or venue with smart bulbs, it's a good idea to buy smart bulbs that work with a hub, such as Zigbee and Philips Hue compatible options. Looking at the smart bulbs on a smaller scale, a normal multi-color smart bulb does the job. They do everything a premium bulb does for the most part, and the range on them is more than enough for most homes.
Do I need a smart hub for smart bulbs?
Yes and no. Normally the product description tells you whether you need one or not. For smaller home lighting setups, a hub-based smart bulb isn't necessary, but if it is here are our top Smart hub picks.
Are Bluetooth bulbs better than WiFi bulbs?
There's a big myth out there that Bluetooth smart bulbs are better than WiFi bulbs as it frees up your home WiFI network. WiFi bulbs do nto slow down your WiFi network, they don't draw enough data to do that. Bluetooth bulbs also may not be compatible with smart home hubs such as Alexa, which means no voice control. Check product descriptions before buying.
Are color bulbs necessary?
You can buy natural and warm light best smart bulbs for Alexa too. Colored light isn't for everyone, but they certainly come in handy if you're a fan of mood lighting and want a modern look to your home.
Do I Need Alexa to use voice controls?
You will need Alexa to take advantage of voice controls. You can opt to use another smart home hub such as Google's Nest line, but just check your smart bulbs to support it first.
Our Verdict
Nitebird wins out overall when it comes to the best smart bulbs for Alexa. They're WiFi enabled, which means they'll connect to not only Alexa but other smart home hubs too. They have the same color count and output as Philips Hue bulbs and don't require a hub to operate over large distances. Unless you're living in a converted farm or larger than a standard home, Nitebirds Color WiFi bulbs are perfect for any setup.