Last Updated on
With AMD's recent triumph in the CPU market, there are a lot of people out there who, for the first time in years, are considering jumping ship from Team Blue to Team Red.
The 3rd gen Ryzen lineup of CPUs brings multithreaded performance and high single-core clock speeds, unlocked motherboards and CPUs, high-quality cooling solutions out of the box, and overall better value.
When you're shopping for a motherboard that's going to run high-frequency RAM and plan on overclocking your processor, it's important to shop for high-quality products. Good, gaming-designated motherboards have better power delivery, providing XMP profiles for your RAM (a technology which allows you to run your RAM at high frequencies with a few clicks), and allowing you to reach good, stable overclocks on your CPU and GPU.
Ryzen's success wasn't a secret, yet until Gen 3 processors were launched, Intel still had superiority when it came to high-end, enthusiast-oriented products. The Ryzen 3000 series addressed these issues, AMD outperforms Intel's CPUs in both single and multicore tasks on both low and high-end chips. That being said, the only thing that's keeping you from switching your CPUs is your motherboard. Let's take a look at 5 of the best X570 motherboards that you can buy in Q4 2019. You'll notice that our picks are limited to gaming-designated products.
While the aesthetic is a bit eccentric if you're going for the clean, business look, you should know that gaming-branded components are built using better materials and have more safety and utility features included, giving you a better user experience.
1 MSI MEG X570 Ace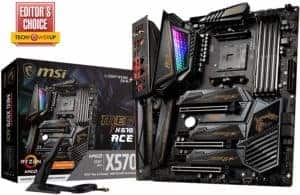 4 DIMM slots
Dual memory support
Supports up to 4600 MHz RAM with OC modes
128 GB Max memory
3 x PCI-E X16, 2 x PCI-E X1, 3 x M.2 slots, 4 x SATA III
Realtek 2.5 Gbps LAN controller
Support for Crossfire and SLI
1 X Gen 2 USB 3.2 Type C
3 X Gen 2 USB 3.2 Type A
2 x Gen 1 USB 3.2 Type A
2 X USB 2.0
ATX form factor
5 x 3.5mm Audio In/Out
1 x Optical connector
Support for 2nd and 3rd Gen Ryzen processors
Great VRM for stable and energy-efficient overclocking
3 x PCIe 4.0 M.2 slots for high-capacity, super-fast storage options
Great build quality
Great onboard cooling
Limited SATA ports (only 4)
MSI is a big name in the gaming industry. Their product line features motherboards with solid power delivery, a great industrial design with the Carbon series, GPUs with beefy heatsinks, copper tubing, and reliable fans, and more. With so much experience in the PC component segment, they're bound to manufacture high-quality motherboards.
The MSI X570 Ace is a great choice for any PC enthusiast. It doesn't matter if you're planning on building a powerful battleship for dominating your online foes or you're speccing out a new workstation, the Ace motherboard has you covered. With 4 DIMMs, the Ace can house up to 128 GB of RAM, running at frequencies as high as 4600 MHz.
The MSI Click Bios 5 allows you to configure your XMP profiles, ensuring that your RAM is stable and overclocked, gives you full command over the RGB lighting, gives you real-time info about your storage and fans, and allows you to configure all of these things with just a few clicks. You also have a flashback button on the back, ensuring that your motherboard doesn't get bricked when trying to update your BIOS.
With support for both 2nd and 3rd generation Ryzen processors, it makes sense to buy this board no matter what AM4 CPU you're buying. The overall build quality is stellar, and as you can surmise from the feature section, it has a fully-fledged and plenty of expansion capabilities. The 2.5 Gbps LAN port and the high-speed Wifi give you access to ultra-high-speed internet, something you'll need to fill up your PCIe 4.0 M.2 SSDs.
With support for both Crossfire and SLI, multi-GPU builds are possible and encouraged. Overclocking is also encouraged, the motherboard having good cooling solutions built-in, strong and stable power delivery, features that will get you on the leaderboards in any benchmarking software.
With a black and gold finish, RGB lighting and support for MSI Mystic Light, the MEG X570 Ace motherboard can make your PC into a work of art. Pick out the right fans and peripherals and build a no-compromise build. What's stopping you?
2. ASUS ROG X570 Crosshair Hero VIII
4 DIMM slots
Up to 128 GB of DDR4
Supports 2-way SLI
Supports 3-way Crossfire
Up to 4400 MHz RAM with OC modes
ATX form factor
7 expansion slots
2 x M.2 slots
5 x gold plated 3.5mm Audio In/Out
Bios flashback button
2.5 Gbps LAN with surge protection
8 x USB 3.2 Gen 2 ports (1 x Type-C and 7 x Type A)
4 x USB 3.2 Gen 1
8-channel Audio, 1 x Optical connector
Support for 2nd and 3rd Gen Ryzen processors
AX WiFi and 2.5 GbE LAN
12 USB ports on the rear IO
AuraSync support with built-in RGB controller
Great VRM for great overclocking capabilities
Only a small number of people can make the most out of its features
Built-in chipset fan blows straight into the GPU, can conflict with airflow
From gaming laptops and desktops to high-quality video cards, ASUS has a reputation in the industry for producing sturdy and reliable systems and components. Their ROG brand is particularly known in the industry for its gaming-oriented marketing, aesthetic, and overall solid build quality.
The ROG Crosshair Hero VIII is the latest iteration of the Republic of Gamers, gaming-oriented motherboards. This board is what a no-compromise mobo should look like: great-looking, fully-fledged powerhouse. USB Gen 2 Type C? You got it. High-speed LAN and WiFi? Sure! PCIe 4.0? No problem! It's kinda crazy if you think about it.
Alright, so by now you can figure out that the ASUS ROG Crosshair Hero VIII is the real deal. It has the features, it's got the VRM, it's got the bling, it's staying. With PCIe 4.0 M.2 slots, high-speed LAN with surge protection, and a rear IO that would put any other motherboard to shame, it's easy to see why this is ASUS's flagship model.
That being said, are you really going to use all 7 USB 3.2 Type-A ports? Are you really going to use that 3-way Crossfire? No, probably not. The only thing that's bad about this motherboard is that it doesn't know where it fits. You can pay the premium and go for a no-compromise build if money isn't an issue, but you'll rarely make use of all the available features.
3. MSI MPG X570 Gaming Pro Carbon
4 RAM DIMMs
Up to 128 GB of DDR4
Up to 4400 MHz RAM with OC modes
ATX form factor
Dual-Channel Support
2 x M.2 slots
6 x USB 3.2 (1 x Gen 2 Type C, 3 x Gen 2 Type-A, 2 x Gen 1 Type-A)
Good VRM
PCIe 4.0
Built-in WiFi
Good build quality and power distribution
Nice aesthetic
Not a lot of fan connectors, not great for a gamer-targeted motherboard
The Gaming Pro Carbon provides the user with a cool aesthetic, built-in wireless, and a robust build quality. Why's that important, you ask? Well, if you're planning on going 3rd Gen Ryzen, then you should know the switch is synonymous with overclocking.
3rd Gen Ryzen brings almost a full gigahertz over the previous generation of processors, higher clock speeds, and better-overclocking capabilities. The MPG X570 Gaming Pro Carbon has a decent VRM, meaning that it will keep more stable voltages when overclocking, ensuring that your components last longer and perform better.
Overall, we think that the MPG X570 Gaming Pro Carbon Wifi is a solid choice. Good overclocking capabilities, good IO, solid materials, it's a no-brainer.
4. ASUS TUF GAMING X570-PLUS
4 RAM DIMMs
Up to 128 GB DDR4
Up to 4400 MHz with OC modes
4 x USB 3.2 Gen 1
2 x USB 2.0
3 x USB 3.2 Gen 2 Type A
1 x USB 3.1 Gen 2 Type C
Bios flash
ATX Form Factor
AuraSync-compatible
Dual-Channel Support
8-channel Audio
2 x M.2 Socket 3
Great VRM
PCIe 4.0 with 3rd Gen Ryzen CPUs
Military-grade MOSFETs and capacitors, great for overclocking
Up to 64 Gbps with 3rd Gen processors
Built-in WiFi
TUF – The ultimate Force – ASUS's statement that nobody else on the market can produce a product as close to perfection as this one. How has their statement held up so far? Well, in all honesty, pretty well. The ASUS TUF GAMING X570-PLUS doesn't have the most attractive name for a motherboard, but what it lacks in musicality it makes up for in raw features.
2019 is the year of Ryzen 3000, and with a 3rd gen processors, users can reach 4400 MHz on their RAM and a whopping 64 Gbps transfer with PCIe 4.0 M.2 SSDs. A fine year for gamers.
The ASUS TUF X570 motherboard features military-grade MOSFETs and capacitors, with 14 switches, giving you stable overclocking and long-term reliability. The heatsinks are also well-placed, all making a very cohesive motherboard.
Now that we've talked about hardware, the ASUS TUF X570 also comes with a lot of utility. The BIOS is easy to navigate, the RAM easy to overclock, and the board even comes with a BIOS flashback switch, in case you brick your motherboard during updates.
In terms of aesthetics, it has some light RGB elements and an overall pleasing aesthetic. It's a pretty good board. Good job, ASUS. Unlike the ROG CrossHair Hero VIII, the TUF is really easy to use to its full potential.
5. MSI MPG X570 Gaming Plus
4 RAM DIMMs
ATX form-factor
Up to 128 GB RAM
Up to 4400+ MHz RAM
2 x M.2 Slots
4 x USB 3.2 Type A
2 x USB 2.0
Good value
Full-feature ATX motherboard
Good IO and expansion slots
VRM not that great
Only two USB 3.2 Gen 2 connectors (1 x Type A, 1 x Type C)
Pretty average build-quality
The MSI MPG X570 Gaming Plus is a good board in its own way. It's not pretentious, it has a few solid features, and it performs as you'd expect. It'd be a waste to talk extensively about the MPG X570, since it doesn't really have a ton of features.
First off, the VRM isn't great. There aren't many switches, and the ones that are present aren't very high-quality. That doesn't mean that the motherboard is bad, it just means that overclocking to high frequencies will likely be hard, but we don't recommend pairing this with a high-end processor anyway.
The I/O is good enough, with the lack of extra Gen 2 connectors being disappointing. To add insult to injury, MSI also added two USB 2.0 ports on the rear IO, something that's kind of obsolete in 2019.
While it doesn't have the best features, it does feature two M.2 slots, PCIe 4.0, so it's going to get the job done. The only real drawback that this board has is the lacking IO and the average power delivery. Otherwise, it's fine for your run-of-the-mill PC.
It's really hard to pick a favorite. This particular lineup of motherboards is very impressive, all of them being well-built and feature-packed, two essential qualities in a great motherboard. With plenty of ports and connectors, Flashback technologies, beefy heatsinks and well-designed VRMs, each and every one of these boards will enable you to overclock your RAM, CPU, and GPU with stable and reliable power delivery. In terms of features, you have RGB-sync software, WiFi, high-speed ethernet, you name it.
All in all, it all boils down to which one will serve you best, and in our opinion, that's the TUF Gaming X570-PLUS. The great build-quality, complete feature set, and clean aesthetic make it a great choice for anyone who is building a gaming or productivity station. The superb VRM allows the user to overclock it to high frequencies and reach stable clocks easier. With this board and a water cooler, you're going to be ripping through the Cinebench leaderboards with ease.