Last Updated on
If you are hunting for the best Cyber Monday Ryzen 7000 deals, then we have you covered right here.
The Cyber Monday sale is probably a good opportunity to get a Ryzen 7000 processor, as you are likely to save some bucks on it. But if you want this CPU before that sale, then we have rounded up some good deals right here. And if you can wait until Cyber Monday, then we will bring you some of the best deals available very soon.
Whether you're looking to build a top-tier PC for either gaming or content creation, you should consider getting an AMD Ryzen 9 7900X or the 7950X. These options will give the best performance-per-watt ratio on the market. If you're aiming for a more casual gaming or job-related activity, you can check other options from the series and grab the processor that best suits your needs.
We'll show you the absolute best discounts for this year's Cyber Monday while providing you key information to know exactly which Ryzen 7000 series chip you need.
Best Ryzen 7000 deals in 2023
In this section, we have listed some of the best Ryzen 7000 deals that you can claim. Plus, we keep on adding new deals here, so check back for updates.
Editor's pick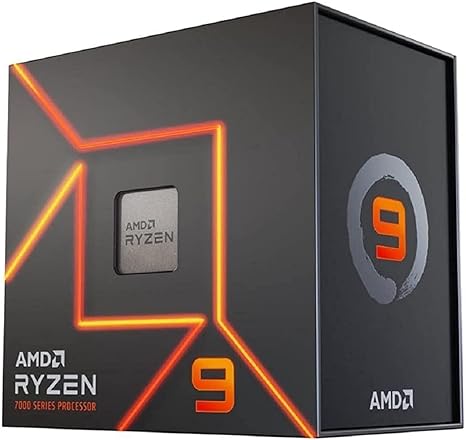 Save 28% Now!
12-Core, 24-Thread Unlocked Desktop Processor
Editor's pick
Save 18% Now!
AMD Ryzen 9 7900X & ASUS ROG Strix X670E-F Motherboard
AMD Ryzen™ 9 7900X 12-Core, 24-Thread Unlocked Desktop Processor & ASUS ROG Strix X670E-F Gaming WIFI6E Socket AM5 (LGA 1718) Ryzen 7000 Gaming Motherboard
Where to find the best Ryzen 7000 Cyber Monday deals?
For Cyber Monday offers on Ryzen 7000 processors, you will likely find discounts on online e-commerce platforms like Amazon, Newegg, Best Buy, and other similar websites. Plus, on Cyber Monday, you will also find offers on specialist tech websites.
Ryzen 7000 Cyber Monday shortlist
When will Ryzen 7000 Cyber Monday sales start in 2023?
AMD's Ryzen 7000 series CPUs will be available at discounted prices on Cyber Monday this coming November 27th. Mark the date on your calendar so you can keep a keen eye on the website of your choosing to get the best deals possible. Next, we'll show a few tips to know how to get the best sales without breaking the bank.
How to get the best Cyber Monday Ryzen 7000 deals in 2023?
If you're not sure what you're looking for, it's easy to end up with a bunch of unwanted items. The key to successful shopping on days like Cyber Monday is to know what you want before you even start. Making a list will help you stay focused and avoid any potential impulse buys. It can also be useful if the item you want is out of stock or not discounted as much as you'd hoped. Knowing what else you're willing to buy can help avoid potential disappointment.
Features to consider when looking for a Cyber Monday Ryzen 7000 deals
To get the best Ryzen 7000 CPU for you, here are a few things to consider –
Use case: Before you make a purchase, you must determine what kind of user you are. You're either an enthusiast overclocker, a professional content creator, or a pro gamer. You could also be a casual gamer, a graphic designer with lower processing requirements, or a student. Once you make clear your main goals with the CPU, you'll be able to determine what Ryzen 7000 series you need.
Compatibility: Before you get a new CPU, check whether it is compatible with the rest of the components. For instance, the RAM you get for your new Ryzen 7000 CPU must be compatible for your system to function well.
GPU: To make the most out of your new processor, you should pair it with an equally capable GPU. For instance, if you get the new Ryzen 7 7800X3D CPU, you can pair it with an RTX 3080 or an RX 6800 XT GPU.
Cyber Monday deals