Last Updated on
You've probably heard of Discord before, but did you know that it has a built-in feature that allows you to change your username?
Discord is a free messaging platform that is often used by gamers to chat with large groups of people on a shared server. While it used to primarily be used by gamers, it is now being used by work groups, sports lovers, and more.
If you want to change your username for some reason – perhaps it was an embarrassing name that you came up with ten years ago – then you're in luck. Changing your name could not be easier, and we're going to show you how to do it right now.
Changing Your Discord Username
To change your Discord username, you first need to locate your user settings tab. This is at the bottom of the page in the left corner. You should see your icon along with your username, next to three widgets.
These widgets are a microphone, headphones, and a setting crank. Hover over the settings icon and you will see that it says 'User Settings'. Click on this widget and you will be taken to your user settings.
Now click on the My Account tab from the list of tabs along the left side of your computer screen. It should be the top tab, and it might open automatically.
Once you are on the My Account tab, you can click the Edit button next to your username. Type in whichever username you want to change your account to and press Done. And you're all finished! Your username is now whatever you want it to be.
The great news is that you can change your username as many times as you want to so that you can fit into as many servers as you want to without getting funny comments about your username.
Things To Bear In Mind When Changing Your Discord Username
An important thing to consider when changing your username is that they aren't unique, so you can change your username to whatever you like without getting the dreaded 'Username Taken' message.
When you change your username, you can actually see how many people have the same username as you by looking at the # Number beside it.
For example, 9904 other people have the same username as Boop.
If you want to change your Discord name, make sure that you're not changing it to the same name as someone else to annoy them. Sometimes it's a simple mistake, but other times you might decide to change your username to irritate another user.
It's probably best that you don't try and annoy your server mods so that you don't get kicked off of the server. It's only funny to copy someone's username when it's a planned event where multiple people are all changing their name to the same thing.
Don't just copy someone else's username to cause drama.
How To Change Your Nickname In A Discord Server
While this might seem the same as changing your username on Discord, changing your Nickname is the process of altering how others see your profile in a single server. So, your username will stay as it was originally while others will see your name as a Nickname instead.
To do this, simply go onto the server that you want to change your nickname in and hit the drop-down arrow in the top left corner of the screen.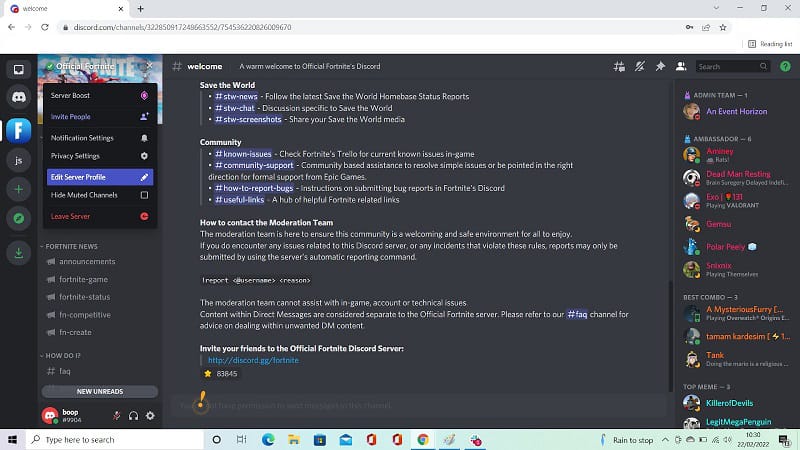 Click Edit Server Profile, and change your Nickname here. As you can see, you can alter your Nickname while your original username remains the same.
Summary
Overall, it could not be easier to change your username and nickname on Discord. Plus, it will only take a few seconds, and you can change it as much as you want to!
Need more Discord help?