Last Updated on
Discord is an instant messaging and digital distribution platform.
Users join channels and can communicate with voice or video calls, instant messaging with a thread of people, and also sharing media and files within the channels which are called 'servers'.
Discord has a whole host of bots to keep your server hopping while you play. Bots are AI driven tools that help you automate certain tasks and achieve others.
In this guide we will explore how to use Discord's Rhythm bot to play music, and other ways you can play music on the Discord service. Read on to find out.
How To Play Music With A Bot
The main thing you need to do here is to choose your own music bot to join your server.
In the past Rhythm bot was a favorite among Discord users, but since this bot shut down there has been a host of new bots to replace it.
One that we recommend is FredBoat which allows you to play music from YouTube, SoundCloud, Bandcamp, direct link, and Twitch.
The different platforms you can play music from are great, and the commands in chat are easy to use and navigate.
One fun feature that is unique to FredBoat is that there are fun commands that allow others in the channel to vote to skip the song.
To download FredBoat simply visit their website, log in to your Discord account, and select a server for the bot.
Play your music through FredBot when you're connected to the voice channel so that other Discord users can enjoy it too.
That's it! This is why music bots are used frequently as they are easy to use and install in comparison to the other ways you can listen to music on Discord.
How To Play Music In A Voice Call
FredBoat also allows Discord users to play music within a private voice call if they choose to.
Simply join a voice channel and use the commands to tell the bot what you want to play. These commands may be ";;play [URL]" or ";;play [Name Of Song].
How To Play Music On Discord Through A Mic
If you really want to, you can change some settings on your computer so that music plays through your microphone, while still using a music bot.
This, however, is quite long and pointless as playing music through a mic works the same way as the previous step.
In theory, if you didn't want to use a bot, you could simply play music in real life and it would play through your microphone. This will not be as good quality sound as using a bot, though.
How To Play Music In Discord On Mobile Device
There are some Discord bots you can add to your server that will allow you to play music from your mobile device. On discordbots.org you can find plenty of bots that will work on your mobile device.
All you need to do is follow the steps to install the bot and then add it to the server you want. This should allow you to play music on discord within your mobile device.
How To Play Music On Discord Without A Bot
There is one and only way to do this without a bot and that is to connect with Spotify through Discord. You will need to make a Spotify account if you don't have one.
Got to 'User Settings' on Discord, which is the cog right next to your profile icon.
Select 'Connections' and under 'Connect Your Accounts' there is a whole host of other platforms to connect to. You want to select the Spotify icon.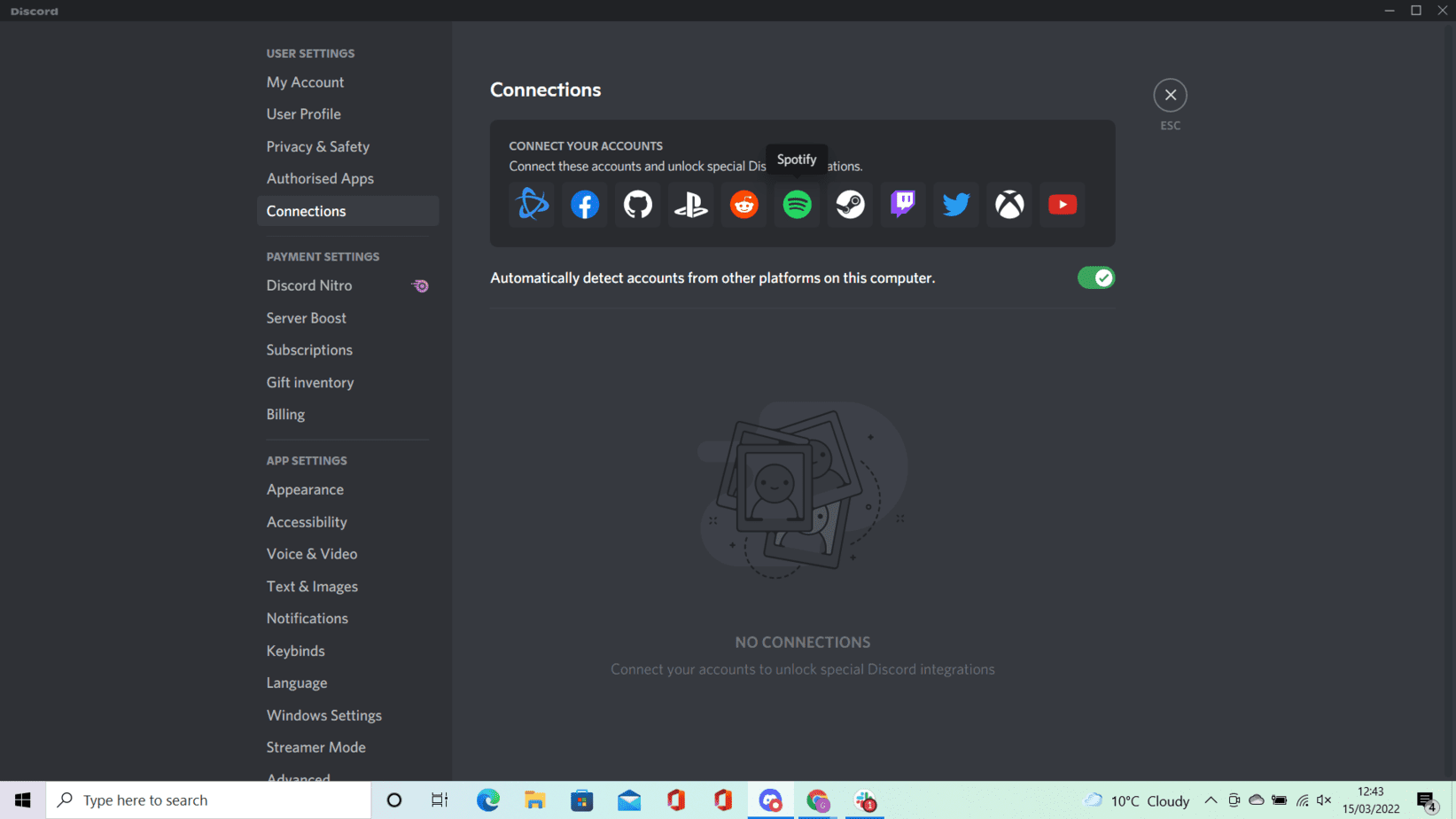 This will provide a gateway in which you can log on to your Spotify account, you need to agree to the permissions suggested.
Once complete there should be a 'Connected your Spotify account to Discord' notification.
Now everyone in the server can see that you're listening to Spotify. If they click on your profile they can see what you're listening to. Anyone who is a premium member can then listen along with you through Discord.
In Summary
If you want to listen to music on Discord then you basically have two options. Either consider downloading a music bot such as FredBoat, or simply connect to your own Spotify account.
Using a bot can make your life easier, as it can be automated and there are fun features like voting to skip a song. Moreover, on FredBoat you can utilize many music platforms beyond Spotify such as SoundCloud and Bandcamp, if you so wish.
Although, many Discord users enjoy the familiarity of Spotify where their playlists may already live.
Need more Discord help?