Microsoft Flight Simulator 2020 World Update V enhances the Nordics
The game that will eventually make you upgrade your hard drive is back with more content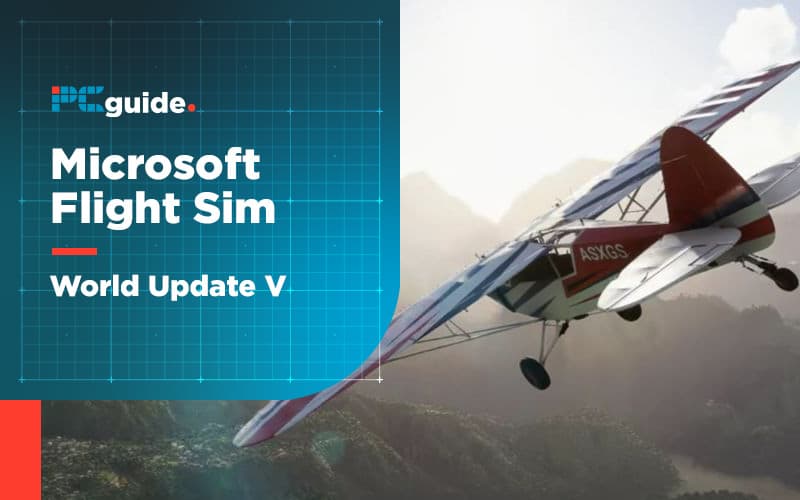 Microsoft and Asobo continue to improve the amazing Flight Simulator 2020 with a fifth World update, – cunningly called World Update V, this time focusing on the Nordic regions around Iceland, Norway, Sweden, Denmark, and Finland, bringing enhancements to some lovely North European scenery.

With World Updates arriving bi-monthly and interspersed between Game Updates, progress on Flight Simulator 2020 has been immense since its launch a year ago.

And now with the Xbox console version about to arrive in the next couple of weeks, the user-base will open up to a massive new audience.

The Xbox players will be arriving into a world that has an extra year of development and is still being constantly improved, both with official and third-party mods. You can find some of the best free addons for the sim right here.

World Update V: Nordics brings high-resolution improvements to the region, but perhaps in some ways it isn't as impressive as some of the other world updates, but this seems entirely due to the lack of terrific satellite data for some of the more northern reaches of the zone.

This is a bit of a shame as there is obviously some astonishing scenery in this vicinity.
You can also make further enhancements though to Iceland by adding the free Iceland mesh from Orbx (you will have to register and download via the Orbx client, but this polishes up Iceland even further.

Five new landing challenges have been added too for a little extra gameplay so you can also test your skill levels.

To get the World Update V simply log into Microsoft Flight Simulator 2020, make sure you are up to date then head on to the Marketplace to download the World Update, which comes in at around 5GB. Yes, that Flight Sim folder might be beginning to make your SSD creak a little these days!
World Update V Release Notes
LOCALIZATION

New localization languages have been added (Swedish, Norwegian and Finnish)

WORLD

Updated aerial imagery in parts of the Nordic countries
Updated elevation data for Norway, Denmark, Finland and French oversea territories (La Réunion, Mayotte, Saint-Barthelemy, Saint-Martin, Martinique, Guadeloupe, Guyane and Saint-Pierre-et-Miquelon)
Watermasks have been updated at various locations

NAVIGATION

New AIRAC cycle 2106 has been implemented
Fixed an issue preventing users from requesting fuel trucks on airports with fuel pumps but without ground equipment parking

POINTS OF INTEREST

| Point of Interest | Location |
| --- | --- |
| Roskilde Cathedral | Denmark |
| Ǿresund Bridge | Denmark |
| Amalienborg | Denmark |
| Copenhagen Opera House | Denmark |
| Egeskov Castle | Denmark |
| Frederiksborg Castle | Denmark |
| Frogner Park / Sculptures | Denmark |
| Kronborg Castle | Denmark |
| Lego House | Denmark |
| Rosenborg Castle | Denmark |
| Men at Sea | Denmark |
| Ceres Park, Aarhus | Denmark |
| Aalborg Stadium, Aalborg | Denmark |
| Blue Water Arena, Esbjerg | Denmark |
| Brǿndby Stadium | Denmark |
| Parken Stadium, Copenhagen | Denmark |
| Helsinki Cathedral | Finland |
| Petäjävesi Old Church | Finland |
| Turku Cathedral | Finland |
| Uspenski Cathedral | Finland |
| Bomarsund Bridge | Finland |
| Replot Bridge | Finland |
| Vylisto Bridge | Finland |
| Olavinlinna | Finland |
| Suomenlinna | Finland |
| Näsinneula | Finland |
| Turku Castle | Finland |
| Bolt Arena / Helsinki Ice Hall | Finland |
| Helsinki Olymic Stadium, Helsinki | Finland |
| Hallgrimskirkja Church | Iceland |
| Hvitserkur | Iceland |
| Perlan | Iceland |
| Arctic Cathedral | Norway |
| Heddal Stave Church | Norway |
| Nidaros Cathedral | Norway |
| Urnes Stave Church | Norway |
| Fyksesund Bridge | Norway |
| Hardanger Bridge | Norway |
| Helgeland Bridge | Norway |
| Storseiundet Bridge | Norway |
| Tromsø Bridge | Norway |
| Bryggen (Bergen0 | Norway |
| Oslo Opera House | Norway |
| Pulip Rock / Preikestolen | Norway |
| Royal Palace, Oslo | Norway |
| Tyholttårnet | Norway |
| Holmenkollbakken | Norway |
| Brann Stadion, Bergen | Norway |
| Intility Arena, Oslo | Norway |
| Lerkendal Stadion, Trondheim | Norway |
| Sparebanken Sǿr Arena, Kristiansand | Norway |
| Ullevaal Stadion, Oslo | Norway |
| Viking Stadion / SR-Bank, Stavanger | Norway |
| Frederik Church | Sweden |
| Church of Holy Trinity | Sweden |
| Kiruna Church | Sweden |
| Storkyrkan Stockholm Cathedral | Sweden |
| Höga Kusten Bridge | Sweden |
| Öland Bridge | Sweden |
| Sölvesborg Bridge | Sweden |
| Tallberg Bridges | Sweden |
| Tjörn Bridge | Sweden |
| Uddevalla Bridge | Sweden |
| Dragon Gate | Sweden |
| Kullen Lighthouse | Sweden |
| Drottningholm Palace | Sweden |
| Helsinki Ice Hall | Sweden |
| Royal Swedish Opera | Sweden |
| Stockholm City Hall | Sweden |
| Stockholm Palace | Sweden |
| Turning Torso | Sweden |
| Boras Arena, Broas | Sweden |
| Eleda Stadion, Malmö | Sweden |
| Friends Arena, Stockholm | Sweden |
| Ullevi Gothenburg | Sweden |
| Guldfageln Arena, Kamlar | Sweden |
| Tele2 Arena, Stockholm | Sweden |
| Svinesund Bridge | Sweden / Norway |

IMPROVED AIRPORT DATA ON 99 AIRPORTS

ENKJ ESGP ENOL ENRY ESTA EKKA EKSP ESPA ESOW ESMT ESTL ESNZ ESSD ESDF ENGM ESSA ENBR EFHK BIRK ESGG ENAL ENZV ESSB EFHF EKRK ESMS ENTO ENTC EKBI EKAH EKYT EFTU ENSD ENBO ENCN ENHD EFOU EFTP BIAR ESKN ENAN ENML ENNO EKRN ENOV ENEV ENSG BIVM ESSV ENKB ENLK EFRO EKOD ESGJ ENSO ESOE EFKU EKEB ESMQ ENSN ENFL ENAT EFVA ESNQ ESNU ESSL ENLI ENBN ENSH ENST EFIV EFJY EKSB BIHN ESOK ESNN EFPO EFMA ESGT ENJB ESSP BIEG ENHV ENRS ENBL ENHF ESMX ENNM EFNU EFHV ENHA ENSK ENMS ENRM EFLP ENRA EKSN EFLA ENFG