Best Controller For PC 2023
For those times when a mouse and keyboard simply won't cut it
Last Updated on October 12, 2023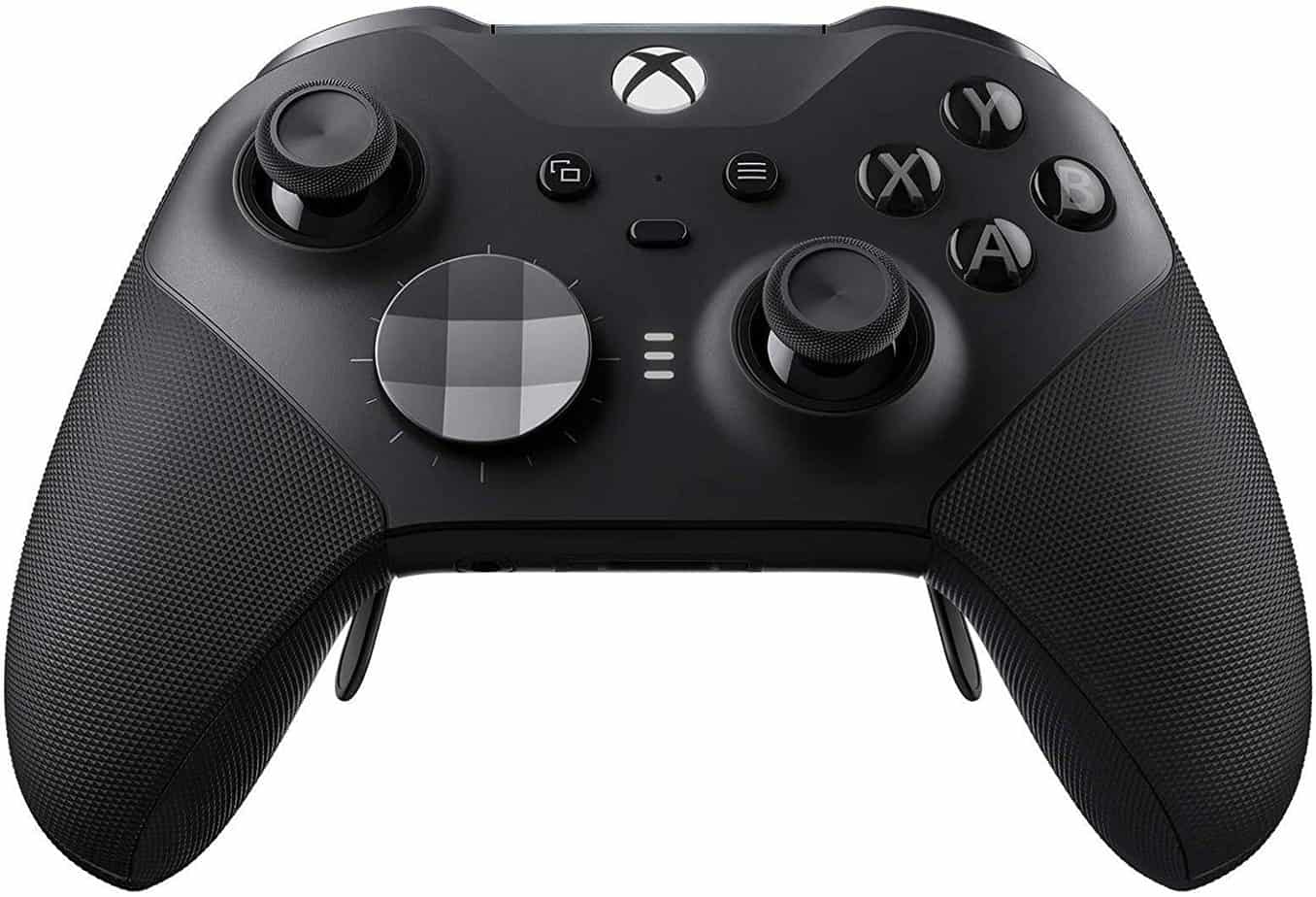 A controller for PC games? Blasphemy for some, a boon for others. At the risk of irking mouse and keyboard purists, some games just play better with a controller. From Software's venerated output springs to mind, as do racing titles like F1 2020 and indie platformer gems such as Celeste, and even AAA goliaths like Assassin's Creed Valhalla. Controllers can offer a greater degree of control and comfort and are a much more accessible way to play games for millions of players out there.
That's not to say a mouse and keyboard duo shouldn't be your go-to PC input – indeed, they easily surpass controllers for the pin-point precision and responsiveness they deliver in shooters and MOBAs. But, any gaming setup worth its salt isn't complete without a controller, especially if you have a broad taste in games.
With more controllers than ever now compatible with PC, which merit your attention, and more importantly, your hard-earned cash? To answer that very question, we've compiled a list of the best controllers for PC for those times when a mouse and keyboard just won't cut it.
Products at a Glance
How we picked
While this may be obvious, nothing beats playing games to assess the merits of a given controller. And, we did just that when piecing together our picks for the best controllers for PC, putting them through their paces in multiple games from various genres, including those where controllers typically shine, such as fighting games, racers, and long-winded open-world action-adventures.
We paid close attention to the in-game feel and in-hand comfort after long play sessions, as well as factors such as price, customization, battery life, build quality and more out-there features such as swappable modules and components.
Five controllers stood above the rest. Our recommendations should suit a range of budgets and more granular preferences such as controller shape. We've also included first-party console controllers compatible with PC as well as third-party options.
Below you'll find short reviews for each of our recommendations alongside pros and cons. Let's dive in.
Our Recommended
Best Controller For PC 2023
1
PROS
Affordable
Widespread support in PC games
Comfortable design
Build quality
CONS
Uses batteries as standard
Ask PC players to pinpoint their controller of choice and chances are they'll say the Xbox Wireless controller. With the launch of the next-gen Xbox Series consoles came the Xbox Core Controller. Microsoft took everything great about the beloved controller and bettered it with some choice upgrades while retaining the affordable price tag.
The familiar sturdy, chunky shape is virtually unchanged with the same ergonomic sculpted surfaces, refined geometry, asymmetrical thumbstick positioning, and comfortable in-hand feel. The Xbox Core Controller now features an improved textured grip on the bumpers, triggers, and underside for an even grippier and comfortable feel. The d-pad benefits from a slight upgrade, too, edging closer to that of the excellent but much pricier Elite Series 2 for even better accuracy.
Other improvements include the new Share button to capture and share content, welcome Bluetooth support to complement the low-latency 2.4 GHz wireless connectivity, and a USB-C port for wired use.
Aside from one of the most comfortable designs out there, the Xbox Core Controller's best feature is official support for the broadest spread of PC games. No third-party programs or tedious setups here; in most cases, the controller works from the get-go.
While the Xbox Core Controller flirts with perfection, it, unfortunately, runs on AA batteries. Rechargeable batteries work, but they can't be charged when inside the controller. Microsoft offers a Play & Charge kit battery pack to charge via a USB-C cable, but it is sold separately for roughly $25.
2
PROS
Haptic feedback and adaptive triggers
Perfect for small/medium hands
Rechargeable battery
Comfortable
CONS
No PC games support next-gen features yet
Middling battery life
The new kid on the block, the PlayStation DualSense Wireless Controller, is the latest iteration of Sony's DualShock controller, re-imagined for the next-gen PlayStation 5. Marketed using buzzwords like haptic feedback and adaptive triggers, the controller oozes with features few other controllers offer, all while being almost as comfortable to use as the Xbox Core Controller.
We're fans of the tactile and responsive feel of the DualSense's triggers, bumpers, and buttons, which keep to Sony's established symmetrical layout. They offer a welcome bit of resistance, all while providing a less spongy feel. Compared to the DualShock 4, the DualSense offers a better in-hand fit thanks to chunkier handles, a textured surface, and a more weighted feel while retaining the excellent thumbstick accuracy of Sony's past controllers.  The triggers, in particular, are a game-changer and offer unparalleled immersion when paired with games that make use of Sony's new tech.
But there lies one major caveat of the PlayStation DualSense Wireless Controller: no PC games currently support the controller's next-gen features. Steam recently introduced support for the DualSense stoking hopes that at some point in the future, games could tap into the haptic feedback and adaptive triggers, contingent on behind-the-scenes programming work on the developer side. Similarly, it doesn't offer the same broad out-of-the-box compatibility with PC games as Microsoft's flagship controller.
Unlike the Xbox Core Controller, the PlayStation DualSense Wireless Controller includes an in-built USB-C rechargeable battery, but battery life, while respectable (much better than the 5-6 hours tops of the DualShock 4), certainly shows its limitations and caps out at around 10 hours. Expect to charge it every other day if you use it regularly.
3
PROS
Top-tier design
Impressive customization
Battery life
Precise, satisfying feel
If money is no object, the Xbox Elite Series 2 Controller is by far the best control on the market. For us, it takes everything we love about the Xbox controller, soups it up with impressive customization options and a premium quality build to offer the best in-hand feel of any controller. Controls are precise, and each button press is satisfying. The comfortable 345 g weighted feel and wrap-around rubberized grip guarantee a firm hold in pretty much any player's hands.
On the customization front, there are a near-infinite number of permutations thanks to four paddles (two medium and two small), two d-pads (standard and faceted), and six adjustable-tension thumbsticks (two standard, two classic, one tall, and one wide dome). Every aspect of the controller can be tinkered and tailored.
Customization also extends to software with adjustable sensitivity curves, keyboard key binding to the controller, button mapping, voice commands, and alternative inputs. The controller can house three custom profiles and one default profile, switchable on the fly thanks to a dedicated Profile button. Connectivity is well-served with USB-C, Bluetooth, and wireless support, as well as a 3.5mm stereo headset jack.
While impressive in every respect, the Xbox Elite Series 2 Controller doesn't come cheap, but it's worth the investment if you take your gaming seriously and want the best of the best. Alongside the controller, Microsoft bundles in a carrying case (with a convenient in-case charging dock), USB-C cable, thumbstick-adjustment tool, and an internal rechargeable battery that delivers up to 40 hours of use per charge.
4
PROS
Modular design
Battery life
Highly customizable
Another strong option for those looking for customization is the Astro Gaming C40 Tr Controller. Much like the Xbox Elite Series 2 Controller, it falls firmly in the premium category, and the high price can be a tough sell, but there's plenty here to warrant the steeper price tag.
The Astro Gaming C40 Tr Controller takes customization further than the Elite 2 with swappable d-pad/thumbstick configurations. Prefer the symmetrical layout for some games and offset for others? No problem. The controller works with removable modules – two thumbsticks, one d-pad, one d-pad cover, two standard height caps, one tall height cap, and one domed cap. The provided C40 TR tool makes easy work of removing the faceplate that holds down the modules to alternate them as desired.
Customization also extends to finer-tuning a wealth of adjustments, including sensitivity, button remapping, dead zones, and even audio EQ profiles. The provided Astro configuration software is impressively easy to use and versatile. On-controller memory allows you to swap between two custom profiles on the fly.
The controller itself adheres to the traditional PlayStation layout but adds in a pair of rear buttons that align beautifully with where the fingers rest. It's weighty like the Series 2 at 310 g and has a chunky feel for a snug and grippy but controlled in-hand feel.
The Astro Gaming C40 Tr Controller offers 2.4 GHz connectivity thanks to a provided USB wireless transmitter. Other welcome extras include a sturdy travel cable, USB cable, 3.5 mm audio jack, and an on-controller mini-USB port for charging/wired play.
5
PROS
Cheaper than premium options
Combines Xbox and PlayStation designs
Additional weights
CONS
Extra button placement
Build quality
As we saw above, customization generally comes at a price, especially from the big names in the controller world. If you want a best of both worlds controller, a tight budget won't get you far. The Nacon Revolution Unlimited Pro V3 attempts to combine the Xbox and PlayStation pads' best elements at a much more palatable price.
You'll find Sony's button configuration, but with the thumbsticks set to the outset asymmetrical position. The shape is bulkier than the classic DualShock/DualSense mirroring the larger Xbox controller. Controls are generally snappy and smooth to use, and the controller feels reasonably comfortable in the hands.
The Nacon Revolution Unlimited Pro V3 ships with six weights (two 10g, two 14g, and two 16g) that you squeeze into a housing on the handles to add a bit of heft to the controller. On the underside are a cluster of extra buttons, including two buttons mounted on each handle, a connectivity switch (wired/wireless), three microphone/headphone volume controls, a profile switch button, and a mode dial (PS4 and PC). The buttons' placement makes it very busy, with a high chance of tapping buttons inadvertently in the heat of a game.
If you can forgo the hybrid design, you'd be better served by the much cheaper DualSense or Xbox Core controller. These are the most popular for a reason and have a better build quality than the Nacon Revolution Unlimited Pro V3. If you can't, then the Nacon's controller decently amalgamates those two staple controllers.
Things to consider
Are Console Controllers Any Good For PC Games?
Absolutely. Xbox and PlayStation controllers, notably the Xbox One, PlayStation 4's DualShock 4, and the Xbox 360 controllers, rank among the most popular for PC players, and with good reason. While geared for consoles, they translate well to PC, especially for multi-platform releases that have been specifically designed for both mouse/keyboard and controller use.
Nintendo's well-built and supremely comfortable Switch Pro controller is worth considering but is generally priced higher than Xbox and PlayStation equivalent and doesn't offer all that much to warrant the extra spend, and has limited compatibility with PC games. However, if you happen to own a Switch, it is an excellent versatile option that will serve both your console and modest PC needs.
Due to Microsoft's platform-agnostic approach, Xbox controllers trump PlayStation's compatibility with PC titles. They are a strong option for those who don't want to faff around setting up a controller.
Price
Like most PC peripherals, you can spend as little or as much as you want or can on a controller. Pricier premium options generally deliver a better tactile feel alongside a more generous host of features, but with these, you're looking at spending at the very least $100.
On the other end of the spectrum, entry-level controllers like the Logitech F310 take a functional approach with little in the form of extras and customization for under $30. Logitech sacrificed to keep the cost down: it's wired, and beyond essential functions and the familiar spread of buttons, it's a barebones option.
As a happy middle ground, we suggest spending somewhere in the region of $40 to $70. In that range, you'll get a decent, comfortable controller that won't fall apart after only a few months. For options with more customization and modular parts, expect to pay more.
Shape and Configuration
For better or worse, there's been a standardization of the controller shape over the past decade, and controllers look more indistinguishable than ever before. Long gone are the days of console manufacturers taking drastically different approaches to controller shapes – the Nintendo 64 controller and that wacky Phantasy Star Online special edition GameCube controller feel like a lifetime ago.
This uniformity between controllers means differentiating factors are less flashy than before. The position of thumbsticks, size, and in-hand feel set controllers apart these days. When shopping around for a controller for PC gaming, nothing beats trying them out, and we strongly urge you to do just that before committing to a purchase.
Our Verdict
The controller of choice for PC players, the Xbox Core Controller, lands atop our list of recommendations for all the right reasons. Affordable, comfortable, tight controls, and the broadest compatibility – if in doubt, this is the one that should suit most players.
A brand new contender, albeit based on a tried and tested classic, the PlayStation DualSense Wireless Controller brings some next-gen flair to the table alongside a tactile and weighted in-hand feel. If Xbox isn't your cup of tea, here's a comparable alternative.
For those with cash to spare, the Xbox Elite Series 2 Controller is easily the best controller money can buy. Incredibly customizable, well-constructed, fluid and satisfying to use, and boasting a tireless battery, Microsoft's premium controller is the top pick for serious gamers.
One-upping the Series 2 in the customization department is the equally pricey and performance-oriented Astro Gaming C40 Tr Controller. Lastly, for those that want the best of the Xbox and PlayStation controller design bundled into one, we have the Nacon Revolution Unlimited Pro V3.
With that, we'll bring our guide to the best controllers for PC to an end. Happy gaming, and if you have any pressing questions, drop us a quick line in the comments section below. We'd be happy to help.